Archive from September, 2012
For my big vacation, I had a bit of a time figuring out how to pack for the trip. I'll be gone for 10 days, I'll be seeing varying temperatures, some days I'll need to dress modestly and others more formally. On top of all that, I wanted to leave plenty of room in my luggage to bring home souvenirs.
The first thing I researched was if laundry services would be available for my trip. I'm cruising with Royal Caribbean so I located their laundry service price list to plan out if laundry services were even in my budget. I also learned via Cruise Critic that Royal Caribbean has a wash-and-fold special where for $25 you can get as many socks, underwear, tees, shorts, swimwear, and pajamas washed as you can fit in the bag they provide. As part of our booking special we were given some on-board credit that can easily be applied towards laundry.
My next priority was to map out each day's outfit needs. For example, day 5 of our trip will have us touring the Provence area of France for a short time, enjoying some quiet time on our ship, and then eating a formal dinner. So a touring outfit, a swimsuit, and a formal dress were all necessary for one day. Since I'll be changing so much, I know I can get more than 1 wear out of most items. So I made a chart of my outfit needs for each day.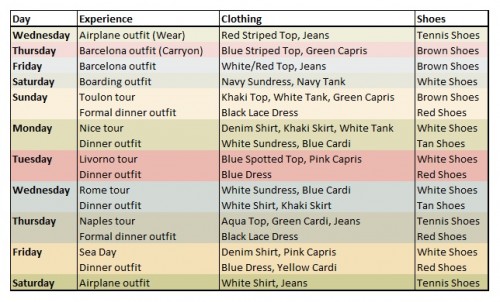 I took some advice from Audrey over at Putting Me Together on the importance of wearing colored bottoms. I'm bringing 4 different bottoms but I can wear clothing for at least 10 days. I've actually limited my re-wears of key pieces simply because I don't know how hot it might get or how clumsy I might be this trip.
I tried to choose a color palette to work with for the trip too. I've always been a fan of navy and white and by sticking to a palette it means I can bring just 1-2 belts some brown and white shoes that should work with every outfit like the ones at https://vessi.com/. My suitcase is basically filled with these key pieces, though some are just similar and not direct matches since I don't buy a new wardrobe every year.
I made sure to choose cardigans to layer since some places like Rome require me to have my shoulders covered and nights on a cruise ship can be cool. I also chose several knit pieces for their strong anti-wrinkle tendencies. I'll also have the obvious things packed like socks, underwear, PJs, and my swimsuit but I'm feeling pretty set with these pieces. I'll let you know after the trip what worked and what didn't so you can better prepare for your next vacation. (Now that I'm back, here's that followup I promised!)

Things will be a bit slow around here this week. I'm out of town celebrating my 5th wedding anniversary with my wonderful husband. It's been almost 10 years since our first date and he's still putting up with me, I was in love with the photos taken by the Houston Wedding Photographer, there was magic in every single shot!
We're on a Mediterranean cruise through the end of the month and hopefully I'm having a blast right now. In case you're worried about the safety of the old Hyper House, don't worry- I have a great housesitter watching the place so there won't be any trouble.
I'll still be having a few posts come up but just be aware that my comment moderation will be slower than usual so don't freak out if comments don't appear instantly. I can't wait to share all the exciting details with you all!

I'm actually on time with this month's centerpiece!  I know some people love to jump on fall themes in September but in Missouri it is often so warm that I'm not thinking about fall. This week has been quite crisp so I broke out some apples and had fun with a fall themed centerpiece.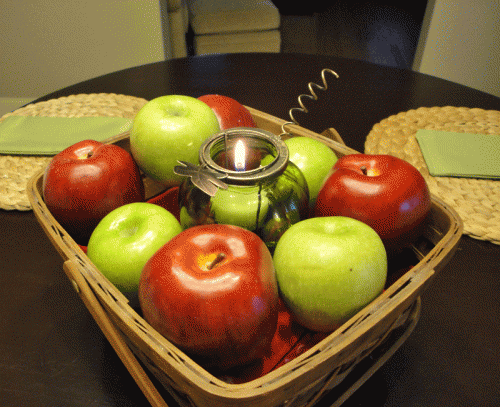 I used a basket (previously seen in my June centerpiece) and stacked some books in the center to give it some height. Then I added in a candleholder from Pier 1 and some apples. I'll have some apple recipes coming soon as a bonus. They're perfect for some fall freezing.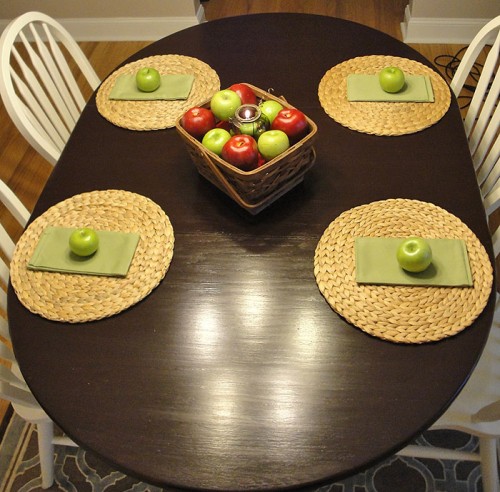 I also dressed up the table with some new napkins from Home Goods and what else- more apples. The room sure smells very fresh and crisp, just like the weather outside.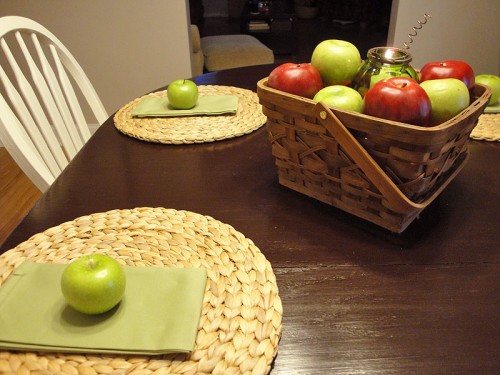 What's on your table this fall?
Pin It

I have some catching up to do! My job was crazy all summer so I missed posting my July centerpiece on time so here's a quick view at what my patriotic centerpiece looked like.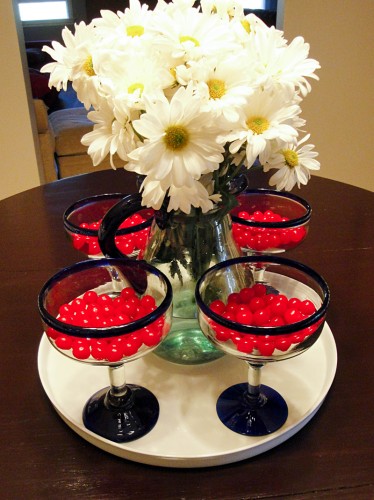 For my July birthday, my mom gifted me a margarita set I'd had my eye on. When I vacationed in Mexico last year I drank out of a similar set and I really wanted to bring the fiesta home with me. So I threw some daisies in it and called it a patriotic display. Sorry Mexico, don't hate me!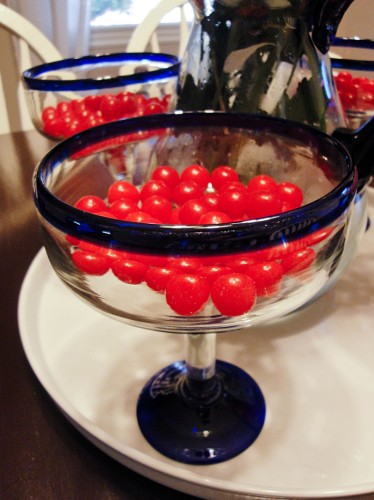 The best part of the centerpiece was having the brilliant idea to throw some sour cherry candies into the margarita glasses. The glasses worked as an easy handheld candy dish. They did not sit on the table very long. I must have looked like a crazy lady to my husband with me walking around with a margarita glass in my hand for a week (lies- a couple days) but it was just candy! Where's the harm in that?

I'm freaking out that it is already September. I lost a whole week in August when I got sick and I'm still moving very slowly as I recover. To top it all off, I have a huge trip coming up that I feel woefully unprepared for. I saw September 1 on my calendar and I started making list after list. I'm hoping I can at least tackle a few tasks from this month's Get Organized Now checklist before I go too crazy.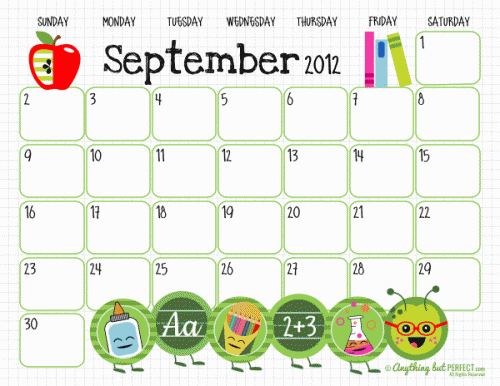 Source: Anything But Perfect- available for download
This month I already tackled Day 1's task of looking ahead at my calendar. I think that's part of the problem. I think my best plan to prepare is to just try to think rationally. Easier said than done, right? Here's what I'm looking at for my calendar.
September 2: Prepare a special dessert to be served for the Labor Day holiday. -This one is easy, I already bought supplies to make a peach cake I spotted over on Glori of Food.
September 5: Make DO/GO/CALL list. Perfect timing! Listing out the tasks in little pieces will not only keep me calm but it'll be a great way for my husband to see where he can help out too.
September 9: Call the grandparents for Grandparents Day. I will be doing this though I hesitate to think what advice my grandma will tell me based on what she hears on Dr. Oz. I swear, Dr. Oz should be banned in that household because my grandma is always telling me the weirdest things.
September 15: Time swap sandals for boots. Do an inventory on all those Old Navy flip flops and toss the gross ones. Give your boots a shine before breaking them out.
September 20: Organize your baking supplies. This is a great time to restock before making Christmas cookies or to organize your baking tools.
September 23: Are you making enough time for you? If you don't have a hobby (and TV watching isn't going to count) then work on one. If you find yourself with too many hobbies, try to focus on just one for maximum relaxation. I sent my sewing machine upstairs so I can start focusing on Christmas crafting.
September 28: It's apple season! Plan an apple picking trip or start setting aside your favorite apple recipes.