Archive from August, 2012
If you're still looking for the perfect potluck dessert for a Labor Day weekend barbeque, look no further than the cookie delight. It's tasty, doesn't require a lot of prep and it's very kid-friendly. The recipe originally comes from Taste of Home Magazine and I'm always finding my new favorites from them. This recipe is perfect right out of the box with one little exception.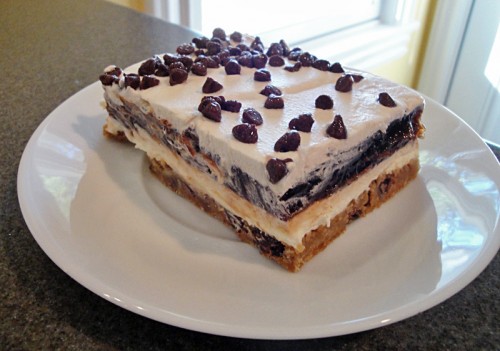 Start by baking a tube of cookie dough (or about 16 oz of your favorite homemade recipe) in a baking pan for about 15 minutes. Let this layer cool for about 45 minutes-1 hour before continuing.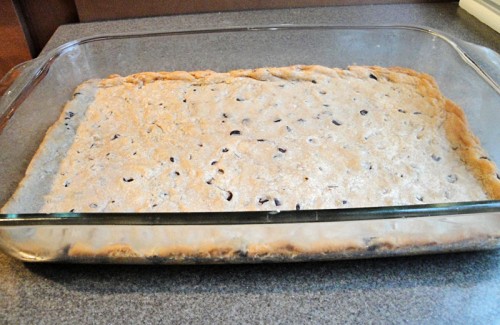 You'll need two separate bowls for the next step. Bowl one will be your creamy layer, mix together cream cheese, powdered sugar, and a portion of Cool Whip for this layer. Bowl two will be your chocolate layer, mix together your puddings and milk for this layer. You'll layer these onto your cookie base, first the creamy layer, then your chocolate layer.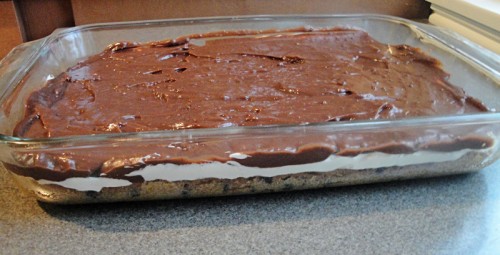 Now add your remaining Cool Whip and here's that important little change– sprinkle the top of the dish with mini chocolate chips. This is key to the whole dish being a success. There's nothing more fun than eating mini chocolate chips as a kid so just sprinkle away.
You'll want to chill this dish about 8 hours at this point so this is a great dish to prepare the night before or the morning of a barbeque.
Ingredients
1 tube (16-1/2 ounces) refrigerated chocolate chip cookie dough
1 package (8 ounces) cream cheese, softened
1 cup powdered sugar
1 carton (12 ounces) Cool Whip, thawed, divided
3 cups milk
1 package (3.9 ounces) instant chocolate pudding mix
1 package (3.4 ounces) instant vanilla pudding mix
Mini Chocolate Chips
Instructions
Press cookie dough into an ungreased 13x9 baking pan. Bake at 350° for 14-16 minutes or until golden brown. Cool on a wire rack.
In a large bowl, beat cream cheese and powdered sugar until smooth. Fold in 1-3/4 cups whipped topping. Spread over cookie crust.
In a large bowl, whisk milk and pudding mixes for 2 minutes. Spread over cream cheese layer. Top with remaining whipped topping. Sprinkle with mini chocolate chips.
Cover and refrigerate for 8 hours or overnight until firm.
http://www.thehyperhouse.com/2012/08/cookie-delight/
Pin It

When I got my KitchenAid Mixer the first thing I did was buy a beater blade
for scraping down the sides. This meant I now had 3 extra attachments just hanging around when I wasn't cooking something. I had a habit of losing them in drawers or the deep space of my baker's nook.
As part of my kitchen makeover, I'd built a little baker's nook to hold all my extra baking supplies. That might sound a little silly but I have a lot of supplies. The baker's nook was actually built to accommodate our lower window and give me a surface to roll out cookie dough (or bread dough or pizza dough) on easily. The nook was made by substituting vanity cabinets for kitchen cabinets and then just using a separate piece of countertop.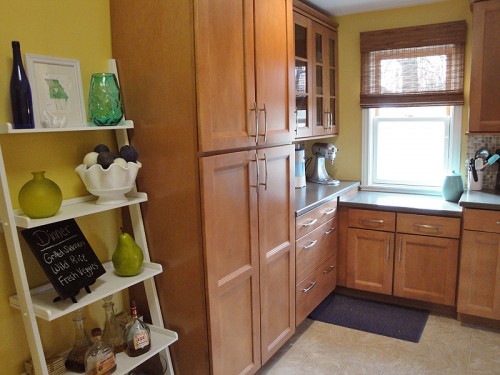 One side holds all my baking sheets and cake pans while my drawers hold things like cake piping tubes and tips, food coloring, sprinkles, and just general odds and ends. I had one lower cabinet left to fill. I added in my cake and cupcake stands, my hand mixer, and my double set of springform pans. The whole thing felt a bit empty still.
Enter those pesky Kitchenaid mixer attachments. There was plenty of space in there for them but I didn't want them to get lost in medium springform pan #2 (heaven forbid!) so I came up with a solution that seems so obvious I can't believe I didn't think of it sooner: 3M hooks
. Look how easily I can find my hooks now.
And a closeup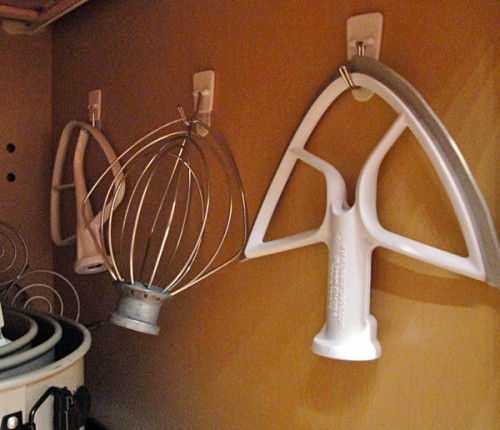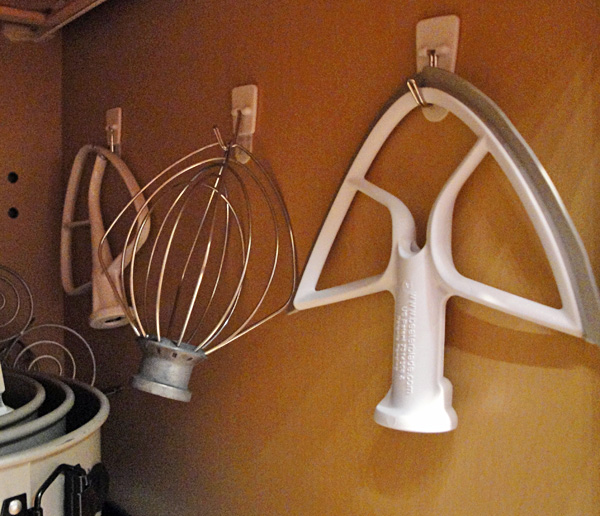 For under $5 I've got an easy storage solution that my college self would be proud of.
Pin It

Wow, I did not intend to be gone that long. I even have a vacation coming up that I don't plan on being that quiet for.
After posting 2 Mondays ago I was busy pushing for a work deadline when I started to feel kind of bad. I sort of chalked it up to the stress of the job and just kept pushing on. Eventually "kind of bad" turned into pain in the night which would last 30 minutes and then I'd be fine in the morning. That wasn't cool but I figured I'd get to the weekend and I'd feel better. When the weekend came I started to feel worse and I passed on skipping a marketplace I'd been looking forward to all summer just to try to relax. I figured whatever this was had to be all in my head from the stress, right? The deadline at work was finally over and I could just calm down.
Monday I was a little worse so I called into work and ran to the pharmacy to grab some unrelated items and in the short time I did that I had a fever jump several degrees. That was a little scary. The rest of Monday, all of Tuesday, and early Wednesday were just a blur to me. I had such high fevers during that time and some other scary side effects that I really had no clue what was going on. I ended up going to the Urgent Care, having the Urgent Care get freaked out enough they wanted me in the ER and then I got some medications in the hospital before coming home. Major infection and 4 medications needed in the hospital + 3 more outside.
I expected when I was released that I'd start feeling better but I was just as sick and it took another few days for the meds to kick in. My fever finally broke after 6 straight days of 103+ temps and then I started finally being able to hold down food and water. I'm still on some meds but I should be fine (or at least good enough to move around more) in another week or so with some more rest and learning how to take it easy for a bit. I'm just glad I was able to catch things when I did and that I have so many people like my husband, parents, and in-laws who helped out when I needed the most.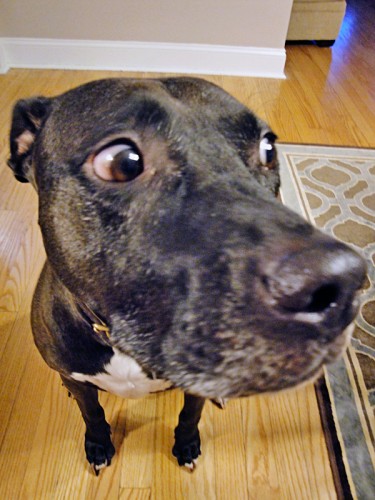 My dog Nova also believes she deserves some credit and since this was the look glued to her face last week, I'll say she was a dandy little helper too
I do hope to do some casual postings between now and Labor Day but I have some resting up to do in the meantime so forgive me if I'm a little quieter than usual. Have a good week everybody and remember to take it easy!

Just because the Olympics are over doesn't mean you have to stop going for the gold. Gold is back in style and I couldn't be happier. I know some people will always be loyal to white gold/silver/platinum but I've always loved all things bright and shiny and the right shades of gold and brass can be so beautiful. I'm happy to see more designers giving gold a chance and I'm hunting for the perfect accents to bring some gold into my home.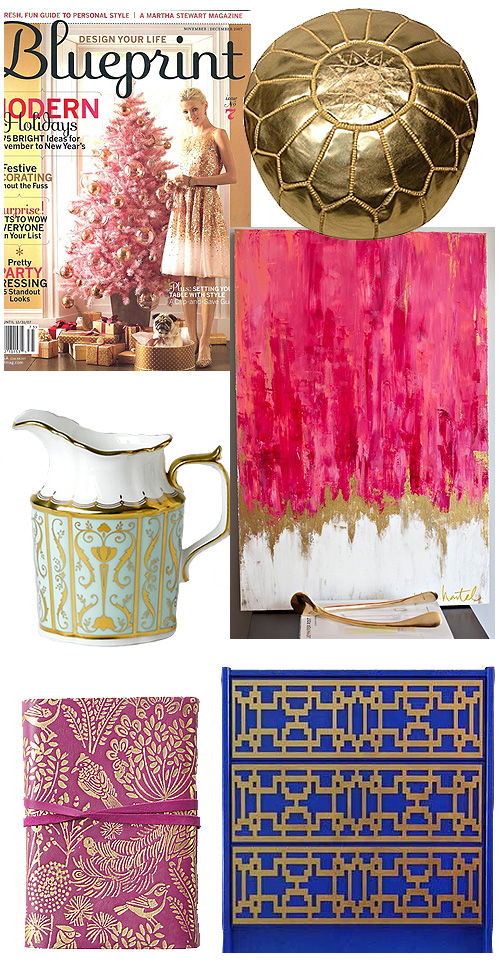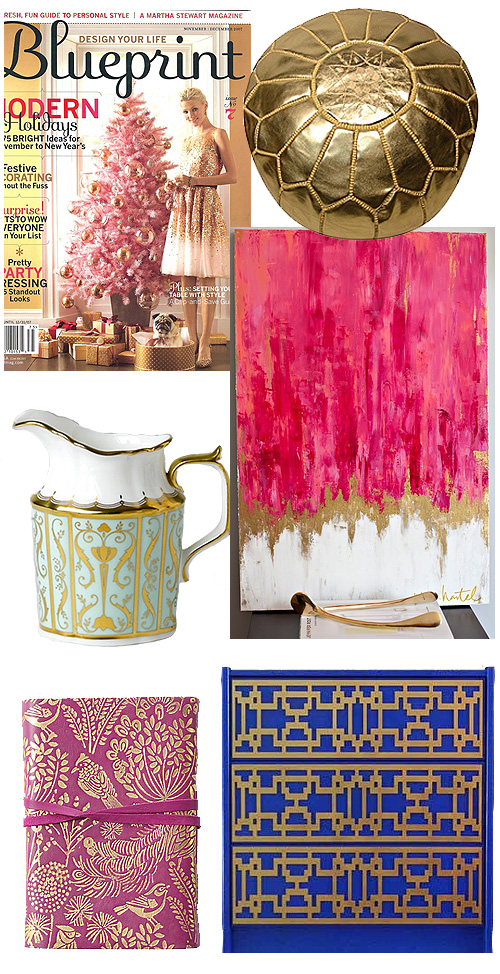 (clockwise from top left- Blueprint Magazine (December 2007), Gold Leather Metallic Pouf, Art by Maurie Hartel, O'verlays, Anthropologie's Prospero Journal, Royal Crown Derby Creamer)
I like to view gold as a neutral since I think it pairs so well with brighter colors like a bold blue, a soft aqua, or even a royal purple. Pink and gold have been a personal favorite since I saw a spread in Martha Stewart Weddings back in Winter 2007/2008 featuring a dusty pink and gold. That was also the same year of Blueprint Magazine's beloved pink Christmas (also by Martha, RIP Blueprint). Since then I've really grown to love all shades of pink with gold.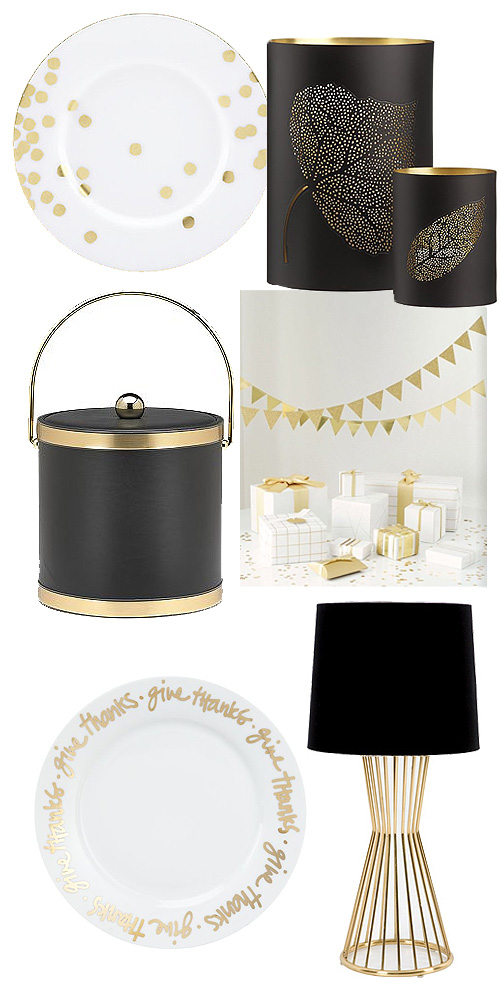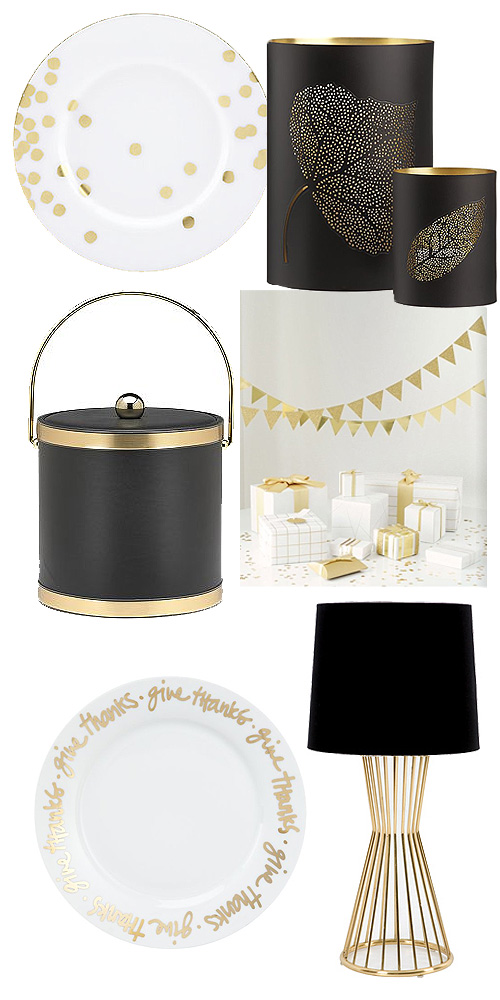 (clockwise from top left- Kate Spade NY Ticker Tape Plates, Crate & Barrel Hakkari Hurricanes, Cover of Gifted Magazine, Tulip Family lamp & shade, Crate & Barrel Give Thanks Plate, Brushed Brass Ice Bucket)
Gold seems to work even when paired with other neutrals. Gold and white can bring an amazing warm tone to a look and always makes me think of the fall and winter holidays like Thanksgiving and Christmas. Gold and black is such a bold contrast that I find it looks sophisticated and bold. I'm noticing the trend of black interior doors and trims coming back and when paired with gold it can form a daring choice.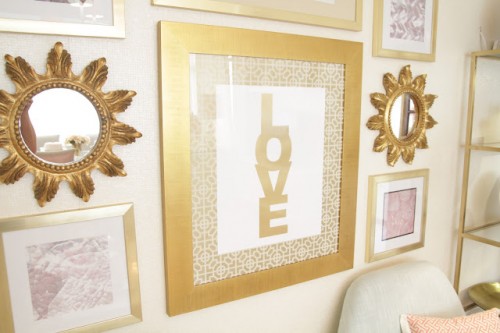 If you're not a gold person but want to try out the shade as we head into fall, artwork is always a great way to test out some color. I love the mixing of gold and brass in this space. (via Ana Antunes Home Styling, LOVE artwork by Jen Ramos at MadeByGirl)
If you're as into gold as I am, follow my gold-inspired Pinterest board to see my favorite gold pieces all year long.
Pin It

I have this giant chalkboard in my kitchen that has at times had anything from a dart board drawn on it to shopping lists and meal plans and even a cock fighting ring drawn on it. (Yes, that really happened)
For summer I envisioned an actual theme to the board. I wanted a big banner with all my summer goals below it so I could try to do all the cool hipster things like picnics in the park, a drive-in movie, and music festivals. I had no clue my summer would have so many days over 100 degrees and my summer goals would shift from fun outdoor things to hiding inside with the air conditioning. Before that reality hit, I did manage to make myself a cute banner for free.
To make this banner I took 16 paint chips, 4 in each shade I had laying around. It's a good thing I went through a pastel phase last year but I wish I'd been into blues and purples too. Still, my color selection was pretty nice and coordinated with my walls very well.
I cut the labels off each paint chip and then cut each paint chip into 3-4 usable pieces vertically before cutting each color into its own strip. Don't try to be perfect here, having some variation makes the banner have more character. I separated each color into a pile (so green, pink, orange, and yellow) and pulled 5 or so at a time randomly from each color stack. I started with my pink stack choosing 5 of the different shades and overlapping them while sewing slowly over the top. Then I added on orange, then yellow, and then green before returning back with yellow, orange and red. Just go slow while sewing through paper and you've got it.
I left long ends at both the beginning and end of my banner rather than cutting them off so I could easily hang them from my chalkboard.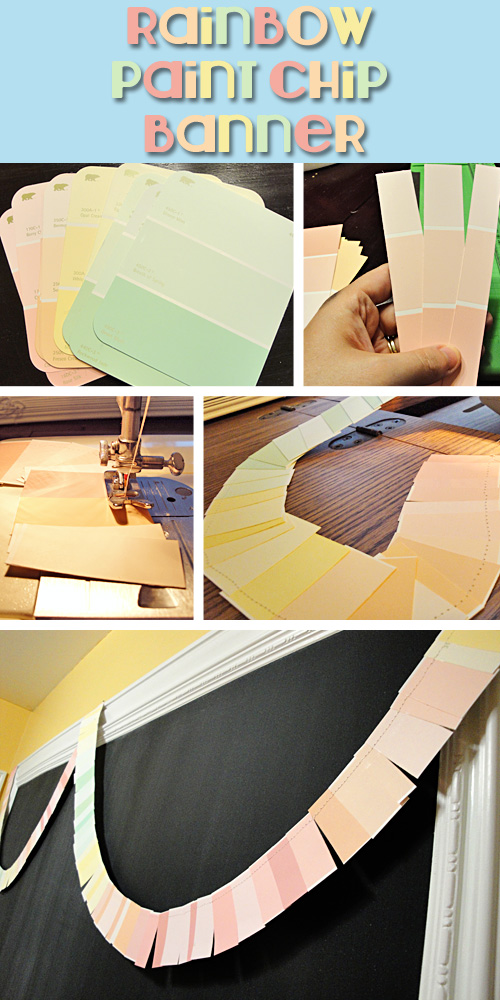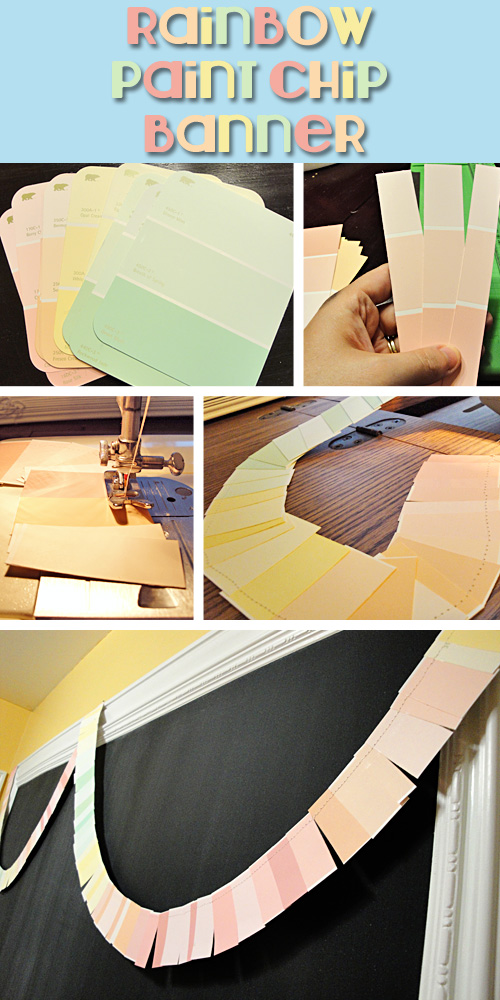 The banner hung for a month because I just couldn't think of anything worthy of the fun design. Luckily, my husband is much more creative than I am. My birthday was at the end of July and I woke up on my birthday morning to see him designing a masterpiece.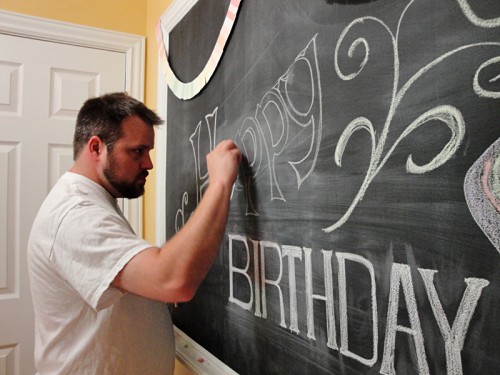 I don't talk too much about my husband Daniel but he's a very talented man. He wanted to be an art major in college before settling on computer science instead. He's really the creative talent in our home. He takes care of all the appliance repairs in the house, and rarely do we have a defunct appliance lying around the house (it's a different thing that we choose only the best from the market). I'm more abstract in my ideas but he can put anything to paper and make it happen. He designed the chalkboard and the artwork on it. Back when we made this room while I decided I wanted a room "full of sunshine" and I chose tile and paint to make it bright but I think he delivered the sunshine for my rainbow with his masterpiece.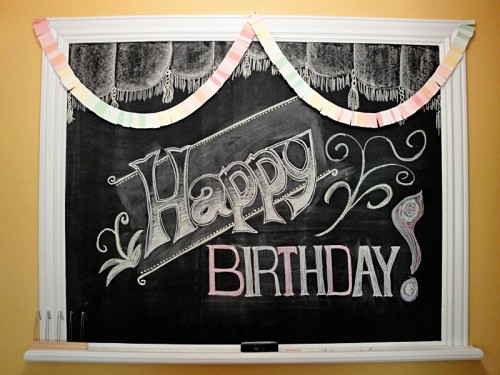 Pin It

I love getting a good deal. I don't always coupon but I do like to think through many items I enjoy and find more affordable options. It's why I love sites like Copy Cat Chic and Knock Off Decor. You might remember how I showed you how you can afford a Parsons desk at any price point, that's another way I love to save.
This week I found an amazing deal that I just can't pass on showing you. The Anthropologie Wide-Eyed Cookie Jar has been quite popular online with its big owl-shaped face. Unfortunately, the Anthropologie cookie jar costs $88. Ouch! Luckily I found a super close copycat over at Kirkland's. While the Kirkland's version is only a statue, it looks like a near-clone of the Anthropologie version. If you already have enough cookie jars but need more owls in your life, the Kirkland owl is a great Anthropologie copycat with a $76 savings.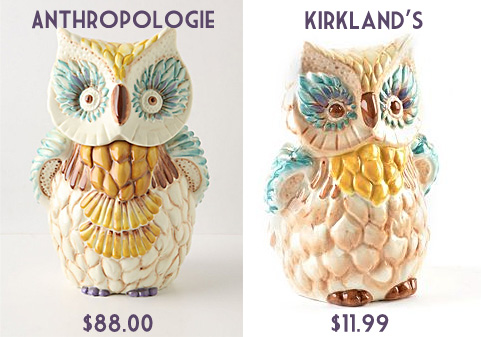 I also really love this other cute owl statue at Kirkland's. They're an interesting sort of store. We have a small one in my area but I often forget to check it out. Are you a Kirkland's fan or do you appreciate the name-brand of Anthropologie more?
Pin It

July was hot and long. I really hope August is a better month, how about you? With the changing of months you know that it's time for the Get Organized Now checklist. Remember at the beginning of July when I said I was in the middle of a heatwave and planned to wait for a cool-down to do some work? HAHAHA! July was 9.5 degrees warmer than all other Julys in STL. I fear my flower garden may never get done.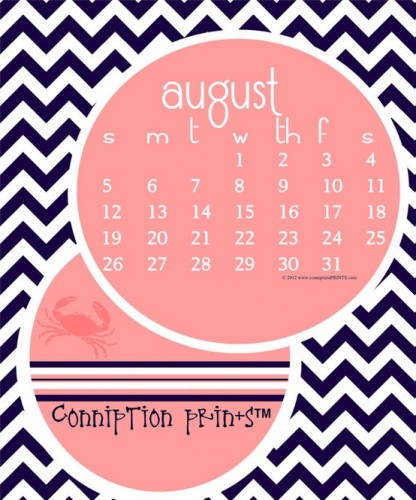 Source: Stylin' Stix Studio- available for download
Even though I'm "thisclose" to giving up on my flower bed, I will still keep working on conquering some chores (including posting some catchup posts I owe you guys!) Can we just say this month is all about staying cool, both physically and mentally? Both my husband and I have huge projects that will require 12+ hour days on the same day, we'll be finishing our C25K programs this month, and I've never heard so many prayers at church for rain. Let's just take this month one day at a time.
August 6: Take an early morning walk around the neighborhood. Enjoy the sights and sounds of nature. Have some fresh-squeezed juice when you get back.
August 8: Make some homemade ice cream. I have some frozen recipes you'll enjoy.
August 13: Make a battery hub in your house. Test all the batteries, inventory your needs and add any replacements to your shopping list. If you need some batteries for your smoke detector, add them to your list.
August 18: Time to dust the top of your fridge and underneath it, including the coils. You'll help improve efficiency and get rid of dirt that's often forgotten. This reminded me to contact duct cleaning Melbourne for their services.
August 21: Themed dinner time! Make a giant batch of tacos in all sorts of meats and invite over lots of friends. Have each person bring over a topping and you'll have an instant taco bar.
August 28: Organize all your pet supplies. Replace any broken leashes or collars and thoroughly clean all food and drink bowls.
August 31: You've survived the month! Go out shopping for a bunch of BBQ foods and enjoy the holiday weekend.
Pin It