Tagged with "travel inspired | The Hyper House"
Last year one of my favorite experiences was seeing the Lantern Festival at Missouri Botanical Garden. The gardens are always beautiful but the lanterns were gorgeous pieces of art in a beautiful landscape.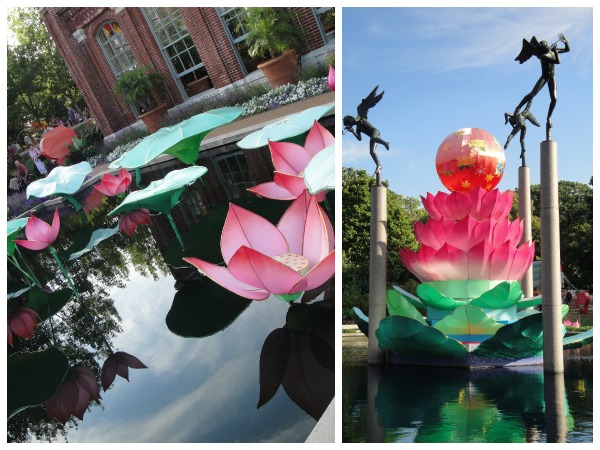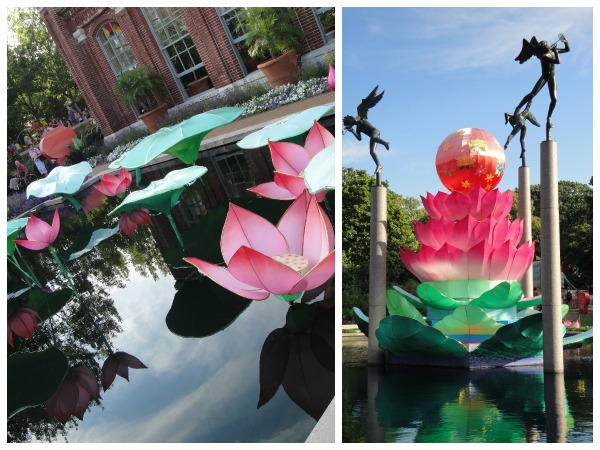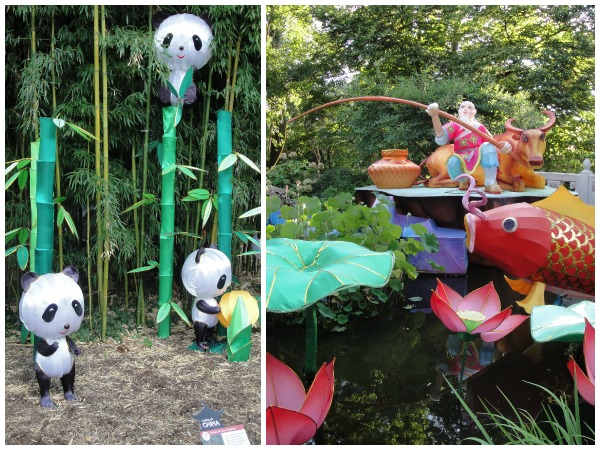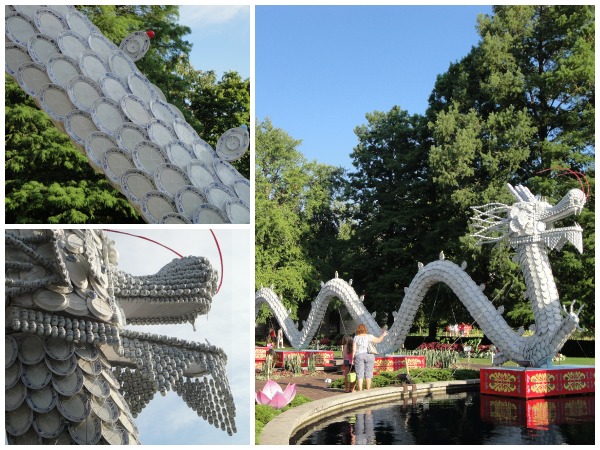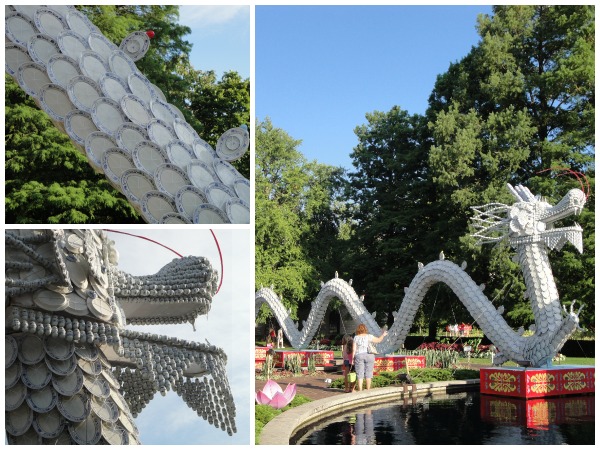 That last one there was so incredible. At night it lit up and breathed smoke. Purchase Soil Online with amendments and additions to make your own soil recipe. My favorite at night was this one: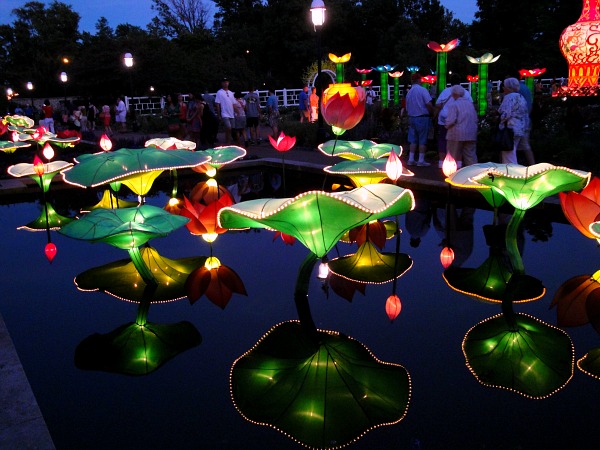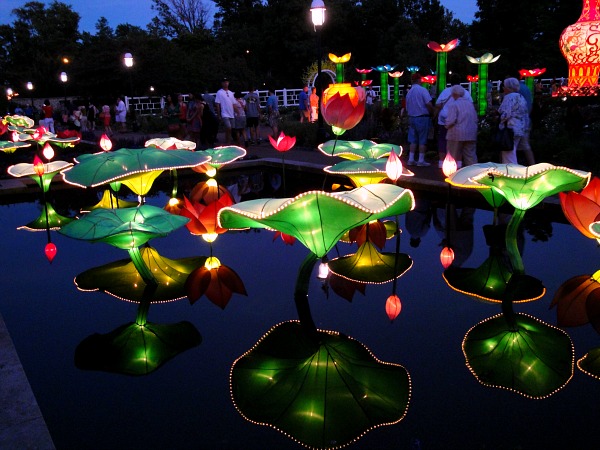 Seriously, how gorgeous are all the reflections? I've profiled the gardens on my old travel blog and I have to say that even without the lanterns that place is beautiful. I came away from that visit so inspired by what I could do in my own yard. Can you just see adding lights to a water feature in your own yard to play with texture?
I was pleased to see the gardens suffering from the same effects of drought that my yard was. Even the pros suffer too! I realized I was just fine in many of my plant choices and sometimes living in Missouri means bad years. I'm hoping this year will be a better one. Tomorrow will hopefully be the last snowfall of the season and I expect the rest to be melted by Friday. I won't plant then because I've got a Muse concert to see but Saturday this girl is putting on her shoes and planting grass seed.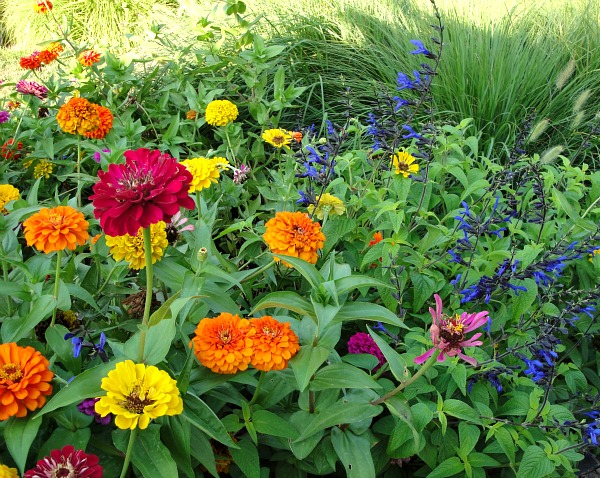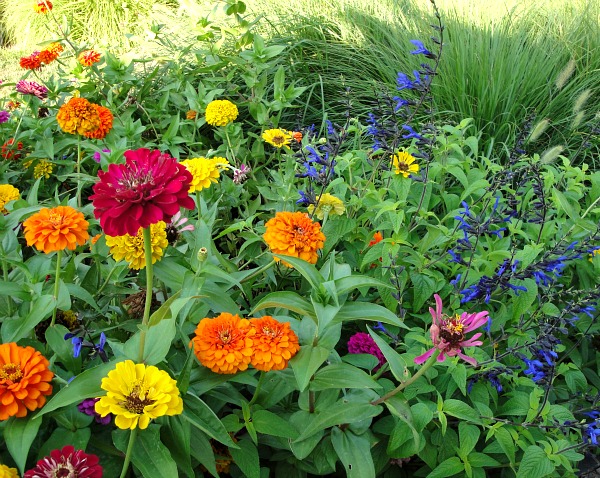 Back on topic to the cooler plants though. The botanical garden has a plant finder tool to help you decide what plants around Missouri and the gardens will work in your own yard. I used it with some of the photos I took of the hanging baskets in the garden.
It was very helpful to talk with a tree removal near me before making some landscape changes to distribute the space even better.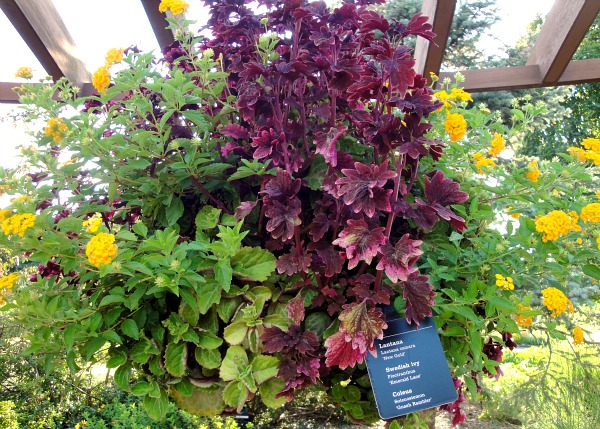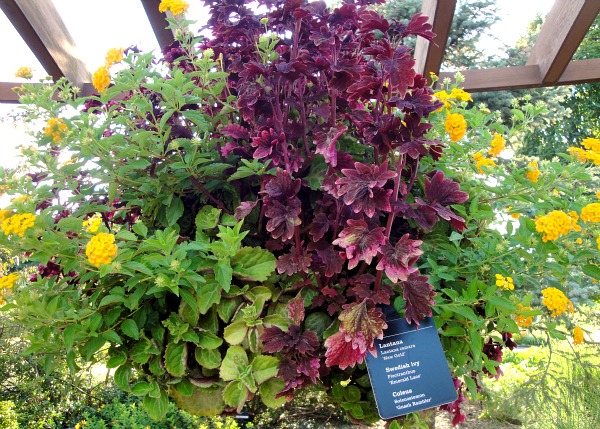 This basket has lantana, swedish ivy and coleus in it. I learned from the plant finder that lantana blooms in July (when I was there) and that it resists drought well which is probably why it was thriving so well. Bonus: it attracts butterflies.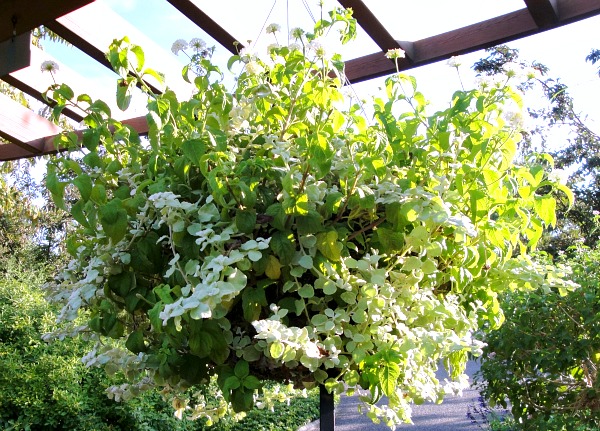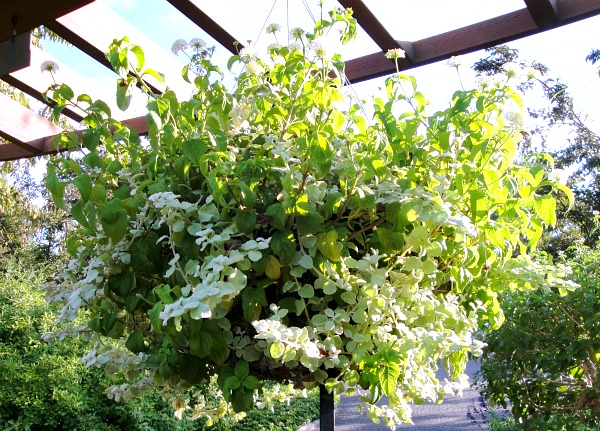 This basket also has lantana but this time it's paired with a licorice plant. Crazy how you can get such different planters both starting with the same species.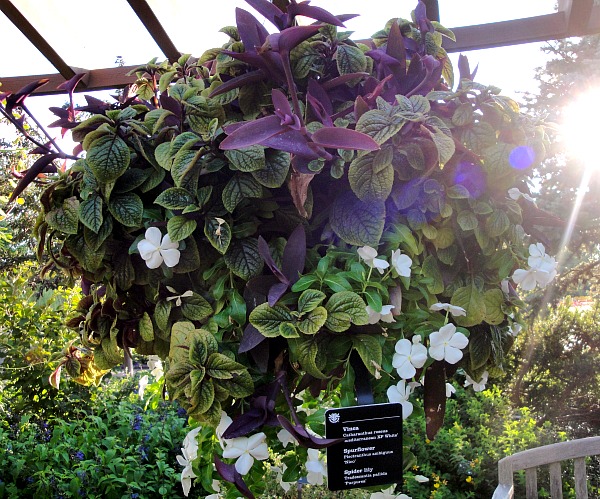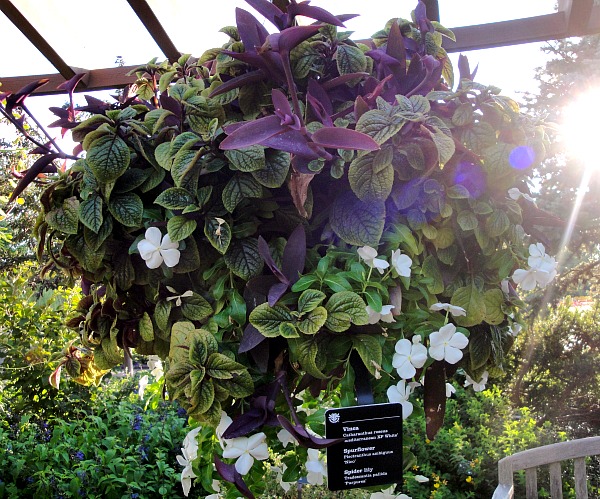 This basket has vinca, spurflower, and spider lily. The finder tool helped me to see that all would do well in the shade meaning I can still have a gorgeous basket even in the darker corners of my yard.
What do you use for garden inspiration?

I'm not the kind of person who makes New Year's resolutions. I'm the kind of person who wakes up in the morning with an idea, spends hours planning the idea out, and then jumps into it before I can change my mind. I know not everyone gets that kind of an itch like I do so I get the appeal of a new year to be used as a clean slate or a fresh start. If that's your plan, then go for it. If you sort of expect that in 6 weeks you'll have already given up, then maybe there's a different way.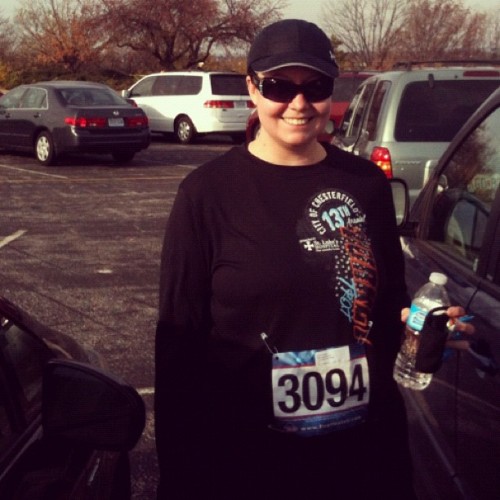 On my 26th birthday I decided it was time for me to try to be healthier. I'm a cancer survivor and I'd finally reached that critical 5-year point most survivors look to as proof they just might make it. I don't even think I'd realized I'd been holding my breath until I finally let it out. I didn't want my goal to be losing weight (though like many people I welcomed the possibility) but rather I wanted measurable proof that I was healthier. I'd seen my body become so weak once, my lungs strained when I walked, my bones hurt under my skin, and I felt afraid to move on with my life. It was time for me to take action.
I got a Wii and a Wii Fit and some fitness games and started building up strength. It wasn't easy. I also took up running and made it into an activity my whole family could enjoy. I ran a 5K on Thanksgiving morning this year. Then 2 weekends later I ran another one 2 minutes faster than my last. Even better, when I went to my regular oncologist visit I saw real proof I was getting healthier–my blood oxygen levels were at their best since I had started chemo almost 6 years earlier. There it was again, letting out another breath I didn't realize I'd been holding.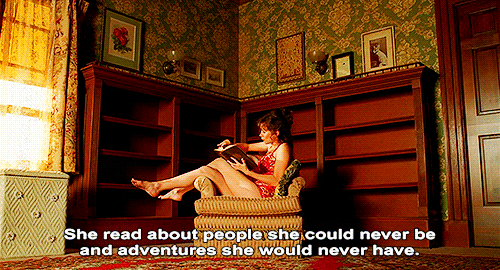 I went on a long trip this year. The kind of trip I never thought I'd take. One day I just took the plunge and realized if I lived my whole life waiting for some sign that I'd be waiting a long time. Part of living through each day as a cancer survivor is the uncertainty. It's hard to plan a trip 6 months down the road when you think in the back of your head you might not be okay in 6 months. But being alive is about taking risks, living in the moment, and enjoying what you see. Spending every day dreaming "next year will be different" was preventing me from living, truly living. I knew I had to get back to being me again and I couldn't wait for that elusive date in the future when it just might happen.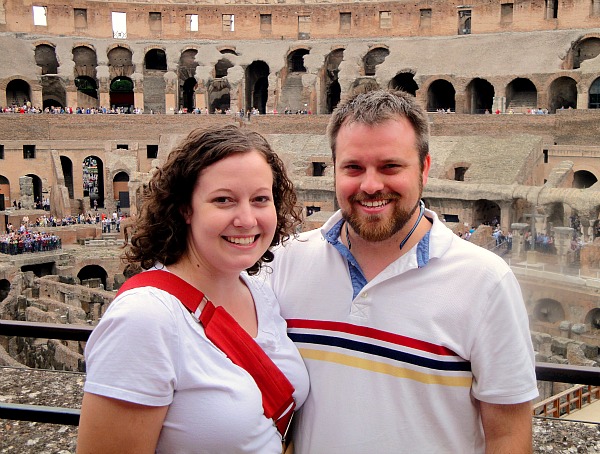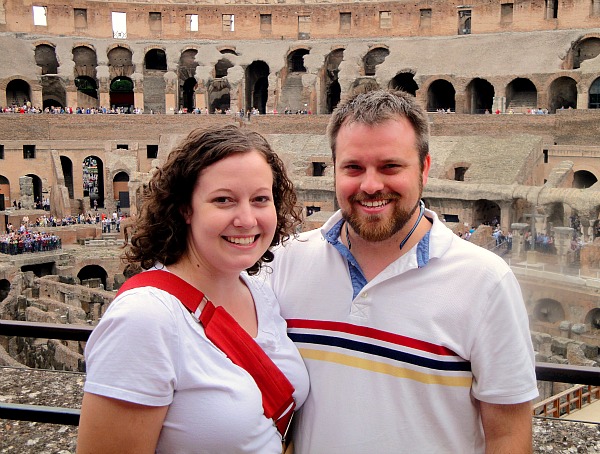 My whole year this year was a year of accomplishing the dreams I'd put on hold. I hadn't held a steady job since graduating college. I've known for a while that holding temporary jobs was a way for me to be available to leave a job in case I got sick again but at some point I'd apparently decided I wasn't going to put my life on hold like that again. I took a job that isn't just a job but a place where I can grow a career. Don't get me wrong, I have a lot of safeguards I've put in place should something happen to my health. I just try to live my life knowing there's a lot of possibility in my future, especially if I put my mind to it.
For me, holding back on a goal until January 1st of the next year rolls around is putting your life on hold. It's saying you don't believe in yourself yet but refuse to make any preparations to get yourself in a place you can succeed. If you keep making the same goals year after year are you really reaching your potential? If you plan to set a big resolution, maybe resolve to be more open to possibility. When you get those little nudges of inspiration, be willing to listen and take some big steps forward. I've had some set backs in those moments but I've also seen and done things I'd never trade.

This past weekend I tried a bit to get into the Christmas spirit. Christmas can be a hard holiday for me. I feel like if I don't get something done then I've let people down and if I do get it done it's often to the sacrifice of my own happiness. Awesome, right? I'm sure I'm not alone but it's a constant struggle for me to find some balance.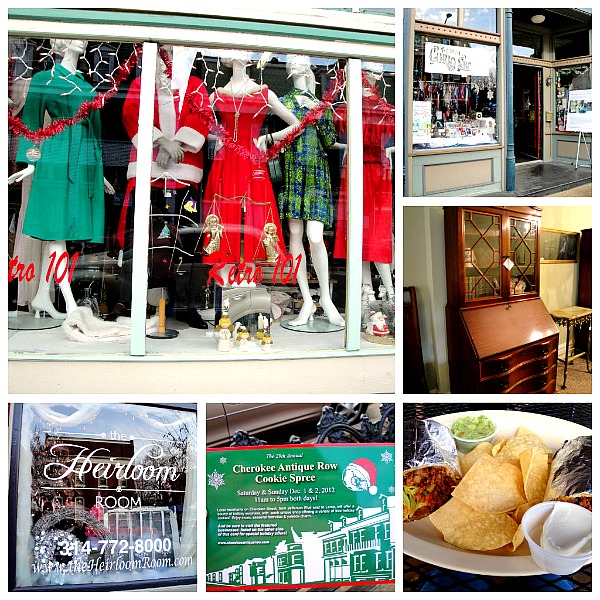 This weekend was spent trying to find that sweet spot. I went with my mom down to Cherokee Street in St. Louis. If you've never been, it's a walkable street with brick historic homes and storefronts. Many shops are filled with antiques or crafts. If you visit, you'll notice the amazing food in this area too. It's sort of the Mexican food capital of St. Louis. Today was also what is known as the Cookie Spree where every shop on the street that is participating has a cookie tray inside. Can you say way too stuffed?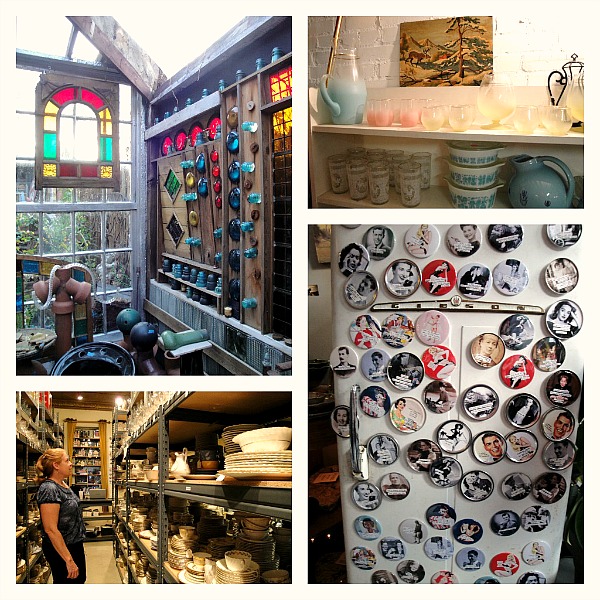 I ate lunch at a place called Neveria La Vallesana. Very good burritos there. I also did a ton of window shopping. If you want some fun places to shop, The Purple Cow, Retro 101/Cherry Bomb Vintage, and St. Louis Curio Shoppe are your stops. If you want something practical, check out China Finders, Lady Jane's, Haffner's Antiques, or Hammond's Books.
My two favorite shops of the day both heavily featured antiques. Elder's Ltd had 3 stories of some of the most beautiful antique/mid-century furniture at reasonable prices. It's a shame I wasn't looking for that this time but I'll definitely be back. My other favorite was the place I got my big purchase of the day, Bella. I'm not sure my dog is impressed but I've got high hopes for turning this tea cart from Bella's into a bar cart. There was a 20% off sale going on today and they gave me a great deal and I can't wait to get to work on this beautiful piece.
Oh and notice my blue dining room rug in the background? It got moved to the living room this week. I don't know why, I just decided to mix it up. I might end up with a new rug in the dining room and it'll work with this new bar cart look. I'm just trying to decide if I want to stick with blue as my accent in the dining room of if I'd rather go with a bolder color. Stay tuned for updates one day on that front.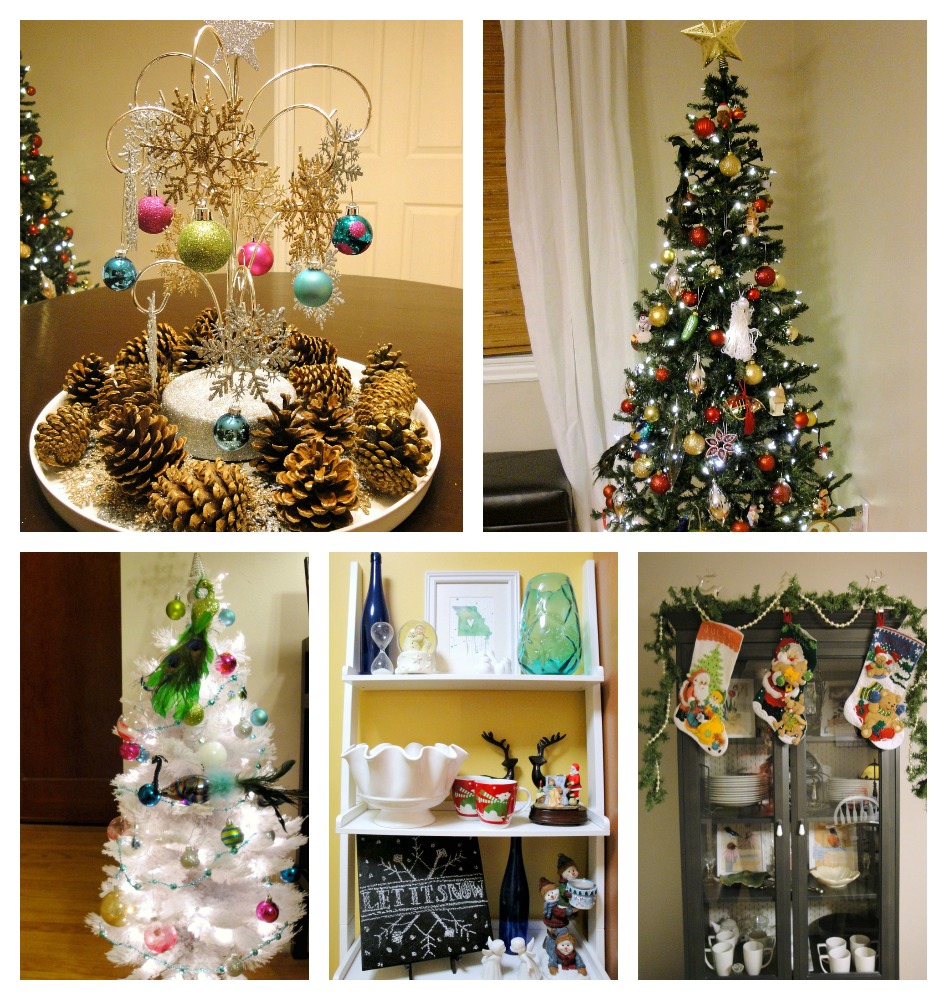 The dining room did get a bit of a new look minus the rug being taken away. We put up our Christmas tree! It may not look like much, being a $16.99 purchase from back in 2005 but it means something. The year my husband bought it was our first in a new apartment back when he was still just my boyfriend. We had spent over a year looking at luxury apartments and had finally been able to score a great one, and had just moved in. Not too long after moving in it was winter, and I got really sick. Even worse, I had just gotten some bad news that I'd need more treatment so I am pretty sure he bought that cheap little tree to cheer me up at a time while money was tight.
I think that's the important way for me to find some balance this season. Just stop and take a step back and remember all the little reasons to try hard this season. I don't have to do everything right or everything perfect but I should try to do it with love and care and let the pieces fall where they may.

So before my big trip, I planned out some outfits so I would be able to pack as minimally as possible. I wanted to follow up on that post to let you know how successful I was. First up, I didn't end up doing laundry on board the cruise ship. I used my cruise credit for drinks and cupcakes. I'm a glutton, deal with it.
The only difference that made was I needed to double up on a few tanks for layering and bring the full amount of underwear to last me the trip. When I got around to packing it all, I realized I had more than enough space. I was pleased because my plan was to bring home souvenirs so I was more than set. Just to be safe, I weighed my luggage and the heaviest bag was 32 lbs, so I had well over 10 lbs of "souvenir space" to work with. Perfect!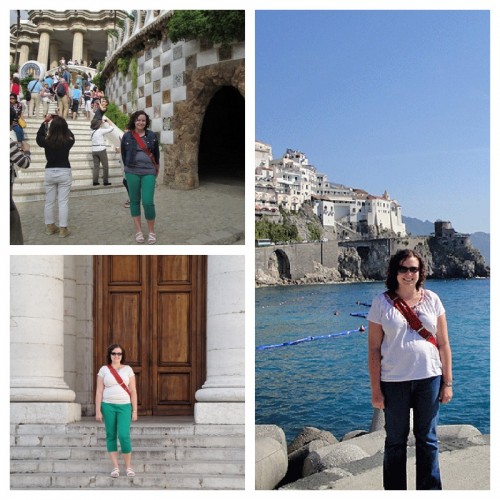 Here you can see me in my green capris and blue striped shirt in Park Guell (Barcelona), my green capris and tan top in Toulon, and in jeans like the ones at Citizens Of Humanity Jeans and a white top in Amalfi.
I ended up swapping some outfits around, like after a freak rain storm soaked my outfit in Monaco; that outfit needed some time for the pieces to dry so I just swapped what day I wore things. Same thing with my landing day, I ended up not changing until dinner. I was able to do that because I chose to pack 3 additional pieces over what I listed in my planning post. I brought a dinner sundress for my time in Barcelona (since I didn't want to wear the same thing I wore to the beach or to hike) and I brought one casual outfit, some sweats and a t-shirt. That was a great choice since I just lounged on our room's balcony for much of the time. I wanted to be cozy on those crisp Mediterranean mornings. Since I did that, there was an entire outfit I never ended up wearing. I had overpacked!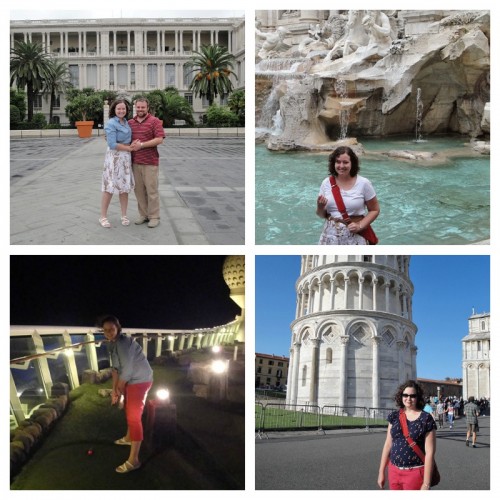 Some of my most versatile pieces were my denim shirt, my khaki skirt, and my pink and green capris. You can see me wearing these pieces in (clockwise from top left) Nice, Trevi Fountain in Rome, Pisa (that's the Leaning Tower behind me), and on board my cruise ship the last night playing mini golf with my own taylormade driver.
The idea of glow-in-the-dark miniature golf courses began in Scandinavian countries such as Finland and then was brought here, learn more at the Pine club golf website. Since these northern countries experience months of short days and long nights the glow-ball and glow-courses allow them to enjoy the game all year round and outdoors.
I always felt comfortable in my pieces (always pack clothes you've worn several times before!) and I never stood out in my pieces. I chose colors on a same color palette to maximize mixing and matching–lots of browns, blues, greens, pinks/reds, and whites. Before packing, look at what colors highlight your closet and try to choose 3 or so favorites with 1 or 2 neutrals.

For my big vacation, I had a bit of a time figuring out how to pack for the trip. I'll be gone for 10 days, I'll be seeing varying temperatures, some days I'll need to dress modestly and others more formally. On top of all that, I wanted to leave plenty of room in my luggage to bring home souvenirs.
The first thing I researched was if laundry services would be available for my trip. I'm cruising with Royal Caribbean so I located their laundry service price list to plan out if laundry services were even in my budget. I also learned via Cruise Critic that Royal Caribbean has a wash-and-fold special where for $25 you can get as many socks, underwear, tees, shorts, swimwear, and pajamas washed as you can fit in the bag they provide. As part of our booking special we were given some on-board credit that can easily be applied towards laundry.
My next priority was to map out each day's outfit needs. For example, day 5 of our trip will have us touring the Provence area of France for a short time, enjoying some quiet time on our ship, and then eating a formal dinner. So a touring outfit, a swimsuit, and a formal dress were all necessary for one day. Since I'll be changing so much, I know I can get more than 1 wear out of most items. So I made a chart of my outfit needs for each day.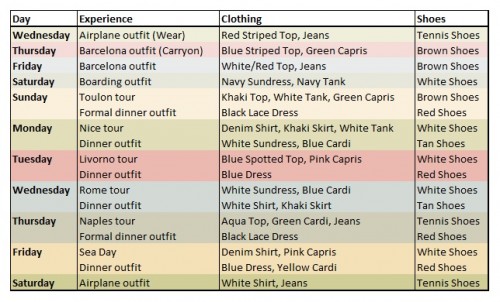 I took some advice from Audrey over at Putting Me Together on the importance of wearing colored bottoms. I'm bringing 4 different bottoms but I can wear clothing for at least 10 days. I've actually limited my re-wears of key pieces simply because I don't know how hot it might get or how clumsy I might be this trip.
I tried to choose a color palette to work with for the trip too. I've always been a fan of navy and white and by sticking to a palette it means I can bring just 1-2 belts some brown and white shoes that should work with every outfit like the ones at https://vessi.com/. My suitcase is basically filled with these key pieces, though some are just similar and not direct matches since I don't buy a new wardrobe every year.
I made sure to choose cardigans to layer since some places like Rome require me to have my shoulders covered and nights on a cruise ship can be cool. I also chose several knit pieces for their strong anti-wrinkle tendencies. I'll also have the obvious things packed like socks, underwear, PJs, and my swimsuit but I'm feeling pretty set with these pieces. I'll let you know after the trip what worked and what didn't so you can better prepare for your next vacation. (Now that I'm back, here's that followup I promised!)

I mentioned in another post how I love Katie Daisy's whimsical creations. I'm starting to plan out some artwork purchases and I decided to create an image board to help me see how her pieces would work with some ideas I had in mind. I chose two of her pieces, Salt Air Hair and Take Me to The Sea, as inspiration for a soothing bathroom look.
I'm not sure if I'll end up going this route as my bathroom won't be started on until at least October, but I love the idea of a softer take on the nautical idea. I chose pieces that reminded me of ocean waves and salty seas for this inspiration board. I've listed the sources but I've also listed out some DIY alternatives for some of the pricier pieces.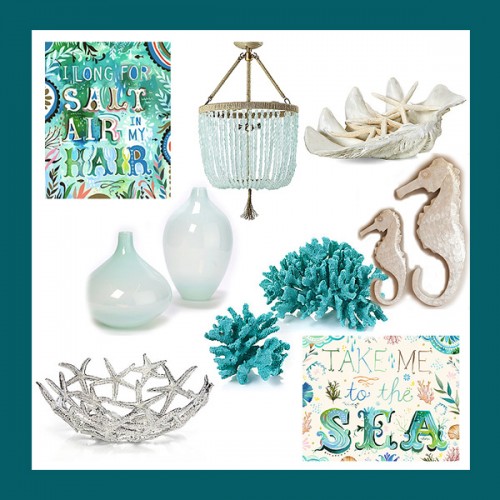 Sources
Seychelles Chandelier by Serena & Lily ($1500). This item is so gorgeous but the $1500 price tag is way out of my budget. Even before I saw the price tag I was thinking of how similar the light was to these DIY mardi gras bead chandeliers. I'd love to try it with these chip bead strands. I'm not sure what kind of light I may include in here but it would work simply as a decorative piece over my corner bathtub.
Large Atlantis Clam Shell by Z Gallerie ($59.95). I'm hoping I can find a slightly smaller (and cheaper!) version of this clam shell. It would look perfect on my bathroom vanity with some decorative soaps and handtowels thrown in.
Capiz Sea Horses by Pottery Barn Teen ($29-$39). I've seen DIY tutorials for copycat capiz using waxed paper and I think there's a project here. These would be great for the walls above my bathtub.
Faux Coral by Z Gallerie ($29.95-$59.95). I already have the perfect plan for DIYing this for a lot less. I'm going to buy coral at the local pet store and spray paint it a nice shade of aqua.
Starfirsh Bowl by Z Gallerie ($24.95). The price on this one is too good to resist. I think this would be a perfect holder for some of my Lush bath bombs or some rolled up towels near the bathtub.
Blue Cloud Vases by Z Gallerie ($19.95-$24.95). While I could think of a DIY copycat, I think it would cost more than the actual item and the color on these is perfection. The 8″ one would be perfect on a bathroom shelf.
Any ideas for some other good accessories or wall colors? I have a Target soap dispenser that would repurpose beautifully into this room but I'm worried the overall look might be too dramatic for the subtle and sellable look we're going for.
Pin It

I've been looking at photos of Provence, France lately and I've fallen in love with the beautiful fields of lavender. How could you not fall in love with a countryside that looks like this?
So to bring the inspiration back home, I bring you this inspiration board.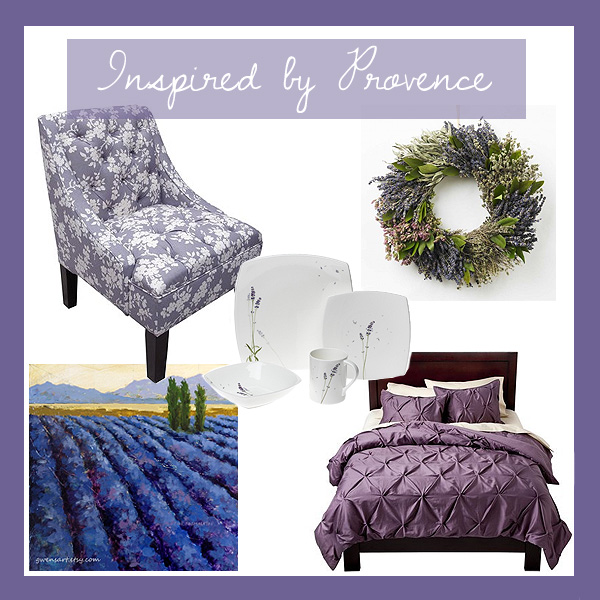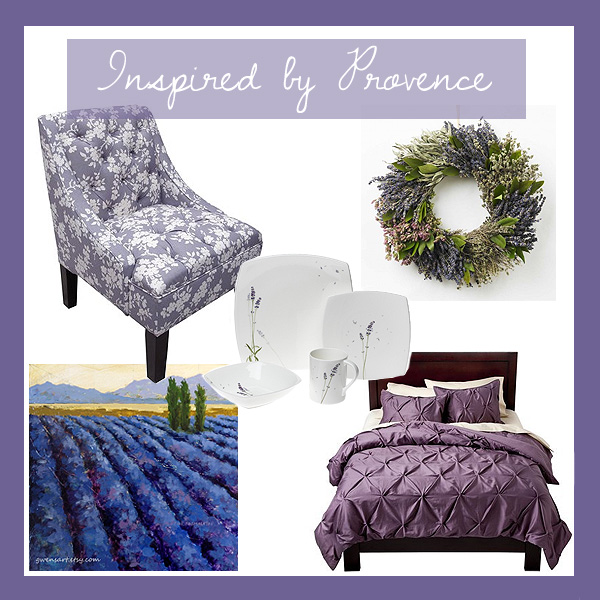 Lavender Swoop Arm Tufted Chair Target $303.99
French Herb Wreath Viva Terra $69
Mikasa Lavender Lane 4-piece Place Setting Amazon $77.99
Lavender Field Print Etsy Artist GWENSART $12
Puckering Duvet Set Target $69.99
What other countries would you like to see some travel-inspired design for?
Pin It