Archive from October, 2016
At my last house, I fell in love with the schoolhouse look when we added a giant chalkboard to our home. My new house has a few schoolhouse accessories too: a set of lockers, a plan for another chalkboard, and coming soon – some schoolhouse style wall charts. I fell in love with giant botanical art posters a few years ago and never had a perfect spot for it. When I found a spot in the new house, suddenly I couldn't handle purchasing them at the price points I was finding. Luckily I found a lot of options for purchase when I looked a little outside the box.
As a bit of history, these botanical prints are often better known as Jung-Koch-Quentell charts. ArtPlantae has a well-researched background piece if you are curious about how these charts were used in German schools. You can also purchase The Art of Instruction which includes a look at all of the charts used.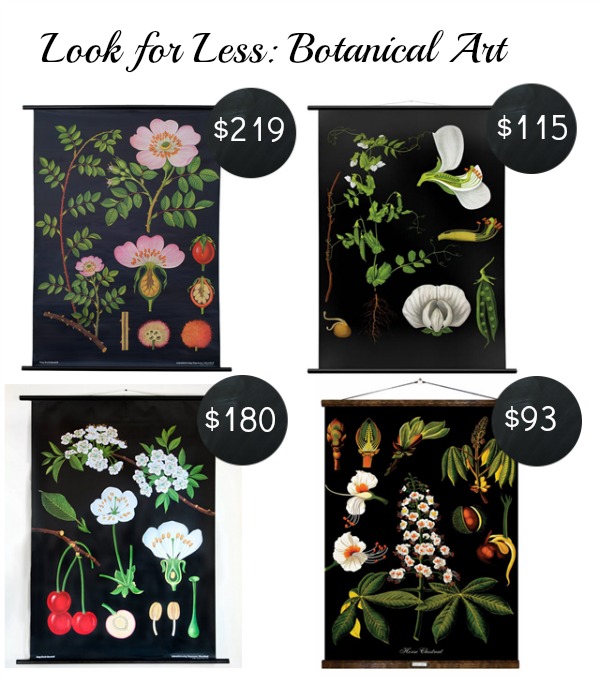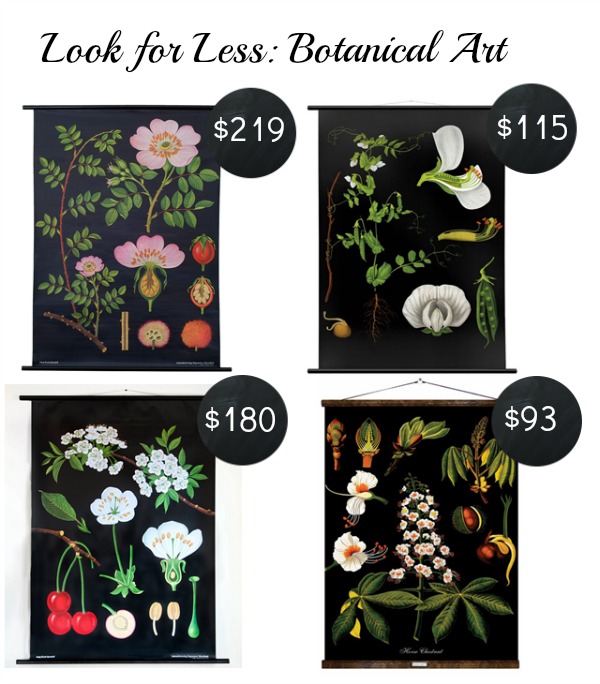 Dog Rose Botanical Poster – The Evolution Store | $219
Hageman Cherry Botanical Chart – Pistils Nursery | $180
Garden Pea Wall Chart – Wallography | £89 (or about $115)
Jung-Koch-Quentell Chestnut Botanical Poster – Art Reflection Studio (Etsy) | $93
TIP: For this piece, using multiple search terms helped but even better was checking international sources since these pieces were originally made in Germany. I was even able to locate these prints direct from Germany but because of the language barrier I ultimately did not choose to pursue them. I did find British and Canadian sources for much less, even when considering shipping costs.

I mentioned earlier I've been looking into some cosmetic updates for my guest bathroom. This is the bathroom located on the second floor of my home. It gets a lot of frequent use in my home since we're both still enamored at the idea of having more than one bathroom.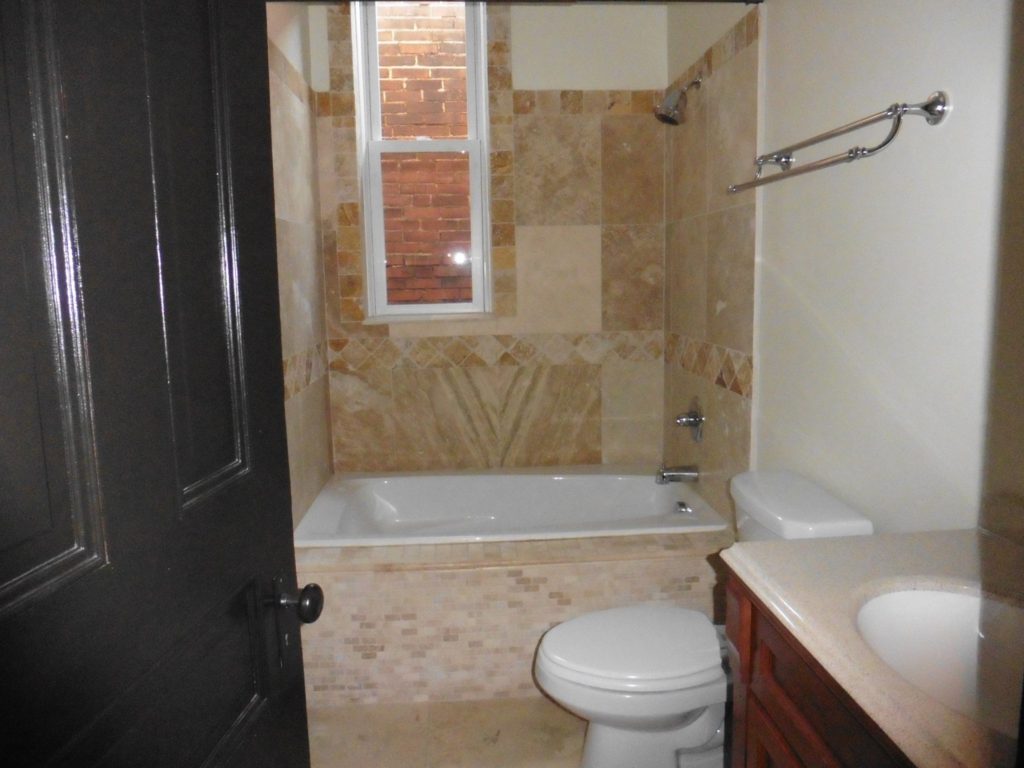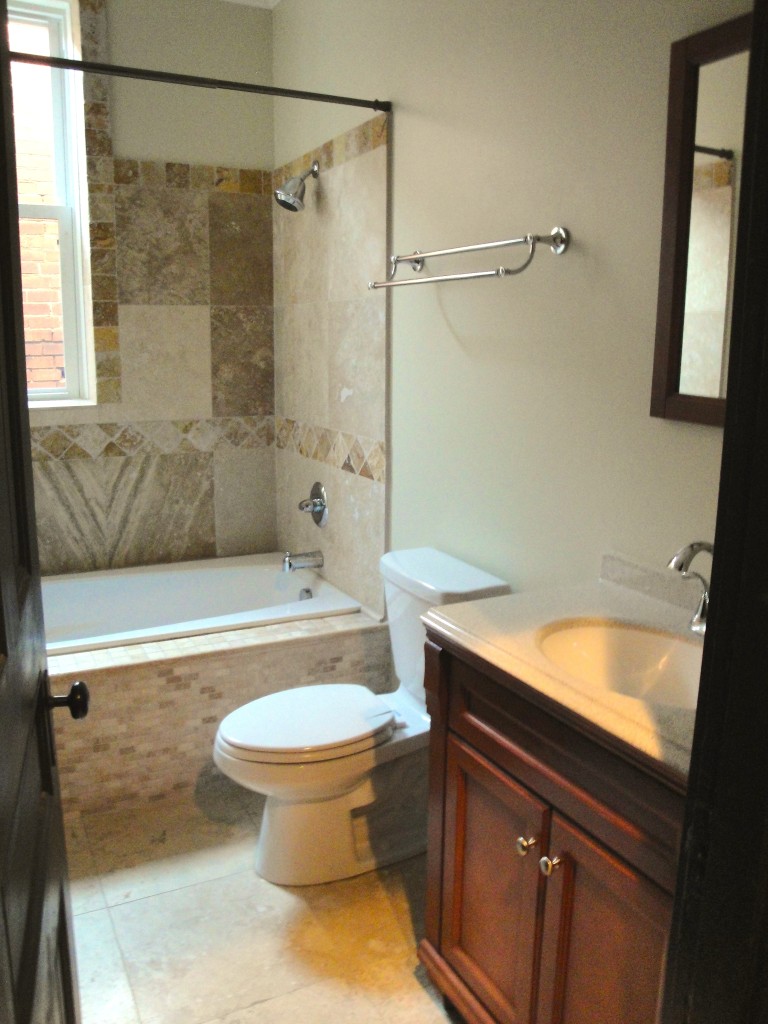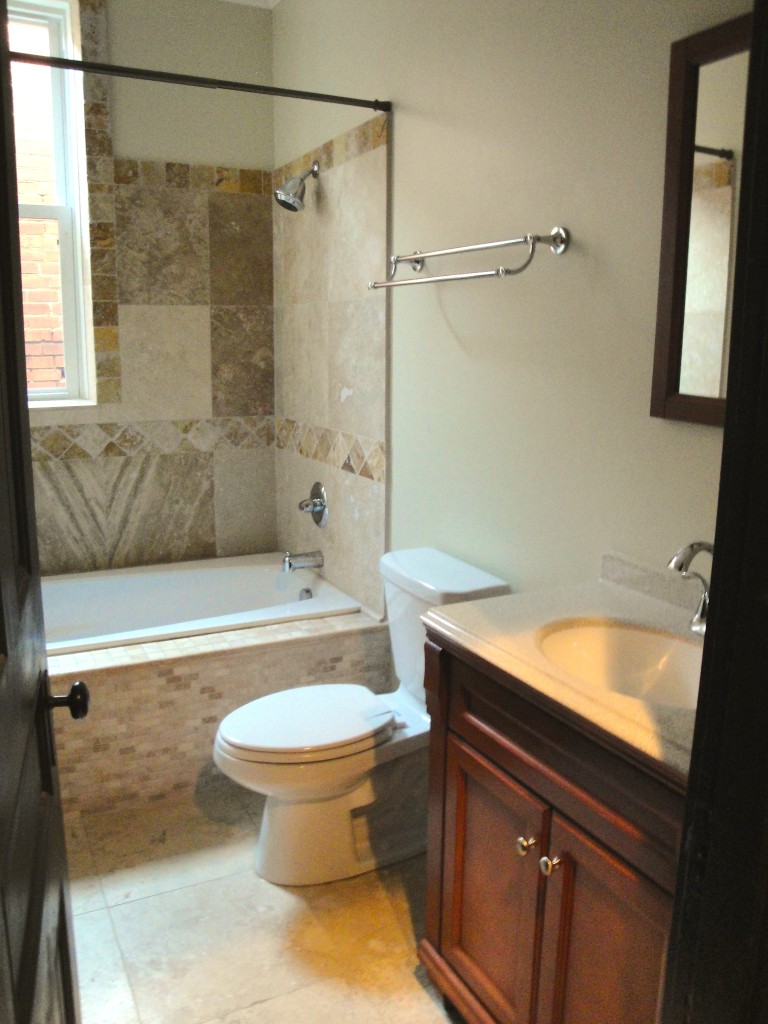 The space is pretty nice with a full shower and a jetted tub. It also has a nice view in the shower of my neighbor's window and I'm not down with exhibitionism. Tan tile isn't really my thing but I also don't want the hassle of ripping it out. The worst part is that the grout looks pink against the tan walls so I'll definitely be changing the wall color. I also want a more functional space with some shelves and hooks.
On a design note, I moved the same art and towels from my last house over to the new place.
My towels are showing their age and I already bought a new white shower curtain since my last house had a glass stall. So far my new house has a French Rustic Industrial vibe going on. I want to bring this into the bathroom just a bit. I'm thinking metals and natural-looking woods, lots of white and tan tones, and some natural elements in this space.
This is the general vibe I want while not spending too much on the space.
To Do List:
Add window privacy
Paint the walls
Change the light and mirror
Remove the towel bar and put hooks on the opposite side of the bathroom
Add functional shelving over the toilet
Organize my under sink storage
That doesn't seem insurmountable, does it?

Do you ever get in a reading funk? There are some times I just get bored with a series or a writing style or can't handle escapism fiction or another nonfiction book. I graduated with an English minor and remember needing a reset after college but now I fear I've veered too far off course yet again.
Enter the #BustleReads Challenge. It's just 20 books across a variety of categories so you can choose what fits your personality while reading more diverse books. I'm more than halfway through the challenge and I thought I'd give a preview of what I've been reading.
1. Read a Book in Translation:
Colorless Tsukuru Tazaki and His Years of Pilgrimage
The writing style of this book is unlike others I've read but it really drew me in. I recognize it's a translation and I'm not sure if I gained or lost something in translation but I found the writing style enhanced my reading of the plot. At times I found the plot confusing jumping between times but in the end I think it served a purpose. The book covers a transition to adulthood from adolescence in a quick way physically but it takes the long way round on the emotional shift. The book made me think about my own friendships and how they drift apart and how sometimes you're not fully ready to move on. I think the bigger lesson about emotional availability and being tied to the past made me question if it's worth it to dwell in the past or more important to process it and move on. The writing was nice, the plot at times a little confusing, but it was the kind of book I couldn't stop thinking about when I put it down each night.  4/5 stars
2. Read a Young Adult Book by an Author of Color:
To All the Boys I've Loved Before
I'm not typically into contemporary young adult romances but I read this book as part of a reading challenge and found myself pleasantly surprised. At times I found the characters a little immature but it's a young adult book so my expectations are adjusted accordingly. I liked Jenny Han's attempt at discussing culture and the connections with it but at times they fell a little short. I think the part of this book that surprised me was that it was a romance but the real love story involved that of a family. The book is fun and a little whimsical while bringing back some nostalgia. 3.5/5 stars
3. Read a Work of Post-Apocalyptic Fiction Written by a Woman:
This wasn't so much a post-apocalyptic book as it was a tale of those before and those after. I felt the idea of basing these stories around one man's life made the book far richer. Tie in the other media references like King Lear and "Survival is insufficient" and you realize how rich the text really is. You can survive a crisis but you must learn how to live again and how to go on and this book isn't afraid to touch the many ways people respond in crisis. I tend to only read post-apocalyptic fiction written by women (as opposed to men) so this book felt similar in tone to the others I've read.  4.5/5 stars
4. Read a Book About an Indigenous Culture:
The Absolutely True Diary of a Part-Time Indian
I was very emotionally invested in this book nearly from the beginning. I feel like it's the kind of book I would have been forced to read in school and hated but reading it now with the knowledge I've gained since school really enhanced the experience. This is a good book, a little preachy at times, and kids in school might hate that. As an adult who has read other works by Sherman Alexie, I enjoyed it and could connect it to other writings I've enjoyed. I felt like it really covered the feeling of being immersed in the Native American culture and what it meant to the narrator. 3.5/5 stars
5. Read a Book Before You See the Movie:
The Devil in the White City: Murder, Magic, and Madness at the Fair That Changed America
I went into this book thinking it was just a book about a serial killer and came out realizing this was almost 2 books in one. The book is very heavily focused on the 1893 World's Fair and Larson managed to splice in the stories about H.H. Holmes in a very informative way. Unfortunately I felt like the storylines were too separate and didn't parallel as I had hoped once I got into the concept. It was still intriguing and well informed but unfortunately I wanted more. This book was optioned for a movie but still very early in pre-production so I may have jumped the gun in reading it for this challenge. 3/5 stars