Archive from May, 2015
 When I set my 30before30 goal of taking a class, I really thought I'd end up in a cooking class or maybe as a stretch I'd be in a stained glass class on Main Street St. Charles. Imagine my surprise when I ended up in a painting class. I haven't painted anything since I was 10. But there's no better time than the present.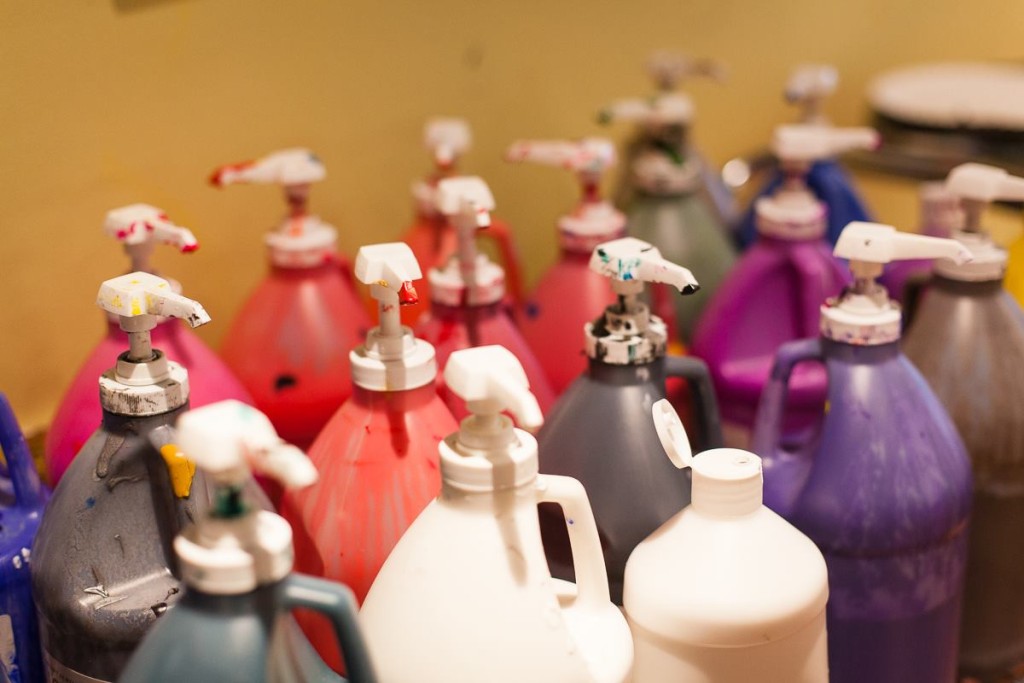 I ended up joining my local
Yelp Elite
team at
Pinot's Palette
. It's one of those drink and eat while you paint kind of things. More than that, I went solo to an event where I had never met anyone. It was a little intimidating but nothing a little alcohol and music couldn't fix.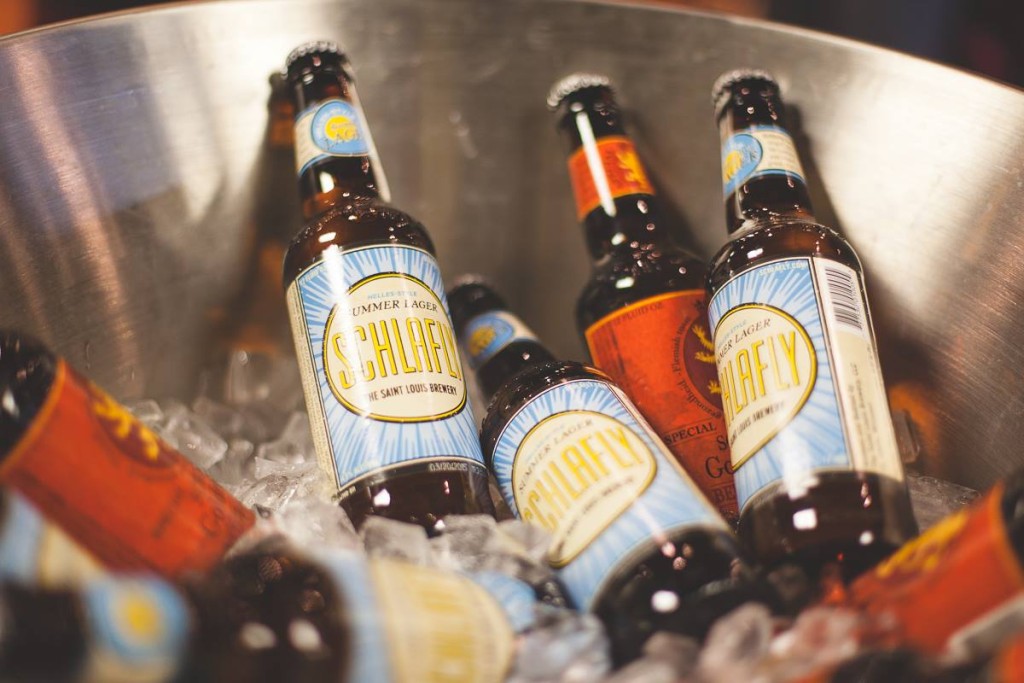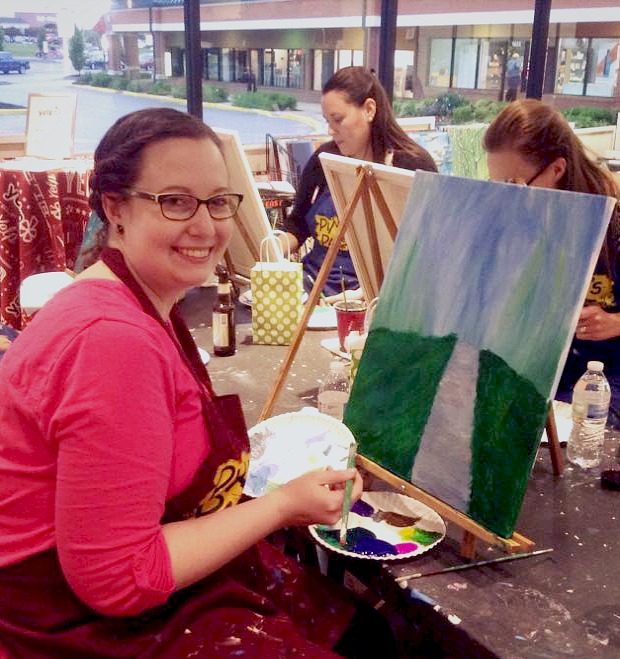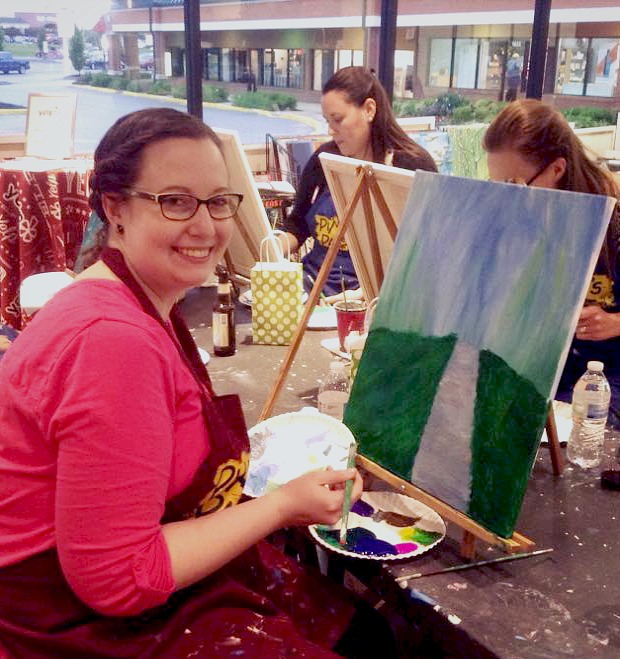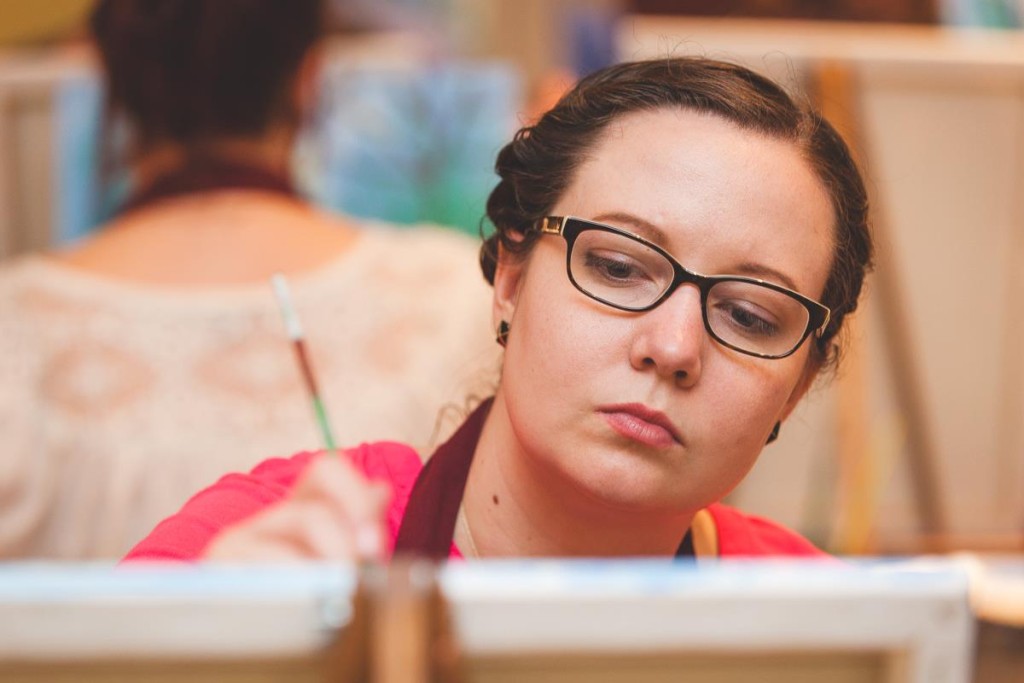 I was surprised at how much fun it was to paint and I'm even more surprised that I want to do it again. Maybe even sit at home in a to-be-completed craft room and make something original myself. That was the point of setting this goal: I wanted to encourage myself to learn something new and to push my boundaries. I definitely managed to do that and even came home with a nice souvenir.
A well stated
sunset boardwalk wall art print
provides a perfect finishing to the room. It completes the space and also helps to stitch the story together. Wall art is a great finishing element that can augment the look of the room to look polished and not just functional.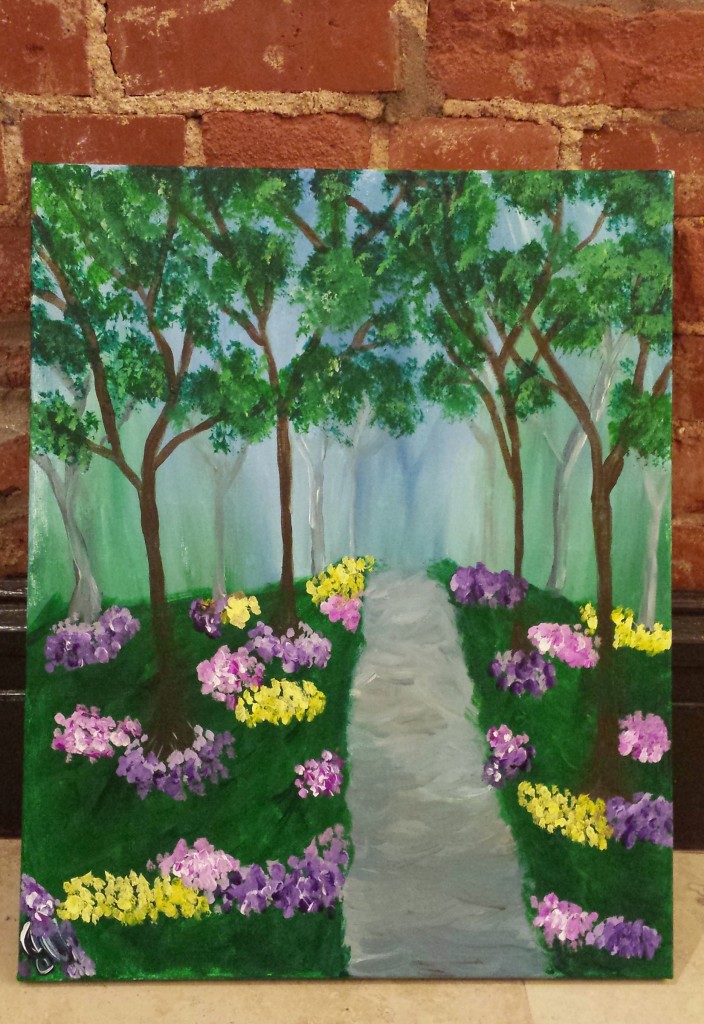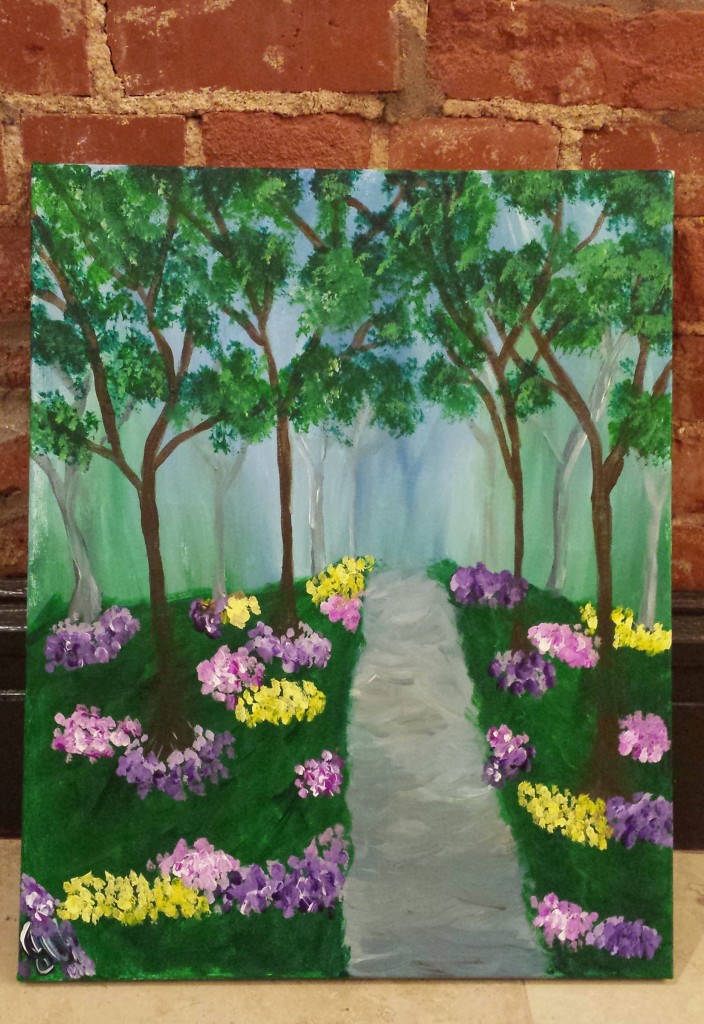 Thanks to Yelp for hosting this event along with Pinot's Palette. Certain photos are courtesy of Yelp/Pinot's Palette.

When I moved in with my husband, I knew our first house wasn't a forever home. When he'd bought it a few years earlier and before we attacked it with sledgehammers, we thought 3-5 years was the magic number on how long we'd be living there. By the time I moved out it had been over 7 years. In 2013 we started talking about how we should do some home improvements, e.g., water damage restoration, based on selling the home and no longer what we wanted to live in the home. We made a few changes with paint colors, adding trim in key places, the kinds of stuff that don't make for fun and exciting blog posts. In early 2014 I actually started going through basement totes and making the save/trash decision, as well as start looking for a good residential local moving company that would take care of the things we did decide to bring. I'd been living in a house full of totes that had never been opened. It was depressing. It also helped me make a wish list for my next big house. Then came a job change and the momentum was on. We sold that house to waterbury cash buyer for a great deal.
We at Bonnie Buys Houses can help you sell your house fast in Colorado Springs. We can help you do that, we buy houses for cash or in terms that are acceptable to you. No matter the situation we can help you sell your house. You can also look at this website plugin reviews if you're looking for home buyers.
My goal was originally to have the house ready for market by spring 2015 and instead I was home shopping a year earlier than planned. As a first time home buyer, we toured our first home on March 30 and moved in December 16. Here's how our home buying journey went.
My husband and I started by making wish lists. We had several differences but here's the things we agreed on:
More than 1 bathroom (yes, we lived with 1 bathroom for over 7 years)
Multi-story
Off-street covered parking
Historic Home
Close to the city
Close to work
Outdoor space for the dog
Sidewalks
Near a park
Workspaces for each of us (craft space for me, woodshop for him, office for both)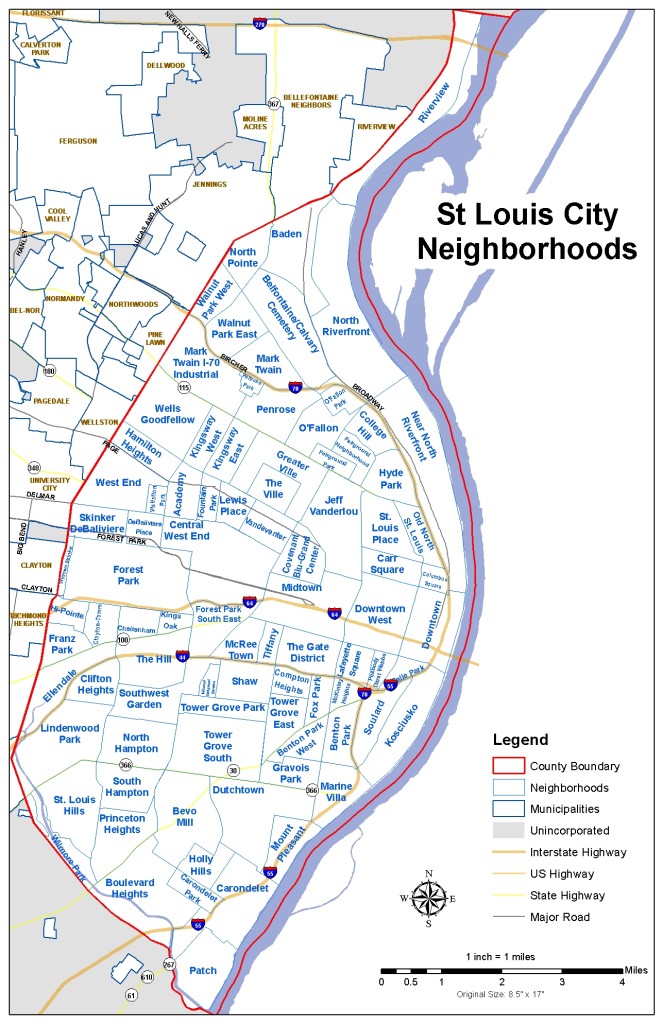 It sounded so easy. I pulled up a map, located Targets, grocery stores, parks, and our workplaces and plotted out some ideal neighborhoods. Most people don't realize that "Saint Louis" can refer to St. Louis City or St. Louis County. Locals will tell you they are beyond different while out-of-towners hear it and think that the entire metro area is a place they'll be murdered in. Even our family and friends have been confused. We did look at the county in places like Clayton, University City, Maplewood but none of them felt right. People had unrealistic expectations of selling prices in these areas so we moved on.
We kept attending 5-10 Open Houses a weekend. After some more searches and missteps we narrowed our home search to 7 neighborhoods – Skinker DeBaliviere, Central West End, Shaw, Tower Grove South, Tower Grove East, Compton Heights, or Lafayette Park. Each neighborhood bordered either Forest Park, Tower Grove Park, or Lafayette Park, offered historic homes, had crime rates we were comfortable with, and had good access to highways or roads that would get us to work with minimal traffic. By Mother's Day, it was time to call in an agent. Luckily it was as easy as a phone call to my dad.
My dad didn't play. He set us up with listing after listing, getting a feel for what we were looking for beyond location. Did we want beautiful woodwork and a nice patio if it put one of us without a garage and on the very edge of our neighborhood? We couldn't afford houses on a rich tree-lined parkway next to Missouri Botanical Gardens but what if we fixed up a foreclosure below our price point? What if only part of the house was finished and we couldn't live in the whole house for months until we rehabbed it? Houses got nicknames "The Dolphin Tub House", "Yellow Highlighter House", "First Flad", "Second Flad", "Love Pad Flad". You start to see it all. These were hard choices. The stress was killer. Week after week we looked, week after week I commuted 2-3 hours a day.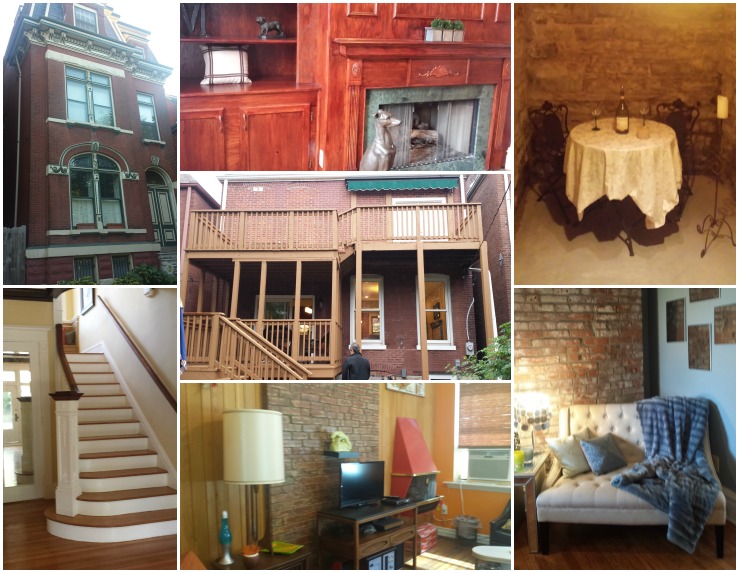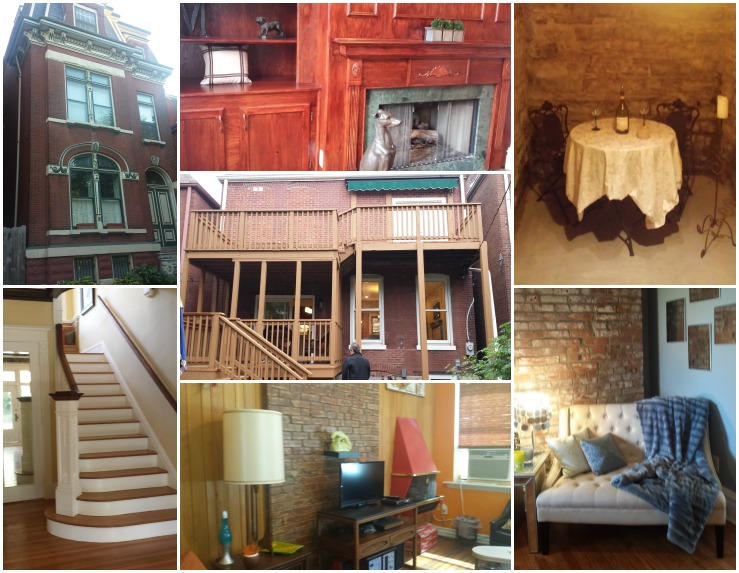 We finally decided on a home to put an offer on at the end of July. And then it disappeared from the market. My dad did the agent thing and got the listing agent to put it back on telling the buyers not to give up hope of a sell. "The 'V' House" we called it. By August 3 we submitted an offer. Naturally it wasn't meant to be; the sellers didn't want to go any lower and we were convinced it wasn't worth any higher. They pulled it again, we walked away. We flirted with 2 other homes pretty seriously but the agents were clear there wasn't room to negotiate. We'd seen the market analysis and didn't play the game with them. We found another home we loved and before we got in the door it sold. We were able to walk through it and that made it even tougher. It was a second loss. Mid-October we finally made an offer on another house, "The 'B' House", and again we couldn't meet in the middle. We were nearing the end of the selling season. For 2 weeks we didn't see any homes enter the market. The stress of my commute and house hunting was making me ill. I felt like I was trapped in limbo and doomed by my own unwillingness to pay more than a house was worth.
And then "The 'V' House" came back on the market. At a lower price. And "The 'B' House's seller suddenly wanted to play ball again. We went all in and made one more very final but very competitive offer on "The 'V' House" and they accepted. It was the first week of November and we contacted local movers to help us with the moving. Closing was set for 10 days before Christmas. I got to try this movers located in Plano and I think of it as a Christmas miracle. At some point I'll cover some logistics of moving with you and some lessons I learned there and you can check out the profile of our new neighborhood – Tower Grove East. You can also visit this moving services if you need a trusted company in Henderson, NV.
The lesson I learned in the home buying search is not to let your desperation make a decision you aren't okay with. We seriously considered 5 homes and we believed 4 of those were drastically overpriced. We had been through over 100 homes in St. Louis (not an exaggeration) and felt confident we knew what added and subtracted value. If you would also like to add value to your properties, get some tips from the Perth Property Valuers site.
Those homes we didn't buy? All 3 of them ended up selling within $2000 of what we'd offered or discussed offering with the agent. In the moment I was actually willing to lower my standards and open my wallet more and now I know I was right to stay the course. It's hard to be patient and it's hard to keep going but it can be worth it. I love what we waited so long for. So for those who are doing home buying search, try to check here, it may be the chance to get the perfect home for you.

I finally made it to my first Food Truck Friday here at Tower Grove Park in St. Louis. I've had this on my STL Bucket List forever but in my past life it would have taken me so long to drive here that all the food would have sold out. Luckily, the wait was worth it. This month Sauce Magazine had 25 total trucks, up from the years before so no one should go hungry.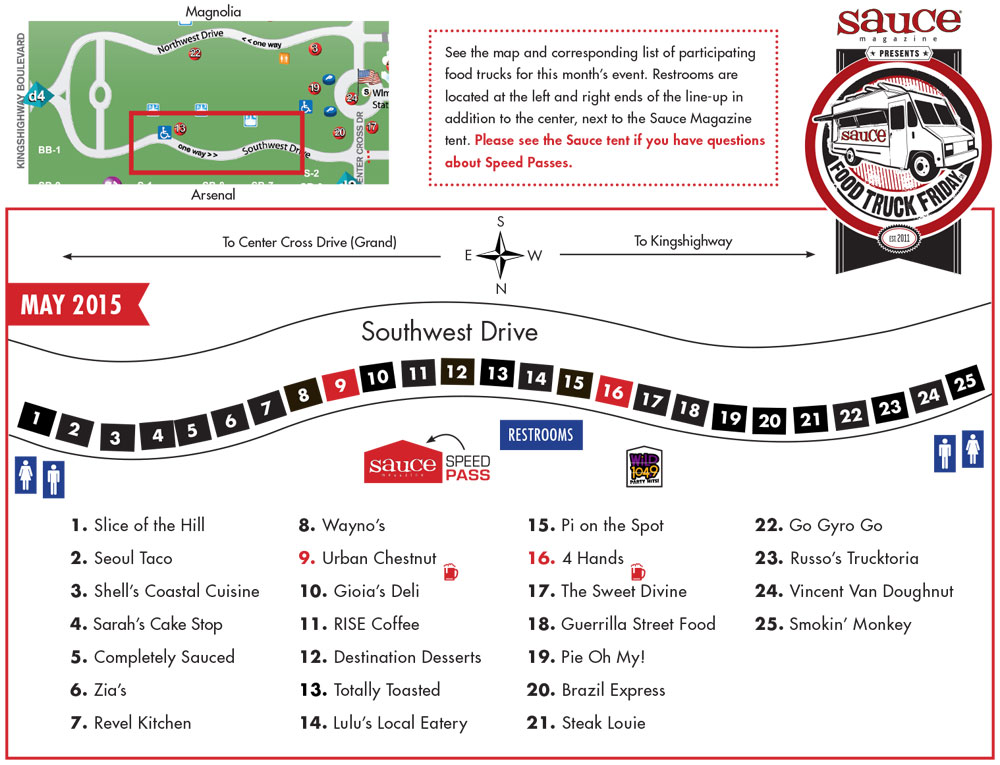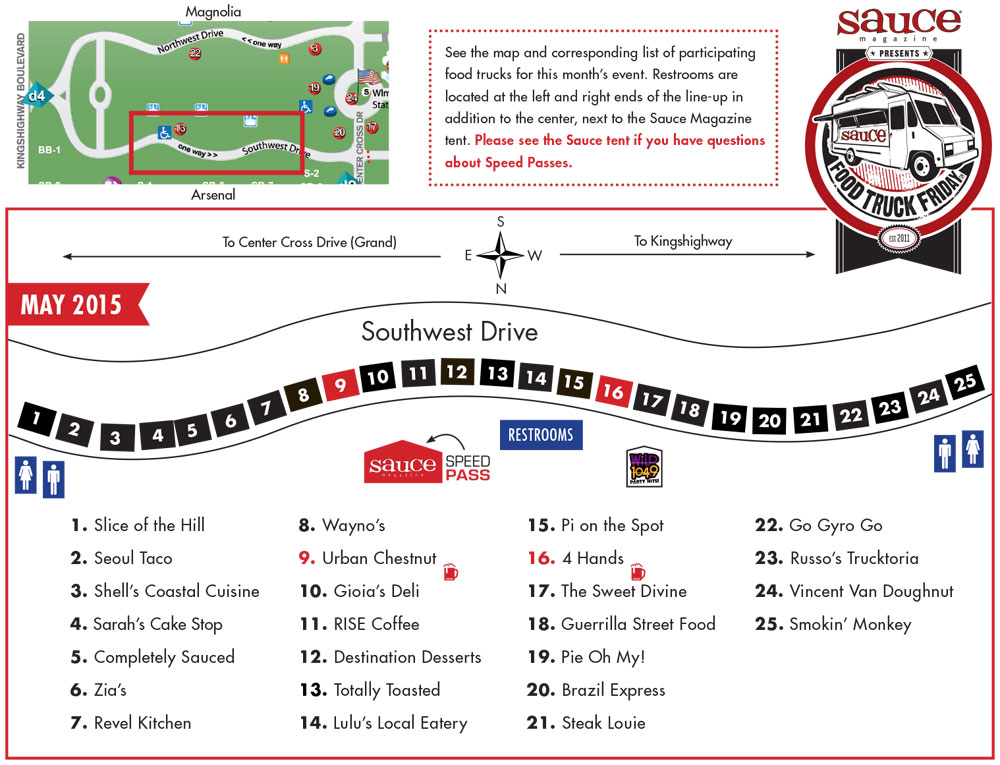 There are so many food options from so many city neighborhoods. You have pasta, pizza and sandwiches from The Hill, healthy eats from Cherokee Street, Pie from Maplewood, vegan and Filipino from Grand, even the county is represented. There are beer trucks, smoothie and coffee trucks, dessert trucks, and of course food trucks.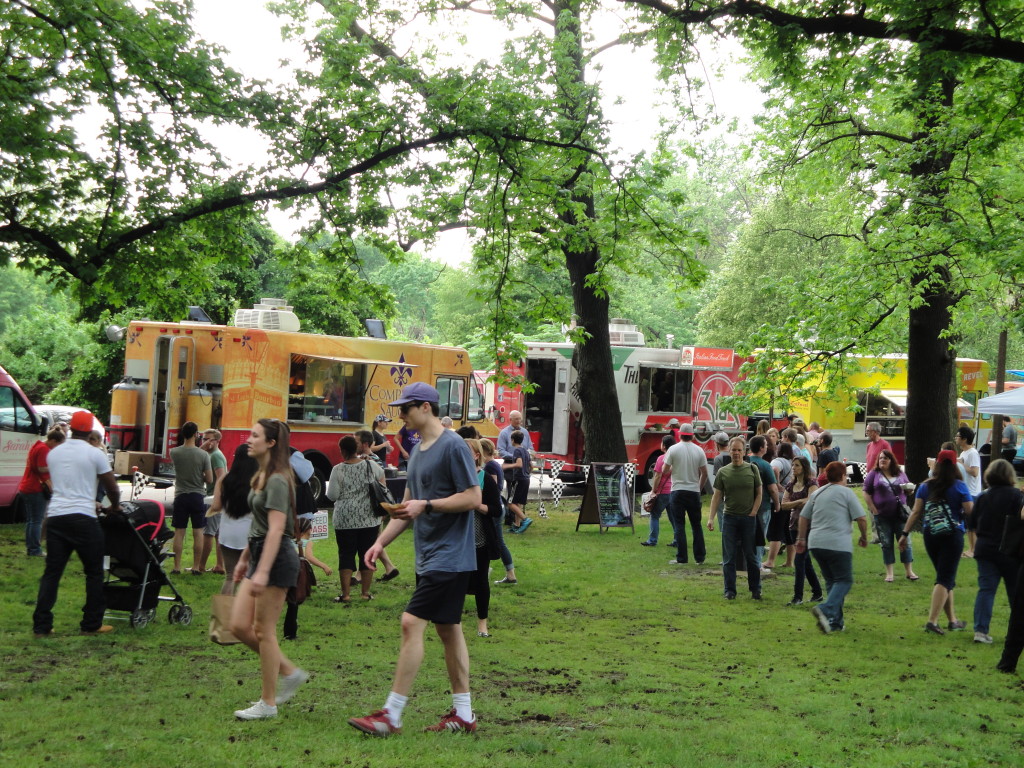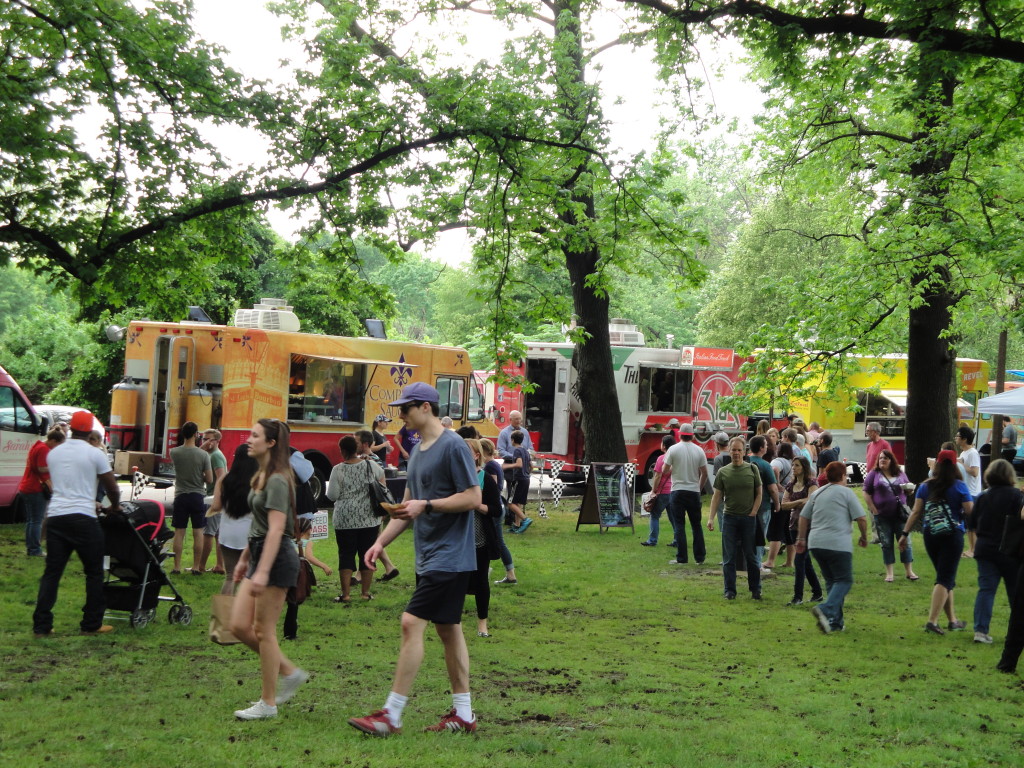 Here's some good tips if you're going to your first Food Truck Friday
Get there early. The lines get long and it's totally worth it to sneak out early and get ahead of the crowds, especially if you want Seoul Taco or Gorilla Street Food. Consider splitting up with your group and sending someone to each line to grab food or break into smaller groups. You can all share dishes and have a regular food supply.
Have cash on hand. Most places accept credit or square and some even have an ATM on board but always come prepared.
Bring some gear with you. There were times I wish I had some extra napkins or plasticware to make splitting a dish easier. And while there was plenty of beer and soda to be had, I'm glad I brought some water bottles. If I had a picnic blanket and some wine I bet I would have had an even better time.
Dress for the weather. It had just finished raining and I get that everyone wanted to look cute but you don't want to wear heels in the mud and this is STL, not Coachella.
Be smart with your car. Look at the map and avoid the thought that you can park right next to a truck, since trucks are bigger so accidents can happen, of course if this happen, you should learn How Can A Lawyer Help My Truck Accident Claim for this situation. Ain't gonna happen and you'll spend more time in your car watching people eat than actually eating. There's plenty of room along Magnola and Arsenal. If you're local, why not walk? I usually walk 4 or so miles on Friday and I'm more than willing to do that for food. (And hey, if the organizers could arrange for more bike racks I'd love that too!)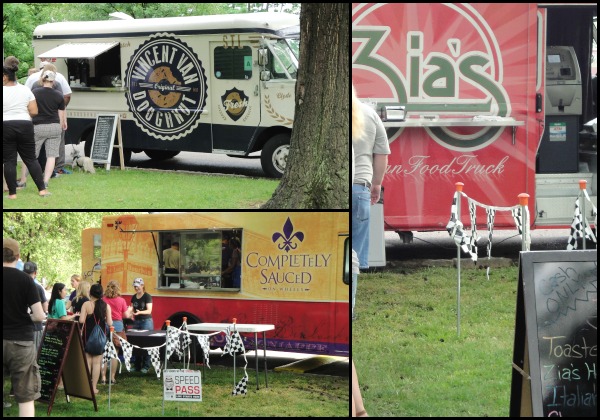 This time I kept it easy since I spent more time absorbing the atmosphere than planning a strategy. Next time I'll be ready. Friday I tried Steak Louie and Sarah's Cake Stop.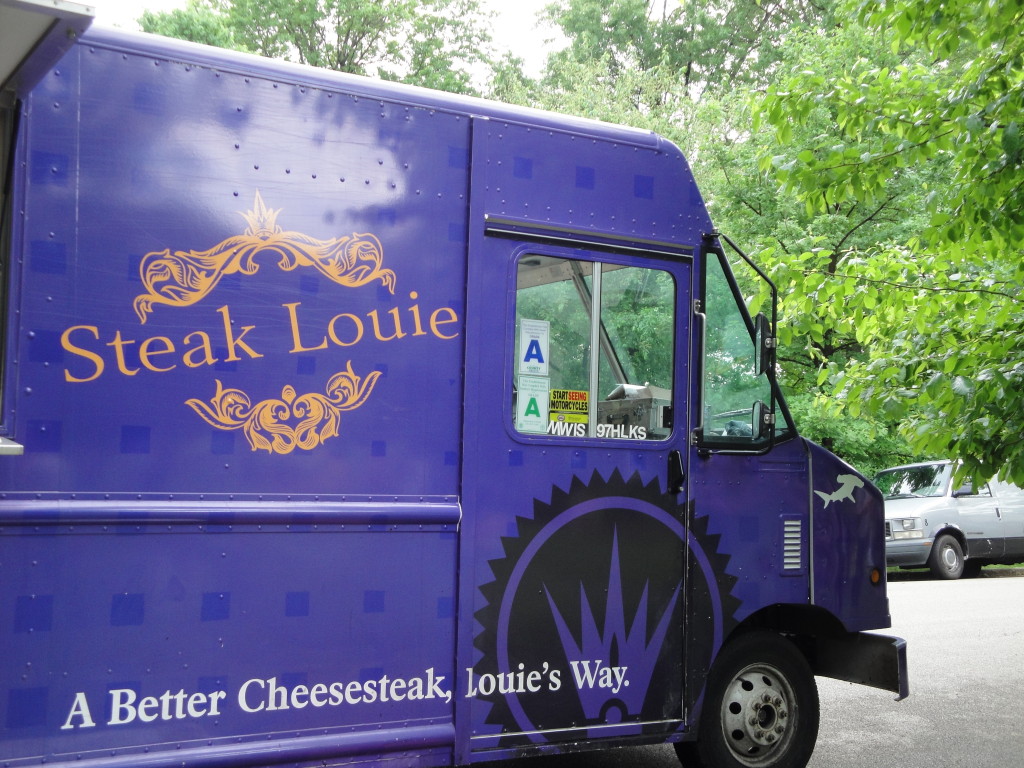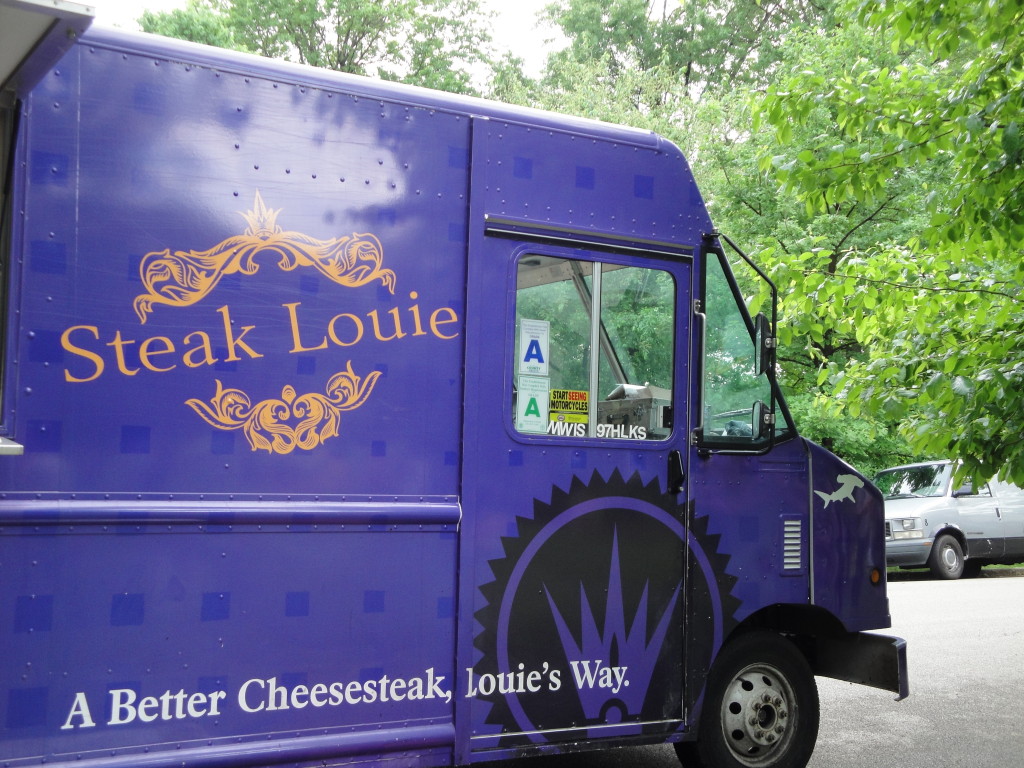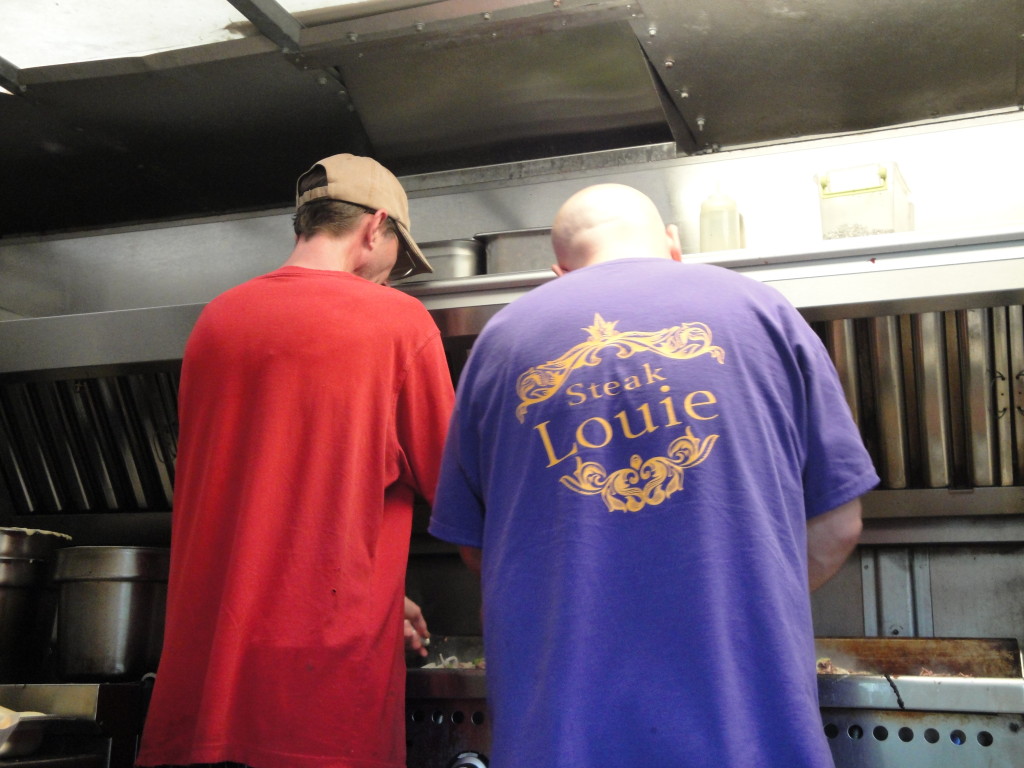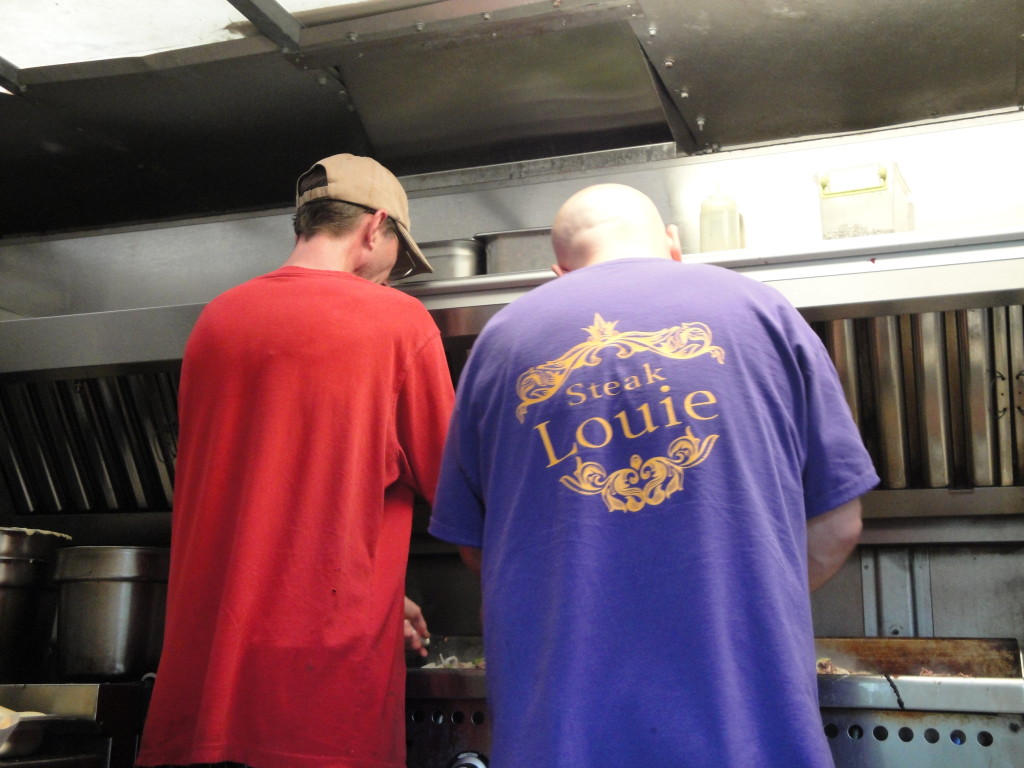 Steak Louie had this amazing Philly Cheesesteak with strip steak and cheese and peppers. It was a great choice and worth the wait. I hesitated on the fries but decided to limit my stops tonight by grabbing more food at the first stop. The east coast seasoning and cheese sauce were amazing along the drinks they pulled out thanks to their new omega juicers.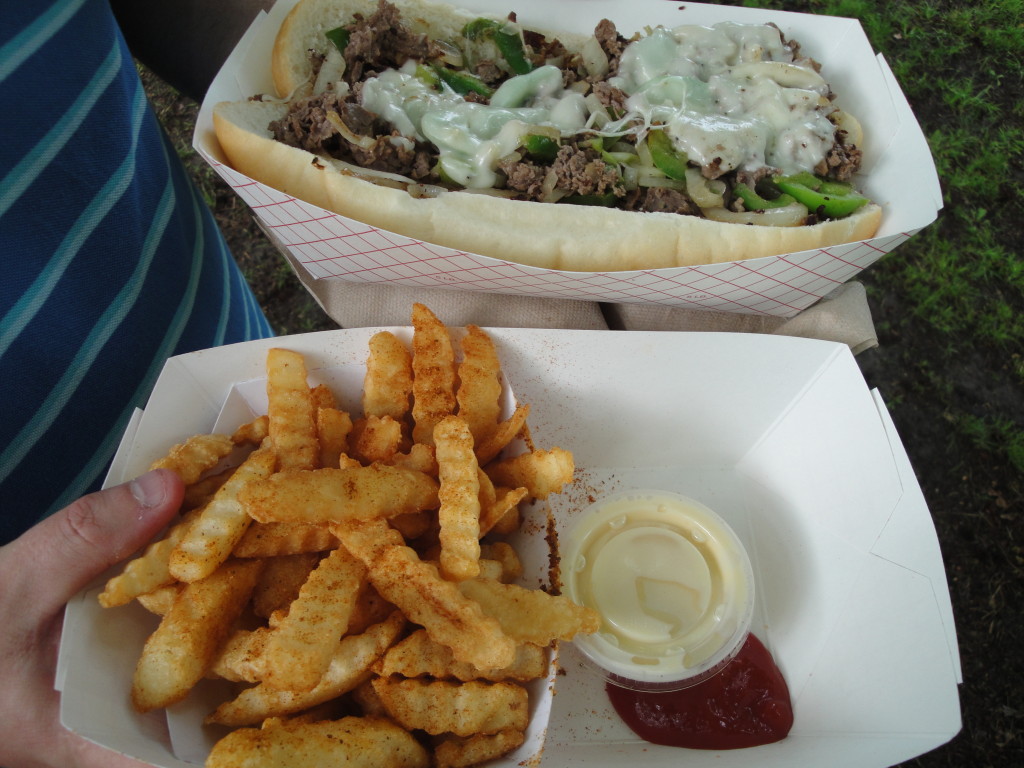 And then there's the cupcakes.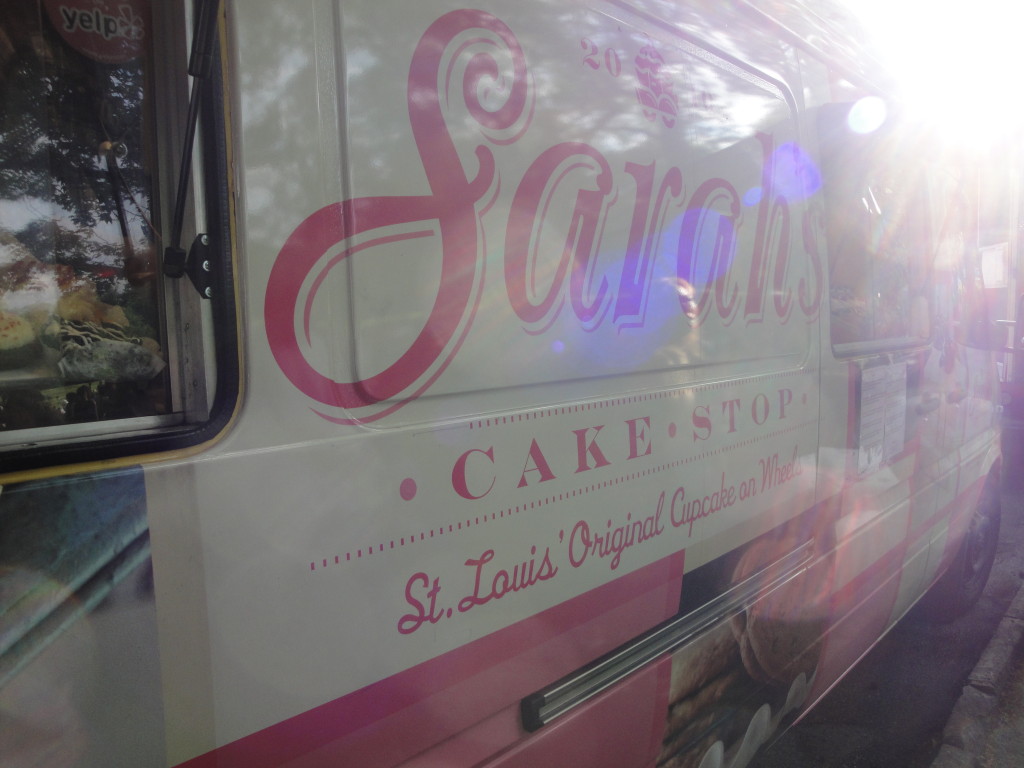 I of course had to try the red velvet and it was pretty good. But the night's surprise winner was the 4 Hands Chocolate Milkshake cupcake. It's made with 4 Hands Chocolate Milk Stout and has the taste of malted milk balls.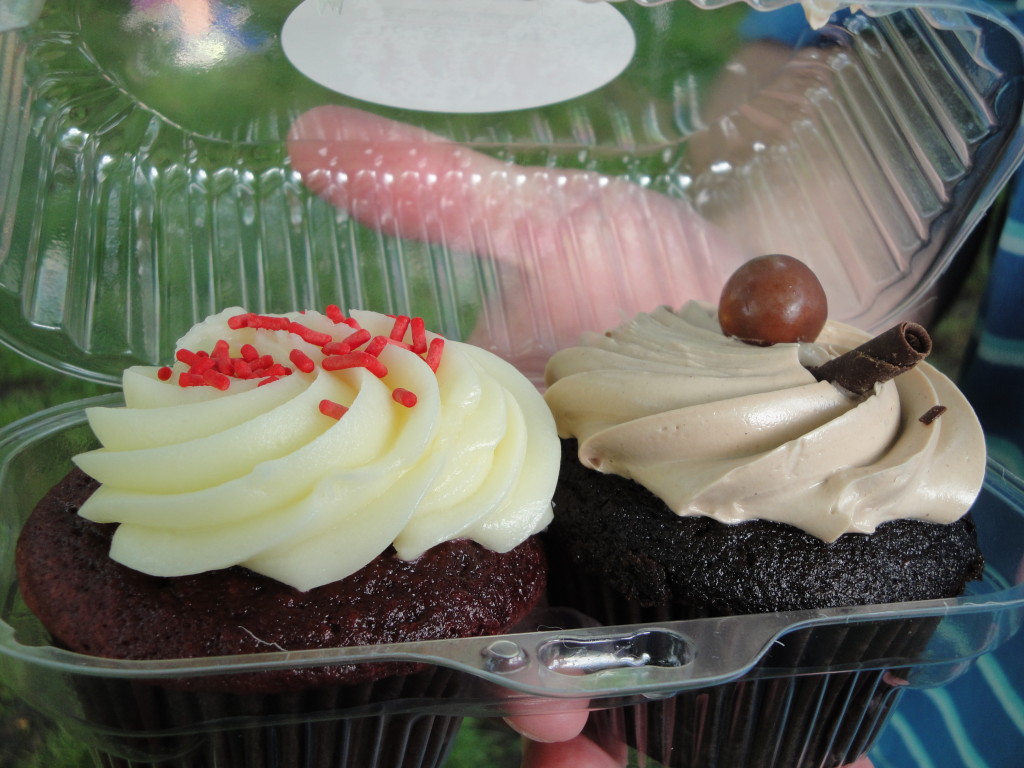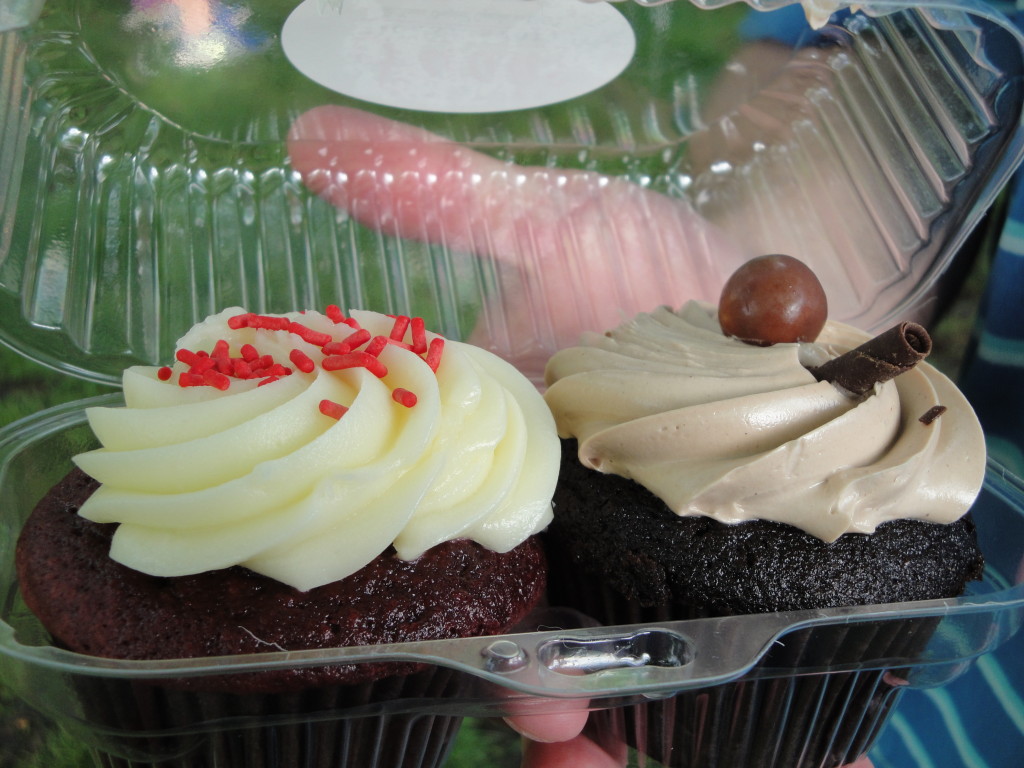 There's just something wonderful about seeing people come together. My husband remarked that it all reminded him of our rural church picnic and I realized he was right; with people, food, pets, strollers, young and old, it felt like a community.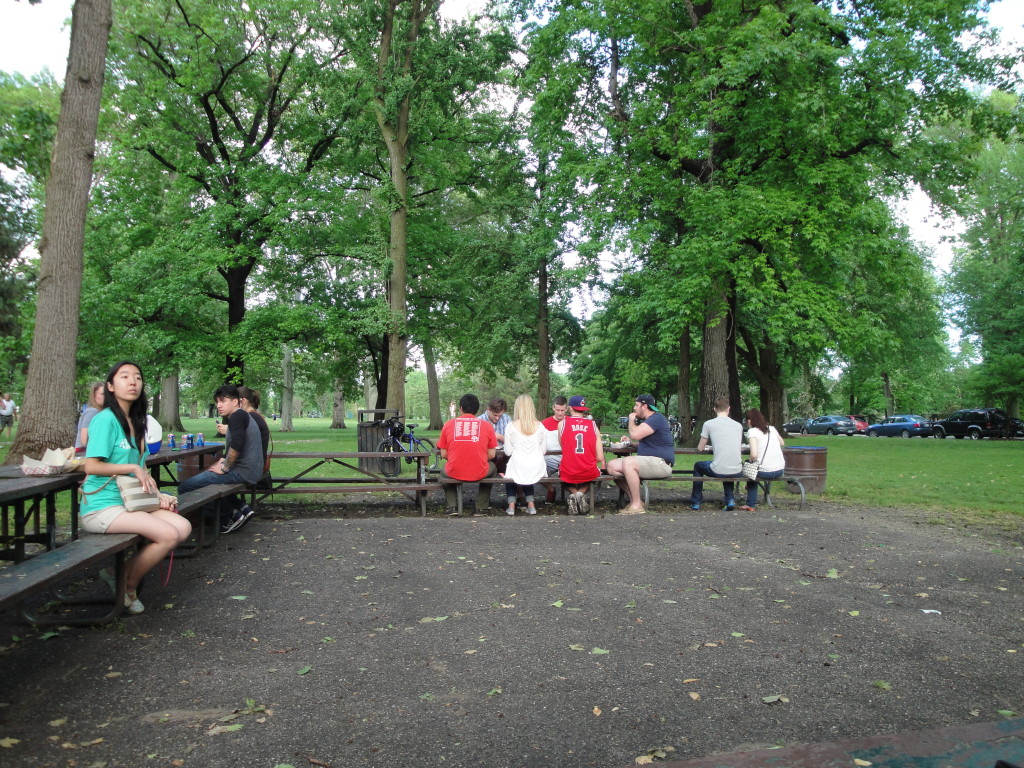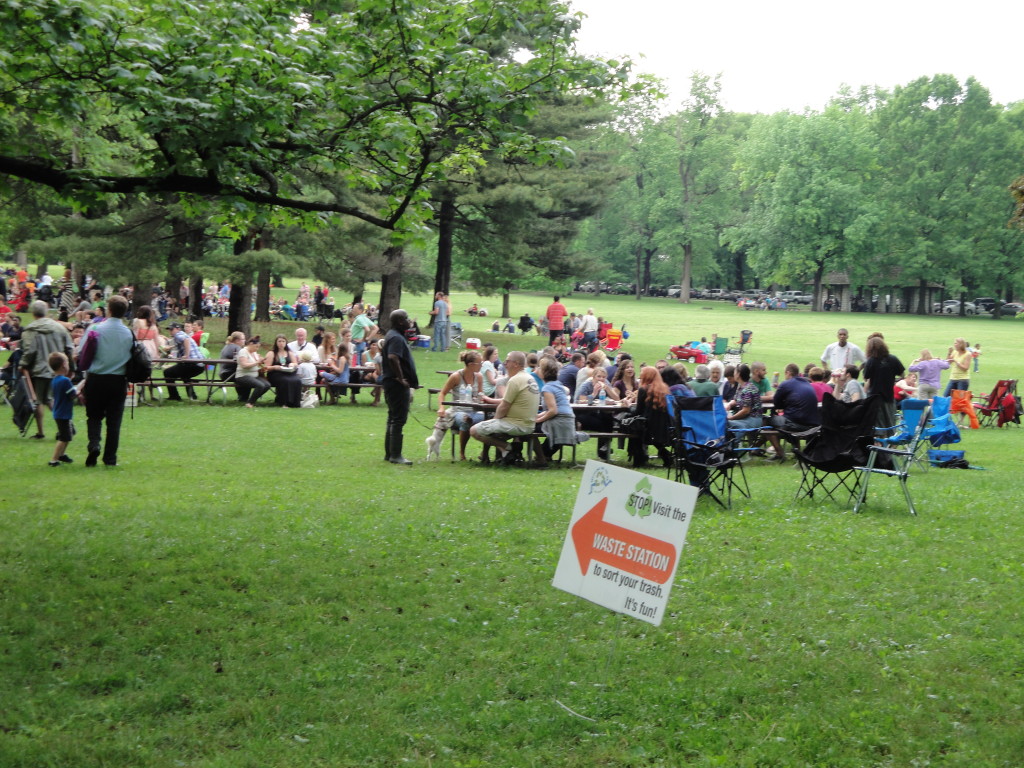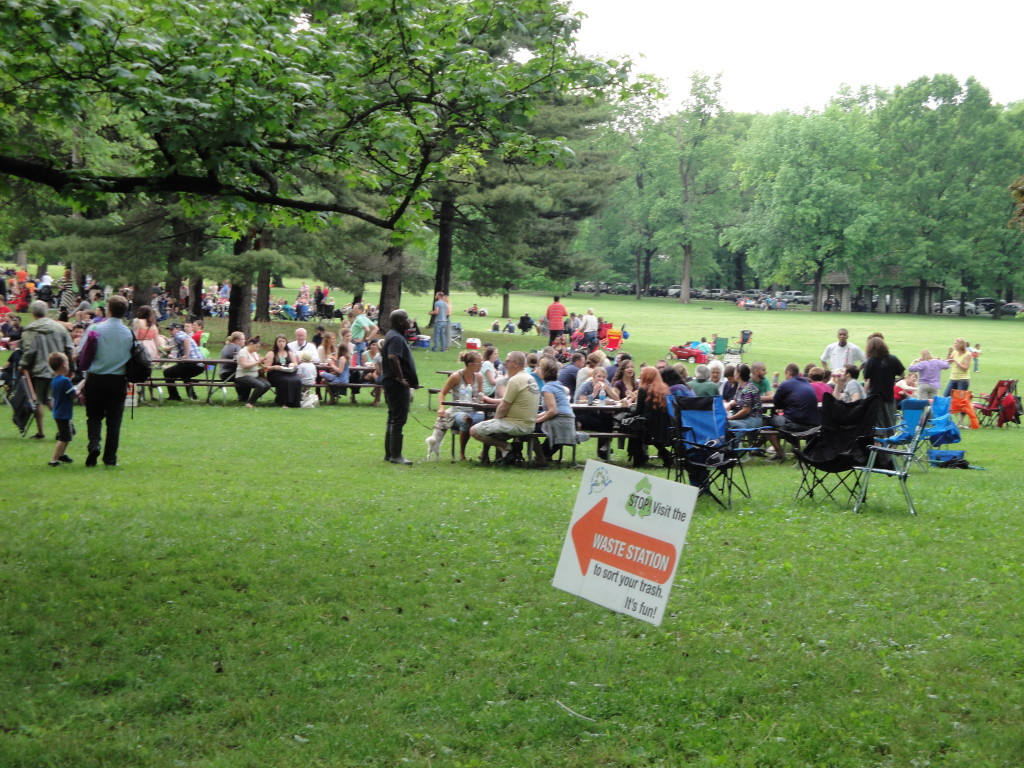 It's already May so here's a recap of what I was up to in April.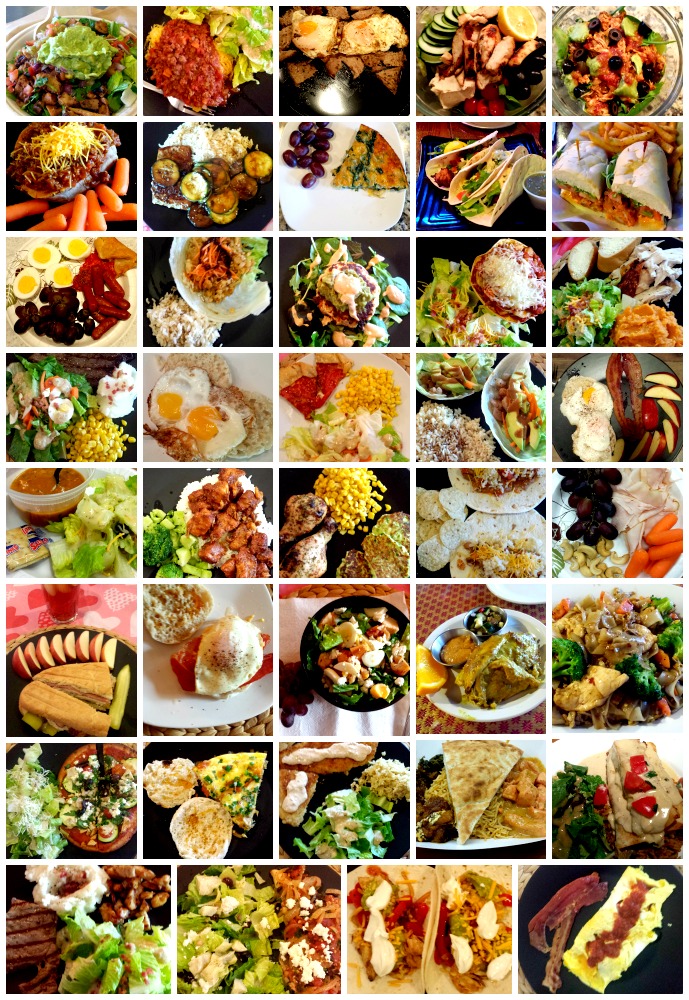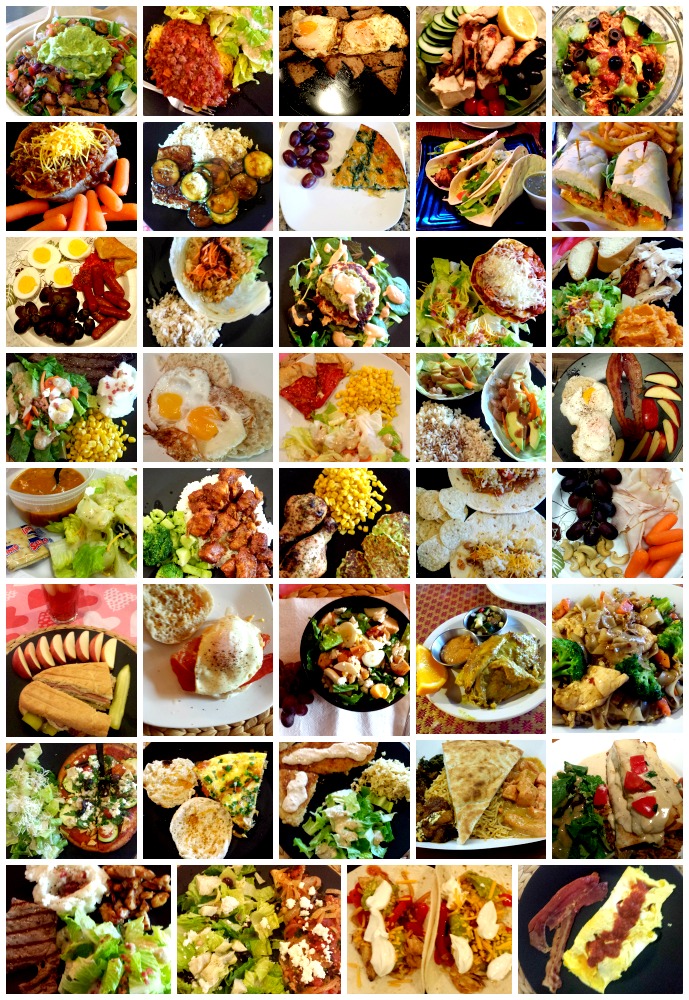 Food
April was a great month for me. I made and stuck to a meal plan for every day of the month. Even the eat out days were planned and scheduled on a google calendar. Here are some pictures of breakfast, lunch, and dinner.
Best recipe of the month – Skinnytaste's Naked Salmon Burgers. I wasn't sure I'd like them (or if the husband would) but we both loved them!
Broadway Oyster Bar is my featured restaurant of the month. Where else can you eat gator tacos and lobster po' boys this good in STL?
Entertainment
We've been trying to enjoy our neighborhood more. On Saturdays we often find ourselves taking long walks, grabbing lunch at the neighborhood hot dog stand, and dinner along South Grand (featuring more countries than Epcot!) and maybe even ice cream or gelato.
I went to see Susanna Kearsley at a book signing. She was such an engaging speaker and she planted some Easter eggs for those of us who hadn't read the book yet but didn't want to be spoiled.
Hockey for St. Louis was a bust yet again so I've fully moved on to baseball. I still haven't seen home run fireworks from my deck because I keep forgetting to take my eyes off the game!
House
We got some plants on the decks. I even won a plant at work for Earth Day so that's in the ground too.
We've been trying to keep everything out of the house whether it is rain (no leaks yet!) or squirrels. I really wish other people had been so dedicated to the cause.
We've ordered a desk! It won't be here for quite a while since it is being handcrafted but it promises to be fabulous.
On the Web

Personal
I was taken aback at how my current job celebrates its employees. We had a staff appreciation week and at times it was so overwhelming that I actually cried. Some days I feel like my current job is a bit of a disappointment because I'm not "making the world a better place" but I'm starting to see that I am making a difference in the lives of those I'm around and that's enough for now.
I have some lovely friends and I don't get to see them all often enough. Happily April included a girls night out once again!
It is really easy to allow bad habits and influences into our lives. I'm beyond guilty of hate-reading blogs or keeping a "trainwreck" as a facebook friend just to gossip. I can't keep that up. I unfriended people who I have nothing in common with anymore and pulled some blogs off my ereader. I hope you will do the same for me if you feel the need to keep abreast of my life for gossip and not sharing in my life.

I mentioned before that I was looking for a way to turn my little dining area into some sort of drink bar. In February I was expecting some friends over for Galentine's Day Brunch so it was a perfect time to set up the drink area.
I bought an older model Keurig for the area and stocked up on a few K-cups. In winter I'm definitely more of a hot coffee and cocoa drinker so I wanted to have some warm options.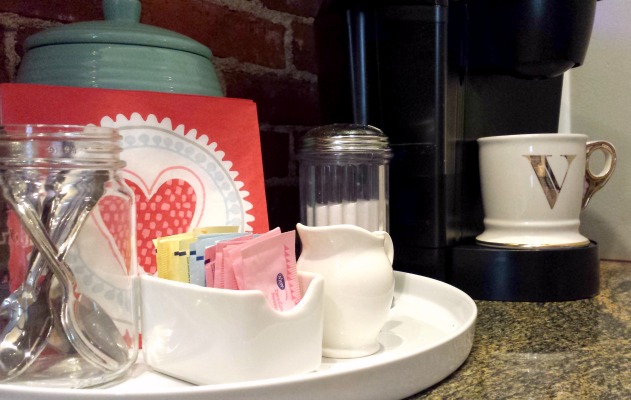 I bought some cute mini spoons and a creamer from World Market, something to hold sweeteners from Target, a sugar dispenser from even before my time, a mason jar leftover from a batch of salsa, a sweets jar from Pier 1 and corralled it all on a tray from Ikea.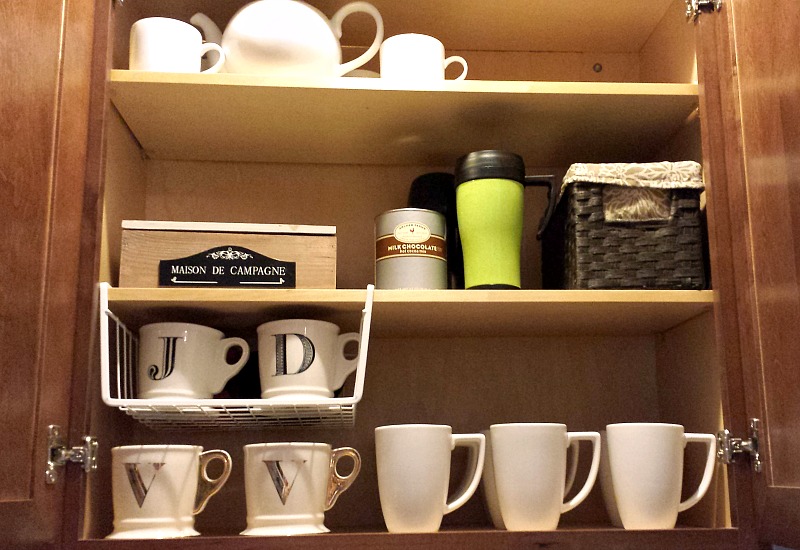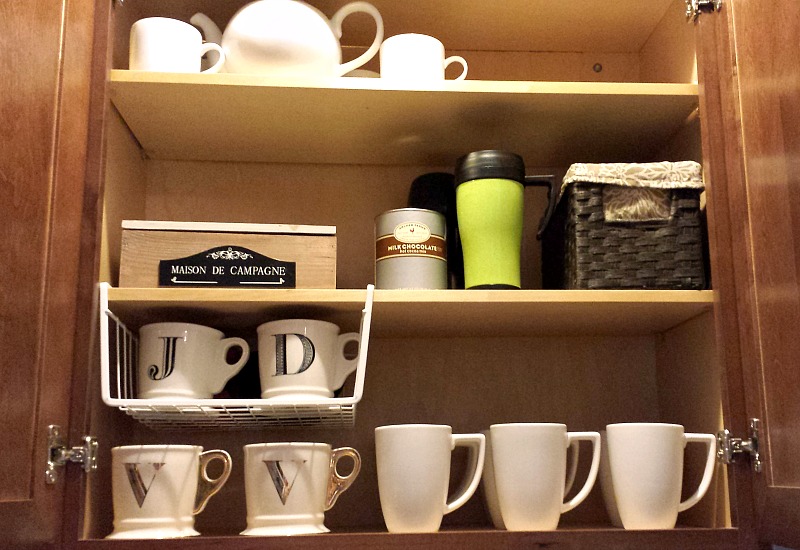 In the cabinets up above I keep some of the good stuff. You can see my Anthropologie mugs (gold available around Christmas), my every day mugs, some travel mugs, and a much nicer tea set for company. I have a few more sets still packed up. I also keep some tea and cocoa up here (and more cocoa in the cookie jar).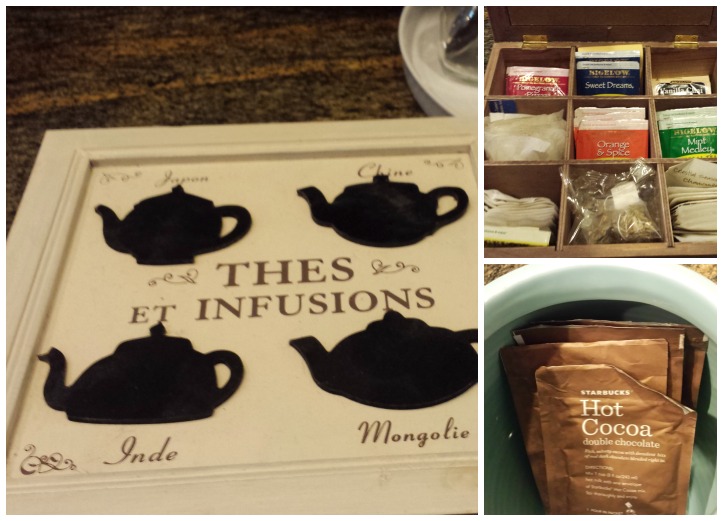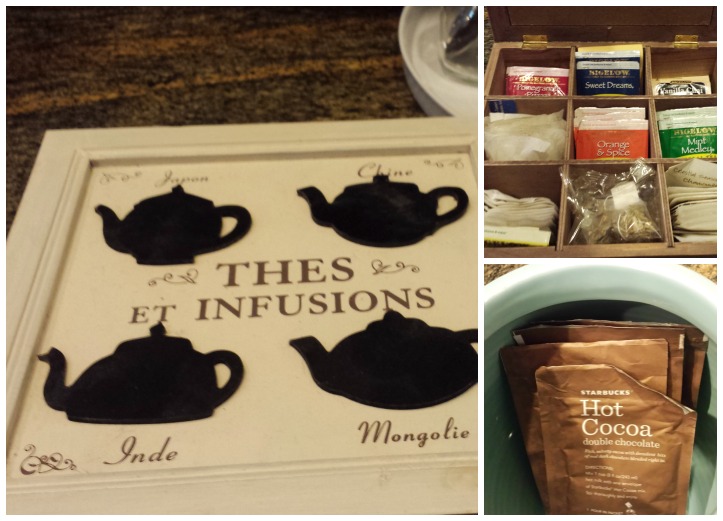 Kcups go in the drawer now that I have some handles on them. It makes it so much easier to open!
I also wanted to share a bit of my themed party for Galentine's Day that I had. Galentine's is a beloved day in the world of Parks & Rec and I wanted to honor it and some of my closest friends. The girls drove all the way across the river to come see my new house, drink some of that coffee/tea/cocoa or one of the endless mimosa combinations, and eat some skillet potatoes, a pancake bar, mini quiches, and croissants.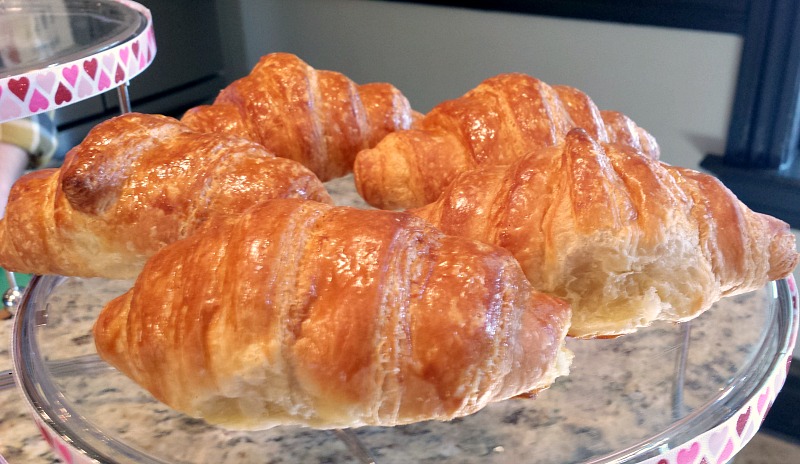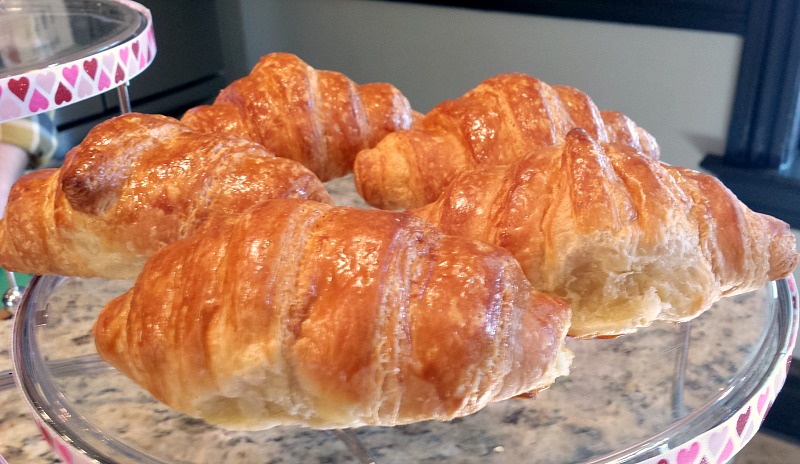 I wanted to spend as much time with them as I could so I only took some photos before and none during. Sometimes you just have to put the camera down and enjoy the moment! (And the mimosas)