Archive from January, 2013
I'm a reader. Sadly last year was one of the first where I didn't hit a minimum of 50 books read. (I blame 3 jobs, 2 major illnesses, and a running program) I did end up reading a lot of very long books (an average of 500 pages each) so I was pleased about that and I did end up reading some really great books. I wanted to share my top 5 books for 2012 and hear if you have any recommendations for 2013.
Jenny Lawson aka The Bloggess is one of my favorite bloggers. She's funny and beloved by the internet and she uses all that charm and love to accomplish some awesome things like the traveling red dress and a Christmas miracle. Her Beyonce story is still one of the funniest things I've read (and it's in the book). I wondered to myself if I really cared enough about some stranger on the internet to read a memoir and I wasn't sure even as I picked up the book. I just wanted to read some funny things like on the website. When I read the book, I found I liked Jenny IRL (okay, in book form) even better than her internet form. Jenny has battled a lot in her life but her humor, honesty, and taxidermic lifestyle really made this book into a fun read.
I have a weakness for historical fiction. This doesn't involve a ton of "famous" people in history but it does partially include figures like James I. If you love Diana Gabaldon's Outlander series
this book is partially set right in the middle of that. If you're more into the fiction part of historical fiction this book has a love triangle or two, a gorgeous setting, friendship, and the writing of a book. I loved this one and plan to devour some of Susanna Kearsley's other novels.
The Mockingbirds might be classified as a young adult book or maybe new adult but it's a snappy book that really emphasizes empowering young women. It's set at a boarding school, it involves secret societies, family relationships, and a bunch of strong women. There's also a dark plot it follows involving rape but it's not a story about rape. I first read about this one on Forever Young Adult and they did not leave me astray. If you're wondering about the title, it does and it doesn't refer to Harper Lee's classic. You'll have to read it to see what I mean.
Zeitoun by Dave Eggers
This book is a tough one. Dave Eggers immersed himself in Abdulrahman Zeitoun's life while writing this book and it's packed with so much emotion that it is often hard to read. The book is set in and around Hurricane Katrina and Zeitoun's time in the storm and in the world of the unknown. I still have tears come to my eyes when I remember parts of what he saw in New Orleans. That being said, Zeitoun has been in trouble with the law lately too. I can't tell if this changes how I feel about the book. The text and suspense of a book that plots out a time I lived through is still haunting. Without reading the book you might not understand how hard it is to reconcile the Zeitoun of the book with the one in the news, or how easy it is to understand all at the same time. If you want a gritty read that will make you ask "why?" about everything, this is the book that will do it.
Another young adult book but I refuse to apologize for loving this one. The best parts involve love, passion, mystery, and friendship. This book starts off right away talking about cancer but refusing to be a cancer book. I'm a cancer survivor and I was hesitant to start this tear-jerker worrying that it would bring back hard times for me but it was so uplifting. I started it right after I wrote my resolutions post and it was so fitting. This is a book on how to live your life and how to let go of your fears. I'm sure everyone and their mother have recommended this book to you and if you still haven't read it, you need to take this as your final nudge.
I'm finishing my second book for the year right now and I'd love to plot out a reading list so I can stay on track. I've added a Goodreads widget to my sidebar on the right so you can follow along with my reading. Share your 2012 favorites and your 2013 goals in the comments!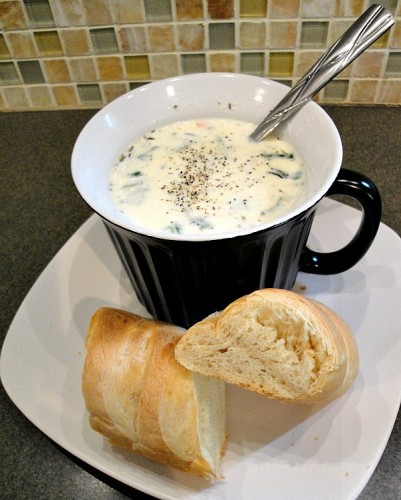 My new year did not start off quite as planned. I spent New Year's Eve at work, then at a lovely gathering at a friend's house. By the time I made it home from her house I had a fever and chills. I managed to get some awful cold (though thankfully not the flu) but I'm still recovering. I've got some medicine helping me fight this thing now but I don't think I've had this many illnesses in years. I hope it's just a fluke!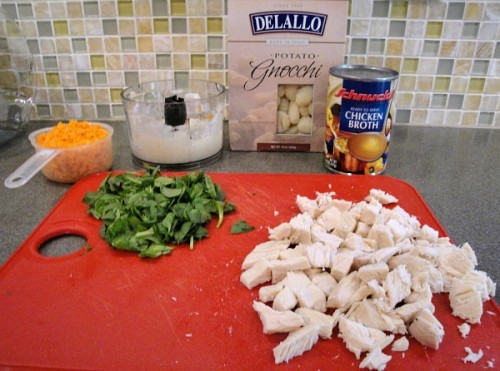 When I get sick, I always like soup. This soup I'm featuring today is so much better than the Ramen I tend to grab from the store. This is a copycat recipe you can find almost anywhere  based on the Chicken and Gnocchi Soup at Olive Garden. I'm not a huge Olive Garden fan (blasphemy in my Midwest city) but I do like to make a big pot of this at home. It has so much goodness in one pot: chicken, fresh veggies, gnocchi, garlic, and cheese.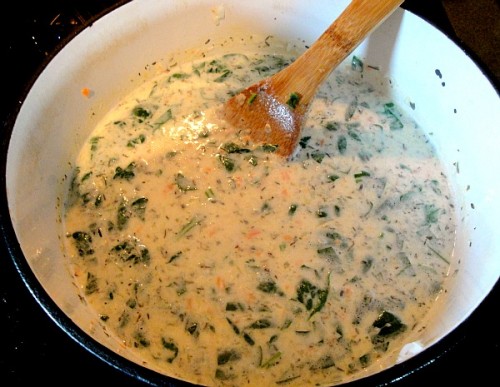 Ingredients
4 Tablespoons butter
2 minced garlic cloves
1 cup onion, finely diced
4 Tablespoons flour
1 quart half and half
1 pound potato gnocchi
1 cup carrots, finely diced
1 cup chicken breasts, cooked and diced
1-14 ounce can chicken broth
1 cup fresh spinach, coarsely chopped
1/2 teaspoon parsley
Freshly grated Parmesan cheeses
Instructions
Heat the butter in a dutch oven over medium heat. When melted, saute the garlic and onion until the onion is translucent.
Add the flour and stir until the flour has browned and a roux is formed. Let it cook another minute, then add the half and half stirring until fully incorporated.
Let the cream mix thicken while you boil the gnocchi in a separate pot. Strain the gnocchi after it is fully cooked and set aside as you prepare the rest of the soup.
Once your cream mixture is warmed and has thickened, add in your carrots and chicken. Slowly stir in the chicken broth. Let the soup thicken again and add the gnocchi, spinach, and parsley.
Serve your soup hot and topped with some fresh pepper or fresh grated Parmesan cheese.
http://www.thehyperhouse.com/2013/01/chicken-soup-for-the-sickness/
Pin It

Last year, each month I posted a to-do list for 2012 from Get Organized Now. I still love them and highly recommend checking them out. This year I want to swap out how I plan my household to-do lists.  I want to give each room in my house equal amounts of love and opportunities for improvement. Each month I plan to write out 5 ways to improve each room in the 28/30/31 days.
For this month, I'm starting with the kitchen. This is the most complete room in my house and only needs some finishing touches. Here are 5 things I want to tackle:
1. Paint the ceiling
I repainted the room but some paint hit the ceiling. A good new coat should make the room look more complete.
2. Seal the grout
When I did all my tile I had to let the grout rest before sealing it. I think 6 months is plenty.
3. Clean out the fridge
Time to check those expiration dates and use up some condiments with some creative recipes.
4. Create a dog station
My dog Nova has a little corner of the room with a dog bowl but I think something that says she has her own little spot would be more than welcome
5. Un-Christmas the Kitchen
I still haven't taken down my Christmas decorations from my ladder bookcase. In fact, the whole room has little touches of Christmas all around. It's time to pack it all up and give my bookcase a new look.
What room of your house will get updated first in 2013?