Archive from May, 2013
This past weekend was a relaxing time. It started with a soccer game at Busch Stadium in downtown St. Louis. We got to watch Manchester City beat Chelsea. We aren't the biggest soccer people living in a town without a pro team but it was great seeing everyone enjoying a game together.
I took Friday off work. It was nice since I haven't missed work this year with the exception of being sick and that's never a fun reason. It turned out to be the sunniest day of the weekend so I'm glad I did it. While I waited for my husband to get home, I took advantage of Ancestry.com's bonus war records. Does anyone else do geneology? I like doing it on a weekend like Memorial Day when I can see all the past relatives who fought bravely. I feel like it can bring me closer to my family, even if I'm not with them all.
Thankfully I do have a great family. Nova, Daniel and I had fun taking a walk in the park. My little doggie was thrilled to finally have nice weather to take a nice walk. She's used to running 5Ks but if the rain comes she will trot right back inside.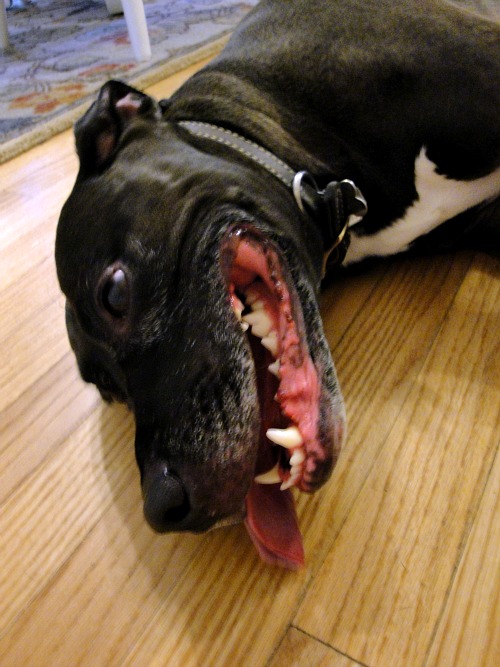 Speaking of reasons to trot back inside…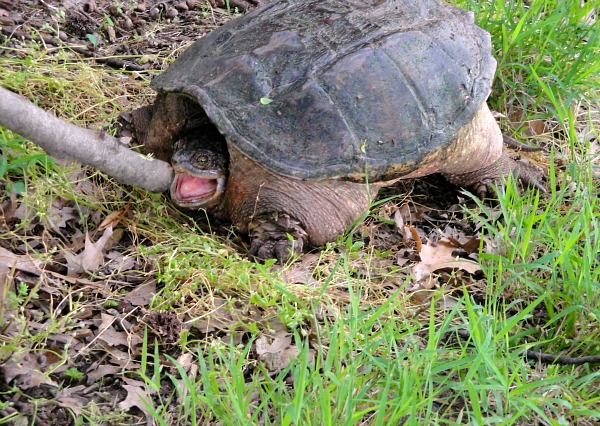 This guy showed up in our yard this weekend. We're used to squirrels, rabbits, opossums, racoons and a deer or turkey now and then but this weekend we saw a coyote and a snapping turtle. We live next to some underdeveloped park land that got a little makeover this week so I'm wondering if we'll get more visitors.
It wasn't just a yard full of animals though. We had a nice grilling session each night. Just us, the dog, some burgers and some beers. Oh, and of course some dessert.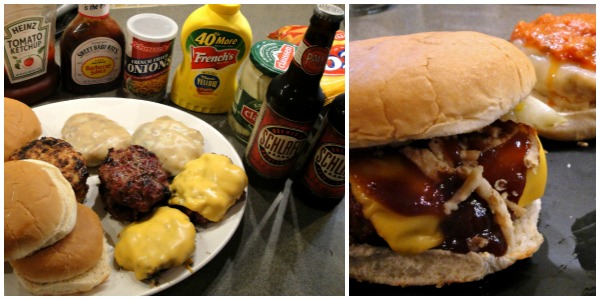 How do you dress up your burgers? We set up some fun burger creations for ourselves this weekend. Here were our top three:
Chicken Parm Burger
Ground chicken mixed with breadcrumbs and some seasonings, grilled
Top with provolone cheese and marinara
Pizza Burger
Ground beef mixed with Italian breadcrumbs, onion powder and Italian seasonings
Top with pepperoni, provolone cheese, marinara and some white cheddar
Western Burger (pictured above right)
Ground beef mixed with BBQ sauce, Monterrey cheddar cheese mix, seasoning salt, ground black pepper
Top with American cheese, BBQ sauce, pickle, mustard, and french fried onions
The fabulous strawberry pie pictured below came from The Country Cook. I wasn't sure if I liked strawberry pie but I ended up loving it so I'm glad I tried some. I'm going to go eat some right now in fact.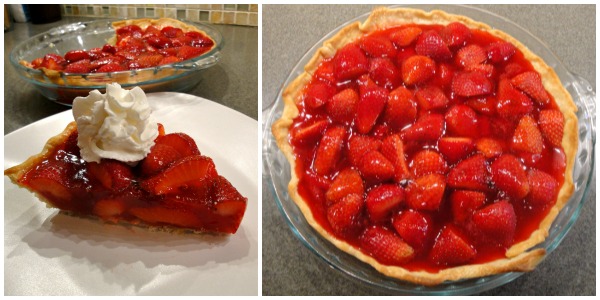 Before I run off for the night, I want to give you a tease about a project I started this weekend but will have to wait a couple months till it is ready. Don't worry, I won't hold you off that long!
(And no, those aren't potatoes. They smell much nicer than that, they're just a little naked right now)
I hope you all had a great weekend!
Pin It

My littlest brother is 17 and getting ready to finish his junior year in high school. He's in the jazz band and wind ensemble where he plays the sax. 13 years ago when I was a freshman in high school, I got enrolled to igcse tuition centre near me to uplift my language proficiency level while the band also started a tradition of having a cake auction. This auction at the last concert of the year helped me raised money for the next year's band. Every year of high school I made a cake that was auctioned off. This year I helped my own brother make a cake. I chose a recipe from Heather at Sprinkle Bakes because 1) it was full of chocolate and 2) it had basic techniques I thought my brother should know. The recipe sounds complicated, it's a Chocolate Mousse Cookie Dough Bombe, but if my brother can do it I assure you that you can too.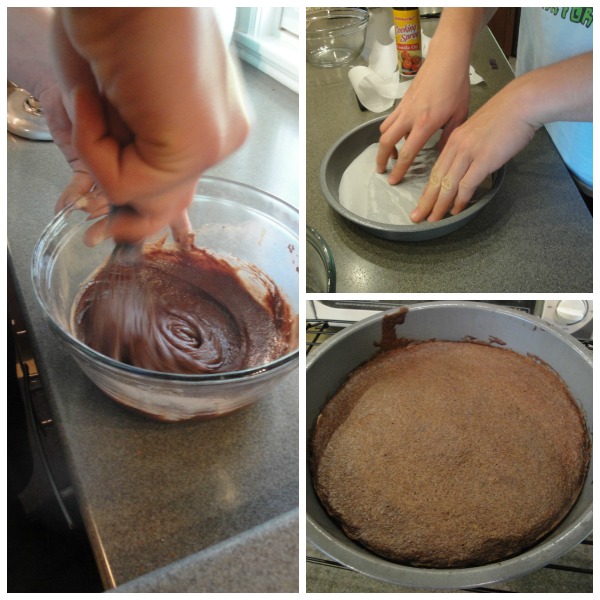 We started by assembling the brownie layer. We wanted to make sure it had time to cool before we packed it away to rest overnight before we assembled it the evening of the concert. While making this layer my brother started sharing what he called "Legit bro tips" or what he thought were helpful tips about baking and cooking. I'll share them just as I promised. His first legit bro tip- "oh year we made brownies, I made them when I was 8. I think I know what I'm doing" which I'm sure is his way of saying easy enough.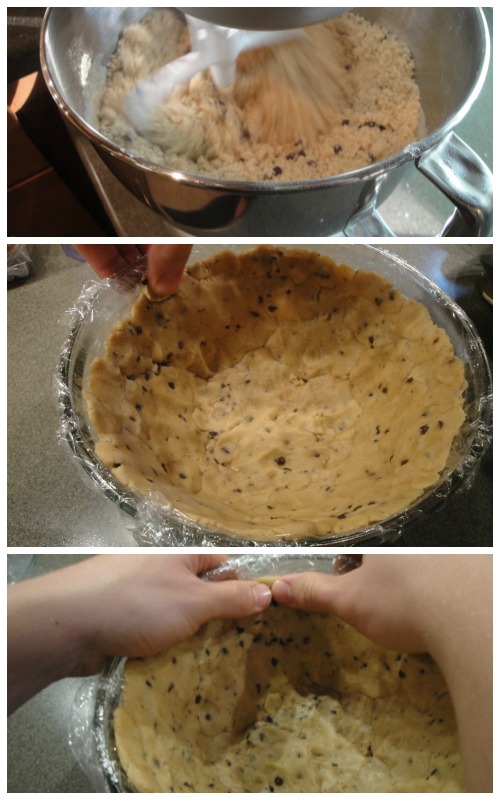 Next we assembled the cookie dough layer. This layer is made by stirring up the ingredients in a mixer, then pressing the mix into a plastic-wrap-lined bowl. This prepwork will make it easier at the end. You don't want to leave gaps because this will become your dome when you flip the cake over. My brother's legit bro tip- "real easy, can't mess this up." This layer also leaves some leftover cookie dough which is wonderful because there are no eggs and no baking in this step so it's safe to munch on.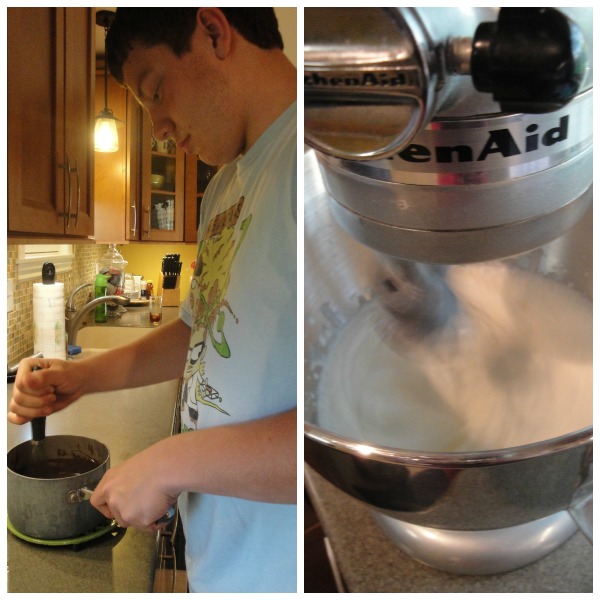 Next up was making the mousse. This was the most educational portion of our day in the kitchen. I taught my brother how to separate eggs (legit bro tip- Make sure to break that in half) and how to temper eggs. He didn't believe that the mixture had thickened enough to cover the back of the spoon as instructed so he learned another legit bro tip- don't be afraid to pull out a spoon and test. Then he was introduced to the Kitchenaid mixer and its ability to whip cream. He saw most of the stages and learned the difference between soft and stiff peaks (legit bro tip- those are the hard ones). We mixed the chocolate and cream together and then the dish started coming together. We poured the mousse into the cookie dough, then covered it in plastic wrap and froze it overnight.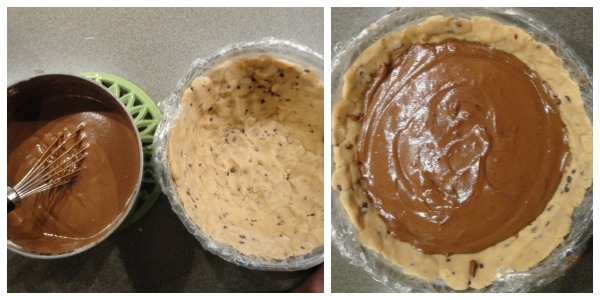 The next day we took off the plastic wrap, placed the brownie layer on top of the mousse, and trimmed the remaining cookie dough. Then we flipped it. It was the moment of truth- would all our hard work pay off?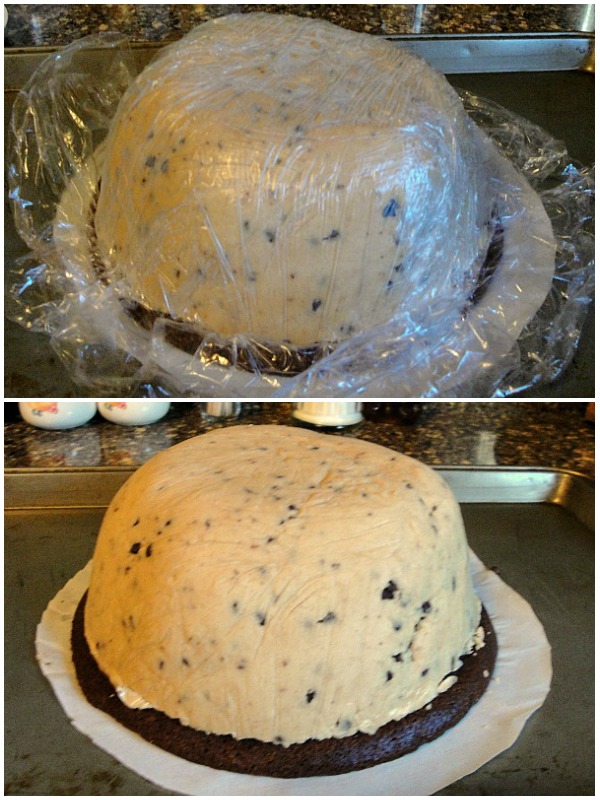 Now this is where the cake gets its death by chocolate reputation, you cover this massive treat with a chocolate ganache. We quickly whipped that up and my brother poured it on.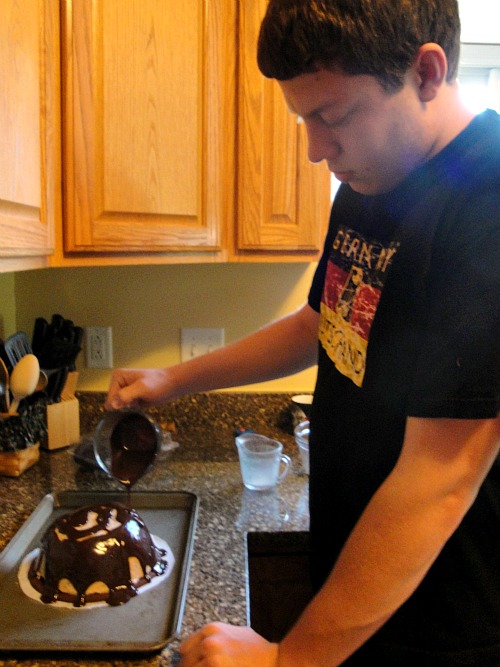 We sent the cake off to the cake auction and a lovely buyer bought it (aka our mom- do you think she would let her son's first homemade cake go to someone else?). She was kind enough to share it with us on Mother's Day though there was very little left the way the family had devoured it.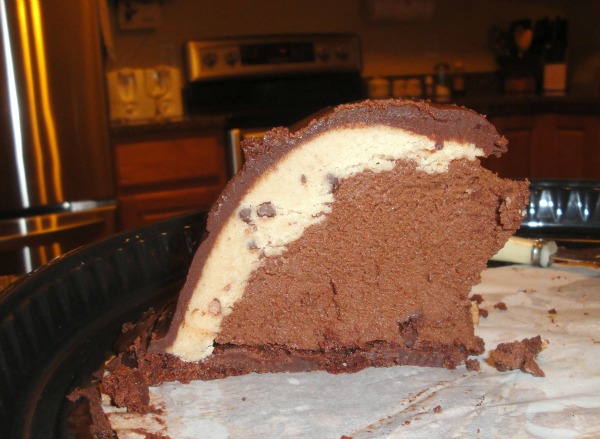 Doesn't that look amazing? It somehow tasted even better than it looked. We've come to our final legit bro tip- "It's bombastic."
If you're looking for the recipe, make sure to check Sprinkle Bakes. It's absolutely worth it.
Pin It