Archive from June, 2015
I've had it with my basement. I haven't unpacked all my tools I have in storage because I don't have a workbench yet at this house. I don't have a workbench because I don't know where all my tools are. The cycle seems a little silly when I have bookshelves, tote shelves, potting benches, and more in the queue to be built and yet it is all dependent on getting my basement organized. I know making a craft room for the blog would be pretty and finished off the office would be nice with the help from experts like the ones at Bathroom Renovations Dublin Northside, but none of it can happen until I can build. So, enough is enough- the basement is the priority now.
Picture a hot summer day. Instead of carpooling to your local pool, you walk a few steps down into your basement swimming pool and enjoy the most relaxing and private indoor pool area. Turning your basement into a pool may not be quite as simple as adding a few rooms or updating the kitchen, that's why you need fibreglass pools Geelong to build it for you, but it can add incredible quality to your home for you to enjoy and reap the benefits of when it comes time to sell your home. An indoor basement swimming pool is not only convenient during the summer months but can be enjoyed year-round for entertaining, parties, and exercise. Adding a basement swimming pool can create a luxurious private oasis in your own home. Basements serve as the perfect setting for indoor pools, Pool construction is a big job, so you're going to need someone who knows what they are doing like Waterside Poolscapes. In addition, you may also need construction equipment such as concrete pump primer, scissor lift, etc.
Are you ready for the horror that awaits?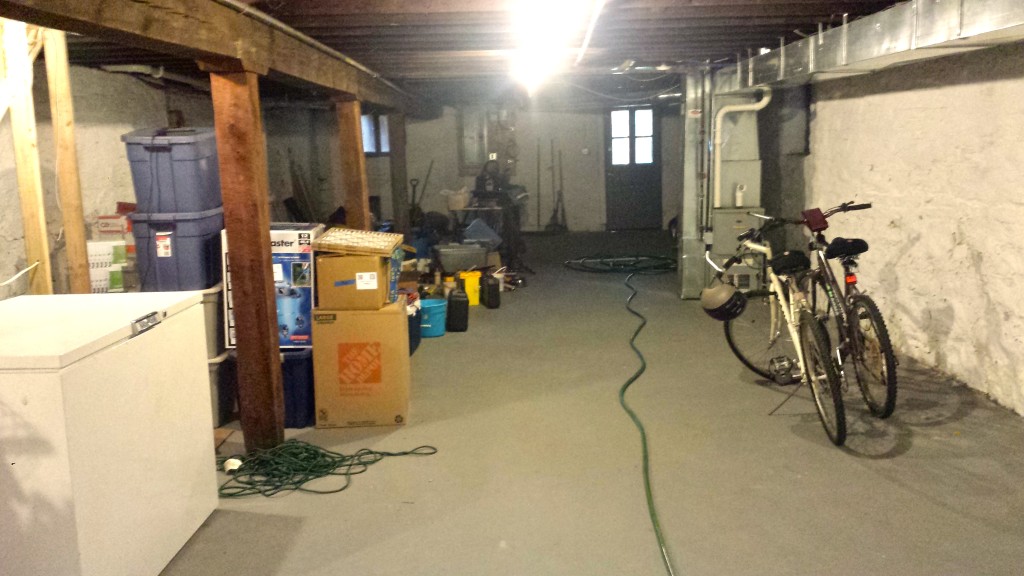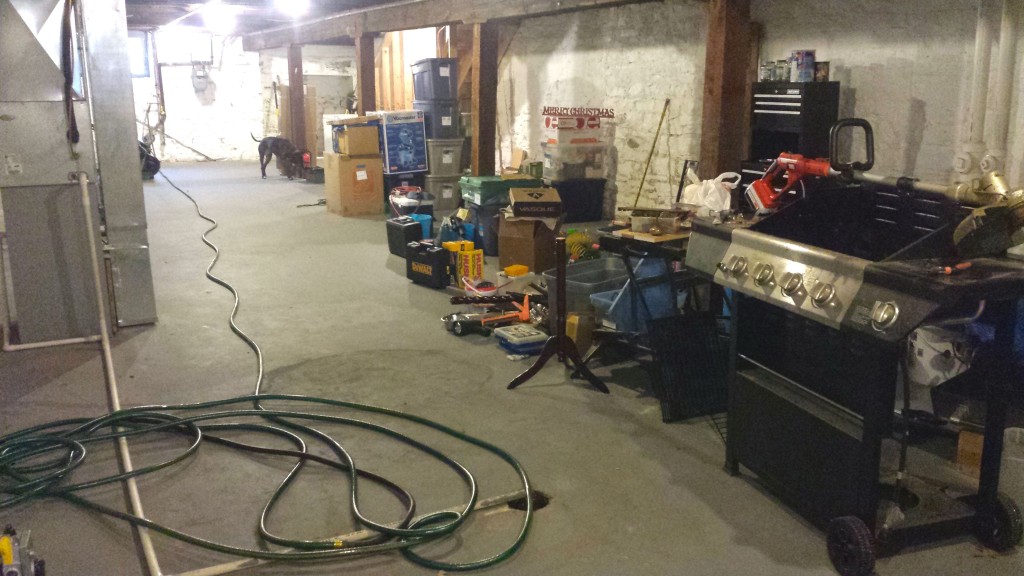 This is one big project ahead of us. (That's right husband, us!) We have some issues: our last house had no space so everything lived in the basement and the old owners left a bunch of stuff in the basement. For issue 1 we will need to unpack some things but as a temporary solution all the totes and seasonal items will live on some wooden shelves we'll be building. For issue 2 the plan is to store some things in a better way (i.e. on shelves) or throw some things away. Living in the city means bulk trash pickup each month so we have a couple weeks to make some decisions.
The basement has several roles to fill.
Hold seasonal items– think Christmas ornaments but also the lawn mower. It also needs to keep us safe in tornado season and hold our emergency gear.
Hold hobby items- We like to spend time outdoors but need a place indoors to store gear
Hold household items- from extra toilet paper to paint cans, everything needs a home
Be our construction center- We need workbenches, tool storage, and space to build
There's several long-range plans we are going to have to do, like add more lighting and run a water line so we have a faucet in our backyard, but this is the "Clean the Basement" phase so here's the plan.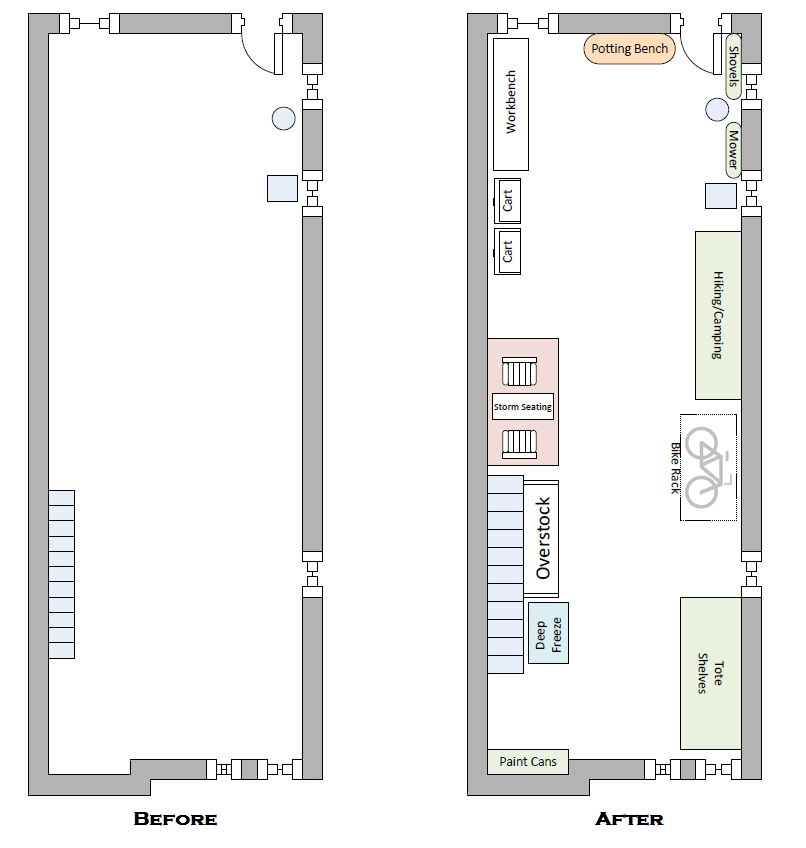 Doesn't that look nice and organized? It's a multi-step process and while I'm sure I'm missing a few steps, here's the current plan:
Buy metal shelves for paint cans and other tools
Clear out the back half of the basement to allow us to build a workbench
Build saw cart
Put all the tools where they belong
Build tote shelves along the front half of the basement and relocated all totes
Buy rug, pair with table and chairs for tornado shelter storm seating. Add emergency kits.
Organize outdoor gear like shovels and lawn mower with some wall storage
Ask a locksmith to install a safe for all valuable belongings.
Buy/build potting bench for all outdoor gardening supplies
Drywall staircase wall and build shelves for overstock groceries
Once phases 4 and 5 are finished I can see us splitting our time between the basement and projects on the second floor so hopefully this list will keep me on track. Organizing the basement might not be the most glamorous thing but it will definitely make my life easier.

Jeni's Splendid Ice Creams has finally come to St. Louis! Wednesday night I was part of a preview event thanks to an invite from Yelp. The night before the big launch we got to sample some free ice cream.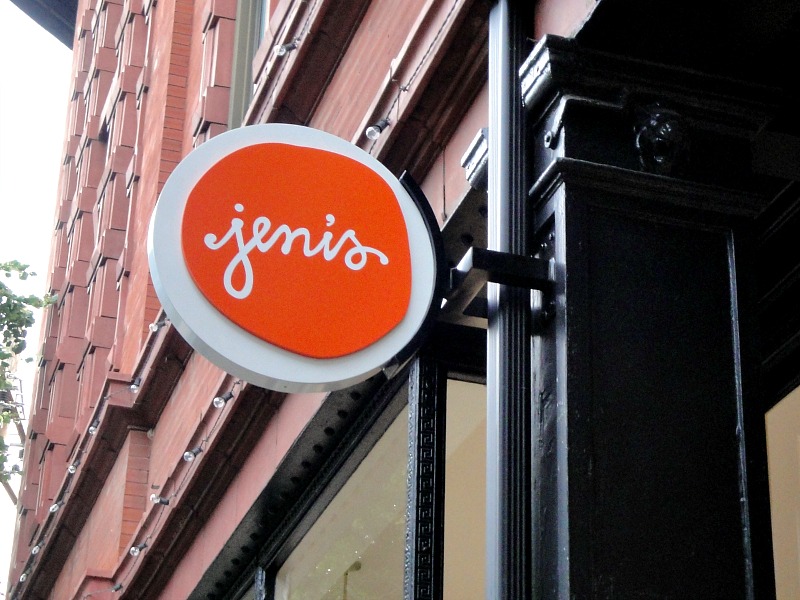 My love for Jeni's started when some friends in Ohio wouldn't stop posting about it. Then one day at the mall I spied the cookbook and it was fate. I made salted caramel ice cream and milkiest chocolate ice cream and I was hooked. When Aaron, our lovely Yelp community manager, sent out a call for people to attend the big launch I had to jump.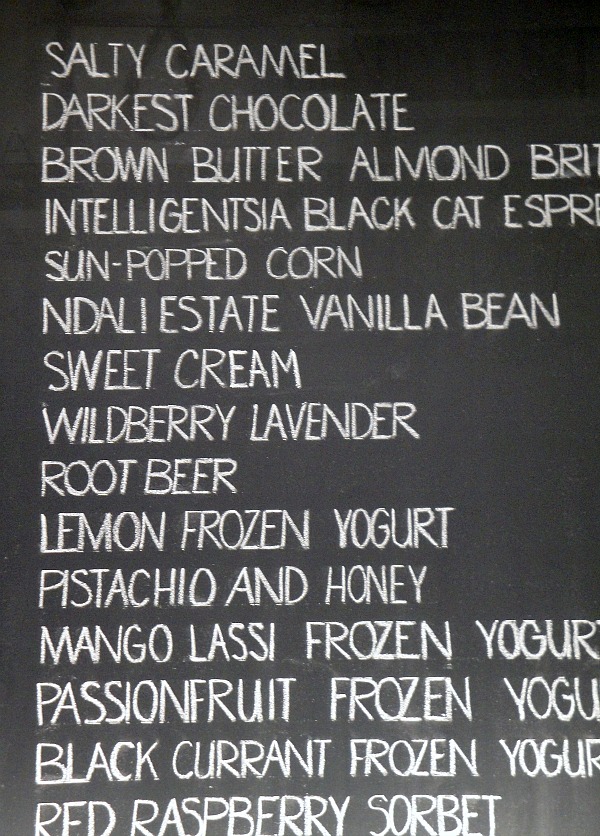 The store is located right in the Central West End and per Jeni is one of their biggest storefronts. It's so clean and open and soon it will be filled with people experiencing some of the best ice cream ever.
Jeni was on hand for the preview tonight and she is just as amazing in person. I was trying so hard not to fangirl too much but I got to hear some of her plans to bring St. Louis locally sourced ingredients to the ice cream. She is so warm and passionate about her food and she can just name off her chocolate supplier from memory because every product comes from a person, not just some corporate no name.
Speaking of, the flavors are amazing. There's ice cream, frozen yogurt, sorbet, and so many toppings too. You can even have a sundae or a float. The staff there were so welcoming. If they even saw you eye a flavor they'd have a sample ready to go. When I tried the mango lassi and liked it they immediately told me I had to try the lemon frozen yogurt. The flavor tasted just like when you are a kid and at an amusement park in the summer and eating that fair food but in a wholesome way. Fantastic.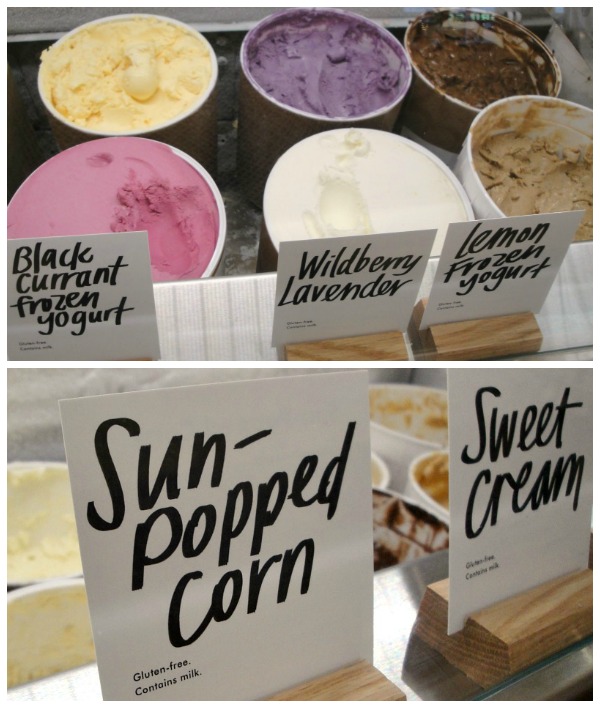 I picked up a lemon frozen yogurt + red raspberry sorbet for my husband. For myself, I went with a pistachio and honey + brown butter almond brittle with the salty caramel sauce. It was probably the best thing ever. St. Louis gets hot this summer and I will need a lot of Jeni's to survive it.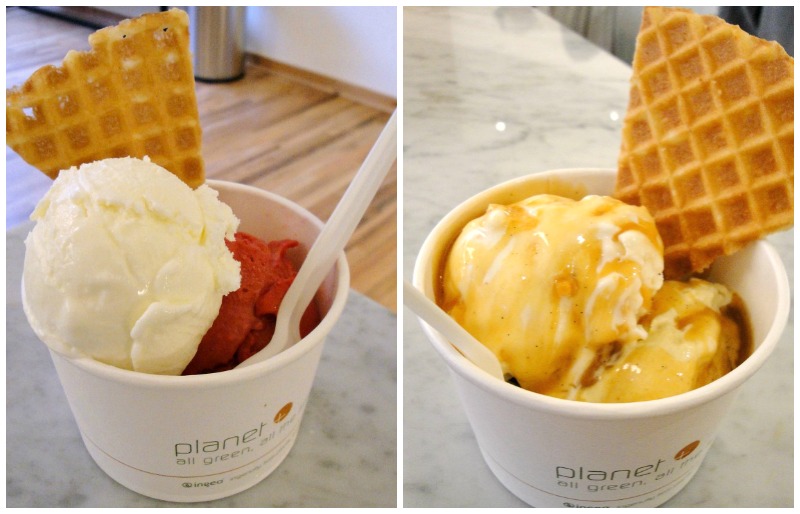 Thursday night from 7 – 11 PM Jeni will be hosting the grand opening. Ice cream is free for those four hours. Get down there early and enjoy!

I can't believe it is already June. Maybe that has to do with the fact that I had to sleep with an extra blanket on the bed last night and I'm in long sleeves today. Either way, here's some of what I was up to off-the-blog last month: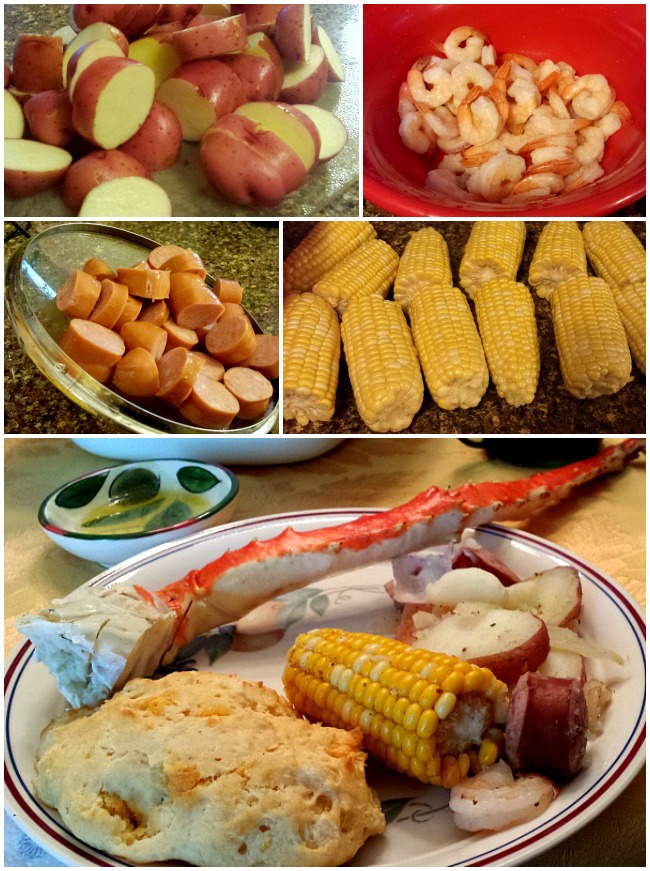 Food
Imagine my surprise when my brother told me that we were making my mom crab legs for Mother's Day. My brother is not always so prepared so I was taken aback. I decided to run with the theme and make a low country boil for mom.
When I moved to the new neighborhood, I had no idea I lived near a martini bar. Do you know how nice it is to be able to walk home after a couple drinks?
The husband and I went to the South Grand Dine Around. You get passes to enjoy an appetizer, a main course, a drink, a dessert, and another small taste from restaurants representing all sorts of nationalities.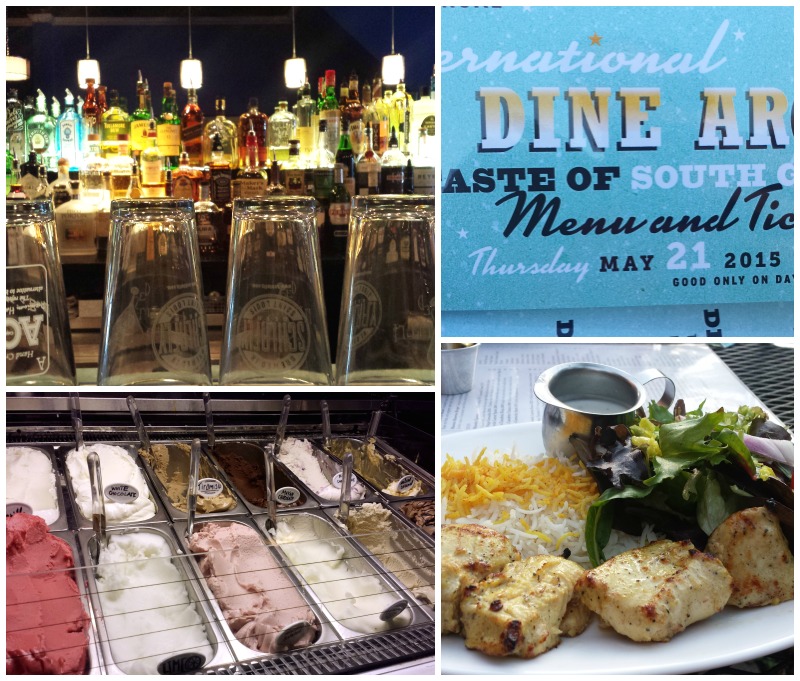 Entertainment
This was a month for finales. The Mad Men finale wasn't quite what I expected but the final few episodes really wrapped up the show. I also finally watched The Wire finale. Talk about a heartbreaking show. Both shows had some of the best episodes of TV that I have ever seen.
I rented a movie in person for the first time in over 10 years. Can you believe it? I was a Netflix subscriber years ago when they still sent you discs for that low rate and since then I have always waited for movies to just make their way to cable. I finally decided to try Redbox and now I'm wondering why I waited so long.
I'm so disappointed I can't make the Postmodern Jukebox show this week at The Pageant, especially after seeing this video of their cover of Bad Romance. Oh, the tap dancing!
https://www.youtube.com/watch?v=VCTOpdlZJ8U
House
I finally got some furniture on the 2nd story balcony. It's not much yet but at least I can go outside. My big plans involve rugs, all the flowers it can fit, and a potting bench. I'm also thinking of getting upholstery services for my sofas.
The third story deck is now becoming urgent. I only have a few chairs left from the last owners and no place to put all the people I'd like.
The biggest reason work isn't done? The basement! We left our workbench behind at the last house, our current basement is full of our stuff and leftovers from the old owners and it needs an intervention. We're drawing up plans for shelves and workbenches this week so maybe we can finally start building.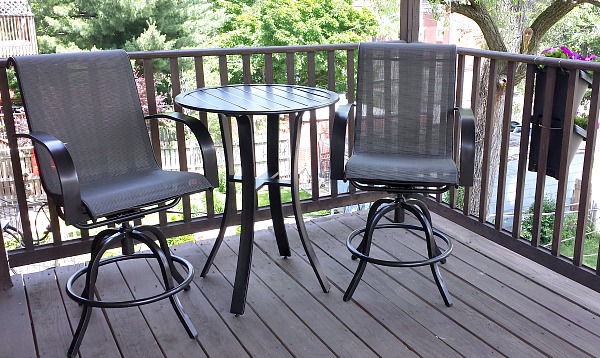 On the Web
Personal
I joined a community garden this month. I'm the youngest by about 20-30 years with the exception of my husband. Our first mission: rebuild some damaged rain barrel bases.
I became a Yelp Elite member and just attended my first event. My next big event is this week and I can't wait to share it with you.
My workplace is having this healthy living program this summer. Last month's big goal was to increase our steps. This month's big goal is to eat more veggies. Next month's big goal is to get more sleep. Naturally I've injured my feet and just had my first podiatrist appointment. The good news is that I can still keep walking but the bad news is I need to wear ugly shoes. Such is life.