Browsing Category "Life"
So before my big trip, I planned out some outfits so I would be able to pack as minimally as possible. I wanted to follow up on that post to let you know how successful I was. First up, I didn't end up doing laundry on board the cruise ship. I used my cruise credit for drinks and cupcakes. I'm a glutton, deal with it.
The only difference that made was I needed to double up on a few tanks for layering and bring the full amount of underwear to last me the trip. When I got around to packing it all, I realized I had more than enough space. I was pleased because my plan was to bring home souvenirs so I was more than set. Just to be safe, I weighed my luggage and the heaviest bag was 32 lbs, so I had well over 10 lbs of "souvenir space" to work with. Perfect!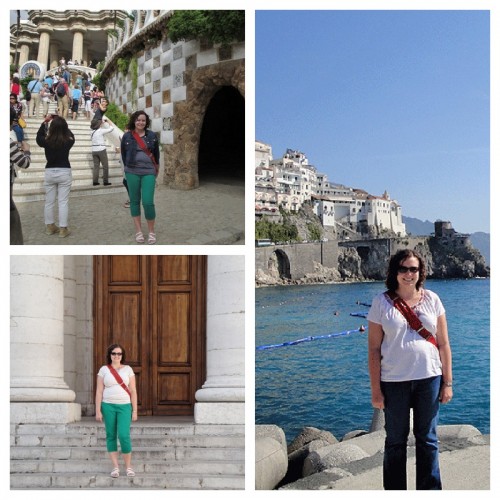 Here you can see me in my green capris and blue striped shirt in Park Guell (Barcelona), my green capris and tan top in Toulon, and in jeans like the ones at Citizens Of Humanity Jeans and a white top in Amalfi.
I ended up swapping some outfits around, like after a freak rain storm soaked my outfit in Monaco; that outfit needed some time for the pieces to dry so I just swapped what day I wore things. Same thing with my landing day, I ended up not changing until dinner. I was able to do that because I chose to pack 3 additional pieces over what I listed in my planning post. I brought a dinner sundress for my time in Barcelona (since I didn't want to wear the same thing I wore to the beach or to hike) and I brought one casual outfit, some sweats and a t-shirt. That was a great choice since I just lounged on our room's balcony for much of the time. I wanted to be cozy on those crisp Mediterranean mornings. Since I did that, there was an entire outfit I never ended up wearing. I had overpacked!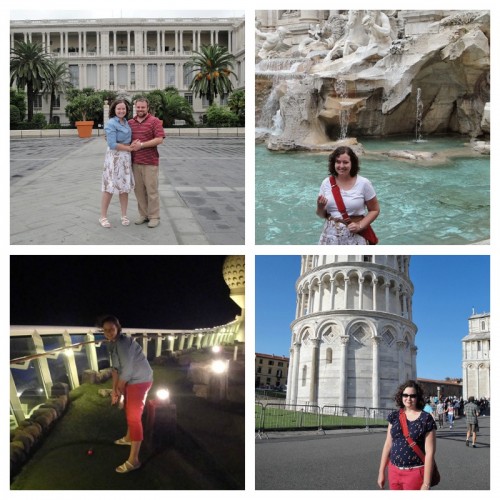 Some of my most versatile pieces were my denim shirt, my khaki skirt, and my pink and green capris. You can see me wearing these pieces in (clockwise from top left) Nice, Trevi Fountain in Rome, Pisa (that's the Leaning Tower behind me), and on board my cruise ship the last night playing mini golf with my own taylormade driver.
The idea of glow-in-the-dark miniature golf courses began in Scandinavian countries such as Finland and then was brought here, learn more at the Pine club golf website. Since these northern countries experience months of short days and long nights the glow-ball and glow-courses allow them to enjoy the game all year round and outdoors.
I always felt comfortable in my pieces (always pack clothes you've worn several times before!) and I never stood out in my pieces. I chose colors on a same color palette to maximize mixing and matching–lots of browns, blues, greens, pinks/reds, and whites. Before packing, look at what colors highlight your closet and try to choose 3 or so favorites with 1 or 2 neutrals.

For my big vacation, I had a bit of a time figuring out how to pack for the trip. I'll be gone for 10 days, I'll be seeing varying temperatures, some days I'll need to dress modestly and others more formally. On top of all that, I wanted to leave plenty of room in my luggage to bring home souvenirs.
The first thing I researched was if laundry services would be available for my trip. I'm cruising with Royal Caribbean so I located their laundry service price list to plan out if laundry services were even in my budget. I also learned via Cruise Critic that Royal Caribbean has a wash-and-fold special where for $25 you can get as many socks, underwear, tees, shorts, swimwear, and pajamas washed as you can fit in the bag they provide. As part of our booking special we were given some on-board credit that can easily be applied towards laundry.
My next priority was to map out each day's outfit needs. For example, day 5 of our trip will have us touring the Provence area of France for a short time, enjoying some quiet time on our ship, and then eating a formal dinner. So a touring outfit, a swimsuit, and a formal dress were all necessary for one day. Since I'll be changing so much, I know I can get more than 1 wear out of most items. So I made a chart of my outfit needs for each day.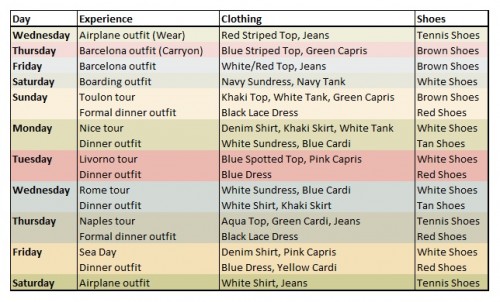 I took some advice from Audrey over at Putting Me Together on the importance of wearing colored bottoms. I'm bringing 4 different bottoms but I can wear clothing for at least 10 days. I've actually limited my re-wears of key pieces simply because I don't know how hot it might get or how clumsy I might be this trip.
I tried to choose a color palette to work with for the trip too. I've always been a fan of navy and white and by sticking to a palette it means I can bring just 1-2 belts some brown and white shoes that should work with every outfit like the ones at https://vessi.com/. My suitcase is basically filled with these key pieces, though some are just similar and not direct matches since I don't buy a new wardrobe every year.
I made sure to choose cardigans to layer since some places like Rome require me to have my shoulders covered and nights on a cruise ship can be cool. I also chose several knit pieces for their strong anti-wrinkle tendencies. I'll also have the obvious things packed like socks, underwear, PJs, and my swimsuit but I'm feeling pretty set with these pieces. I'll let you know after the trip what worked and what didn't so you can better prepare for your next vacation. (Now that I'm back, here's that followup I promised!)

Wow, I did not intend to be gone that long. I even have a vacation coming up that I don't plan on being that quiet for.
After posting 2 Mondays ago I was busy pushing for a work deadline when I started to feel kind of bad. I sort of chalked it up to the stress of the job and just kept pushing on. Eventually "kind of bad" turned into pain in the night which would last 30 minutes and then I'd be fine in the morning. That wasn't cool but I figured I'd get to the weekend and I'd feel better. When the weekend came I started to feel worse and I passed on skipping a marketplace I'd been looking forward to all summer just to try to relax. I figured whatever this was had to be all in my head from the stress, right? The deadline at work was finally over and I could just calm down.
Monday I was a little worse so I called into work and ran to the pharmacy to grab some unrelated items and in the short time I did that I had a fever jump several degrees. That was a little scary. The rest of Monday, all of Tuesday, and early Wednesday were just a blur to me. I had such high fevers during that time and some other scary side effects that I really had no clue what was going on. I ended up going to the Urgent Care, having the Urgent Care get freaked out enough they wanted me in the ER and then I got some medications in the hospital before coming home. Major infection and 4 medications needed in the hospital + 3 more outside.
I expected when I was released that I'd start feeling better but I was just as sick and it took another few days for the meds to kick in. My fever finally broke after 6 straight days of 103+ temps and then I started finally being able to hold down food and water. I'm still on some meds but I should be fine (or at least good enough to move around more) in another week or so with some more rest and learning how to take it easy for a bit. I'm just glad I was able to catch things when I did and that I have so many people like my husband, parents, and in-laws who helped out when I needed the most.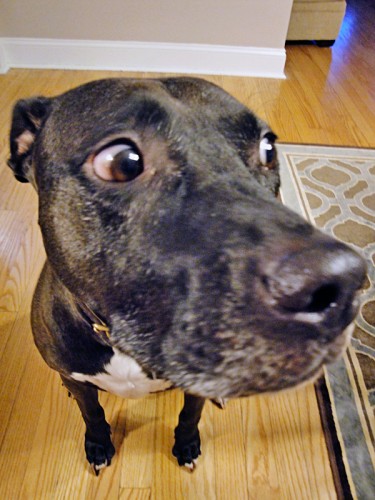 My dog Nova also believes she deserves some credit and since this was the look glued to her face last week, I'll say she was a dandy little helper too
I do hope to do some casual postings between now and Labor Day but I have some resting up to do in the meantime so forgive me if I'm a little quieter than usual. Have a good week everybody and remember to take it easy!

Today is Harry Potter's birthday! Someone out there, please reassure me you already knew that and I'm not alone in my love of all things Harry Potter. When book 7 came out I was on vacation with my family for a wedding out in California. I made sure to get in line to get early access to the book and I managed to finish the final Harry Potter book before the wedding that night.
When the final movie was released I had a multi-day viewing party with a themed food for each viewing. The first thing I did was make some cups to drink my Harry Potter themed drinks in. Even a house like Hufflepuff deserves a mug.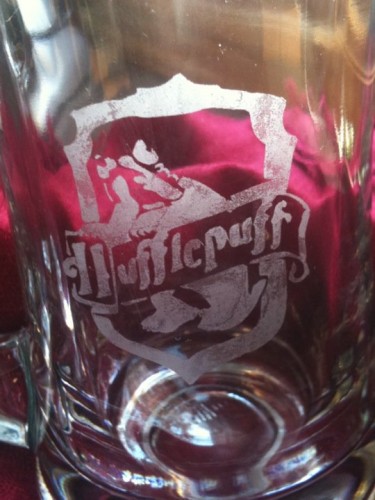 The mug itself was fun to design. I found some images for each Harry Potter house and used some software to edit them so I could cut them out with my Cricut. I placed a Cricut vinyl sheet
into my Cricut and cut out the design with that so I could adhere the stencil to a Target-brand mug. Then I filled the gaps in the stencil in with some Armour Etch
. You just dab the Armour Etch on with a foam brush and let it sit for a few minutes before washing it and the stencil off. The glasses are dishwasher safe and make great party favors- I made a batch for a group of friends for another themed movie night.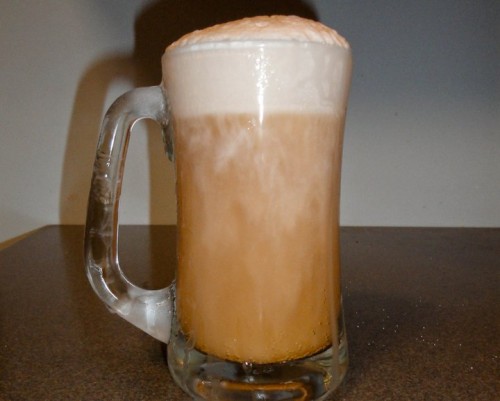 The glass was a perfect container for my homemade butterbeer. I haven't made it to the Wizarding World of Harry Potter but this is a tasty drink to make at home. I followed a recipe from Chica and Jo and had great success.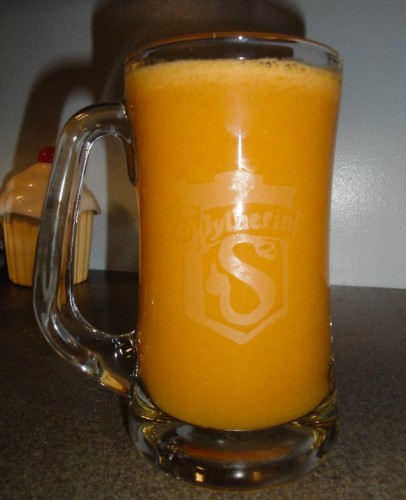 Drink #2 was some homemade pumpkin juice, this time displayed in a Slytherin mug. The recipe comes from Party Through the Parks, though I substituted Agave Nectar for Pear Nectar. I'm more of a butterbeer girl but pumpkin juice has a nice flavor to it. Speaking of butterbeer…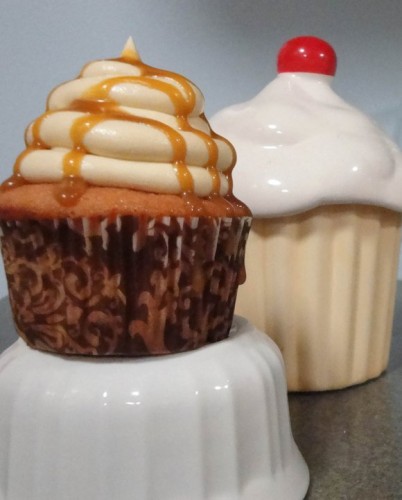 The butterbeer cupcakes from AmyBITES are amazing. They were my second favorite creation of the week (second to only butterbeer) and were excellent when paired with its namesake.
Movie night #4 featured a Bouillabaisse in honor of one of the dishes served during the welcoming feast for guests from Beauxbatons Academy. Every Harry Potter party needs a main course but it also needs an appetizer. Movie night #5 featured a sorting hat bread with several dips. Diamonds for Dessert has a great tutorial for making a shaped sorting hat. My version required more flour thanks to the Missouri humidity and it came out a little cranky but still recognizable.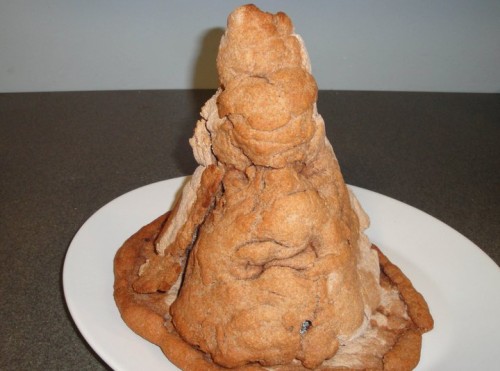 And what's a party without a dessert? For my Harry Potter themed dessert I made some Oreo truffles. Instead of dipping them in milk chocolate or dark chocolate I dipped them in some yellow candy melts. I also attached some white chocolate wings I had piped and made some flying snitches. I will admit that I only ended up making one with wings and the rest of the wings went straight into my mouth. They just tasted too good!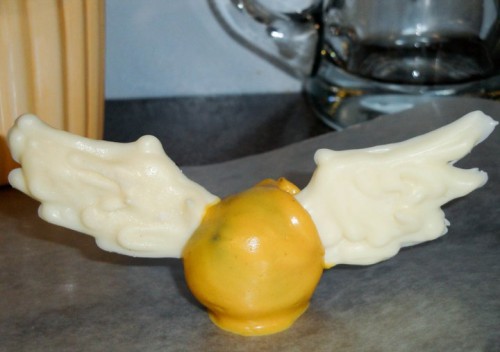 Now you know one of my biggest secrets: I have a weakness for themed parties and celebrations. I've been known to have Election night parties, a luau where my dog wore a Hawaiian skirt, and even sparkly vampire parties. Parties are a great way for me to get together with friends and family and have fun with corny foods and props.
Pin It

I've been absent from this site a little too much for my own liking lately. It started with work getting crazy again and all the exhaustion that comes with that. On top of work, I've also been pushing my body harder than I'm used to and it has been wearing me down. On the plus side, it's also been building me up. Confused? I'm talking about the Couch to 5K Program. Also known as C25K, it's a program to ease couch potatoes into runners. I was an active kid, even making the alternative team for state swimming back in the day, but I've never run even a mile straight through. I could do kick-boxing, bike, even yoga but running killed me and for some reason I always hated being beat by something that seemed as simple as running.
A lot of my friends and family have seen me talking about the program and are a little confused on the details so I wanted to share how exactly the program works, some helpful tips, and how it's been affecting me and the family. I'm obviously not a running pro but I'm loving this program, minus the fact that I started it in Missouri's worst heat wave.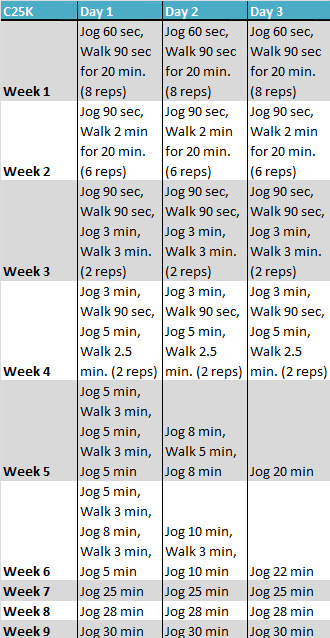 The program lasts 9 weeks and you gradually build yourself up, running longer distances and times. You run 3 times a week on alternating days and you start each day with a 5-minute warm-up walk and end each day with a 5-minute cool-down walk. Weeks 1-4 you repeat the same thing all 3 days you run so it's fairly straightforward. Week 5 is where you start to increase your running time quickly and you run for 20 minutes straight for the first time. I just completed Week 6 Day 2 (W6D2) so I won't be doing any more walking other than warming up or cooling down. Here's a chart that shows visually when you run/walk.
My husband is doing the program with me and so is my dog. My husband is just a touch behind me since I started a bit ahead of him but he just ran right through Week 4 so he's right on my toes. Week 4 is one of the hardest weeks of the program in my opinion. Week 1 is hard because you're just getting started but week 4 is when you increase your runs from a total of 9 minutes to a total of 16 minutes. It's a huge jump so be prepared to be exhausted that week. The best part about having my husband as a running partner is that he holds me accountable. He wants to run so I run with him and we each keep encouraging the other. Even my dog keeps me accountable. If I don't take her running on her running days then she gets crabby and no one wants to see her crabby side.
Running with my dog is also a challenge. I wouldn't suggest running the C25K with a small dog because they might not be able to keep up. My dog has had advanced leash training which makes running with her so much easier. Some commands I've found helpful are "heel" so she'll stay close to me when cars or people are near, "leave it" when a person with an animal is near, and "turn" for when we're at a split in the road and I use the leash to guide her. My dog Nova loves the runs though and she cruises right along with me each week. I also used snapping or an "easy" command to help her increase or decrease her speeds as we shift between running and walking.
Helpful C25K Tips
Have all the tools you need. Buy proper running shoes from the start so you don't get injured. I also find having good workout clothes (including socks and underwear) to be a must as well as having a hat and sunglasses.
This isn't a race. When you finish the program you might be ready for a race but until then keep your pace slower than what you might think. If you are a couch potato running too fast might lead to injury. You should be going slow enough to be able to talk while running. I test this by giving commands or praising my dog mid-run.
Be realistic with your goals. I hope to sign up for a 5K when I finish this program but I know I might not actually end up running a full 5K by the end of Week 9. I've included extra time before race season starts to allow for rest days, building up my running distance, and even time in case of injuries. I do have some knee problems that led me to repeat a day once but I still have plenty of time to reach my goals. Now that I'm about 2/3 of the way through the program, I have 2 races in mind to test my skills on a course depending on how ready I feel.
Find a program that works for you. Maybe you need to go inside on a treadmill to run in this heat or maybe you need to do some Week 0 exercises to build up the strength for a full program. My friend Janelle is doing a 12-week C25K program that is working great for her and her husband.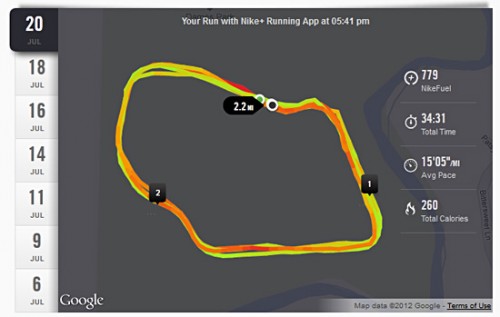 Track your runs. This one is big. I use the Nike+ running app but other people use apps on their phones like Runkeeper. I like logging my distance, my speed, and how much stronger I've become.
To help follow the intervals I use podcasts with my runs. They tell me when to start walking, start running, and have music to help me keep my pace during the runs. My current favorite podcasts can be found over at C25kplaylists.com. I like the robotic voice prompts, the cues for being halfway and near the end they often let me know I have just a few minutes left. Each week has between 4 and 8 different music options. Other great choices include Chubby Jones (a very encouraging voice pushes you while you run to music), Podrunner Intervals (DJ Beatsmith uses beats per minute in songs to keep you at a steady pace), and Robert Ullrey (a man running this program with you to the beat of techno songs).
Have you tried the Couch to 5K program? I'd love to hear your tips or any questions you might have about my experience so far.
Pin It