Tagged with "berries | The Hyper House"
After blueberry picking and making some blueberry muffins, I still had a ton of blueberries left. I had plans to make my dad a cheesecake for Father's Day and my husband sounded a little jealous of my dad getting a cheesecake and I had plenty of berries so I figured why not make 2?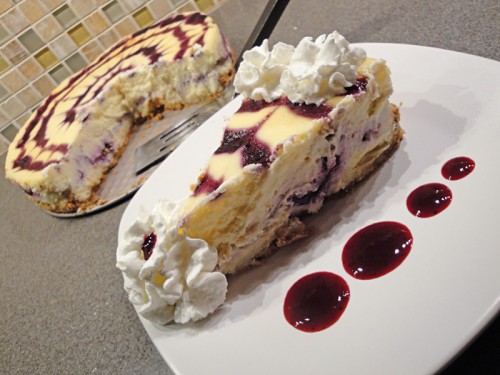 Today's recipe focuses on the cheesecake I made my husband. He loves cheesecake and every year for Christmas I make him a raspberry cheesecake. Since I had blueberries on hand, I wanted to adapt that recipe to fit with the season. It was a bit of a test but I'm happy to report it worked out splendidly.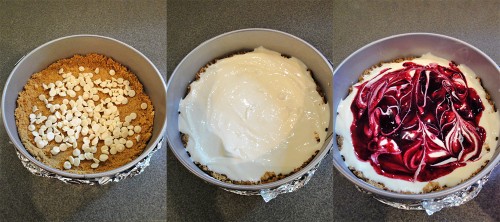 To make this cheesecake, you'll want to prepare a graham cracker crust first and freeze it while you prepare the blueberry sauce. After the sauce is cooked, let it cool while you make the cheesecake filling. Then it's time to assemble the cheesecake. You'll pull the crust out of the freezer and sprinkle some white chocolate chips onto the crust. Pour half the cheesecake into the springform pan. Then you'll pour some blueberry sauce over the cheesecake and swirl it in.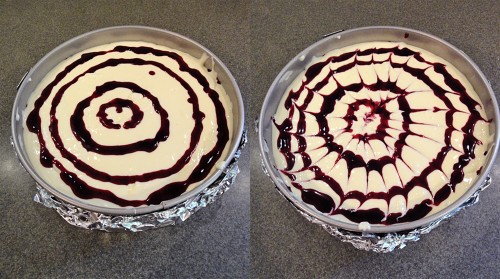 Finish by pouring the rest of the cheesecake in the pan. You can add more blueberry sauce and swirl it in or make a fun design. To make this pattern, I piped circles of sauce onto the cheesecake and swirled from the center to the outside of the cheesecake to form a firecracker pattern.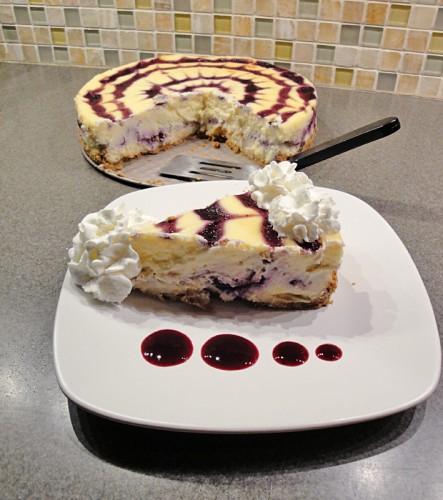 If you end up with blueberry sauce leftover like I did, save it and make some pancakes for breakfast. The sauce is a perfect pancake syrup and adds a lot of flavor.
White Chocolate Blueberry Cheesecake
Ingredients
For the Crust:

1 1/2 cups graham crackers (about 9 graham crackers)
1/3 cup butter, melted

For the Blueberry Sauce:

1/2 cup cold water
1 1/2 cups fresh or frozen blueberries
2 tsp lemon juice
1 Tbsp granulated sugar
1 1/2 tsp cornstarch

For the Cheesecake:

4-8 oz packages cream cheese at room temperature
1 1/4 cups sugar
1/2 cup sour cream
2 teaspoons vanilla
5 eggs
1/2 cup white chocolate chips
Instructions
For the Crust:

Crush 9 large graham crackers by hand or in a blender. Pour into a medium bowl and mix in 1/3 cup melted butter. Mix until well combined.
Line the outside of a 9-inch springform pan with foil. Repeat until about 3 layers protect the pan.
Press the crumb mixture into the bottom of the pan and use the bottom of a drinking glass to press the mixture flat into the pan and up the sides to form a crust. Put the crust in your freezer until the filling is done.

For the Blueberry Sauce:

Over medium heat, combine cold water, blueberries, and lemon juice in a small saucepan. Add in sugar and cornstarch and bring to a boil.
Boil for 30 seconds while whisking. Remove from heat and strain into a bowl to remove the blueberry skins. Set the sauce aside to cool.

For the Cheesecake:

Preheat oven to 475 degrees. Fill a large roasting pan with 1/2 inch of water and leave it on the lower rack of your oven while the oven preheats.
Use a hand mixer to combine the cream cheese, sugar, and sour cream. Mix on low until smooth and creamy. Be careful not to whip the mixture, too much air will cause the cheesecake to collapse or crack.
Add the vanilla and eggs and blend just until incorporated.
Pull the crust from your freezer and sprinkle the white chocolate chips into the bottom of the crust. Pour half of the cheesecake filling into the crust.
Drizzle 1/4 cup of the the blueberry sauce over the surface of the filling. Use a knife to gently swirl the sauce into the cheesecake.
Pour the other half of the filling into the crust. Add another 1/4 cup of sauce to the top of the cheesecake. You can pipe on a fun design or just swirl it in with a knife again.
Carefully place the cheesecake into the water bath in the oven. Bake for 12 minutes at 475 degrees then turn the oven down to 350 degrees and bake another 50 minutes. You want the cheesecake to just barely turn golden brown before removing.
Cool on a cooling rack for an hour, then chill in the fridge for 8 hours. After cooling, remove the springform pan from the cheesecake. Cut into 12 slices and serve with whipped cream.
http://www.thehyperhouse.com/2012/06/blueberry-cheesecake/
Pin It

After I went blueberry picking I got right to work cleaning the berries so I could start using them. I had all the ingredients on-hand to make my blueberry muffins so I just jumped right in. My recipe has a sturdy enough batter that you don't have to worry about coating fresh berries with flour to prevent sinking, the berries just stay put on their own. If you don't have almond extract you can easily substitute vanilla.
While cake itself in some form or another has been around since ancient times, cupcakes first came about in America by chefs using small silicone cake moulds. It is thought that the first ever reference to 'a cake to be baked in small cups', rather than as a layer cake, was in Amelia Simmons' 'American Cookery' in 1796. Cupcakes give you the chance to offer multiple flavors instead! This simple detail helps you make the party way more fun. It gets people talking about all the delicious flavors you've brought and it gives you the chance to pair certain foods together if you're really trying to show off your culinary skills.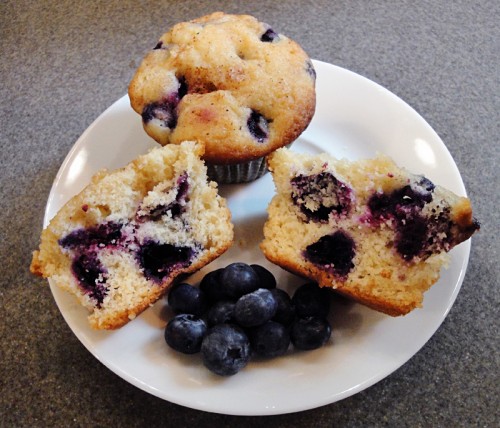 Ingredients
1 stick butter, at room temperature
1 cup sugar
2 eggs
1 teaspoon almond extract
2 teaspoons baking powder
1/4 teaspoon salt
2 cups flour
1/2 cup milk
2 cups blueberries

For the Topping:

1 Tablespoon sugar
1/4 teaspoon nutmeg
Instructions
Line 18 cupcake pan spaces (or 12 regular and 12 mini cupcakes)
In a large bowl, cream together butter and sugar. Add eggs one at a time, stirring after each one. Mix in almond extract.
Add baking powder, salt, and half the flour and lightly mix. Pour in half the milk, stir, then the rest of the flour and milk and stir till just mixed. Fold in blueberries and spoon into cupcake liners.
Stir together the sugar and nutmeg for your topping and sprinkle on each muffin.
Bake until golden brown, about 20 minutes for regular muffins and 15 minutes for mini-muffins.
http://www.thehyperhouse.com/2012/06/blueberry-muffins/
Pin It

Last week I invited my friend Wendy and her mom along with me to go blueberry picking. I had gone last year and enjoyed it so much that I wanted to go again this year.
I go picking at Wind Ridge Farm in New Melle, Missouri. They also have blackberries and peaches depending on the season. They aren't open for picking every day but they do update their website, twitter account, and facebook page to help you plan your next pick date. This method ensures that the plants aren't overpicked and that guests have plenty of picking options.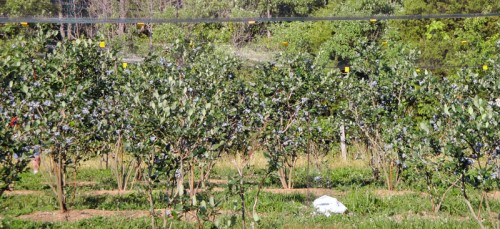 When we arrived this year we could see the blueberries hanging off the bushes before we even entered the field. You just grab a bucket, listen as an employee tells you the best places to pick, and have at it. We spent less than an hour picking casually and ended up with about 2 1/2 pounds each. The blueberries are $2.99/lb and they even take credit cards if you have your whole family out there picking.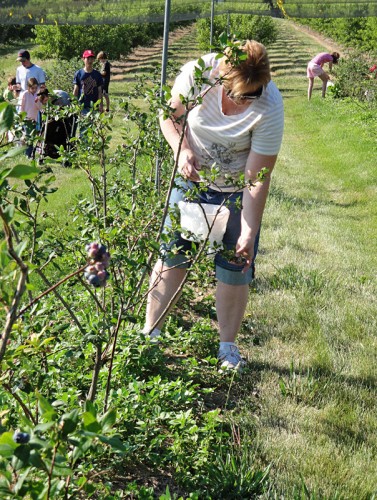 Their next pick date is on Sunday from 8 AM to noon or until the field is all picked. You could celebrate Father's Day with some blueberries or even some blackberries since they will have a small batch of them ready to go. After we went picking we did a scenic drive along Missouri's wine country. There are several wineries out in the area so if you time it right you could pick one day and stop for some lunch at a winery before shopping (like we did).
I've been planning out all sorts of delicious blueberry treats since I saw the fields were open and you can see them and other berry treats on my Berry Picking pinterest board. Coming up tomorrow I'll show you my first cooking project or you can check out my favorite blueberry buckle recipe on my travel site.