Tagged with " books"
I'm a reader. Sadly last year was one of the first where I didn't hit a minimum of 50 books read. (I blame 3 jobs, 2 major illnesses, and a running program) I did end up reading a lot of very long books (an average of 500 pages each) so I was pleased about that and I did end up reading some really great books. I wanted to share my top 5 books for 2012 and hear if you have any recommendations for 2013.
Jenny Lawson aka The Bloggess is one of my favorite bloggers. She's funny and beloved by the internet and she uses all that charm and love to accomplish some awesome things like the traveling red dress and a Christmas miracle. Her Beyonce story is still one of the funniest things I've read (and it's in the book). I wondered to myself if I really cared enough about some stranger on the internet to read a memoir and I wasn't sure even as I picked up the book. I just wanted to read some funny things like on the website. When I read the book, I found I liked Jenny IRL (okay, in book form) even better than her internet form. Jenny has battled a lot in her life but her humor, honesty, and taxidermic lifestyle really made this book into a fun read.
I have a weakness for historical fiction. This doesn't involve a ton of "famous" people in history but it does partially include figures like James I. If you love Diana Gabaldon's Outlander series
this book is partially set right in the middle of that. If you're more into the fiction part of historical fiction this book has a love triangle or two, a gorgeous setting, friendship, and the writing of a book. I loved this one and plan to devour some of Susanna Kearsley's other novels.
The Mockingbirds might be classified as a young adult book or maybe new adult but it's a snappy book that really emphasizes empowering young women. It's set at a boarding school, it involves secret societies, family relationships, and a bunch of strong women. There's also a dark plot it follows involving rape but it's not a story about rape. I first read about this one on Forever Young Adult and they did not leave me astray. If you're wondering about the title, it does and it doesn't refer to Harper Lee's classic. You'll have to read it to see what I mean.
Zeitoun by Dave Eggers
This book is a tough one. Dave Eggers immersed himself in Abdulrahman Zeitoun's life while writing this book and it's packed with so much emotion that it is often hard to read. The book is set in and around Hurricane Katrina and Zeitoun's time in the storm and in the world of the unknown. I still have tears come to my eyes when I remember parts of what he saw in New Orleans. That being said, Zeitoun has been in trouble with the law lately too. I can't tell if this changes how I feel about the book. The text and suspense of a book that plots out a time I lived through is still haunting. Without reading the book you might not understand how hard it is to reconcile the Zeitoun of the book with the one in the news, or how easy it is to understand all at the same time. If you want a gritty read that will make you ask "why?" about everything, this is the book that will do it.
Another young adult book but I refuse to apologize for loving this one. The best parts involve love, passion, mystery, and friendship. This book starts off right away talking about cancer but refusing to be a cancer book. I'm a cancer survivor and I was hesitant to start this tear-jerker worrying that it would bring back hard times for me but it was so uplifting. I started it right after I wrote my resolutions post and it was so fitting. This is a book on how to live your life and how to let go of your fears. I'm sure everyone and their mother have recommended this book to you and if you still haven't read it, you need to take this as your final nudge.
I'm finishing my second book for the year right now and I'd love to plot out a reading list so I can stay on track. I've added a Goodreads widget to my sidebar on the right so you can follow along with my reading. Share your 2012 favorites and your 2013 goals in the comments!
A few years ago I had a friend mention to me that she had discovered a new ice cream place. She said it was an amazing place but considering she lived in Ohio I wasn't going to make the drive. Besides, the had mentioned that her favorite flavor was olive oil. Olive oil? In ice cream? I was unconvinced.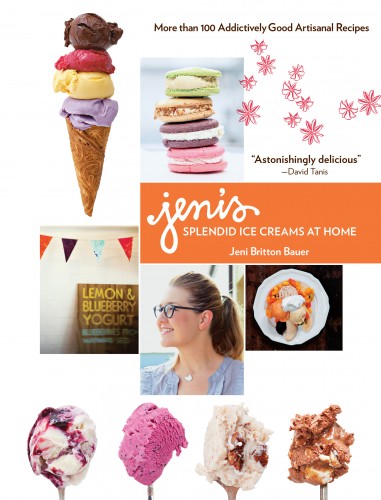 Then one day I discovered this amazing book, Jeni's Splendid Ice Creams At Home
by Jeni Britton Bauer. Flipping through the book I quickly realized this was the Jeni of Jeni's Splendid Ice Creams that my friend had told me about. The book even had the recipe for that same olive oil ice cream.
The book is so much more than a cookbook; Jeni shares advice on ingredients, entrepreneurship, and her growth in the kitchen. I really love how Jeni shares her failures and how owning a restaurant is so much more than knowing how to cook. It's very refreshing. I read the book, saw all the amazing recipes and fell in love. I wondered in my head if I wasn't overhyping how good her ice cream really was. I had to find out for myself but there was no way I could drive to Ohio.
Enter Straub's Markets. Jeni's has retail partners across the country that stock the ice cream flavors Jeni created. In St. Louis, Straub's is the closest location to me that carries her ice creams. I was already across the river at a museum so I stopped by Straub's to see their selection. They didn't have that infamous olive oil flavor but they did have Jeni's Gooey Butter Cake Ice Cream. As STL locals know, gooey butter cake is our thing. Did an outsider have what it took?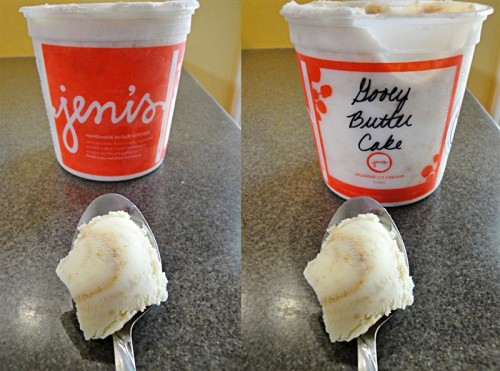 Jeni nailed it. The hype around Jeni's is that her ice cream isn't full of ice crystals like all those other ice creams. It was weird taking that first bite and not hearing or feeling that usual crunch you feel when you eat most ice creams. This really was just like eating cream. Cream that was flavored with honey, butter, and butter cake. You can tell this is quality ice cream from your first taste to your first look, with so many vanilla beans lacing the ice cream.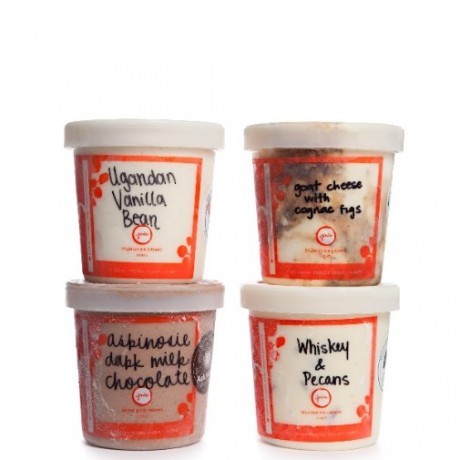 Gooey butter cake ice cream is one of the many recipes Jeni includes in her book. She has 53 ice creams, 7 frozen yogurts, 9 sorbets, and 13 desserts in her big book of recipes. She divides the book up into seasons so you can mimic her love of fresh, seasonal goods in your ice cream making. For spring she has a twist on classic strawberry ice cream with her version- Roasted Strawberry & Buttermilk Ice Cream. Summer has a more dramatic twist in the Sweet Corn & Black Raspberry Ice Cream. You can tell Jeni loves autumn because most of her recipes fall in this category and this is where you'll find that olive oil ice cream, her most famous salty caramel ice cream, and even a nod to her beloved Ohio with The Buckeye State Ice Cream (Honeyed Peanut Ice Cream with Dark Chocolate Freckles). Winter is where Jeni keeps her top chocolate recipes so feel free to indulge.
Expect lots of posts coming up this spring and summer as I start making some recipes from Jeni's Splendid Ice Creams At Home as I attempt to fill up my freezer with some amazing treats. I'm already searching the stores for rhubarb so I can tackle one of her frozen yogurt creations.
Have you been to Jeni's? I'd love to hear your favorite flavors so I know what to make next.
Pin It