Tagged with "books | The Hyper House"
I'm more than halfway done with my 2016 #BustleReads Challenge. As a reminder, this challenge is supposed to push my boundaries and help me find books outside my comfort zone that still appeal to me. Here's my first update if you want to see books 1-5 in the challenge.

6. Read a Feminist Sci-Fi Novel:
I went into this book blind, knowing only that it was supposed to fulfill my feminist sci-fi book of the year, was highly rated, and written in the 1970s. I really wanted to know how it could meet all that criteria and honestly I was hooked from the very first sentence. This book has an incredible and gut wrenching plot but beyond that this is a book about people. People can be ugly, they can be brave, they can sacrifice, and they can push on. The people and their relationships with each other really showed you how loyalty, love, and trust can be tested. Combine those qualities with the plot and it's a fantastic read from Octavia Butler.  5/5 stars
7. Read a Contemporary Collection of Poetry:
I tried to sit with this book and slowly read it. I read the first part, an introduction to the family and their dynamics, then put it aside and went to bed. The book stayed in my mind all night and day and when I sat down with it again, I read the entire thing. I took time to savor some poems, reading them aloud.
Each poem is straightforward but not quite simple. There are four real parts: a broken childhood, the loss of a brother, the loss of a friend while coping, and the loss of a loved one in the midst of it all. The poems are narrative but by the end go out on a hopeful note. Some favorites: "The Gate", "Practicing", "Without Music", and of course, "What the Living Do".
I read this book after my grandmother died earlier this year. It helped me feel some things I had tried to push aside and helped me acknowledge how messy death (and life) can be.  3.5/5 stars
8. Read a Graphic Novel Written by a Woman:
Like most kids raised in the 90s, I had an obsession with Scary Stories to Tell in the Dark. Through the Woods fits the spirit of those stories but it's paired with hauntingly beautiful art. The book is just 5 short stories and each story has its own artistic style. The art in "A Lady's Cold Hands" was so good at contrasting the claustrophobic feeling of parts of the plot with the vastness of the project that lays before the narrator. There's an image of a wall that should be simple but it says so much.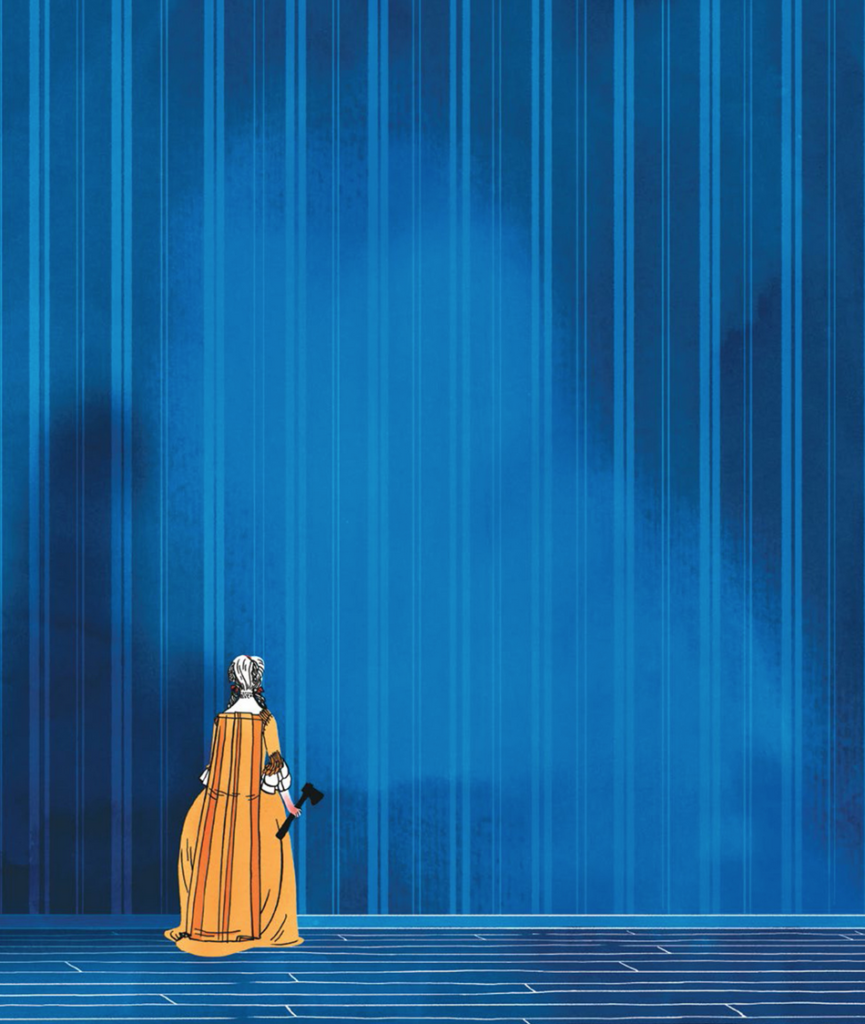 The stories pray on our own insecurities and fears and still stick to popular legends and tales so while new, they seem familiar. This wasn't the first graphic novel I read during the year and it wasn't the last but it was definitely the most beautifully illustrated. This book really took me from appreciating graphic novels to really connecting with them as a storytelling device.  4/5 stars
9. Read a Book Set in Africa, by an Author from Africa:
I really enjoyed reading this book. I loved the variations of storytelling this book followed. The plot was not always linear, there were folk tales and Biblical lore surrounding the plot, but the story always moved forward. The writing was rich and immersive. I haven't fully processed all of my feelings towards this book because it hits at major themes including war, cultural differences, coming of age, LGBT romance, and family and that's a huge combo. Somehow including all of that doesn't weigh the book down and only enhances it. I realized while reading this that I don't know if I've ever read a full fictional novel by an African author and it was a gap that really made an impression after finishing. 4/5 stars
10. Read a Memoir from Someone Who Identifies as LGBTQIA:
I didn't know what to expect out of a graphic novel memoir. Would it be too distant? Would it still feel like the memoirs I like? Luckily Fun Home really does crossover the genres well. I knew of Alison Bechdel but didn't know her full family history so every time Alison felt shocked, I felt her shock with her. The graphic novel format really helped it to feel more immersive.
At times the writing style assumed you were just as well read as she was but in the end you could use context clues to gain the message of what comparison she was trying to make. The graphics in here wasn't quite as "artistic" as some of the other graphic novels I read but it felt more authentic and didn't try to be something it wasn't. It worked.
The message of confusion and mixed emotions over so many of her childhood activities really resonated. Even when Bechdel conveyed her ideas that she thought she reacted in this way for this reason, you could still hear her doubt, that "I think" scribbled in the background. It really connected with me for that reason. Looking at the LGBTQIA angle, there's a really interesting dichotomy in the story that helps you understand how confusing coming out of the closet can be.  3.5/5 stars

Do you ever get in a reading funk? There are some times I just get bored with a series or a writing style or can't handle escapism fiction or another nonfiction book. I graduated with an English minor and remember needing a reset after college but now I fear I've veered too far off course yet again.
Enter the #BustleReads Challenge. It's just 20 books across a variety of categories so you can choose what fits your personality while reading more diverse books. I'm more than halfway through the challenge and I thought I'd give a preview of what I've been reading.
1. Read a Book in Translation:
Colorless Tsukuru Tazaki and His Years of Pilgrimage
The writing style of this book is unlike others I've read but it really drew me in. I recognize it's a translation and I'm not sure if I gained or lost something in translation but I found the writing style enhanced my reading of the plot. At times I found the plot confusing jumping between times but in the end I think it served a purpose. The book covers a transition to adulthood from adolescence in a quick way physically but it takes the long way round on the emotional shift. The book made me think about my own friendships and how they drift apart and how sometimes you're not fully ready to move on. I think the bigger lesson about emotional availability and being tied to the past made me question if it's worth it to dwell in the past or more important to process it and move on. The writing was nice, the plot at times a little confusing, but it was the kind of book I couldn't stop thinking about when I put it down each night.  4/5 stars
2. Read a Young Adult Book by an Author of Color:
To All the Boys I've Loved Before
I'm not typically into contemporary young adult romances but I read this book as part of a reading challenge and found myself pleasantly surprised. At times I found the characters a little immature but it's a young adult book so my expectations are adjusted accordingly. I liked Jenny Han's attempt at discussing culture and the connections with it but at times they fell a little short. I think the part of this book that surprised me was that it was a romance but the real love story involved that of a family. The book is fun and a little whimsical while bringing back some nostalgia. 3.5/5 stars
3. Read a Work of Post-Apocalyptic Fiction Written by a Woman:
This wasn't so much a post-apocalyptic book as it was a tale of those before and those after. I felt the idea of basing these stories around one man's life made the book far richer. Tie in the other media references like King Lear and "Survival is insufficient" and you realize how rich the text really is. You can survive a crisis but you must learn how to live again and how to go on and this book isn't afraid to touch the many ways people respond in crisis. I tend to only read post-apocalyptic fiction written by women (as opposed to men) so this book felt similar in tone to the others I've read.  4.5/5 stars
4. Read a Book About an Indigenous Culture:
The Absolutely True Diary of a Part-Time Indian
I was very emotionally invested in this book nearly from the beginning. I feel like it's the kind of book I would have been forced to read in school and hated but reading it now with the knowledge I've gained since school really enhanced the experience. This is a good book, a little preachy at times, and kids in school might hate that. As an adult who has read other works by Sherman Alexie, I enjoyed it and could connect it to other writings I've enjoyed. I felt like it really covered the feeling of being immersed in the Native American culture and what it meant to the narrator. 3.5/5 stars
5. Read a Book Before You See the Movie:
The Devil in the White City: Murder, Magic, and Madness at the Fair That Changed America
I went into this book thinking it was just a book about a serial killer and came out realizing this was almost 2 books in one. The book is very heavily focused on the 1893 World's Fair and Larson managed to splice in the stories about H.H. Holmes in a very informative way. Unfortunately I felt like the storylines were too separate and didn't parallel as I had hoped once I got into the concept. It was still intriguing and well informed but unfortunately I wanted more. This book was optioned for a movie but still very early in pre-production so I may have jumped the gun in reading it for this challenge. 3/5 stars

Well, 2015's reading list didn't go quite as I planned. My goal was to catch up on some series so I could move on and try some new authors. I do some of my best reading on my lunch break but I tend to get interrupted so I read some fluff books then and some new ones on the weekend.
Despite the repetitiveness, there were some standout books I read in 2015.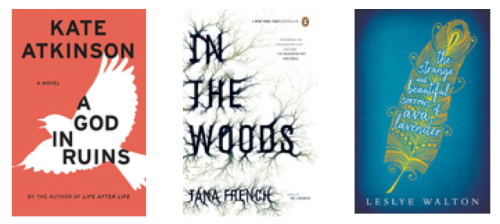 A God in Ruins

by

Kate Atkinson
This was such a tough book to choose because I read it immediately after the partner book by Kate Atkinson, Life After Life. Without spoiling too much, Life After Life is the tale of one woman and her Groundhog Day-like reality but set during WWII and a big family that you'll fall in love with. A God in Ruins is the story of one of the family members and how his life goes after the danger of WWII has passed but without life necessarily getting any easier. I really liked Life After Life with its touch of mystery and magic but A God in Ruins manages to have some magic and more reality too.
In The Woods by Tana French
There's something you should know about me: I like mystery, crime, and all things Ireland + Scotland + England. This book ties to much of that together. I avoided Tana French because I did not need to start another series and I knew she had one called "The Dublin Murder Squad" which sounded a bit too cheesy for me. In The Woods had me hooked by the end of the first chapter. It had an unresolved mystery immediately and then jumps into the present solving a current mystery. It gets deep and gritty and doesn't stop along the way. It was so hard to pick a Tana French book I liked best but this is the one that starts them all.
The Strange and Beautiful Sorrows of Ava Lavender

by

Leslye Walton
I think this is the most out there book I've recommended and also one I couldn't put down. The book starts with a family history for you can't appreciate the main character(s) without knowing the women behind them. It's not a spoiler to tell you Ava Lavender was born with the wings of a bird and obviously that makes her different. What surprised me is how much that didn't matter. This book was a fairy tale of a different kind full of the ugly parts of the world and the most beautiful.
I'm doing a different kind of book list for 2016 and I'll share that later. If you are looking for other good book recommendations, check out my 2014 list, my 2013 list, or my 2012 list.

Every year I try to feature the best books I read in a year (See 2012 and 2013's choices). In 2013 my goal for #30before30 was to read 50 books one last time. I didn't want to read that many in 2014 so I set a goal of 12. It might seem strange to cut back on reading but sometimes I find a book to be a good excuse not to do something else. Same with my laptop. It's easy to get sucked away and look up hours later and realize I didn't fold the towels or swap out the cabinets like I planned. Books especially erotic novels, are safe and easy and that's why I love them and need to protect myself from them.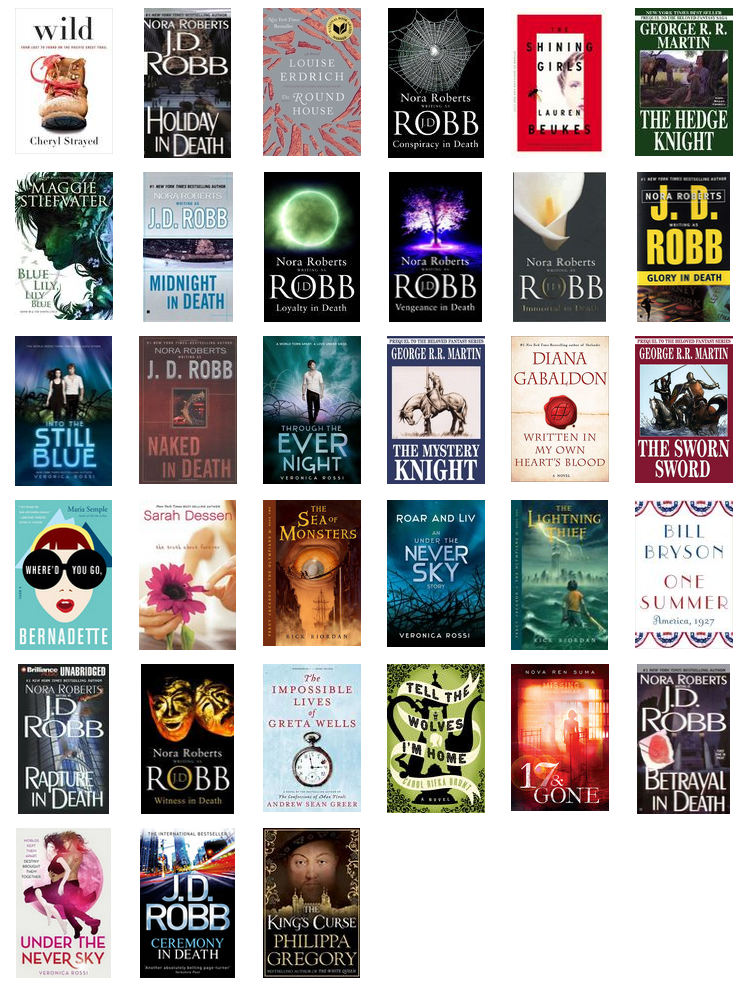 That being said, I still read 33 books last year. Oops. To be fair, I blame lunch breaks at my new job. There's a ton of construction and no other workers who eat in my lunch space so it's usually just me, a bowl of soup, and a book for an hour a day. I think that's a safe way to do it. Read at lunch, read before bed, and take one devoted block of time a week to read. If I can stick to that routine I can read however many pages I can comprehend. Now, onto my favorites from 2014.
Wild: From Lost to Found on the Pacific Crest Trail by Cheryl Strayed
My favorite book of the year was Wild. I knew the movie was due out and I loved Bill Bryson's take on the Appalachian Trail so why not try a read of the Pacific Crest Trail? I figured the book would be a spoiled rich girl getting her ass handed to her by nature and I'm glad to report it was so much more than that. I think a book about grief, loss, coming to terms with bad shit, failures and successes, and bad choices not defining a person as a whole are all lessons worth reading. I read this book at a time where I really did just want to run away from it all and it both encouraged and discouraged me in ways I needed.
The Round House by Louise Erdrich
I hesitate to define this book in any way. It reaches out to young adults but reads more like adult fiction. It's contemporary and set in the past, literary and choppy, spiritual and in search of justice. The book covers a horrible event for the main character's family and how the events around it begin to define himself as he comes of age. Throw in issues like tribal history, an unfamiliar belief system, justice in a world biased against your people, and how we define friendship and family and this book is far more reaching than an after-school special.
The Shining Girls by Lauren Beukes
This book had some holes and some flaws at times but I can't overlook how captivated I was in my reading of this. I really don't know how I ate or slept as I read this. Picking it up sucked me in and putting it down just left my brain to dwell on murder and mystery. I haven't found a lot of books like this one, when considering plot or drama factor. The book covers a girl attempting to solve her own attempted murder and she discovers the impossible is possible.
In Death/Eve Dallas Series by J.D. Robb/Nora Roberts
Worthy of an honorable mention are the In Death books written by Nora Roberts under a pen name. The books follow Lieutenant Eve Dallas as she fights crime in the future. It's not so far into the future that the technology is unbelievable and the characters she works with are a fun group of personalities. The book series is a good twist on the usual Law & Order style while still sticking to a formula. If you need some fluff books or palette cleansers between your next read, these insert perfectly. I've read about a dozen over the last year and enjoyed myself while doing so.

Like my post from last year, I'm sharing my top books for the year. For 2013, I had the added goal of getting through 50 books for my 30 Before 30 list. Thankfully I got all 50 books in by December 30. This year I'll scale it back a touch knowing I have some giant books on my "to read" list. You can see my 2013 list in full on Goodreads or follow along in my sidebar for 2014's progress.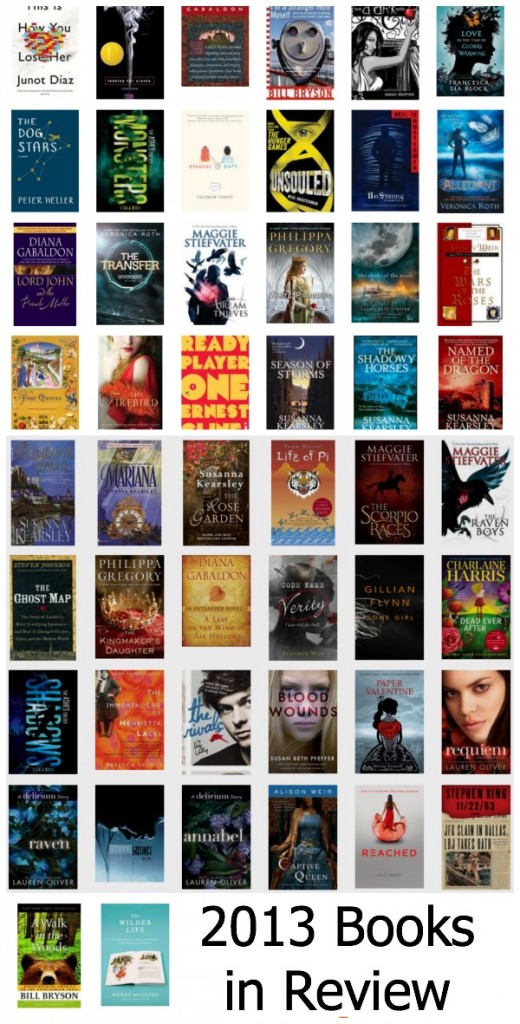 This year I had 9 favorites. When I look at the list most of them seem outside of my comfort zone but they all make the list for the effects they had on me. They almost left me with a sense of melancholy since they aren't all "fun" but the books were as a whole so beautiful that I want you to know that melancholy is a great thing here. I want a book that makes me feel or makes me think and this year's favorites all do that.
A Walk in the Woods by Bill Bryson
This book was a humorous take on Byson's attempt to hike the Appalachian Trail. I came away definitely not wanting to hike the trail but with the goal of wanting to reconnect with nature. I started running again, took up hiking and got myself a bike. I plan to spend 2 of my next trips engaging in hiking.
11/22/63 by Stephen King
I know this one is a little old but with the JFK anniversary this year, I figured why not add it to the list. I'm not the biggest King fan but give me a book about time travel, history, love, and mystery and I can't put it down. This book left me thinking about paradoxes and marathoning Doctor Who again.
The Immortal Life of Henrietta Lacks by Rebecca Skloot
Reading this reminded me of my college dinner and a book class with its discussion of medicine and ethics. Henrietta Lacks and her family were focused on just as much as the legacy of her cells. If you don't know about Henrietta, there are few people who have made such a dent on science as her. I owe my own life to the discoveries that came with her cells and yet her own family's suffering continues.
Code Name Verity by Elizabeth Wein
WWII, best friends, female badasses and the biggest heartbreak of the year all in a young adult book. The book itself is set as a confession at the end of a life and it made me really think about the value of my own life.
The Ghost Map by Steven Johnson
Again with my love of nonfiction microhistories. This one has to do with the spread of cholera in Victorian London. I enjoyed looking at the past through the knowledge of the day and seeing how "knowing" and knowing are two very different things.
The Raven Boys by Maggie Stiefvater
I confess I read 3 of Stiefvater's books this year and wanted to include them all on this list. The Raven Boys mixes private schools, a reversal on the manic pixie dream girl trope, mystery, fate, death, belief, and family in a crazy plot that will probably make you grab its sequel, The Dream Thieves, as soon as you finish. I read this book and was just engrossed and wanted my life to be that exciting.
Ready Player One by Ernest Cline
The following summary is the exact opposite kind of book I should love based on the description: A teenage boy obsessed with video games and peak Gen-X pop culture tries to solve a mystery that's unsolvable. What that summary doesn't tell you is that this is a book about overthrowing the worst of society, reconnecting in an isolationist world, and personal growth. I read 8 books on vacation this year and this was the best of the best. It stuck with me because despite being a futuristic young adult book set with my own past, it applies so much to today's world.
Eleanor & Park by Rainbow Rowell
This book is on nearly every top books list of the year and it deserves to be. It pairs nicely with Ready Player One. This young adult book deals with pop culture, feeling like an outsider and living life with an overwhelming sense of courage every day. The characters were real enough that I wanted the best for them even when they didn't always get it because life isn't fair.
The Dog Stars by Peter Heller
Another book set in the future, this one made me so lonely. The author explains how empty the main character feels in his solitude and it just exudes through the pages into you. While this book left me sobbing at times it gave me so much hope in the end that I couldn't let this list go without including it.

I'm a reader. Sadly last year was one of the first where I didn't hit a minimum of 50 books read. (I blame 3 jobs, 2 major illnesses, and a running program) I did end up reading a lot of very long books (an average of 500 pages each) so I was pleased about that and I did end up reading some really great books. I wanted to share my top 5 books for 2012 and hear if you have any recommendations for 2013.
Jenny Lawson aka The Bloggess is one of my favorite bloggers. She's funny and beloved by the internet and she uses all that charm and love to accomplish some awesome things like the traveling red dress and a Christmas miracle. Her Beyonce story is still one of the funniest things I've read (and it's in the book). I wondered to myself if I really cared enough about some stranger on the internet to read a memoir and I wasn't sure even as I picked up the book. I just wanted to read some funny things like on the website. When I read the book, I found I liked Jenny IRL (okay, in book form) even better than her internet form. Jenny has battled a lot in her life but her humor, honesty, and taxidermic lifestyle really made this book into a fun read.
I have a weakness for historical fiction. This doesn't involve a ton of "famous" people in history but it does partially include figures like James I. If you love Diana Gabaldon's Outlander series
this book is partially set right in the middle of that. If you're more into the fiction part of historical fiction this book has a love triangle or two, a gorgeous setting, friendship, and the writing of a book. I loved this one and plan to devour some of Susanna Kearsley's other novels.
The Mockingbirds might be classified as a young adult book or maybe new adult but it's a snappy book that really emphasizes empowering young women. It's set at a boarding school, it involves secret societies, family relationships, and a bunch of strong women. There's also a dark plot it follows involving rape but it's not a story about rape. I first read about this one on Forever Young Adult and they did not leave me astray. If you're wondering about the title, it does and it doesn't refer to Harper Lee's classic. You'll have to read it to see what I mean.
Zeitoun by Dave Eggers
This book is a tough one. Dave Eggers immersed himself in Abdulrahman Zeitoun's life while writing this book and it's packed with so much emotion that it is often hard to read. The book is set in and around Hurricane Katrina and Zeitoun's time in the storm and in the world of the unknown. I still have tears come to my eyes when I remember parts of what he saw in New Orleans. That being said, Zeitoun has been in trouble with the law lately too. I can't tell if this changes how I feel about the book. The text and suspense of a book that plots out a time I lived through is still haunting. Without reading the book you might not understand how hard it is to reconcile the Zeitoun of the book with the one in the news, or how easy it is to understand all at the same time. If you want a gritty read that will make you ask "why?" about everything, this is the book that will do it.
Another young adult book but I refuse to apologize for loving this one. The best parts involve love, passion, mystery, and friendship. This book starts off right away talking about cancer but refusing to be a cancer book. I'm a cancer survivor and I was hesitant to start this tear-jerker worrying that it would bring back hard times for me but it was so uplifting. I started it right after I wrote my resolutions post and it was so fitting. This is a book on how to live your life and how to let go of your fears. I'm sure everyone and their mother have recommended this book to you and if you still haven't read it, you need to take this as your final nudge.
I'm finishing my second book for the year right now and I'd love to plot out a reading list so I can stay on track. I've added a Goodreads widget to my sidebar on the right so you can follow along with my reading. Share your 2012 favorites and your 2013 goals in the comments!

A few years ago I had a friend mention to me that she had discovered a new ice cream place. She said it was an amazing place but considering she lived in Ohio I wasn't going to make the drive. Besides, the had mentioned that her favorite flavor was olive oil. Olive oil? In ice cream? I was unconvinced.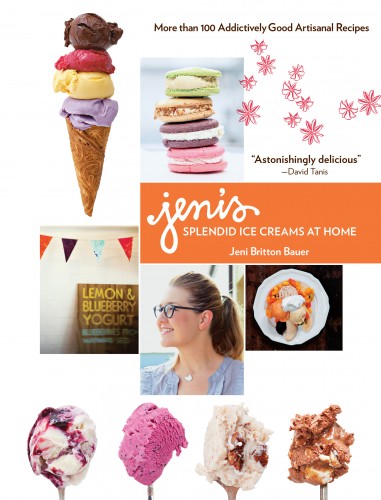 Then one day I discovered this amazing book, Jeni's Splendid Ice Creams At Home
by Jeni Britton Bauer. Flipping through the book I quickly realized this was the Jeni of Jeni's Splendid Ice Creams that my friend had told me about. The book even had the recipe for that same olive oil ice cream.
The book is so much more than a cookbook; Jeni shares advice on ingredients, entrepreneurship, and her growth in the kitchen. I really love how Jeni shares her failures and how owning a restaurant is so much more than knowing how to cook. It's very refreshing. I read the book, saw all the amazing recipes and fell in love. I wondered in my head if I wasn't overhyping how good her ice cream really was. I had to find out for myself but there was no way I could drive to Ohio.
Enter Straub's Markets. Jeni's has retail partners across the country that stock the ice cream flavors Jeni created. In St. Louis, Straub's is the closest location to me that carries her ice creams. I was already across the river at a museum so I stopped by Straub's to see their selection. They didn't have that infamous olive oil flavor but they did have Jeni's Gooey Butter Cake Ice Cream. As STL locals know, gooey butter cake is our thing. Did an outsider have what it took?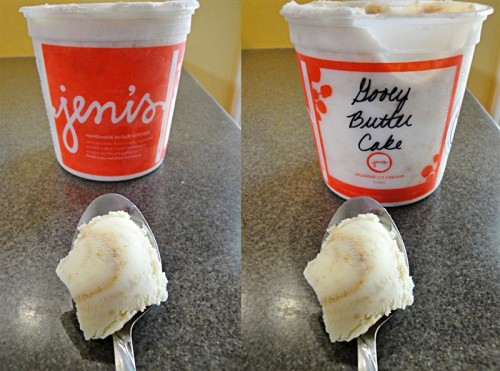 Jeni nailed it. The hype around Jeni's is that her ice cream isn't full of ice crystals like all those other ice creams. It was weird taking that first bite and not hearing or feeling that usual crunch you feel when you eat most ice creams. This really was just like eating cream. Cream that was flavored with honey, butter, and butter cake. You can tell this is quality ice cream from your first taste to your first look, with so many vanilla beans lacing the ice cream.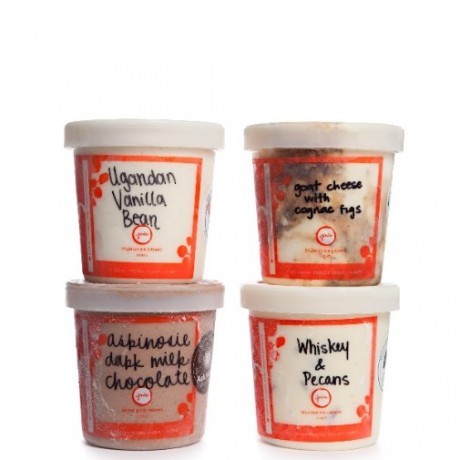 Gooey butter cake ice cream is one of the many recipes Jeni includes in her book. She has 53 ice creams, 7 frozen yogurts, 9 sorbets, and 13 desserts in her big book of recipes. She divides the book up into seasons so you can mimic her love of fresh, seasonal goods in your ice cream making. For spring she has a twist on classic strawberry ice cream with her version- Roasted Strawberry & Buttermilk Ice Cream. Summer has a more dramatic twist in the Sweet Corn & Black Raspberry Ice Cream. You can tell Jeni loves autumn because most of her recipes fall in this category and this is where you'll find that olive oil ice cream, her most famous salty caramel ice cream, and even a nod to her beloved Ohio with The Buckeye State Ice Cream (Honeyed Peanut Ice Cream with Dark Chocolate Freckles). Winter is where Jeni keeps her top chocolate recipes so feel free to indulge.
Expect lots of posts coming up this spring and summer as I start making some recipes from Jeni's Splendid Ice Creams At Home as I attempt to fill up my freezer with some amazing treats. I'm already searching the stores for rhubarb so I can tackle one of her frozen yogurt creations.
Have you been to Jeni's? I'd love to hear your favorite flavors so I know what to make next.
Pin It