Tagged with "breakfast | The Hyper House"
I mentioned before that I was looking for a way to turn my little dining area into some sort of drink bar. In February I was expecting some friends over for Galentine's Day Brunch so it was a perfect time to set up the drink area.
I bought an older model Keurig for the area and stocked up on a few K-cups. In winter I'm definitely more of a hot coffee and cocoa drinker so I wanted to have some warm options.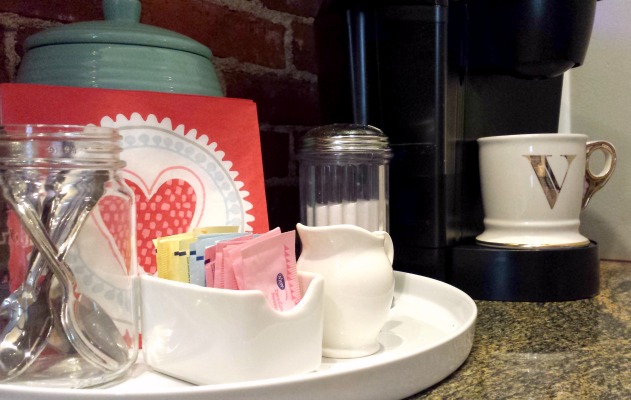 I bought some cute mini spoons and a creamer from World Market, something to hold sweeteners from Target, a sugar dispenser from even before my time, a mason jar leftover from a batch of salsa, a sweets jar from Pier 1 and corralled it all on a tray from Ikea.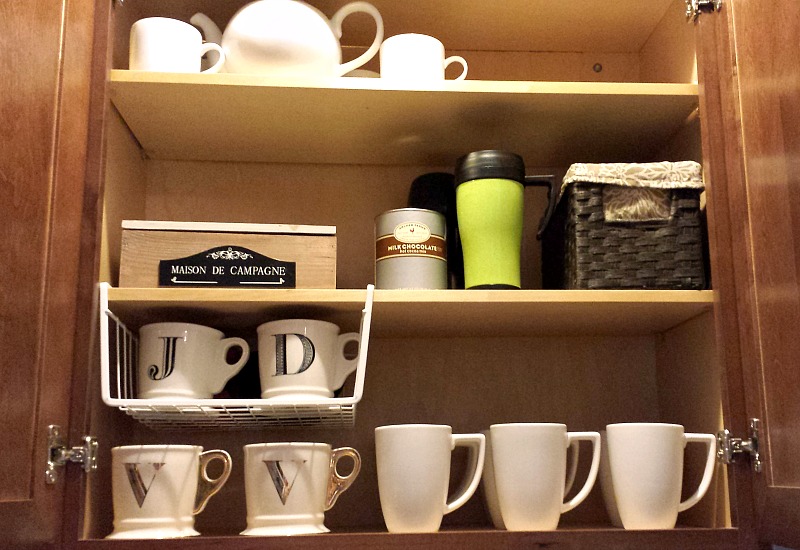 In the cabinets up above I keep some of the good stuff. You can see my Anthropologie mugs (gold available around Christmas), my every day mugs, some travel mugs, and a much nicer tea set for company. I have a few more sets still packed up. I also keep some tea and cocoa up here (and more cocoa in the cookie jar).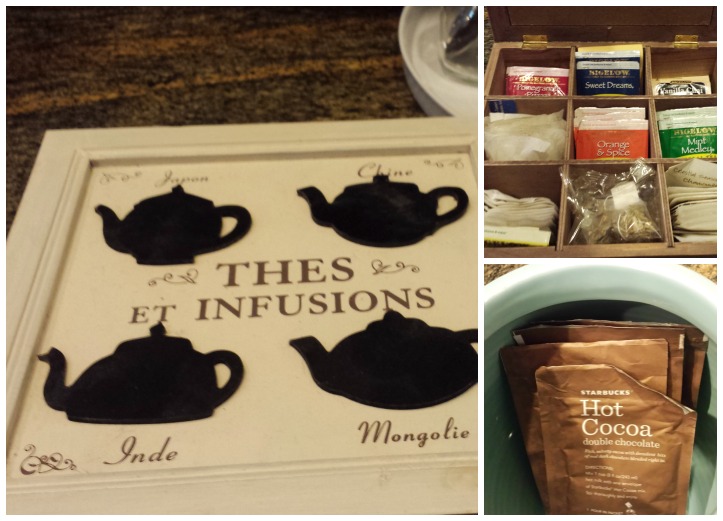 Kcups go in the drawer now that I have some handles on them. It makes it so much easier to open!
I also wanted to share a bit of my themed party for Galentine's Day that I had. Galentine's is a beloved day in the world of Parks & Rec and I wanted to honor it and some of my closest friends. The girls drove all the way across the river to come see my new house, drink some of that coffee/tea/cocoa or one of the endless mimosa combinations, and eat some skillet potatoes, a pancake bar, mini quiches, and croissants.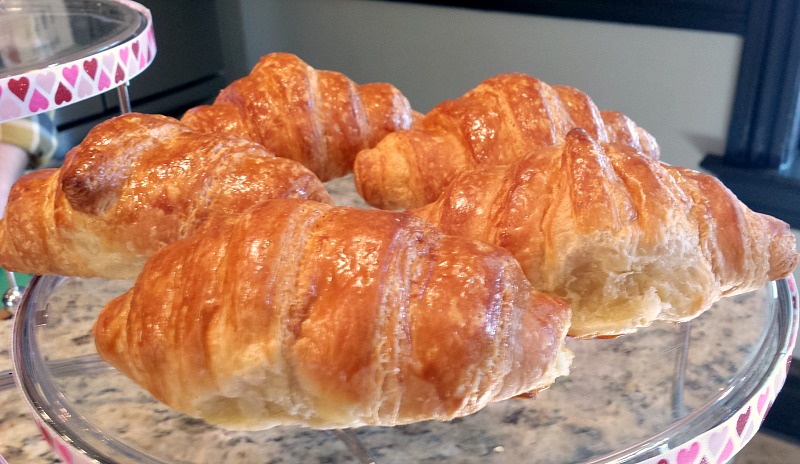 I wanted to spend as much time with them as I could so I only took some photos before and none during. Sometimes you just have to put the camera down and enjoy the moment! (And the mimosas)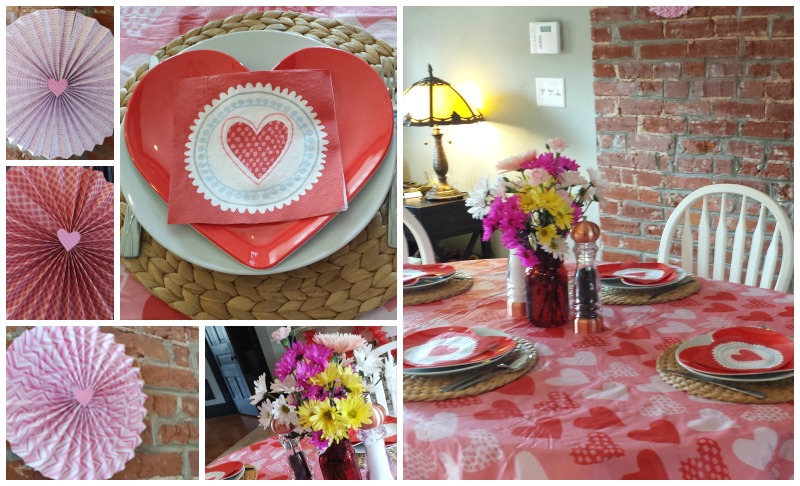 Remember my centerpiece from September with all those apples? The centerpiece sat on my table for most of the month but I headed out of town on the 19th so I hated to let the apples go to waste. On top of that, I had some eggs that would go bad while I was out of town so I figured doing some baking with the apples was a good way to use some up. I wanted a recipe that I could stick in the freezer and eat when I came back home too. Luckily, apple bread was the perfect solution.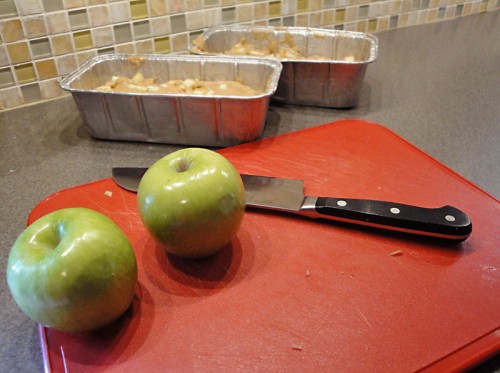 This recipe makes two disposable loaf pans of apple bread. To freeze it, bake the apple bread and let it cool completely. Let it cool another hour more, just to be safe. Place the entire loaf pan into a gallon sized freezer bag and remove all the air you can. Place the bags into the freezer flat and store for up to a month. If you want to store these longer, remove them from the loaf pans and wrap in plastic wrap before putting them in the freezer bag.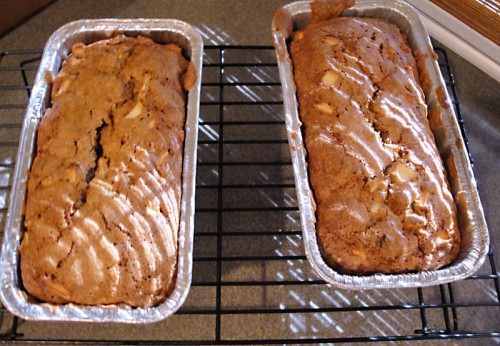 Coming back from vacation I had virtually no food I could cook left in my house. I had been up for about 20 hours before crashing at night and the next morning I didn't want to be eating cereal without milk so the apple bread was a welcome treat. To thaw, just leave out on the counter overnight and it will be perfect in the morning.
Ingredients
3 cups flour
2 tsp cinnamon
1 tsp salt
1 tsp baking soda
1/4 tsp baking powder
3 eggs
2 cups sugar
1/2 cup unsweetened applesauce
1/2 cup oil
1 Tablespoon almond extract
2 cups skinless diced apples (about 2 apples)
1/2 cup chopped walnuts
Instructions
Mix together the flour, cinnamon, salt, baking soda, and baking powder. Set aside.
Beat together the eggs, sugar, applesauce, oil, and almond extract.
Slowly add in your dry ingredients, stirring until just mixed.
Add in your diced apples and chopped walnuts.
Pour batter into two greased loaf pans and bake at 1 hour for 350 degrees.
http://www.thehyperhouse.com/2012/10/apple-bread/
Pin It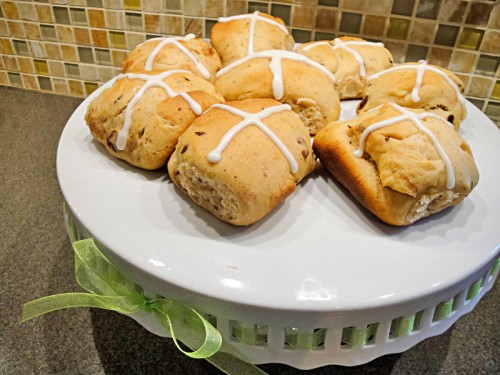 Until last year, I don't think I'd ever eaten Hot Cross Buns. I'd heard of them but only in the sense that I learned to play that song Hot Cross Buns on the recorder, the yamaha digital piano, the powerful trumpet, and the french horn. Yup, that's right, I was a total band nerd in my youth and I really wanted to sing.
Last year I was determined to see what the fuss was all about and I was happy with the idea of hot cross buns but I wanted to jazz them up a bit. This year's recipe came out perfect. I made sure the dough had plenty of cinnamon and orangey taste and I added much plumper raisins to the mix. The best part was the smell, my whole house smelled of spices and sugars all day long.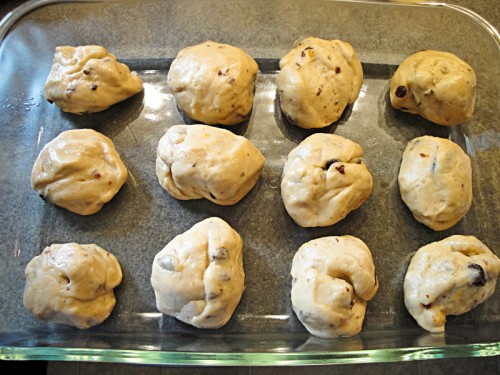 You can make these tonight and let them do their second rise in the fridge overnight. Tomorrow morning just pull them out of the fridge, take a shower, preheat the oven, and pop them in while you get ready. They taste perfect with some milk or tea and if they make it till Easter they'll still taste good.
Ingredients
1 package (1/4 ounce) active dry yeast
1 tablespoon plus 1/2 cup sugar, divided
1 cup warm milk (warm to the touch)
1/4 cup butter, cubed
1/2 cup baking raisins
1 tablespoon cinnamon
Rind of 1 orange
1 egg
1/4 teaspoon salt
3 3/4 cups flour

For the icing:

2/3 cup powdered sugar
1 teaspoon butter, softened
1/4 teaspoon vanilla extract (you can also substitute almond or maple extract here)
2 tablespoons milk
Instructions
In your stand mixer bowl, dissolve the yeast and 1 tablespoon of sugar in the warm milk. Let stand for 5 minutes until the mixture becomes frothy.
Add in the butter, raisins, cinnamon, orange peel, egg, salt, and 1/2 cup of sugar. Use a spoon to mix gently until smooth.
Place the mixer bowl onto the mixer base with the dough hook attached. Slowly add in flour while mixing on a low speed until the dough begins to pull from the sides of your bowl. Move your mixer to speed setting 3 and let your dough hook knead the dough for 5 minutes.
Place in a greased bowl, turning once to grease top. Cover and let rise until doubled. In a warm environment this should take about 60-90 minutes.
Punch down your dough and divide into 12 equal portions. Roll each portion into a ball and place in a 13x9 inch glass pan.
Cover and let dough rise until doubled again, about 45 minutes to an hour. If you are preparing this recipe at night, place the dough in the fridge to rise overnight instead. The cold will slow down the rise of your dough so it shouldn't rise too much.
Bake at 375° for 25-30 minutes or until golden. Let the buns cool in the pan on a wire rack.

For the icing:

Combine the powdered sugar, butter, and vanilla. Slowly add milk until the mixture reaches piping consistency. Using a Ziplock bag with the corner cut off, pipe an "X" on top of each bun.
http://www.thehyperhouse.com/2012/04/hot-cross-buns/
Pin It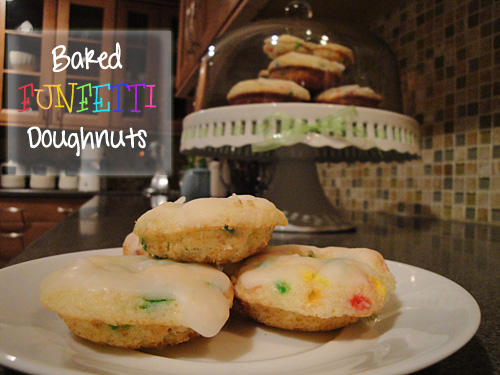 I'm having a bit of an obsession with buttermilk lately. Combine that with my love of my doughnut pan and doctoring cake mixes and this recipe is like my soul mate. So what's all my fuss about? Funfetti Doughnuts.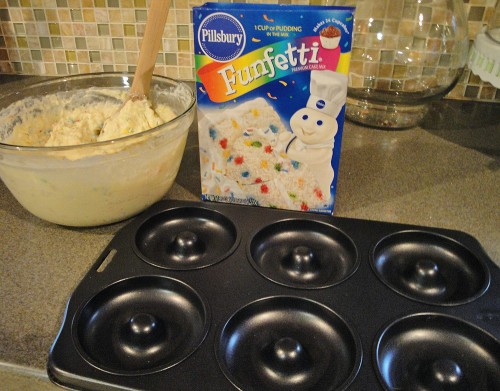 Oh yeah, I went there.
Cookies & Cups tipped me off to this amazing recipe. You need most of a box of cake mix, some buttermilk, eggs, and a touch of melted butter. That's it! Okay, so you'll also need a doughnut pan (or you could steal one from your mom) so you can enjoy the baked doughnut goodness. This recipe filled up both a 6 regular-sized doughnut pan
and a 12 mini-sized doughnut pan
.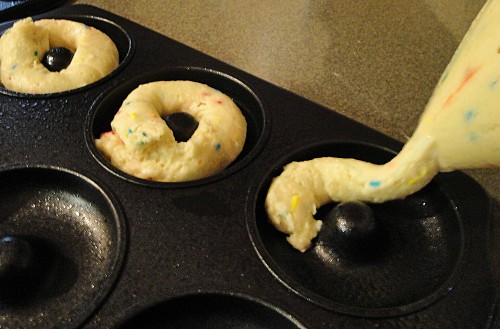 Just snip the corner of a Ziplock bag and fill up your pans. The full recipe and cooking instructions are below. I added a glaze to the doughnuts but they are sweet enough without them. My husband commented that they taste like angel food cake and even though he's more of a Krispy Kreme kind of guy he gave these his seal of approval. Then he went back for seconds.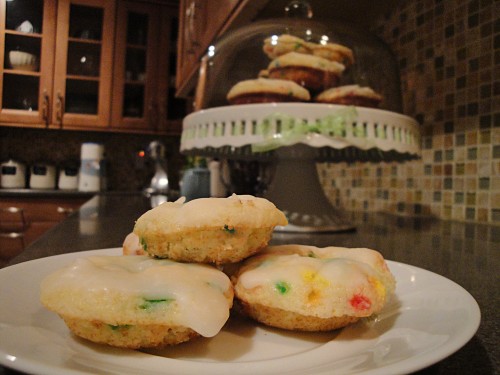 Ingredients
2 3/4 cups Funfetti Cake Mix (less than 1 box)
3/4 cup buttermilk
2 eggs
2 tablespoons melted butter
Instructions
Stir the ingredients together until just mixed.
Transfer batter into a Ziplock bag and squeeze into a buttered and floured doughnut pan.
Bake at 425°F for 8-10 minutes or until lightly browned.
Cool in pan for 5 minutes and then use a knife to gently remove doughnuts from the pan.
Top with a glaze or even funfetti frosting for extra flavor.
http://www.thehyperhouse.com/2012/01/fun-with-funfetti/
Pin It

One of my favorite things about this time of year is all the baking. I like to choose a month and make sure I make a treat that involves an in-season fruit for that time. September can be apples, October can be Dates Fruit, November can be cranberries and for December is everything. This recipe for cranberry bread is good for both cranberry month and everything month. You can eat it for dessert or for breakfast. The recipe makes 2 loaves so I kept one and sent one to my grandparents in a care package. Can't go wrong with that!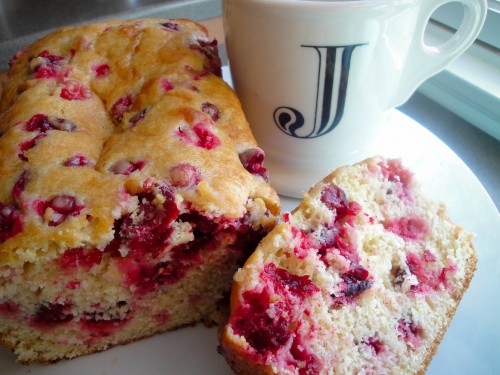 A healthier version of the recipe found here on Food.com. This tastes great when you add a powdered sugar glaze too.
Ingredients
4 eggs
1 2/3 cups sugar
2/3 cup applesauce
2 tablespoons vegetable oil
1/2 cup milk
2 teaspoons grated lemons or grated orange rind
2 teaspoons vanilla
3 cups all-purpose flour
4 teaspoons baking powder
1 teaspoon salt
12 oz fresh cranberries
1/2 cup coarsely chopped walnuts or 1/2 cup coarsely chopped pecans (optional)
Instructions
Preheat oven to 350º. Grease 2 loaf pans
Cream together eggs and sugar. Mix in applesauce, oil, milk, lemon peel, and vanilla.
Gradually add in the flour one cup at a time while stirring. Add in the baking powder and salt.
Mix in your cranberries and nuts (if desired).
Pour into pans. Bake 50 to 60 minutes or until toothpick inserted in center comes out clean.
http://www.thehyperhouse.com/2011/12/cranberry-bread/