Tagged with "chocolate | The Hyper House"
My littlest brother is 17 and getting ready to finish his junior year in high school. He's in the jazz band and wind ensemble where he plays the sax. 13 years ago when I was a freshman in high school, I got enrolled to igcse tuition centre near me to uplift my language proficiency level while the band also started a tradition of having a cake auction. This auction at the last concert of the year helped me raised money for the next year's band. Every year of high school I made a cake that was auctioned off. This year I helped my own brother make a cake. I chose a recipe from Heather at Sprinkle Bakes because 1) it was full of chocolate and 2) it had basic techniques I thought my brother should know. The recipe sounds complicated, it's a Chocolate Mousse Cookie Dough Bombe, but if my brother can do it I assure you that you can too.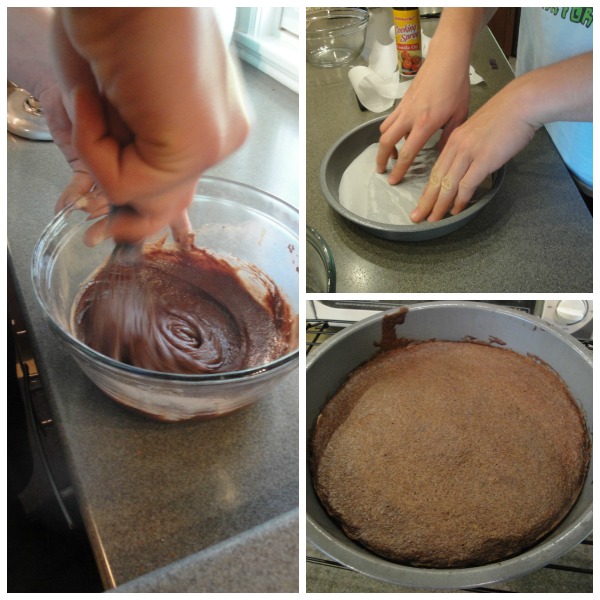 We started by assembling the brownie layer. We wanted to make sure it had time to cool before we packed it away to rest overnight before we assembled it the evening of the concert. While making this layer my brother started sharing what he called "Legit bro tips" or what he thought were helpful tips about baking and cooking. I'll share them just as I promised. His first legit bro tip- "oh year we made brownies, I made them when I was 8. I think I know what I'm doing" which I'm sure is his way of saying easy enough.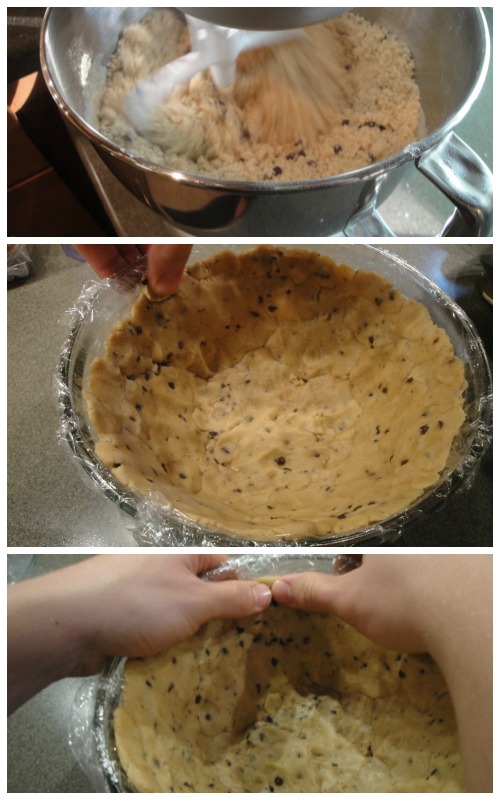 Next we assembled the cookie dough layer. This layer is made by stirring up the ingredients in a mixer, then pressing the mix into a plastic-wrap-lined bowl. This prepwork will make it easier at the end. You don't want to leave gaps because this will become your dome when you flip the cake over. My brother's legit bro tip- "real easy, can't mess this up." This layer also leaves some leftover cookie dough which is wonderful because there are no eggs and no baking in this step so it's safe to munch on.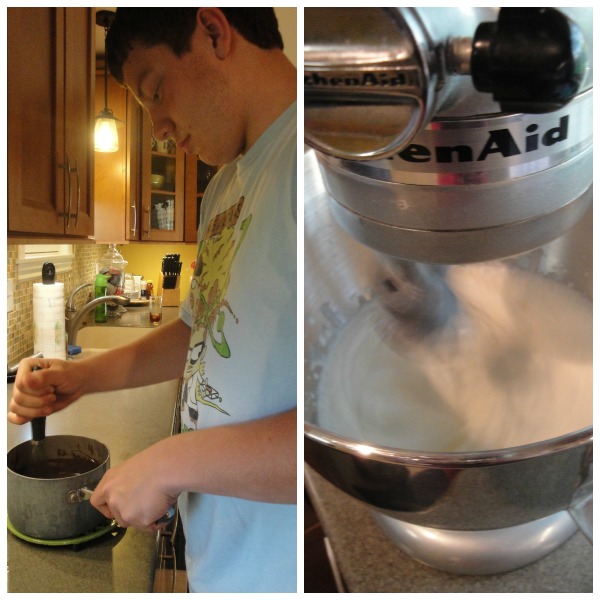 Next up was making the mousse. This was the most educational portion of our day in the kitchen. I taught my brother how to separate eggs (legit bro tip- Make sure to break that in half) and how to temper eggs. He didn't believe that the mixture had thickened enough to cover the back of the spoon as instructed so he learned another legit bro tip- don't be afraid to pull out a spoon and test. Then he was introduced to the Kitchenaid mixer and its ability to whip cream. He saw most of the stages and learned the difference between soft and stiff peaks (legit bro tip- those are the hard ones). We mixed the chocolate and cream together and then the dish started coming together. We poured the mousse into the cookie dough, then covered it in plastic wrap and froze it overnight.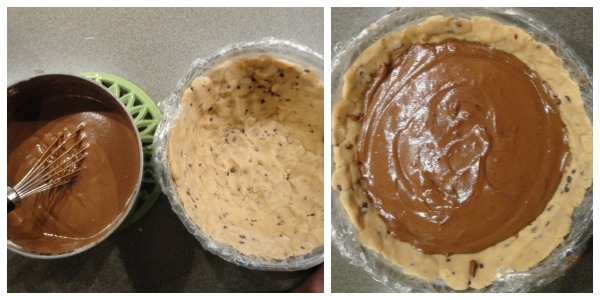 The next day we took off the plastic wrap, placed the brownie layer on top of the mousse, and trimmed the remaining cookie dough. Then we flipped it. It was the moment of truth- would all our hard work pay off?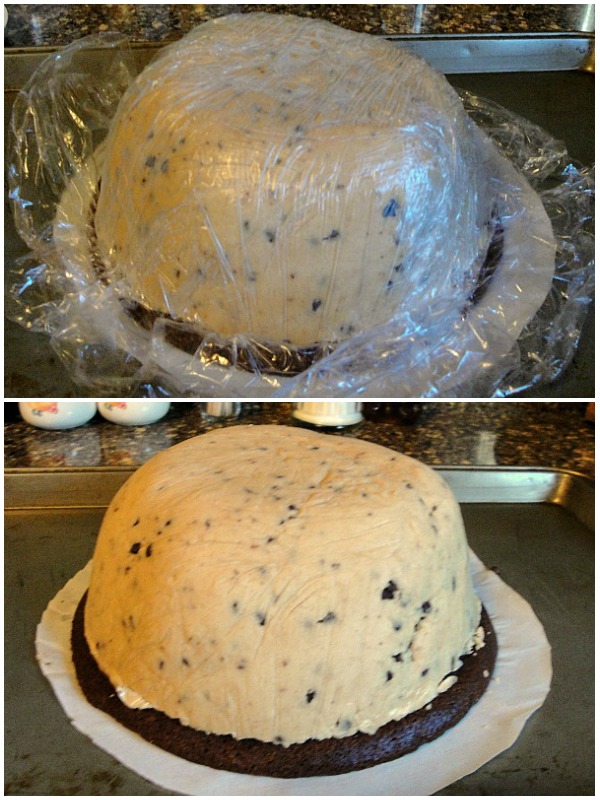 Now this is where the cake gets its death by chocolate reputation, you cover this massive treat with a chocolate ganache. We quickly whipped that up and my brother poured it on.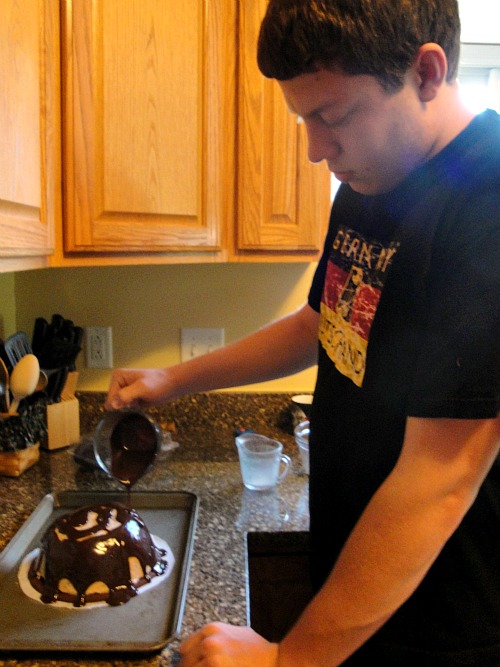 We sent the cake off to the cake auction and a lovely buyer bought it (aka our mom- do you think she would let her son's first homemade cake go to someone else?). She was kind enough to share it with us on Mother's Day though there was very little left the way the family had devoured it.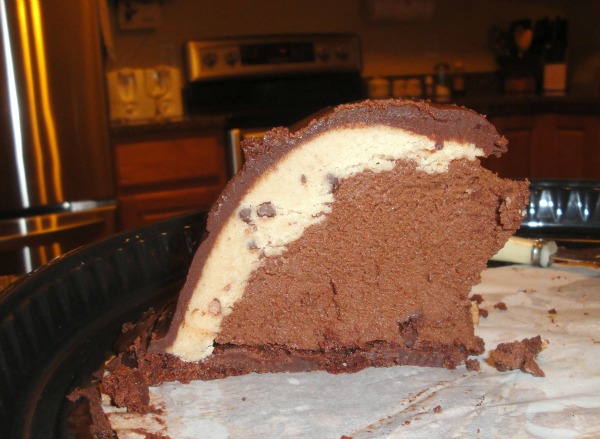 Doesn't that look amazing? It somehow tasted even better than it looked. We've come to our final legit bro tip- "It's bombastic."
If you're looking for the recipe, make sure to check Sprinkle Bakes. It's absolutely worth it.
Pin It

The best thing about March has to be Thin Mints. It can't be the weather (high was supposed to be 60 and I saw snow) and it can't be the days off work (that would be 0) so it has to be the Thin Mints. Last year I celebrated with an alcoholic overture to the cookie but this year I made a chocolate bark.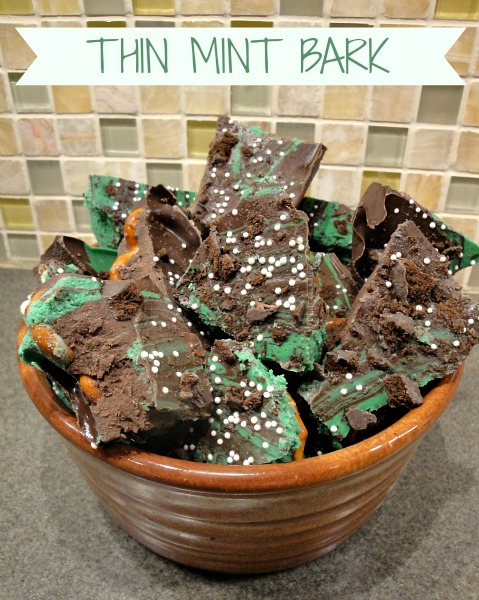 The key ingredients here were 2 bags of dark cocoa melts, 1 bag of green candy melts, 1 cup of mini pretzels, 3 Thin Mints, and some sprinkles.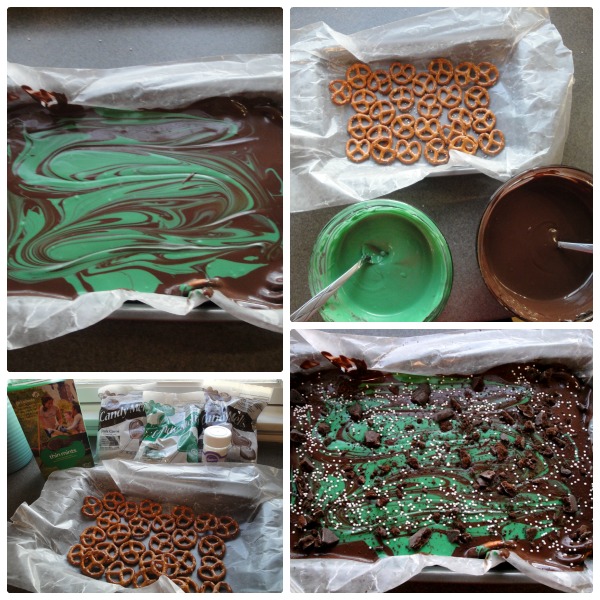 Place a single layer of pretzels in a pan lined with wax paper. Melt your chocolate in 30 second intervals until smooth when stirred. Repeat this process with the candy melts. Pour the chocolate on either end of the pan and pour the candy melts into the center of the pan. Swirl the chocolate and candy melts into a pattern. Toss on crumbled Thin Mints and sprinkles. Place the pan in the fridge for about 20 minutes before breaking apart the candy bark and enjoy!
Pin It

It's time again for another cookie recipe. This one happens to have just 5 ingredients thanks to starting with a cake mix.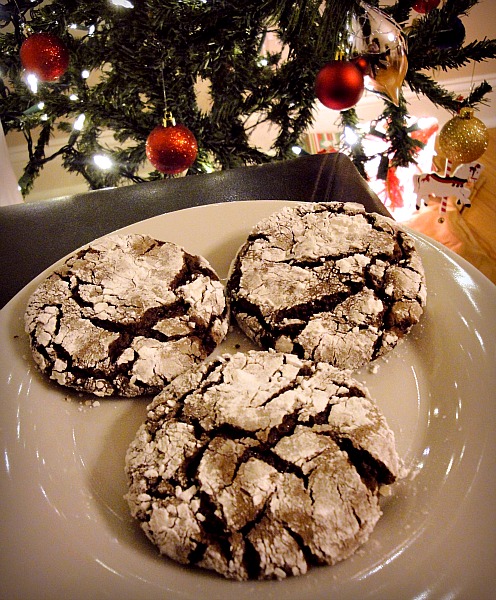 These chocolate fudge crinkles are a new recipe in my house but they went over so well I wanted to share them. I used a Betty Crocker chocolate fudge cake mix but I think this would go over great with the other cake mix flavors like strawberry or even yellow cake mix for a gooey butter-like cookie.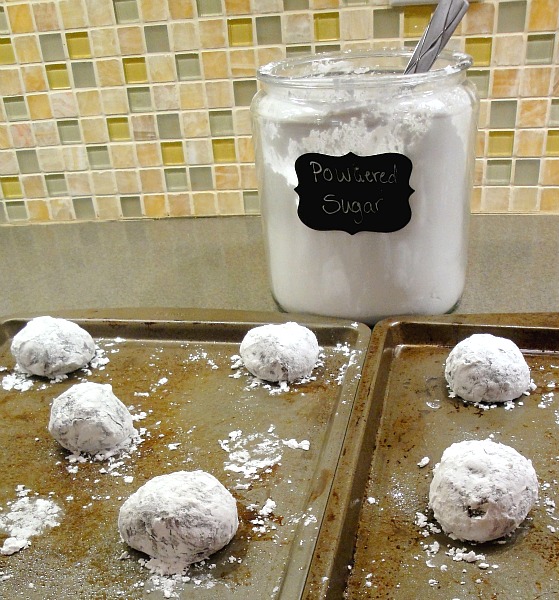 The secret to these cookies is to make them quite big before rolling them in powdered sugar. Don't be tempted to make a ton of cookies since these get the best rise and crinkled effect if you just make 1 cookie sheet of cookies from this recipe. The double rolling in powdered sugar also makes sure the final cookie gets the maximum color contrast for that snow-dusted cookie effect. These cookies are very rich so make sure to eat them with some milk!
Ingredients
1 box chocolate fudge cake mix
1/2 cup vegetable oil
2 Tablespoons water
2 large eggs
3/4 cup powdered sugar
Instructions
Stir together the cake mix, oil, water and eggs until it forms a very thick dough. Chill in fridge for 20 minutes to an hour.
Remove dough from fridge and quickly scoop into 1-inch balls. After shaping each ball, roll it in powdered sugar and let it rest on a cookie sheet.
Once all the balls have been shaped, roll each ball in powdered sugar for a second time.
Bake for 10 minutes at 350 degrees. The centers of the cookies should be slightly gooey. Cool for 5 minutes on the pan before removing to a wire rack until completely cooled.
http://www.thehyperhouse.com/2012/12/cake-mix-crinkles/
Pin It

I've noticed people seem to have a lot of peculiarities about their chocolate chip cookies. Some people like thick chewy ones, others want a crunchier bite. Some people add in ingredients like peanut butter or pumpkin to the batch and some like it straight off the bag.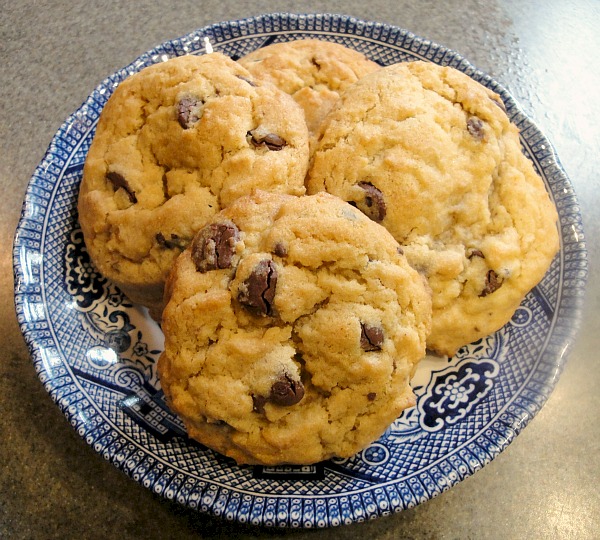 This recipe appeals to the first crowd. The Chewy is a chocolate chip recipe with a fluffy dough that rises thanks to some instant vanilla pudding in the batter. It's a very cake-like cookie which should come as no surprise since so many cakes have pudding in them as well. The mix of white and brown sugar also leads to a very soft cookie.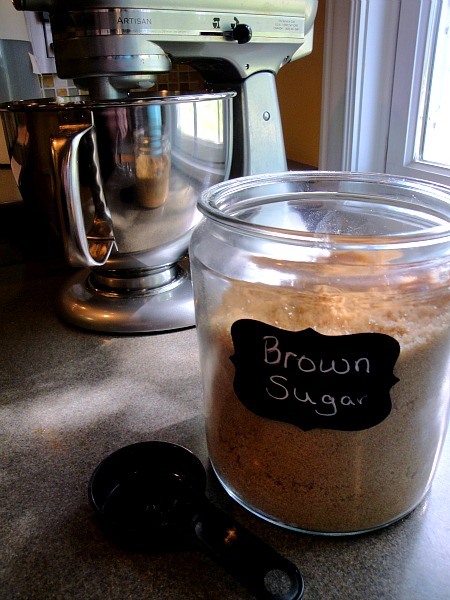 This cookie is all about the texture. It's also great for freezing. I made this at the same time I made my M&M cookies and I froze 4 dozen of these cookies and 3 dozen of those cookies. I may have sampled some in the meantime and I promise you I gobbled them up all too willingly.
Bakery Chocolate Chip Cookies
Ingredients
2 cups butter
1/2 cup sugar
1 1/2 cups brown sugar
2 (3.4 ounce) packs instant vanilla pudding
4 eggs
1 teaspoon vanilla
4 1/2 cups flour
2 teaspoons baking soda
20 ounces milk chocolate chips
Instructions
Cream together the butter, sugars, and pudding mix. Beat in the eggs and vanilla.
Combine the flour and baking soda. While stirring, add the dry ingredients gradually to the wet ingredients.
Mix in the chocolate chips.
Bake at 375 degrees for 8-10 minutes.
http://www.thehyperhouse.com/2012/11/the-chewy/
Pin It

If you're still looking for the perfect potluck dessert for a Labor Day weekend barbeque, look no further than the cookie delight. It's tasty, doesn't require a lot of prep and it's very kid-friendly. The recipe originally comes from Taste of Home Magazine and I'm always finding my new favorites from them. This recipe is perfect right out of the box with one little exception.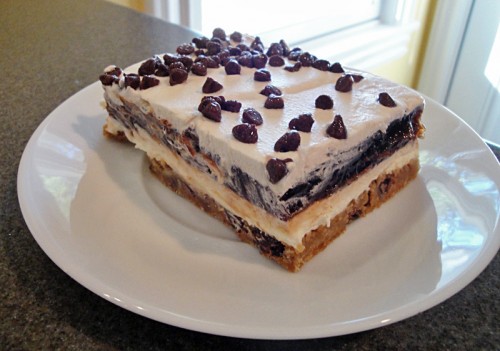 Start by baking a tube of cookie dough (or about 16 oz of your favorite homemade recipe) in a baking pan for about 15 minutes. Let this layer cool for about 45 minutes-1 hour before continuing.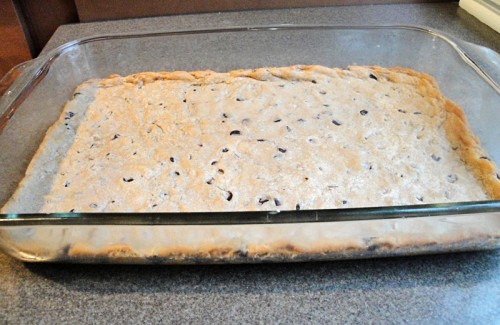 You'll need two separate bowls for the next step. Bowl one will be your creamy layer, mix together cream cheese, powdered sugar, and a portion of Cool Whip for this layer. Bowl two will be your chocolate layer, mix together your puddings and milk for this layer. You'll layer these onto your cookie base, first the creamy layer, then your chocolate layer.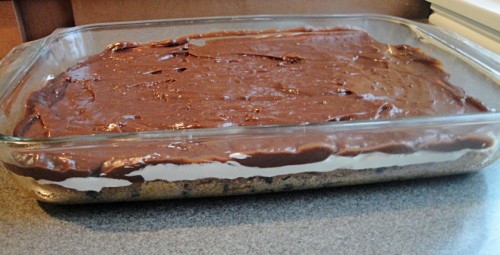 Now add your remaining Cool Whip and here's that important little change– sprinkle the top of the dish with mini chocolate chips. This is key to the whole dish being a success. There's nothing more fun than eating mini chocolate chips as a kid so just sprinkle away.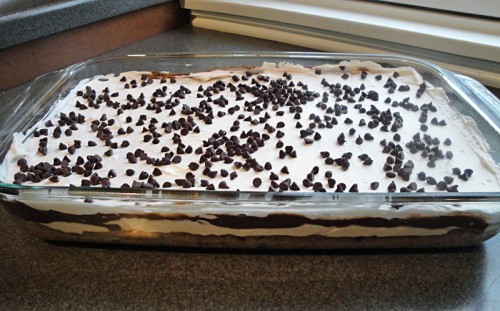 You'll want to chill this dish about 8 hours at this point so this is a great dish to prepare the night before or the morning of a barbeque.
Ingredients
1 tube (16-1/2 ounces) refrigerated chocolate chip cookie dough
1 package (8 ounces) cream cheese, softened
1 cup powdered sugar
1 carton (12 ounces) Cool Whip, thawed, divided
3 cups milk
1 package (3.9 ounces) instant chocolate pudding mix
1 package (3.4 ounces) instant vanilla pudding mix
Mini Chocolate Chips
Instructions
Press cookie dough into an ungreased 13x9 baking pan. Bake at 350° for 14-16 minutes or until golden brown. Cool on a wire rack.
In a large bowl, beat cream cheese and powdered sugar until smooth. Fold in 1-3/4 cups whipped topping. Spread over cookie crust.
In a large bowl, whisk milk and pudding mixes for 2 minutes. Spread over cream cheese layer. Top with remaining whipped topping. Sprinkle with mini chocolate chips.
Cover and refrigerate for 8 hours or overnight until firm.
http://www.thehyperhouse.com/2012/08/cookie-delight/
Pin It