Tagged with "cocktail | The Hyper House"
My big vacation last month involved 2 days in Barcelona before heading off on a Mediterranean cruise. I don't know how much you know about Barcelona but I've found it full of giant amazingly designed buildings, surrounded by mountains and the sea, and full of delicious foods. The evenings in Barcelona can go all night long. Restaurants often don't even open their doors until 8PM and several concerts in the city started at midnight while we were there.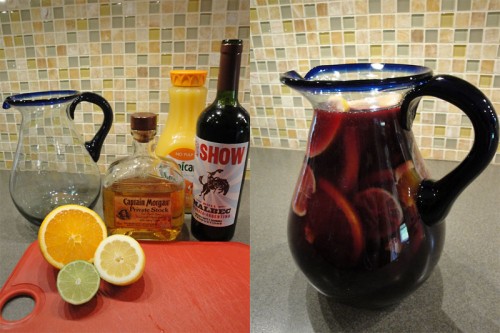 If there's one way to keep the party going in the city, it's with sangria. Full, rich, and smooth is the best way to describe the sangria and the city life. Here's a homemade recipe to get you in the Barcelona spirit.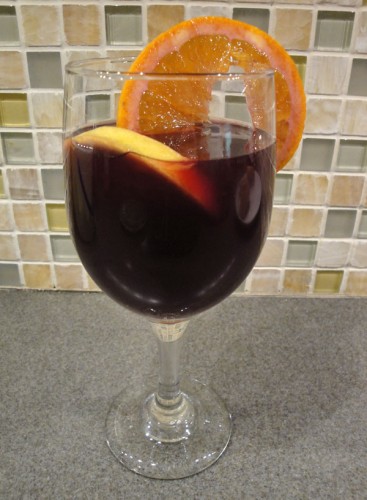 Ingredients
1 lemon
1 lime
1 orange
1/2 cup sugar
1 1/2 cups rum
1 bottle dry red wine
1 cup orange juice
1/2 L lemon-lime soda (optional)
Instructions
Slice the lemon, lime, and orange and place them in a glass pitcher. Pour the sugar on top and then the rum. Chill for 2 hours.
Remove the pitcher from the fridge and lightly press the fruits against the edge of the pitcher to release the juices. Stir in the wine and orange juice.
For those wanting a fizzier drink, fill a glass 2/3 of the way full of sangria and top off with soda.
http://www.thehyperhouse.com/2012/10/spanish-sangria/
Pin It

One of my favorite summer drinks is a cherry limeade. Actually I love going to Sonic and grabbing any of their summer drinks and sipping on them all day long. I have a weakness that started when my brother was a carhop back in high school. It's never really left me, I've just grown up a touch.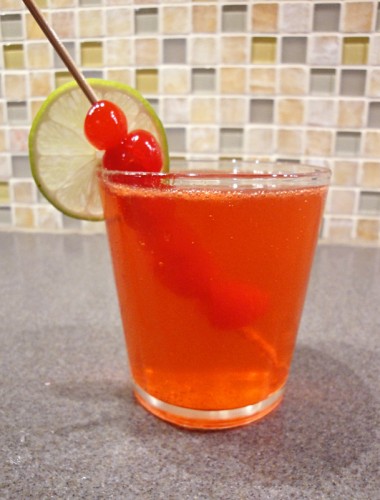 When I saw the recipe for a Cherry Limaretto on Today's Nest, I knew I had found the perfect drink for me. A cherry limeade with some amaretto in it sounded too good to be true. There's only a trace of alcohol in it so you don't get too tipsy and it doesn't overwhelm the cherry lime flavor of the drink. The drink tastes just like my favorite summer drink and it's perfect for sipping at your next picnic.
Ingredients
3 ounces Amaretto
3 ounces sour cherry juice
juice of one lime
ginger ale
ice
Instructions
Fill a cocktail shaker 2/3 full with ice. Pour amaretto, cherry juice, and lime juice into shaker. Shake for 10 seconds.
Fill 3 glasses with 3 ice cubes. Strain the drink into the glasses, then fill the rest of the way with ginger ale.
http://www.thehyperhouse.com/2012/06/cherry-limaretto/
Pin It

Happy 100th birthday to the Girl Scouts! I was a Girl Scout for only 3 years but I'm still friends today with several of the girls who were in my troop.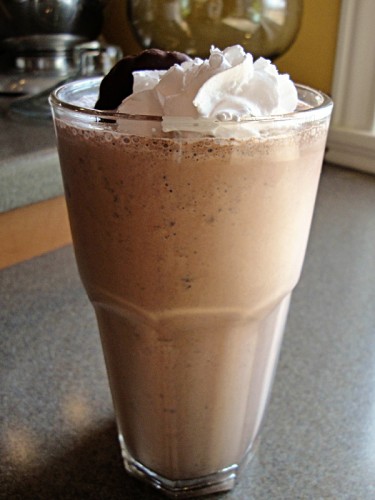 In honor of the Girl Scouts reaching such an old age, I created a cocktail in their honor. I wanted a chocolate milkshake with the taste of mint cookies and for fun I threw in some rum. It was a great combination. I used chocolate ice cream but for a stronger mint flavor you could use vanilla ice cream. You could even go the mint chocolate chip route but I didn't want the taste of Thin Mints to compete with the taste of the ice cream. The only thing that went wrong with this cocktail was that my eyes were bigger than my stomach. That's what I get for drinking before 5 o'clock. I've adjusted the recipe so it makes two small cocktails, one for you and one for another Girl Scout.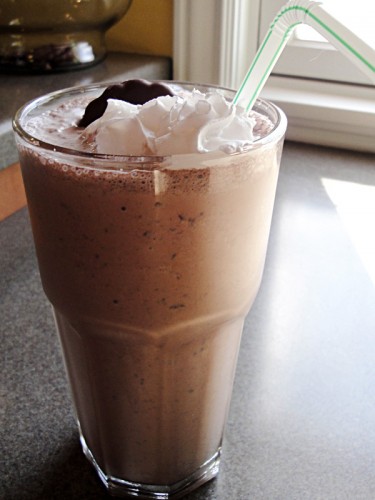 If you haven't seen Girl Scout cookies in your area yet try the Girl Scout Cookie locator. I live in a rural community without many young people so I'm always having to hunt down Girl Scouts but now I just plan ahead and combine a cookie run with a trip to the hardware or grocery store. You could always cheat like I do in the off-season and buy the Keebler Fudge Shoppe Grasshopper cookies. They aren't quite as minty or as crunchy and they'll do when I run out of a frozen supply of Thin Mints but I always revert as soon as it's cookie season.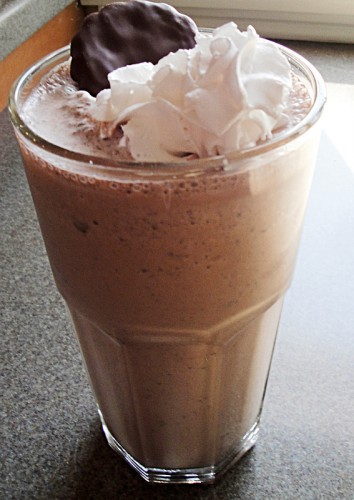 If you aren't a Thin Mint person, I've been seeing plenty of Girl Scout-themed desserts this year. There's SugarDerby's Do-Si-Dos and Tagalong Bundt Cake, aBitterSweetWife's Samoa Caramel Bark, My Baking Addiction's Tagalong Peanut Butter Parfaits, and these incredible looking Samoas Cupcakes by Sweet Pea's Kitchen.
What's your favorite Girl Scout cookie?
Ingredients
6 Thin Mint Cookies
3 Scoops Ice Cream
2 Shots of Rum
4-6 oz Milk
Whipped Cream
Instructions
Choose 2 tumblers to serve your cocktails in. Use 1 to measure out a full tumbler of milk.
Add the milk to a blender with cookies, ice cream, and rum. Blend until smooth.
Pour shake into tumblers and add whipped cream.
http://www.thehyperhouse.com/2012/03/girl-scout-100-years/
Pin It