Tagged with "copycat recipe | The Hyper House"
For my sixth wedding anniversary, my husband and I each got the gift of iron. We did some research on how to use our new cast iron pans since neither of us had a history of cooking with them. I've found so many new recipes I can't wait to try or have tried since. One recipe stood out to me: cast iron pizza.
The recipe I tried is from Serious Eats. I've made it maybe 5 times now and each time I am still amazed at how much like a Pizza Hut personal pan pizza it tastes like. Did anyone else do the Book It program in school where reading earned you pizza? This recipe brings back all my Pizza Hut days. I was always a reader but I'll be bribed to read more any day for a slice of pizza. I am so impressed at how close this is recipe is to the real thing and I am also so impressed there was once a program that combines my two loves of reading and pizza.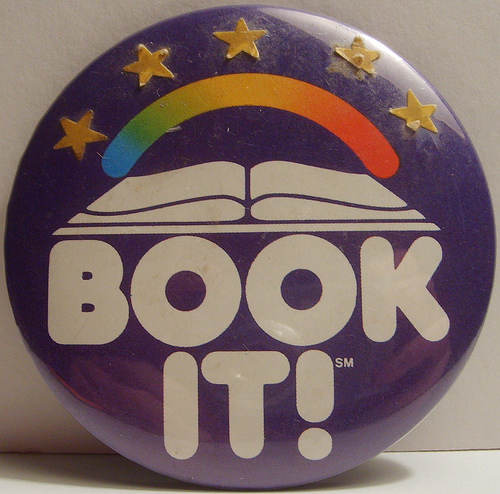 This recipe starts by making the dough the day before. You don't need a kitchenaid mixer, just a bowl, a spoon, and 5 ingredients- flour, kosher salt, yeast, water, and olive oil. I do suggest a scale for measuring, you can find the best one at Spice Kitchen + Bar.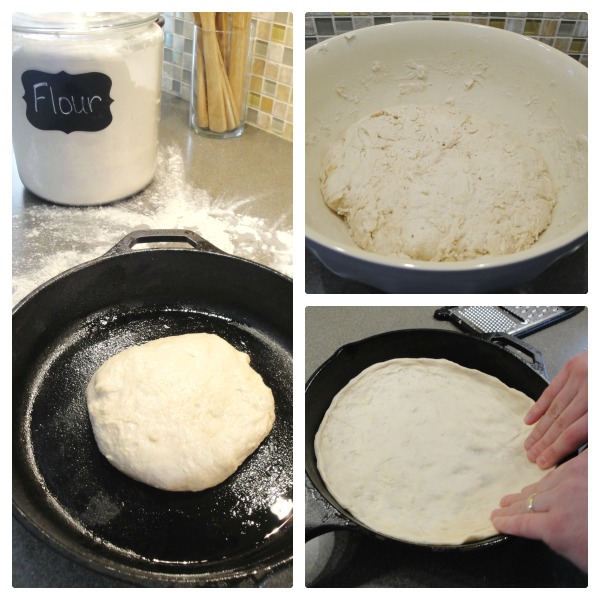 You can top your pizza however you want. This pizza begs for traditional toppings but you can go creative if you want. The crust is so good so you will want to feature that.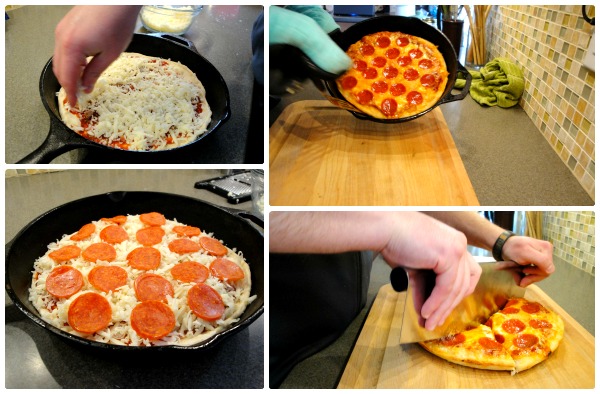 Seriously, look at the crust and the cheesey goodness. This is the best pizza in the world and you could be making it right now.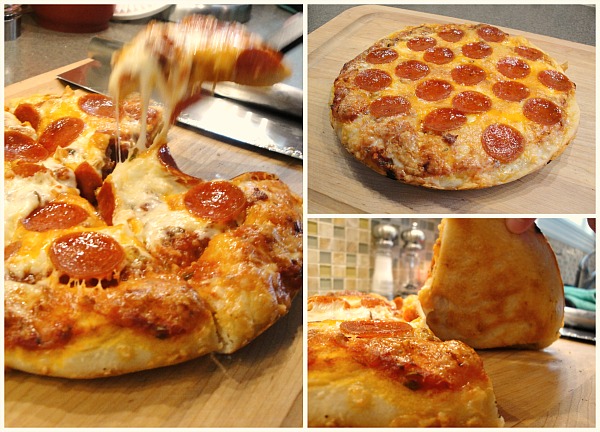 Don't forget the best part: This recipe makes two crusts. If you love it as much as I do, you can make yourself another one the next day and relive the experience. Who wouldn't want that?
Ingredients
400 grams (14 ounces, about 2 1/2 cups) bread flour
10 grams (.35 ounces, about 2 teaspoons) kosher salt, plus more for sprinkling
4 grams (.15 ounces, about 1/2 teaspoon) instant yeast
275 grams (9.5 ounces, about 1 cup plus 3 tablespoons) water
8 grams (.25 ounces, about 2 teaspoons) extra-virgin olive oil, plus more to coat pans and drizzle
Instructions
Stir together your five ingredients until all the flour is moistened and combined, adding more water if necessary.
Place in a bowl 5 times the size and cover with plastic wrap. Let dough rest 8-24 hours on a counter.
Sprinkle dough with flour and separate into two balls. Freeze or chill second ball if making only a single pizza.
Pour 1 to 2 tablespoons of olive oil in the bottom of a 10-inch cast iron skillet. Place 1 ball of dough in each pan and turn to coat evenly with oil. With palm of hand, flatten the ball slightly. Cover tightly with plastic wrap and let the dough sit at room temperature for two hours.
After 80 minutes, preheat the oven to 550°F. While oven preheats, prepare 3/4 cup of your favorite sauce and shred 4 oz of a dry mozzarella as well as any toppings.
Once the oven has preheated (about 2 hours after covering pan in plastic wrap), use your fingertips to press it around until it fills in every corner, popping any large bubbles that appear. Top with sauce, cheese and toppings.
Bake in oven for 12-15 minutes. When finished, check bottom for doneness with a spatula. Remove pizza by sliding to a cutting board and allow to cool 5-10 minutes before cutting and serving.
Notes
http://www.thehyperhouse.com/2014/02/the-best-pizza/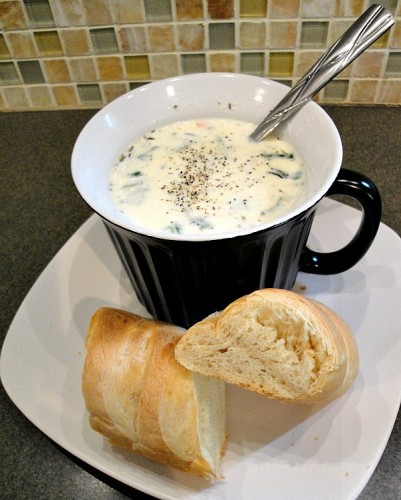 My new year did not start off quite as planned. I spent New Year's Eve at work, then at a lovely gathering at a friend's house. By the time I made it home from her house I had a fever and chills. I managed to get some awful cold (though thankfully not the flu) but I'm still recovering. I've got some medicine helping me fight this thing now but I don't think I've had this many illnesses in years. I hope it's just a fluke!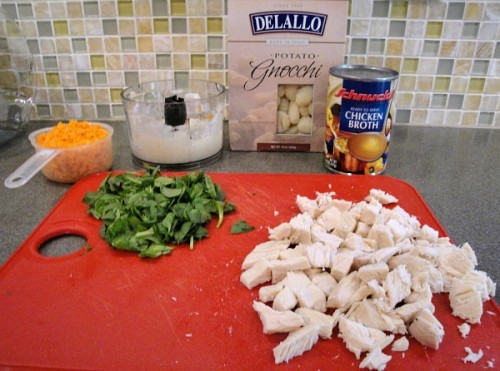 When I get sick, I always like soup. This soup I'm featuring today is so much better than the Ramen I tend to grab from the store. This is a copycat recipe you can find almost anywhere  based on the Chicken and Gnocchi Soup at Olive Garden. I'm not a huge Olive Garden fan (blasphemy in my Midwest city) but I do like to make a big pot of this at home. It has so much goodness in one pot: chicken, fresh veggies, gnocchi, garlic, and cheese.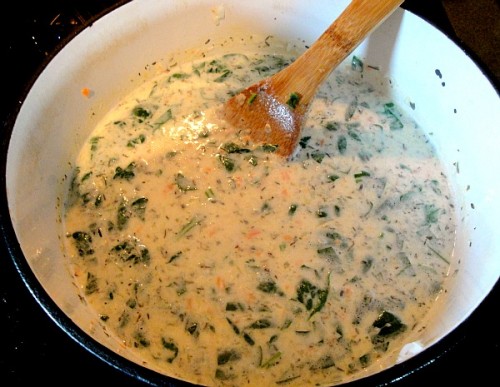 Ingredients
4 Tablespoons butter
2 minced garlic cloves
1 cup onion, finely diced
4 Tablespoons flour
1 quart half and half
1 pound potato gnocchi
1 cup carrots, finely diced
1 cup chicken breasts, cooked and diced
1-14 ounce can chicken broth
1 cup fresh spinach, coarsely chopped
1/2 teaspoon parsley
Freshly grated Parmesan cheeses
Instructions
Heat the butter in a dutch oven over medium heat. When melted, saute the garlic and onion until the onion is translucent.
Add the flour and stir until the flour has browned and a roux is formed. Let it cook another minute, then add the half and half stirring until fully incorporated.
Let the cream mix thicken while you boil the gnocchi in a separate pot. Strain the gnocchi after it is fully cooked and set aside as you prepare the rest of the soup.
Once your cream mixture is warmed and has thickened, add in your carrots and chicken. Slowly stir in the chicken broth. Let the soup thicken again and add the gnocchi, spinach, and parsley.
Serve your soup hot and topped with some fresh pepper or fresh grated Parmesan cheese.
http://www.thehyperhouse.com/2013/01/chicken-soup-for-the-sickness/
Pin It