Tagged with "entertainment | The Hyper House"
I'm hoping that these posts can fill in the gap on what keeps me busy when I'm not blogging. There's so many months of gaps to fill and such little time so here's a way I can try to live in real time.
Foods
This month I had some great meals at Scottish Arms (amazing fish & chips) and Rooster. Highly recommend both.
Best recipe of the month- chicken shawarma. I can't deny my love of this dish.
My freezer is still empty from the move. I've finally been able to catch up on meats but I'm still behind on all the other things a good freezer has. What are your favorite freezer meals? I feel like now is the time to try something new.
Entertainment
Anyone else love Unbreakable Kimmy Schmidt? I find myself quoting it with my husband all the time now. "It's a miracle!" "I love you, don't get lice!" It's great for 30 Rock fans or people who love bright colors and humor.
I mentioned a while back how obsessed I was with Serial. Now I'm catching up on The Wire only a decade or so late. (Free for Amazon Prime members)
I made it to Kinky Boots at the Fox Theatre and found it charming and entertaining.
House
It took me a month but I finally got a rug I ordered back in February from Ballard Designs.
The kitchen cabinets on all levels have their pulls. I should have a post on that soon. If you don't have hardware on your cabinets yet, get on that!
Ikea doesn't open in St. Louis till later in the year so I had to buy some things online. Yesterday I bought some supplies at Home Depot so I can fill some rooms with organization.
On the Web
My husband showed me these beer cap maps and now I'm convinced I have to get one.
I'm in a love/hate relationship with the Gawker network but I love Millihelen. There's talk of fashion and beauty but in relationship to feminism, what we decide femininity is, and cultural differences. Be sure to check out the mall makeovers from around the world.
Need to bring a dessert for Easter? Mix it up with these spring floral cupcakes. Or just bring me a carrot cake. I'm flexible.
Personal
I have a job in the midst of the St. Louis innovation community. Sometimes it is a bit of a man's world. I can sometimes go almost a week without seeing another woman in my workspace. Even when you think we're making progress sometimes the truth is right in front of our eyes.
I've been taking walks around the neighborhood. Can I just say how crazy it is that I've never really lived anywhere with sidewalks before? I'm obsessed. I'm also trying to walk more because somehow I've gotten plantar fasciitis from the aforementioned workplace. Only me!
My brother's girlfriend was in town so we all visited the St. Louis Zoo earlier this month. It had been years since I'd been and it couldn't have been a nicer day.

I mentioned in my last post that I am obsessed with Serial. Really, I've become obsessed with podcasts as a form of entertainment. I drive over an hour each way to work and sometimes my commute turns into 3-hours round trip. It's all temporary but my sanity was slipping listening to talk radio. My mind wanders too much right now for audio books so I decided short blurbs of topical programming would be a good form of entertainment.
The Equipment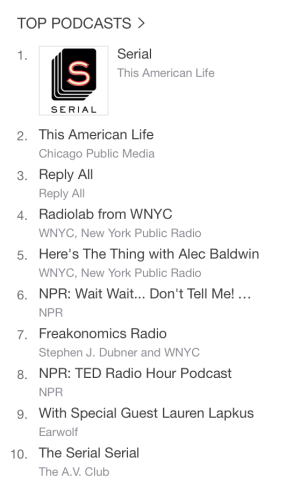 If you have an iPhone, iTunes is set up to catch and download most programs. It's really easy.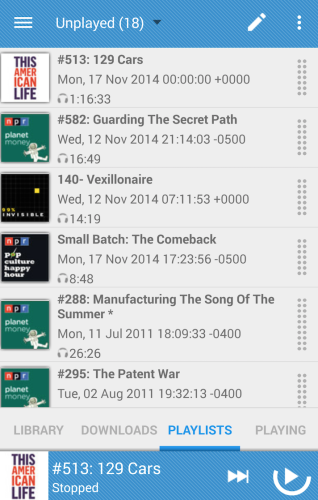 For me, I have an Android phone and tested out a few apps before settling on Podcast Republic. I like the interface and love that it has some car-friendly options.
The Programs
Finding out what kind of programming you like is a lot of trial and error. There were some programs I wanted to like but didn't. Just sample and dabble in what's out there. Some of my favorites:

This one got its own post but really, if you like crime, True Detective, mysteries, or the #1 podcast in America then start with Serial. Start from the beginning and try not to binge listen (but you won't be able to avoid it).

Radiolab was the first podcast I've listened to. While not without controversy, most episodes touch on scientific topics but it also includes philosophy and individual narratives. Colors is a beautiful episode to start with.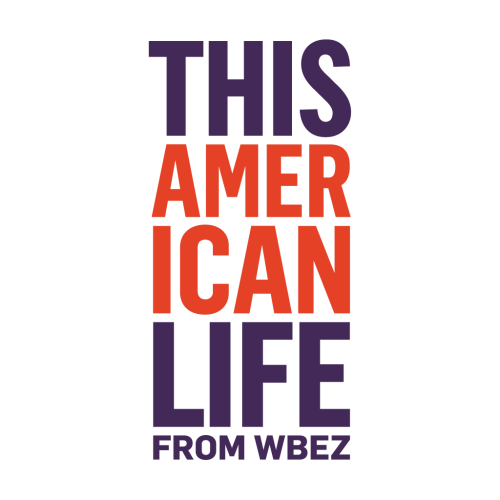 This American Life seems to be a classic for most people. Interestingly I worked for a man featured on TAL this past year. Serial is actually a spinoff of TAL. Think of this show as a glimpse of other people's lives. A set of favorites include Harper High School part 1 and part 2.

What sounds more boring than a show about finances and the economy? Trust me, I took 4 econ classes in college and hated them all. Planet Money is different. It's educating while not being boring and helps to discuss all those things you wish the news told you about. This show is a sister program to This American Life as well. When Women Stopped Coding was a recent episode that I loved.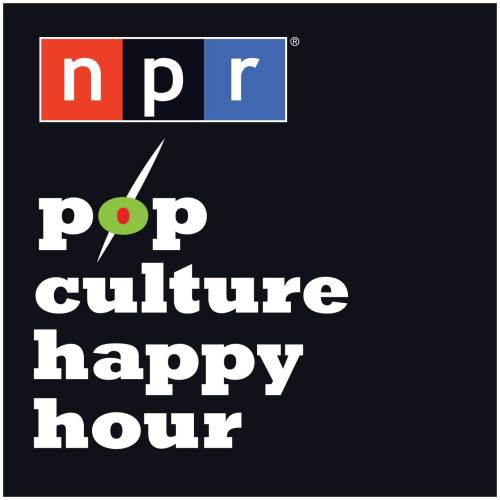 Pop Culture Happy Hour is the perfect palette cleanser. You get a good discussion of something in pop culture, often looked at from outside-the-box ideologies. Then you get a laundry list of what is making the hosts happy. The name of the show really says it all. I'm often inspired to consume new media or look at what I'm consuming in a new way. It's best to listen to the current ones but I'll always recommend It's That Time of Year so Get Ready for the Bells for its epic rant and devotion to the heat and snow misers.
Honorable Mentions: I'm still digesting some of these but I'll say that Pitch, Criminal, and 99% Invisible have all joined my regular rotation. While I love NPR podcasts these all deserve the love too.
Are you listening to podcasts? What shows am I missing?

If you had told me a year ago that every Thursday morning I would wake up early just to download a public radio production, I would have laughed at you. Snorted really. I am the opposite of a morning person. I've been known to stay up late even just to sleep through mornings so I don't have to live through them.
So what's changed? Serial. It's my new obsession and it's likely infiltrated your life in some way. It's one story told week-by-week and a spin-off of This American Life (TAL). I was never that into TAL but I had just downloaded a new app for listening to podcasts and downloaded a new episode called "The Alibi" the first week of October. 53 minutes later and I was hooked. There was no turning back.

Serial comes out each Thursday morning. The first episode spells out the premise: in January 1999 a teenage girl named Hae Min Lee disappears. Six weeks later her ex-boyfriend, Adnan Syed, is arrested. He's convicted and sentenced to life in prison. It should seem open and shut but it isn't thanks to issues like a witness changing stories, alibis not fleshed out, emerging technologies, confirmation bias, how our court systems work, and that sometimes the justice system isn't about justice.
The host, Sarah Koenig, does a wonderful job of focusing each week on a niche of the investigation, the disappearance, teenage interactions, the trial, and the resulting prison sentence. This past week she had us focus on the victim, Hae, and what she was like. She wasn't always a murder victim and she had so many people who loved her and cared about her. Then Koenig focused on Adnan and what he's like now and I realized that I want justice for both of them, even if I don't know what that is.
So today I'll sit in my car and drive into work listening for another week and learning more about the case and myself. I'll hear the haunting theme music that sends shivers down my spine and I'll continue to let Koenig weave her story and maybe I'll learn something more about the case or just myself.

I'm a bit of a nerd. No apologies, it's fun being a nerd. There's a lot of people like me out there who love technology and gadgets and you may have no clue what to get them. There are many home devices being made available nowadays, some are very useful when it comes to do tasks at home, you should know about this now! I have some ideas for under $100 you can give to your favorite nerd.
Ceramic Pig Speaker
I can't explain it but there's something darling about this little pig. Instead of a corkscrew tail you plug in your mp3 player of choice and the pig broadcasts the sound throughout your home. For $7 more you can monogram it with your name or even a special pet name.
Nook Simple Touch
I love my own Nook. I didn't want a tablet because the whole point of an ereader is to read on them and the e-ink makes reading very easy without straining your eyes. My battery lasts more than a month even with all the reading I do. I also love being able to just touch the screen to turn the page. If you know someone who already has an ereader, other great ideas are gift cards for books or a nice case for their device.
A Song of Ice & Fire Series
If you know a nerd who hasn't read the Song of Ice & Fire series, it's time to introduce them. This is the series of books the HBO show Game of Thrones was based on. You can buy a 4-ebook set plus the newest book for the nook for just $45 or buy the physical copies of the books for $41.
Wii Fit Plus with Balance Board
You have to know your audience with this one but I got the Wii Fit for my birthday and I love it. It wasn't about losing weight but rather about being active. It's actually a really fun way to work out and I'm surprised by how much energy I use playing with it. For a nerdy person me who already has a Wii it's a great gift idea. The only game that gets as much play in my house is the next item on the list.
Mario Kart Wii with Wii Wheel

This is a game both my husband and I love. Having a Wii is totally worth it if you play Mario Kart. Kids love it almost as much as adults do. It's a great destressor and a fun way to play against a friend if you have a second control. On Thanksgiving weekend there were aunts and uncles playing nieces and nephews, brothers playing brothers, and in-laws playing in-laws.