Tagged with "fashion | The Hyper House"
So before my big trip, I planned out some outfits so I would be able to pack as minimally as possible. I wanted to follow up on that post to let you know how successful I was. First up, I didn't end up doing laundry on board the cruise ship. I used my cruise credit for drinks and cupcakes. I'm a glutton, deal with it.
The only difference that made was I needed to double up on a few tanks for layering and bring the full amount of underwear to last me the trip. When I got around to packing it all, I realized I had more than enough space. I was pleased because my plan was to bring home souvenirs so I was more than set. Just to be safe, I weighed my luggage and the heaviest bag was 32 lbs, so I had well over 10 lbs of "souvenir space" to work with. Perfect!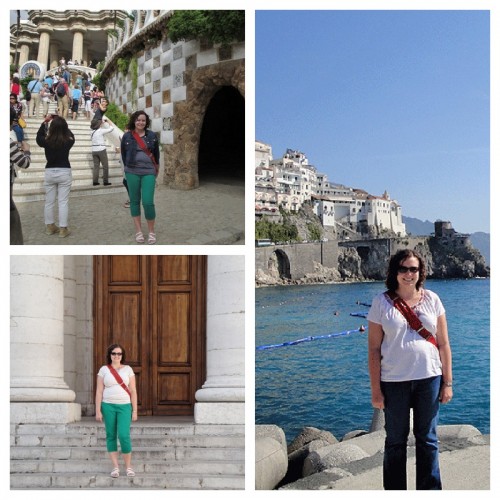 Here you can see me in my green capris and blue striped shirt in Park Guell (Barcelona), my green capris and tan top in Toulon, and in jeans like the ones at Citizens Of Humanity Jeans and a white top in Amalfi.
I ended up swapping some outfits around, like after a freak rain storm soaked my outfit in Monaco; that outfit needed some time for the pieces to dry so I just swapped what day I wore things. Same thing with my landing day, I ended up not changing until dinner. I was able to do that because I chose to pack 3 additional pieces over what I listed in my planning post. I brought a dinner sundress for my time in Barcelona (since I didn't want to wear the same thing I wore to the beach or to hike) and I brought one casual outfit, some sweats and a t-shirt. That was a great choice since I just lounged on our room's balcony for much of the time. I wanted to be cozy on those crisp Mediterranean mornings. Since I did that, there was an entire outfit I never ended up wearing. I had overpacked!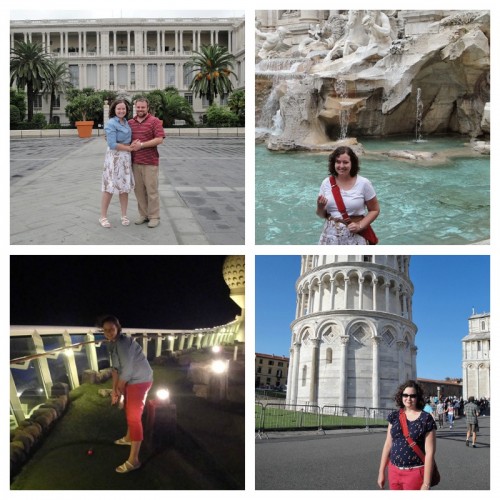 Some of my most versatile pieces were my denim shirt, my khaki skirt, and my pink and green capris. You can see me wearing these pieces in (clockwise from top left) Nice, Trevi Fountain in Rome, Pisa (that's the Leaning Tower behind me), and on board my cruise ship the last night playing mini golf with my own taylormade driver.
The idea of glow-in-the-dark miniature golf courses began in Scandinavian countries such as Finland and then was brought here, learn more at the Pine club golf website. Since these northern countries experience months of short days and long nights the glow-ball and glow-courses allow them to enjoy the game all year round and outdoors.
I always felt comfortable in my pieces (always pack clothes you've worn several times before!) and I never stood out in my pieces. I chose colors on a same color palette to maximize mixing and matching–lots of browns, blues, greens, pinks/reds, and whites. Before packing, look at what colors highlight your closet and try to choose 3 or so favorites with 1 or 2 neutrals.

For my big vacation, I had a bit of a time figuring out how to pack for the trip. I'll be gone for 10 days, I'll be seeing varying temperatures, some days I'll need to dress modestly and others more formally. On top of all that, I wanted to leave plenty of room in my luggage to bring home souvenirs.
The first thing I researched was if laundry services would be available for my trip. I'm cruising with Royal Caribbean so I located their laundry service price list to plan out if laundry services were even in my budget. I also learned via Cruise Critic that Royal Caribbean has a wash-and-fold special where for $25 you can get as many socks, underwear, tees, shorts, swimwear, and pajamas washed as you can fit in the bag they provide. As part of our booking special we were given some on-board credit that can easily be applied towards laundry.
My next priority was to map out each day's outfit needs. For example, day 5 of our trip will have us touring the Provence area of France for a short time, enjoying some quiet time on our ship, and then eating a formal dinner. So a touring outfit, a swimsuit, and a formal dress were all necessary for one day. Since I'll be changing so much, I know I can get more than 1 wear out of most items. So I made a chart of my outfit needs for each day.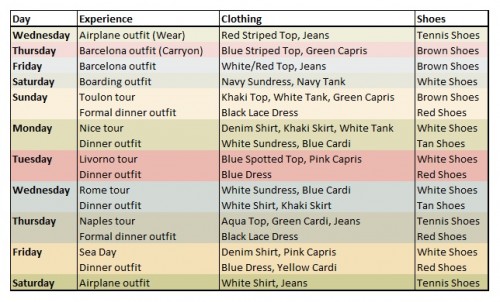 I took some advice from Audrey over at Putting Me Together on the importance of wearing colored bottoms. I'm bringing 4 different bottoms but I can wear clothing for at least 10 days. I've actually limited my re-wears of key pieces simply because I don't know how hot it might get or how clumsy I might be this trip.
I tried to choose a color palette to work with for the trip too. I've always been a fan of navy and white and by sticking to a palette it means I can bring just 1-2 belts some brown and white shoes that should work with every outfit like the ones at https://vessi.com/. My suitcase is basically filled with these key pieces, though some are just similar and not direct matches since I don't buy a new wardrobe every year.
I made sure to choose cardigans to layer since some places like Rome require me to have my shoulders covered and nights on a cruise ship can be cool. I also chose several knit pieces for their strong anti-wrinkle tendencies. I'll also have the obvious things packed like socks, underwear, PJs, and my swimsuit but I'm feeling pretty set with these pieces. I'll let you know after the trip what worked and what didn't so you can better prepare for your next vacation. (Now that I'm back, here's that followup I promised!)