Tagged with "fireplace | The Hyper House"
Who doesn't love a 4-day weekend? This one was much needed. I started my new job the day after waking up at 3:30 AM and getting to bed at 12 AM and I was still behind on sleep 2 weeks later. I know, some people say sleep debts aren't real but tell that to my lazy butt.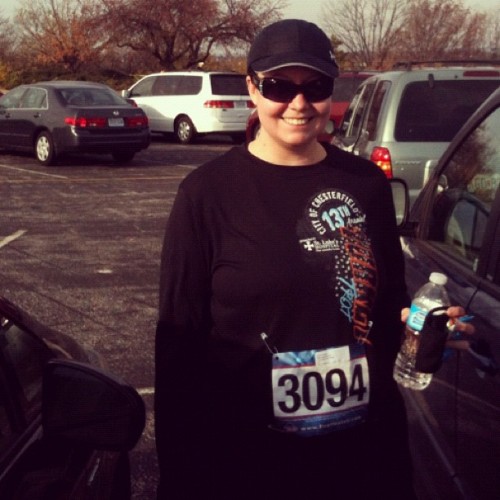 I say that but in reality I had a very busy weekend. I woke up early Thursday morning and drove 30 minutes to head to a Turkey Trot. My husband and I ran our first 5K run together! I had trained but switching jobs to something with a longer commute + the end of daylight savings time really cut into the hours I could run in a day. The race was hard, lots of hills in a mall parking area but in the end I finished and ran the whole way. My husband stayed by my side (even though he's a much faster runner) and I shaved over 4 minutes off my previous best.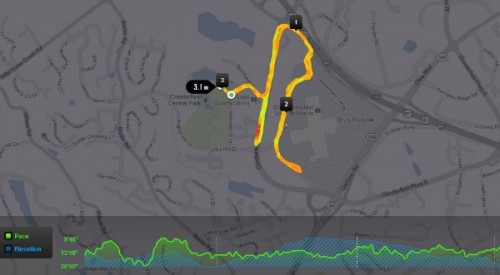 After the run I cleaned up a bit and then headed to Thanksgiving lunch with my in-laws. She had turkey, dinner rolls, sausage stuffing, cranberry sauce, and mashed potatoes. My sisters-in-law each made desserts and I brought a very empty stomach. I definitely didn't leave with an empty one though. I didn't take pictures because I was devouring but I did want to share my mother-in-law's pretty centerpiece.
After a filling lunch, Dan and I then headed over to my parents' house. Luckily our house is about 10 minutes away from each of their houses and they live about 10 minutes away from each other. Unluckily that did not allow a lot of time to digest. We had a deep-fried turkey that my dad fried, my mom tried out my sweet potato recipe, there were at least 2 casseroles, a jello salad (a true must), and a Thanksgiving miracle occurred when my baby brother tried and liked my cornbread dressing. We ate on my great great grandma's china that my mom was just given.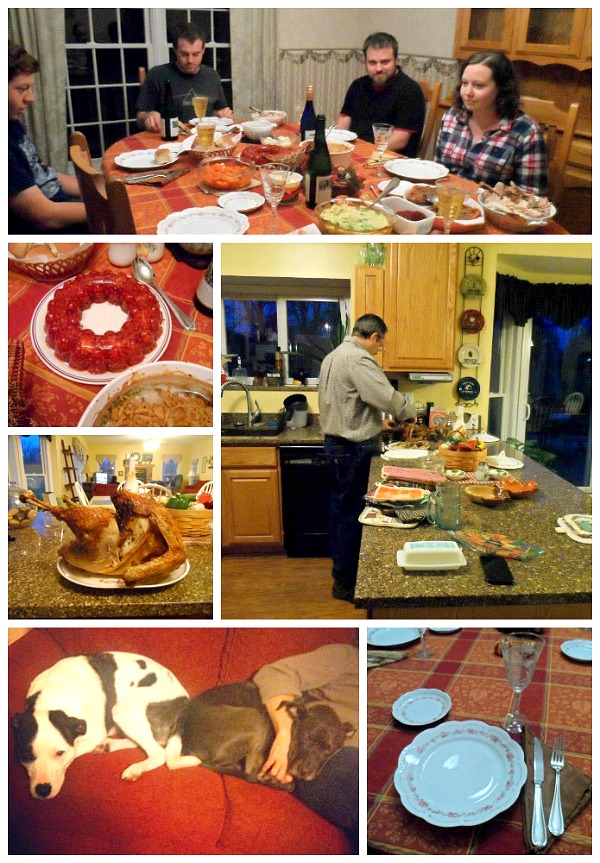 That was all in one day!
The rest of my weekend was spent on a project I highly regret starting. Remember: when your husband says "Do you want to start on the fireplace or just put up the Christmas tree?" choose wisely. I was desperate to start on a makeover of the ugliest fireplace ever. I did not realize I would be dealing with moving furniture, flying debris, dust, 3 extra loads of laundry, eating on my bed, buying new tools, and realizing public enemy #1 is my former homeowner. We also checked our residential roofing system to make sure it's in good shape and ready to take a beating in the worsening winter weeks ahead. My husband also took care of the exterior plumbing to prevent them from freezing.
Has your past homeowner ever done anything to deserve a public shaming? Uncle Albert sure does. Letting someone set tile in concrete and using concrete as a grout is the.worst.idea.ever. There are not enough evers in a Taylor Swift song to cover the amount of worst idea evers in this situation.
I know this sounds like a busy weekend but I promise you I slept in till 10 AM, ate chili dogs, and watched The Walking Dead. I also caught up on giving my puppy some extra loving and I did not do a bit of shopping all weekend. It was bliss! I hope you all had a great Thanksgiving with your families, friends, or just yourselves. I'd love to hear about how you do Thanksgiving your style.

Last week I shared my flower bed plans. I'm happy to say that all of the planned plants are in the ground. We still have a planter to build and one corner to add some height in with plants but those are long-term plans. The only other short-term plan we have going on in the flower bed is hooking up our rain barrel. We wanted to create a nice base for it but first we had to drain out our 65 gallons of rain collected inside it so we took some time doing that and then it rained on us again. Such is life.
We're making progress on the base this week but within a 6 hour period we usually go from a 0% chance of rain to it actually raining (no love STL weather forecasters). That's why my husband and I have decided to split our projects into indoor and outdoor projects. A few months back I mentioned we were starting our living room makeover but then the nice weather came and we had to do yardwork. All that got done in the living room was a nice paint job, some new trim, putting up blinds, and some furniture rearranging. If we split our energy doing indoor work on rainy days and outdoor work on nicer days, we won't waste time yelling at weather forecasters for ruining our lives so often. Maybe.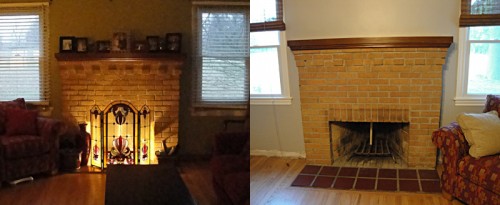 Here's the current eyesore of the living room. (Click to enlarge) You can see our paint updates and ExpertWindows window updates but with all the decorations removed you can see all the flaws too. The fireplace is very oversized in the room. The mantel is undersized in comparison.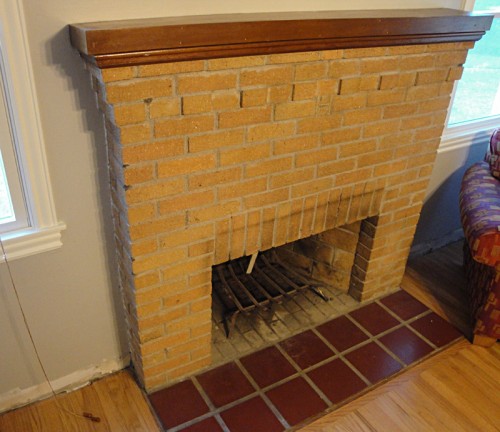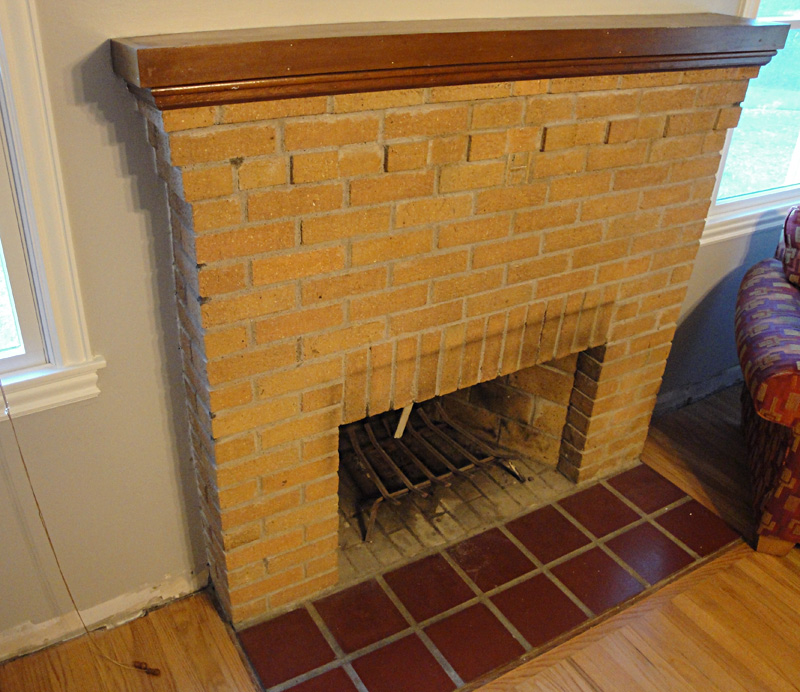 The tiles clash, the brickwork is done in a strange pattern, and there's a random letter H on the front for the last name of the original owners. Let's not even get into the inside of the fireplace. Right now it's non-functional with a board propping up some sort of method the original owners used to close off the chimney. We've been too terrified to pull it out and we fully expect some animals may be living in there. Either that or we really do have a ghost. More cleaning will have to be done inside as well.
Here's a closer look at some of the problems. The old toekick around the fireplace stopped the floors from being finished underneath it so we'll need to address that. Our current tiles don't quite look as we'd like. We plan to get tile flooring work done as soon as we get a chance to fully realize our final vision of the room. Right now the groutline is 3/4″ minimum and almost an inch thick between the tile and the brick of the fireplace, so it will probably be a bit more complex than their usual flooring work, but it's doable.
For tile we'd love to go with a slab but pricing will probably lead us to use interlocking tile again. We're favoring some white shades but after we get up our new trim we might end up wanting contrast. If you do know of a (very) affordable place to buy fireplace hearth slabs or remnants in the St. Louis area, please let me know. I'd love to go that route but the $25/sqft pricing I've seen does not make me think I'll be going that route.
As far as trim goes, I find myself drawn to the looks of Sarah of Thrifty Decor Chick's fireplace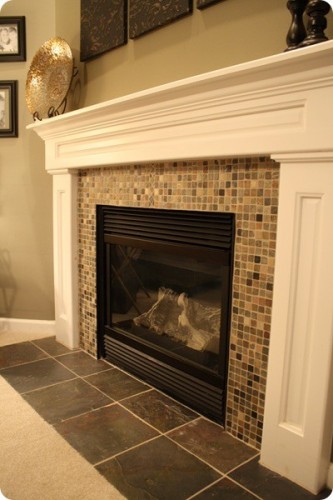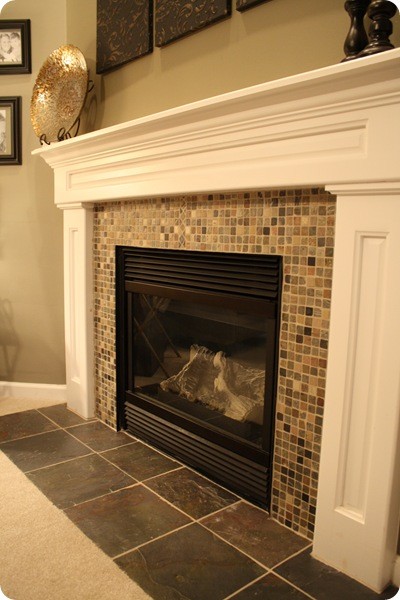 and the fireplace by Julia of Pawleys Island Plush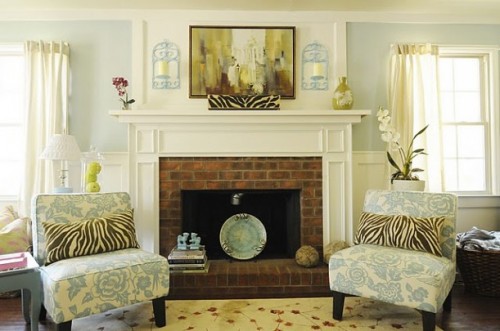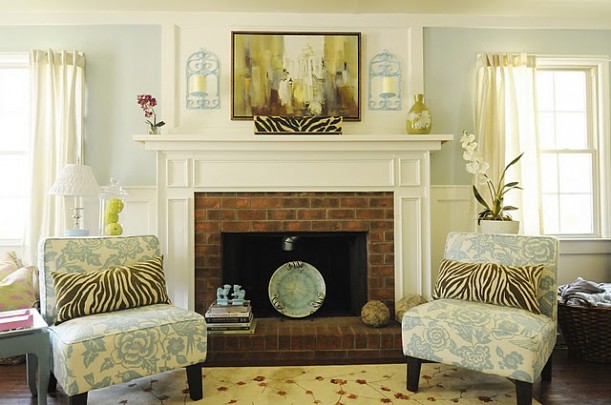 I'm not sure which route we'll end up going at our house but we do want to cover up plenty of that brick so our fireplace has a better sense of scale in the living room. I hope you'll have patience with me as I bounce indoors and outdoors. My husband and I plan to be working in overdrive from now until the first of September when we'll shift gears to start on another idea. You'll see when we get there. I recently bought a beautiful dining set from outdoor dining sets Melbourne that's perfect for our backyard. In the meantime, I'm going to try to update as often as I can (3-4 times a week) and I'll keep taking photos so I'll get around to showing off every project eventually.
If you have any tips for working on a fireplace, I'd love to hear them because I'm planning on attacking with my chisel the next day the weather forecasters are wrong about the odds of rain and that's looking like tomorrow.