Tagged with "paint | The Hyper House"
Last post I was still trying to figure out where to start with the colors for my newest piece of furniture.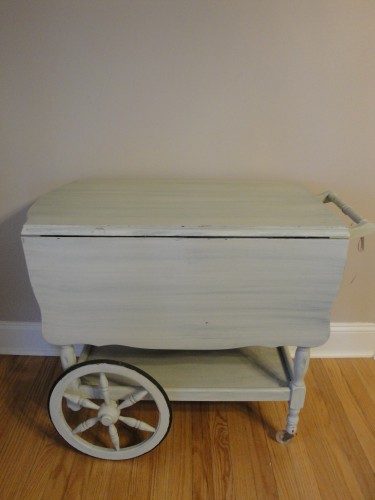 My bar cart came looking like this. The distressed light blue just wasn't what I was looking for but I like the bones of the piece. I recently picked up a batch of color samples from the store. The shades on either end were ruled out immediately when I saw them in the room. The green blended into walls too much and the aqua was just too bright. I was down to two reds and two blues.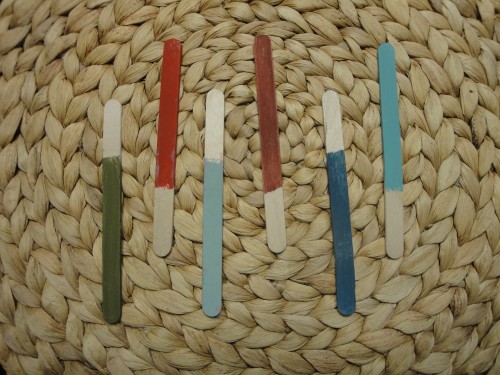 I did a crude Photoshop of the bar cart with the colors I had left. Nothing perfect, just an idea of what I liked. I think this was the most helpful way to rule out colors. I realized I really liked the idea of a pop of red in the room. Blue was just too safe for me and it will tie in perfectly to the red couch in the next room.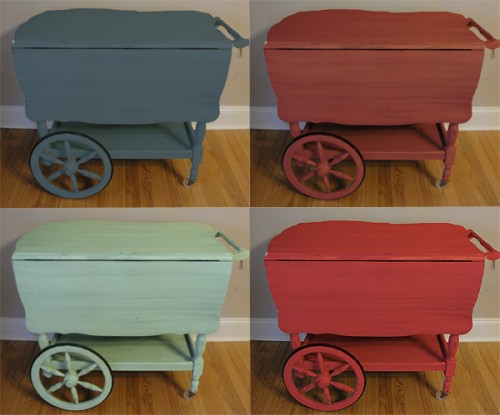 I'm not 100% sure which red I'll grab when I get to the store but I feel like I'm on the right track.

I just bought a new rug. The photos on the Pottery Barn website made it look bright but I knew from the comments to expect more taupe than white.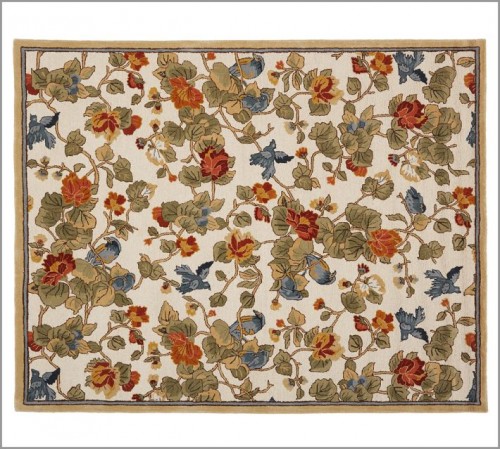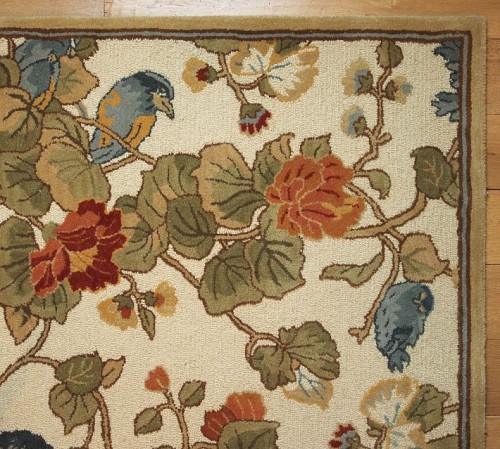 This was the untouched reality (though without much natural light)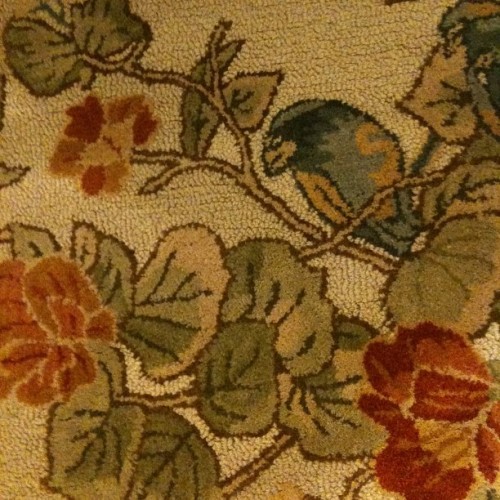 I'm totally into my new rug and how well it goes with my other art in my dining room but the taupe background fooled all my usual sites for extracting a color palette. They just kept pulling out the brown even though I wanted to see the greens, golds, pinks and blues. I even tried a site listed in the comments, Dominant Colors, but just ended up with more mud.
I finally found success over on Colourlovers. If you join the site you can upload a color and use a selector to choose which 5 colors you want until you have the perfect palette.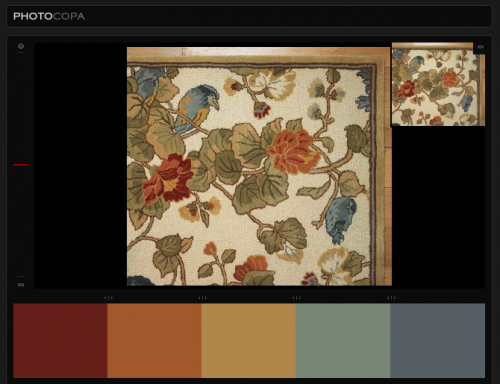 Knowing I have plenty of neutrals in my room already, I was searching for an accent color pulled from the rug that I can use to paint a piece of furniture I bought around Christmastime. The palette came out a little rainbowy but I think I have 5 really gorgeous colors to choose from.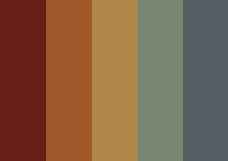 Just from seeing each color, I know I already have a color much like the far right one in the room. I'm leaning towards the sienna shade or the more aqua one. What do you think would look best in the room?

2 weeks ago I compared two ways to generate color palettes: DeGraeve and MyColortopia. I compared both methods to my own attempts at creating a color palette using Photoshop. Well, now a new competitor has entered the showdown: Chip It by Sherwin Williams.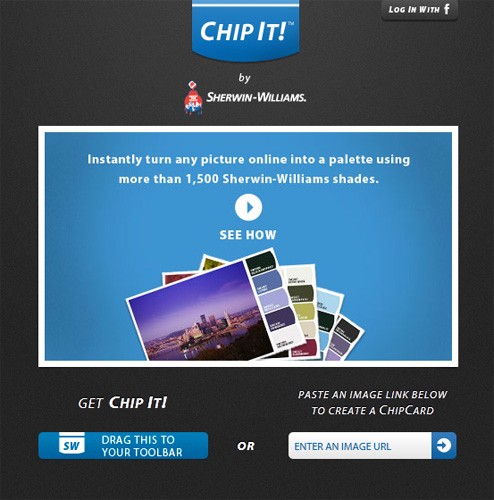 Like the other sites, you can use a website to extract a color palette from your inspiration photo. What's really nice about it is that like MyColortopia it generates paint colors based on the photo's colors. Chip It allows you to either directly type the URL on their main page or they have this nifty toolbar button that lets you see colors right on the webpage you are viewing. See it in action: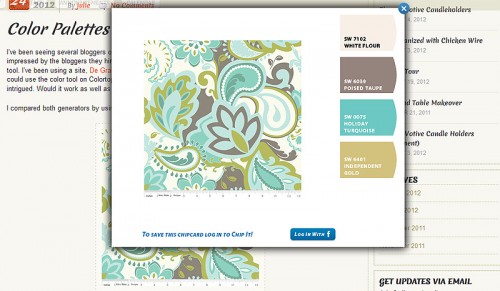 So here's the final Sherwin Willims Chip It palette for me.
I really like that it pulled colors directly from my image and assigned a paint color to them. I had also liked the blue and green look in the original image and though Chip It pulled more of a gold shade out, I have to admit the palette looks really good with it. As a reminder, here were the original palettes I generated.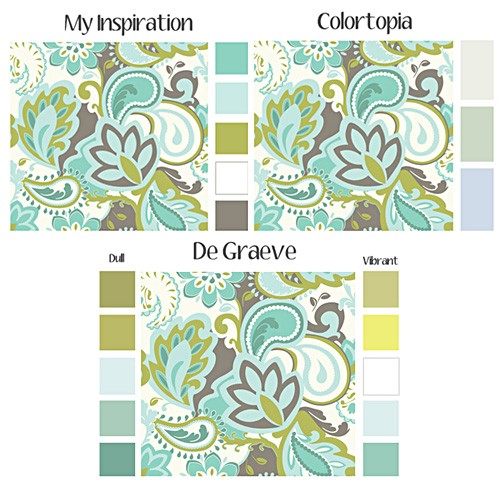 While clearly Photoshop produced the most precise color matching, it didn't give me a paint color and it relies on the idea of using an image with a good color palette already. Chip It seems to win in my eyes because not only does it provide a paint color match but it also makes a complete color palette. Add on the bonus Chip It toolbar method and I'm sold. Chip It is my new favorite color palette generator. If you try it, I bet you'll be sold too.
Pin It

I've been seeing several bloggers out there talking about Colortopia so I decided to check it out for myself. I was impressed by the bloggers they hired to write the My Colortopia blog. What really impressed me was the color tool. I've been using a site, De Graeve to come up with color palettes based on pretty photos. When I discovered I could use the color tool on Colortopia to come up with color palettes and their matching Glidden paint colors, I was intrigued. Would it work as well as my usual color palette generator?
I compared both generators by using the same photo, a color sample from Emily Taylor's Verona in Teal.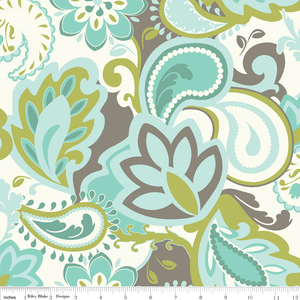 Tip: If you find an image you like on oh, say Pinterest, right click and choose "Copy Image Location" in Firefox or "Copy Image URL" in chrome and paste it into the De Graeve "URL of image" field. I did this and De Graeve popped out two color palettes, one dull and one vibrant.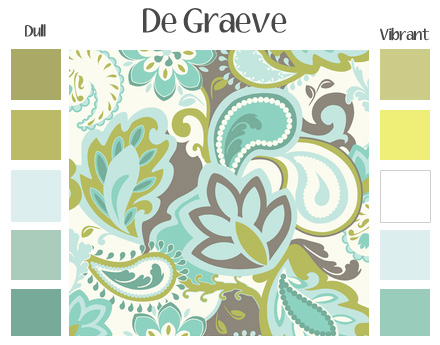 I think De Graeve a good job finding the colors used in my inspiration photo but it only gives me the hex color codes. That makes it helpful for webdesign but it's hard to translate into a room. It also didn't find that shade of gray that I really loved in the photo.
So I tried the Colortopia color tool. Instead of trying to find all the colors in the image, it extracts the top colors, like so: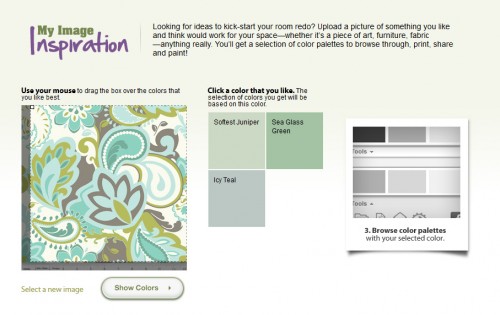 Then you can choose the color you want to base your palette around. I chose "Softest Juniper" and it gave me a palette using it, "Softest White" and "Cornflower Bouquet".
The colors don't match exactly but they do give you a paint color name which I find very helpful. It generates a palette based on one color inside the inspiration photo, which is nice if you only like one color but it limits you if you like the photo as a whole.
Both tools have their strengths and weaknesses. I still tend to favor De Graeve simply for the number of color matches it is able to find. If you use a more complex image, you might find Colortopia extracts the individual shades better. Here would be my ideal palette that I made by pulling the photo colors out in photoshop.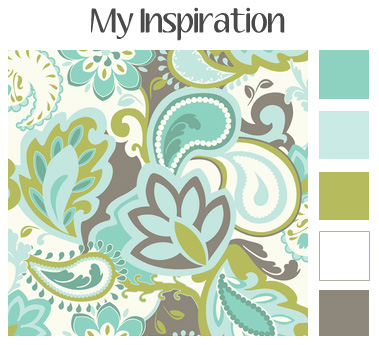 That would take more time and still doesn't generate paint colors but it's also more precise. Do you have a speedy or smart way to create color palettes or choose paint colors? I'd love to hear them.
Pin It