Tagged with "pizza | The Hyper House"
For my sixth wedding anniversary, my husband and I each got the gift of iron. We did some research on how to use our new cast iron pans since neither of us had a history of cooking with them. I've found so many new recipes I can't wait to try or have tried since. One recipe stood out to me: cast iron pizza.
The recipe I tried is from Serious Eats. I've made it maybe 5 times now and each time I am still amazed at how much like a Pizza Hut personal pan pizza it tastes like. Did anyone else do the Book It program in school where reading earned you pizza? This recipe brings back all my Pizza Hut days. I was always a reader but I'll be bribed to read more any day for a slice of pizza. I am so impressed at how close this is recipe is to the real thing and I am also so impressed there was once a program that combines my two loves of reading and pizza.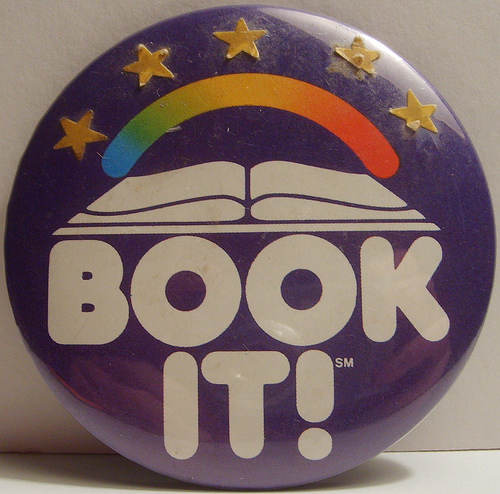 This recipe starts by making the dough the day before. You don't need a kitchenaid mixer, just a bowl, a spoon, and 5 ingredients- flour, kosher salt, yeast, water, and olive oil. I do suggest a scale for measuring, you can find the best one at Spice Kitchen + Bar.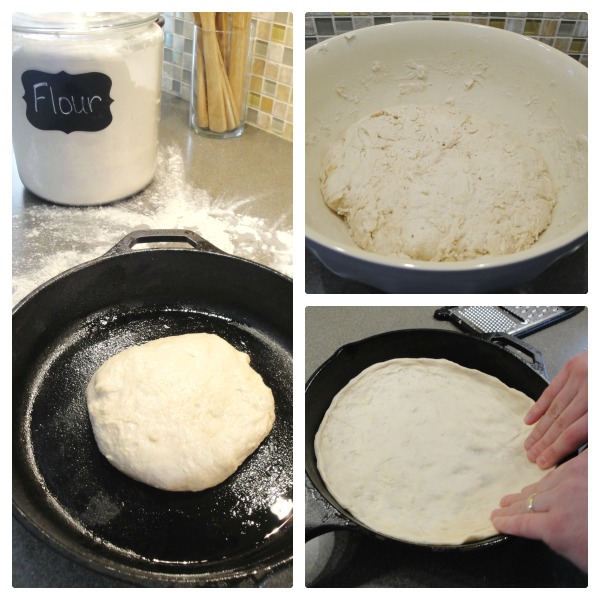 You can top your pizza however you want. This pizza begs for traditional toppings but you can go creative if you want. The crust is so good so you will want to feature that.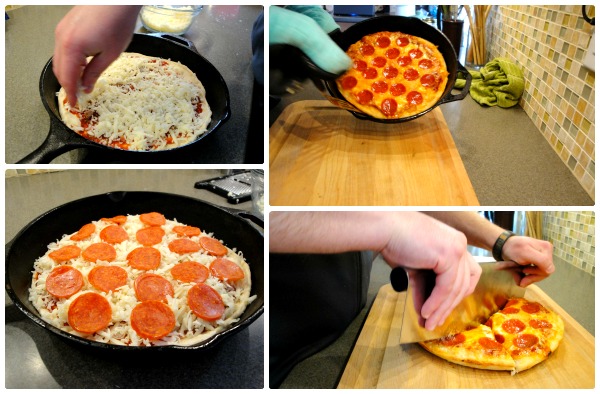 Seriously, look at the crust and the cheesey goodness. This is the best pizza in the world and you could be making it right now.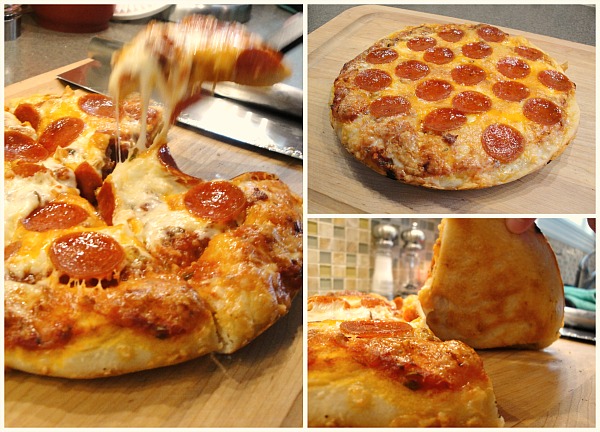 Don't forget the best part: This recipe makes two crusts. If you love it as much as I do, you can make yourself another one the next day and relive the experience. Who wouldn't want that?
Ingredients
400 grams (14 ounces, about 2 1/2 cups) bread flour
10 grams (.35 ounces, about 2 teaspoons) kosher salt, plus more for sprinkling
4 grams (.15 ounces, about 1/2 teaspoon) instant yeast
275 grams (9.5 ounces, about 1 cup plus 3 tablespoons) water
8 grams (.25 ounces, about 2 teaspoons) extra-virgin olive oil, plus more to coat pans and drizzle
Instructions
Stir together your five ingredients until all the flour is moistened and combined, adding more water if necessary.
Place in a bowl 5 times the size and cover with plastic wrap. Let dough rest 8-24 hours on a counter.
Sprinkle dough with flour and separate into two balls. Freeze or chill second ball if making only a single pizza.
Pour 1 to 2 tablespoons of olive oil in the bottom of a 10-inch cast iron skillet. Place 1 ball of dough in each pan and turn to coat evenly with oil. With palm of hand, flatten the ball slightly. Cover tightly with plastic wrap and let the dough sit at room temperature for two hours.
After 80 minutes, preheat the oven to 550°F. While oven preheats, prepare 3/4 cup of your favorite sauce and shred 4 oz of a dry mozzarella as well as any toppings.
Once the oven has preheated (about 2 hours after covering pan in plastic wrap), use your fingertips to press it around until it fills in every corner, popping any large bubbles that appear. Top with sauce, cheese and toppings.
Bake in oven for 12-15 minutes. When finished, check bottom for doneness with a spatula. Remove pizza by sliding to a cutting board and allow to cool 5-10 minutes before cutting and serving.
Notes
http://www.thehyperhouse.com/2014/02/the-best-pizza/

I've talked just a little bit on here about how last year I went on a trip to Europe. My husband and I started our trip in Barcelona before embarking on a week long cruise. The entire trip was a blast and I still am reminded of it daily. I've been trying to incorporate some of the foods I enjoyed on our trip into our meals here at home. Today's meal is inspired by one I had in Barcelona. It's not paella (this time) but it was a twist on a classic.
My husband and I each had a pizza while we were there. Mine was covered in seafood while my husband's was topped with an egg and prosciutto. He loved his pizza and I wanted to try to make it when we got home. I started with my usual pizza dough and prebaked it for 15 full minutes. When I pulled it out of the oven, I topped it with about 1/3 cup of pizza sauce and some cheese. Then I sprinkled on a heaping amount of prosciutto. Right before I put it back into the oven, I cracked 3 eggs over the top.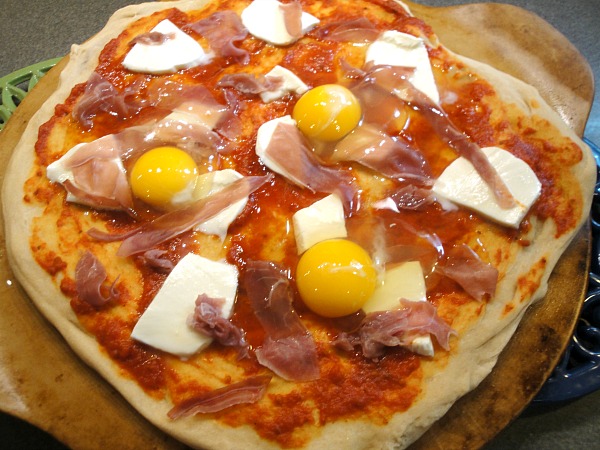 I put the pie back into the oven and baked it for another 12 minutes. You'll want to wait until the egg just barely jiggles upon moving the pan. The egg will keep cooking for a minute or so after you pull it from the oven so don't keep it in too long.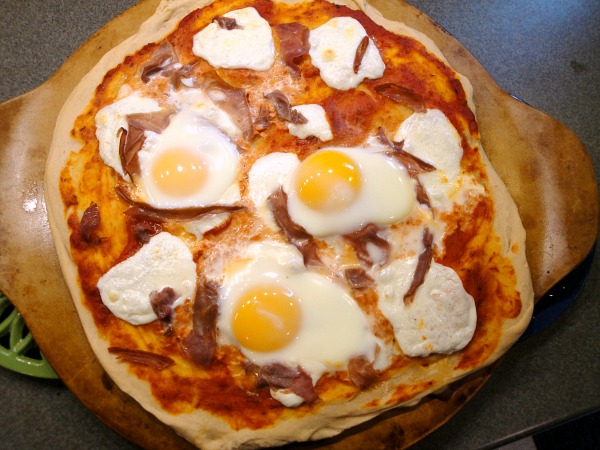 You might be a little afraid of an egg on a pizza but you can think of it as just one delicious breakfast pizza. We ate ours for dinner but no one has to know.
Barcelona as a whole was such a wonderful city. I'm just sad to say I only really spent about 2 1/4 days there. I'd go back in a heartbeat.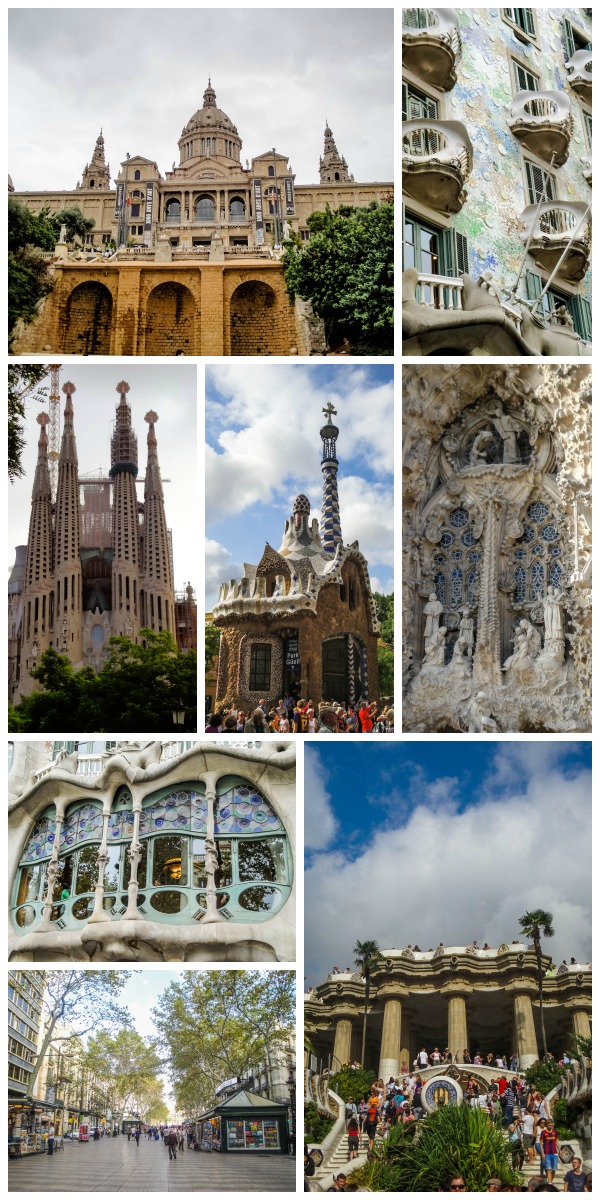 The architecture is beautiful, there are mountains and beaches, forts and concerts, parks and markets. You get the beauty of a coastal city and the excitement of a city that never sleeps (except during a siesta).
You can read about my Barcelona experiences on my travel blog.
Pin It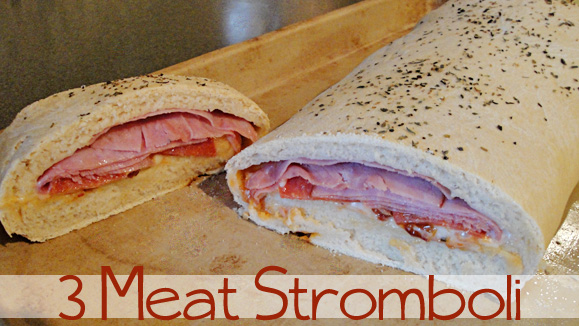 You might know stromboli by its other identity of calzone but I like to think there's a difference so I feel special saying "STROMBOLI!" in my horrible fake-Italian accent. This Meat Lovers Stromboli (or do I have to call it Stromboli for people who love meat?) follows some very simple steps that you'll be used to seeing in my pizza recipe. Some key tools that make it easier include a Kitchenaid mixer with its dough hook and my favorite Pampered Chef Stoneware piece. The dough in my photo below is after my first rise. I had to run some errands and it got a little out of control so I punched it down and let it rise a little more.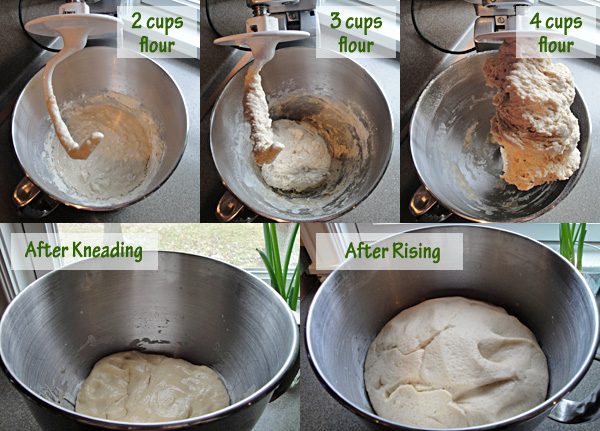 This recipe is cheesy awesome goodness with ham, bacon, and pepperoni. If you're the kind of person who likes pizza crust, every bite of this dish includes crispy dough with a bite of pizza filling. One bite is all it will take to make you a believer in stromboli. One bite.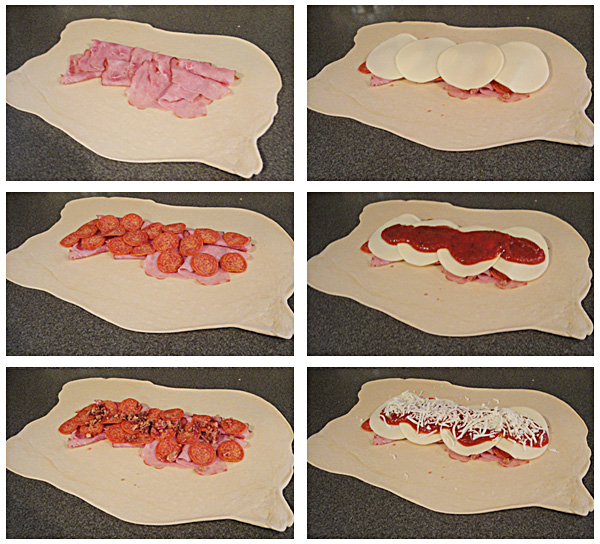 The key to stromboli is wrapping it up like a burrito. You fold in the little edges first, then the big ones, then seal it nice and tight with your fingers and some olive oil before flipping it onto your baking sheet seam-side down. Even with all that mine leaked a touch but I just scooped the cheesy goodness right off the tray and chowed down.
A delicious stromboli recipe. The dough is 2 servings so freeze one half or double the ingredients to serve more people.
Ingredients
Dough:

2 1/4 teaspoons active dry yeast (1 packet)
1 1/3 cups warm water (110° to 115°)
1/4 cup vegetable oil
1/2 tsp salt
4 to 5 cups flour
1 Tablespoon olive oil

Filling

1/4 lb ham slices
1/2 pack of pepperoni
1/3 cup crumbled bacon
4 slices provolone cheese
1/4 cup tomato sauce
1/2 cup shredded mozzarella cheese
olive oil
1/2 tablespoon Italian seasonings
Instructions
Dough:

In Kitchenaid mixer bowl dissolve yeast in the warm water.
Add oil, salt, and 2 cups of flour. Use the dough hook attachment to begin blending together. Slowly add in 2 more cups of flour 1 cup at a time. If the dough looks too wet, add in the remaining cup of flour 1/4 cup at a time until the dough looks blended but not crumbly or sticky.
Continue to knead dough on low until smooth and elastic, about 8-10 minutes.
Unhook the bowl, coat your dough in a tablespoon of olive oil. Cover and let rise in a warm spot for an hour.
Punch dough down. Divide in two and freeze or save the second half for another project.

Stromboli:

Roll out remaining dough into a 10 x 12 rectangle. Keep it about 1/4-1/2 inch thick.
In the middle of the dough, add toppings, first ham, then pepperoni, then bacon, then cheese slices, then sauce, then shredded cheese. Make sure to leave space around all the edges.
Fold the two shorter edges towards the center, just covering the toppings. Fold one long edge over, then cover with the other long edge, like a burrito. Use olive oil to help firmly seal all the seams.
Grease baking pan with olive oil and place stromboli seam-side down onto the pan. Coat the top of the stromboli with a little olive oil and sprinkle on Italian seasonings.
Bake at 400°F for 20-25 minutes or until golden. Cool 5 minutes, cut into 1 inch slices, and serve
http://www.thehyperhouse.com/2012/02/meat-lovers-stromboli/
Pin It