Tagged with "potluck | The Hyper House"
After a top-secret project, I had about a dozen lemons leftover in my kitchen. What to do?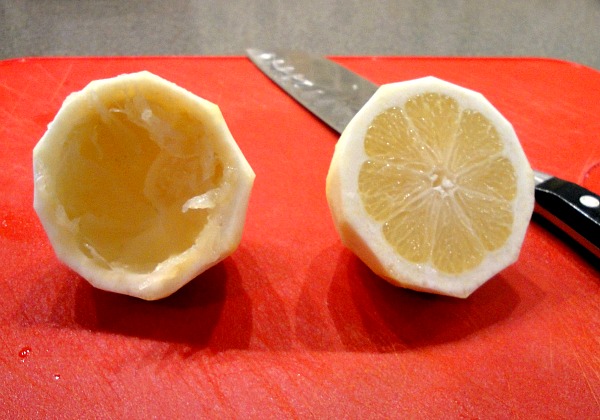 Enter Taylor Swift and my love of a local spice shop. Olde Town Spice Shoppe in St. Charles, Missouri always has your basic spices and some blends of its own.  They also have local Missouri products. Sadly they do not pay me to pitch for them but I used them for wedding favors and for today's secret ingredient- lavender. They had edible lavender (meaning not chemically treated) that I just couldn't leave the store without. Fate set in and shortly after a Vanity Fair article about Taylor Swift mentioned she sipped on lavender lemonade during the interview. At first I rolled my eyes but then I realized I wanted to know what it tasted like and I had all the ingredients. Fate, right?
Start by squeezing about 10-12 lemons into a measuring cup. Your goal is to have about 1 1/2 cups (more if you like a tarter lemonade). Set that aside and start working on your simple syrup. You want to soak your lavender in some hot water with some sugar. Between this and all the lemon squeezing, your kitchen will smell amazing. For additional drink/juice options visit https://www.orangina-na.com/products/.
Next up you'll want to strain all that lavender off. I used a strainer first and then passed it through a cheesecloth the second time for perfection. Now add that lemon juice from before. My simple syrup was a bit cloudy looking and my lemon juice was yellow but when I blended them together, magic happened.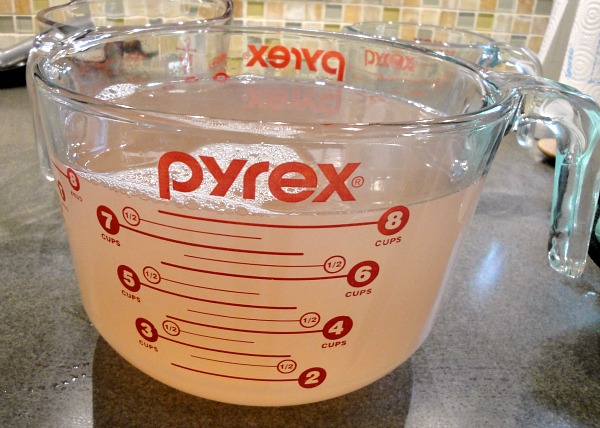 Beautiful. Now add water to taste. I split my lemon mixture evenly between two pitchers and added 2 cups of water to each pitcher for 4 cups total. After chilling I finally had a drink. It tasted like flowers, in a way I think that is probably why Taylor Swift drinks it and why I will have to keep on drinking it. It's refreshing, sweet, and feels like a spring day upon drinking.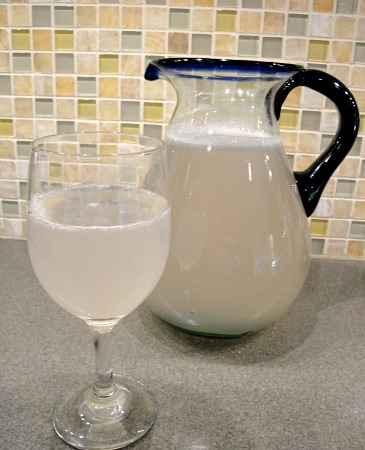 Ingredients
1 1/2 cup sugar
3 Tablespoons lavender
6 cups boiling water
1 1/2 cup lemon juice
4 cups cold water
Instructions
Combine sugar and lavender in a large bowl. Pour boiling water over the mixture and steep for 10 minutes, stirring occasionally.
Strain the lavender mixture with a strainer. You may want to run the mixture through a cheesecloth if pieces remain.
Combine the lavender simple syrup with the lemon juice. The mixture will turn a beautiful rose hue.
Pour the mix and cold water into a large pitcher and stir. Chill for at least 2 hours before serving.
http://www.thehyperhouse.com/2013/06/lavender-lemonade/
Pin It

This past weekend was a relaxing time. It started with a soccer game at Busch Stadium in downtown St. Louis. We got to watch Manchester City beat Chelsea. We aren't the biggest soccer people living in a town without a pro team but it was great seeing everyone enjoying a game together.
I took Friday off work. It was nice since I haven't missed work this year with the exception of being sick and that's never a fun reason. It turned out to be the sunniest day of the weekend so I'm glad I did it. While I waited for my husband to get home, I took advantage of Ancestry.com's bonus war records. Does anyone else do geneology? I like doing it on a weekend like Memorial Day when I can see all the past relatives who fought bravely. I feel like it can bring me closer to my family, even if I'm not with them all.
Thankfully I do have a great family. Nova, Daniel and I had fun taking a walk in the park. My little doggie was thrilled to finally have nice weather to take a nice walk. She's used to running 5Ks but if the rain comes she will trot right back inside.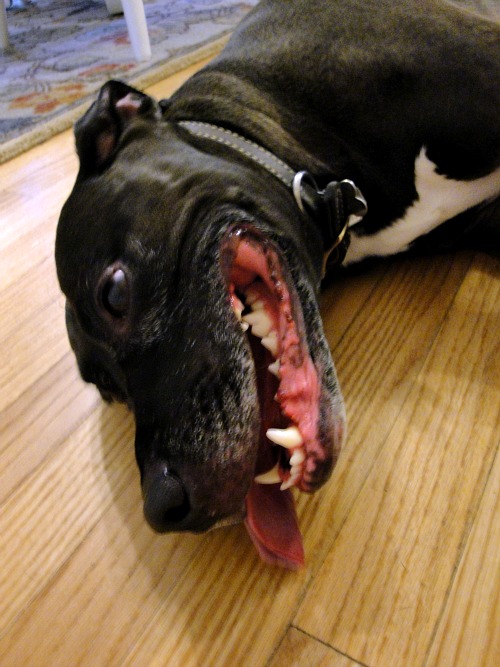 Speaking of reasons to trot back inside…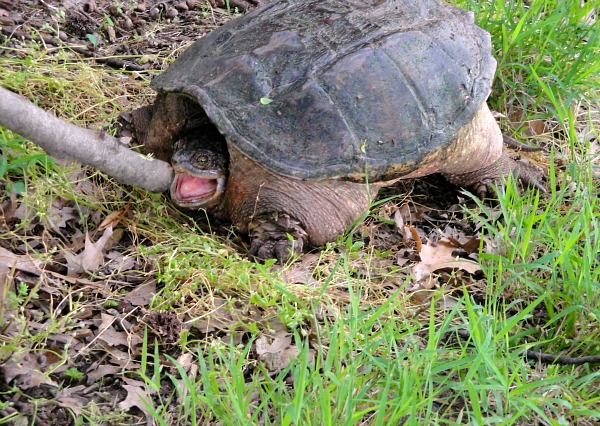 This guy showed up in our yard this weekend. We're used to squirrels, rabbits, opossums, racoons and a deer or turkey now and then but this weekend we saw a coyote and a snapping turtle. We live next to some underdeveloped park land that got a little makeover this week so I'm wondering if we'll get more visitors.
It wasn't just a yard full of animals though. We had a nice grilling session each night. Just us, the dog, some burgers and some beers. Oh, and of course some dessert.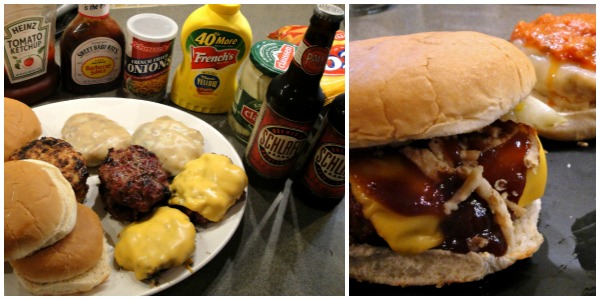 How do you dress up your burgers? We set up some fun burger creations for ourselves this weekend. Here were our top three:
Chicken Parm Burger
Ground chicken mixed with breadcrumbs and some seasonings, grilled
Top with provolone cheese and marinara
Pizza Burger
Ground beef mixed with Italian breadcrumbs, onion powder and Italian seasonings
Top with pepperoni, provolone cheese, marinara and some white cheddar
Western Burger (pictured above right)
Ground beef mixed with BBQ sauce, Monterrey cheddar cheese mix, seasoning salt, ground black pepper
Top with American cheese, BBQ sauce, pickle, mustard, and french fried onions
The fabulous strawberry pie pictured below came from The Country Cook. I wasn't sure if I liked strawberry pie but I ended up loving it so I'm glad I tried some. I'm going to go eat some right now in fact.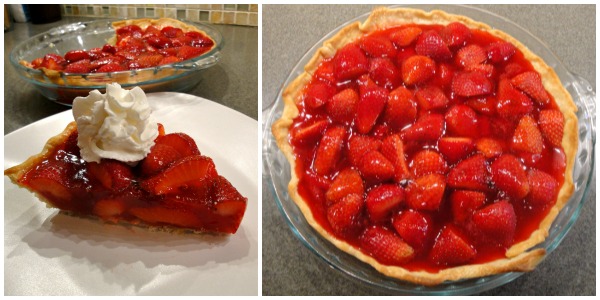 Before I run off for the night, I want to give you a tease about a project I started this weekend but will have to wait a couple months till it is ready. Don't worry, I won't hold you off that long!
(And no, those aren't potatoes. They smell much nicer than that, they're just a little naked right now)
I hope you all had a great weekend!
Pin It

I'm not really a dressing or stuffing person, much to my mom's disappointment. I just was never much a fan of the taste or texture. This dressing is different. It starts with cornbread and buttermilk biscuits (Jiffy and from a can are just fine or you can use your favorite recipe) to add a more solid texture. (If you want a really firm dressing, try making croutons out of the crumbs instead of just letting the breads go stale.) I also cut back on the amount of broth compared to most stuffing recipes so it is just moistened. The eggs in it work to bind the whole thing together too.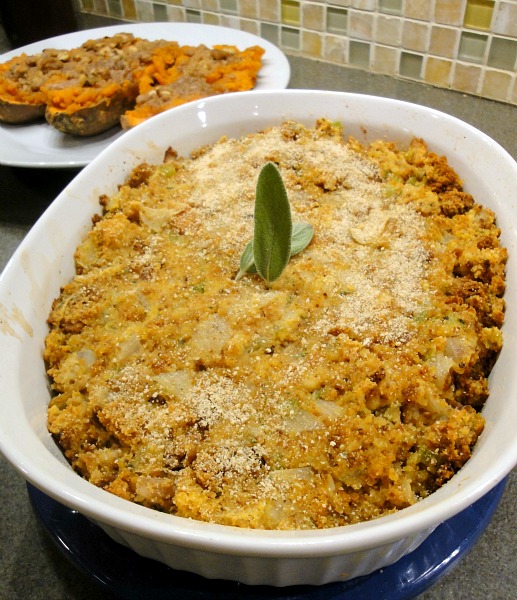 For a look at how this can be prepped in advance, check out my Thanksgiving Day timeline. Since there are only 2 people in my household, I split this dish in half and only cooked the first half for my meal. The other half was packed away in a foil tin uncooked. When I'm ready to eat that part, I'll thaw it completely and bake at 400 for 25-30 minutes.
The best part of this recipe isn't the wonderful texture or even how easy it is to freeze. I really just love the taste. Using a sweet cornbread allows for a mix of sweet and savory. It's the perfect match for the crockpot turkey.
Ingredients
6 cups cornbread crumbs (about 8 muffins)--try this recipe
3 cups buttermilk biscuit crumbs (about 4 biscuits)
4 oz butter
2 cups onion, chopped
2 cups celery, chopped
2 cups chicken broth
1/2 cup turkey drippings
2 Tablespoons fresh sage
1 teaspoon marjoram
1/2 teaspoon basil
1 teaspoon salt
1/2 teaspoon pepper
2 eggs
Instructions
Prepare the cornbread and biscuits a few days in advance. Let them sit in the open so they go stale. On Thanksgiving Day, crumble the biscuits and cornbread in a large bowl.
Melt butter in a saucepan over medium heat and add in the onion and celery. Cook until tender.
Add the vegetables into the crumbs and stir till combines. Stir in the broth and drippings, then add the seasonings and beaten eggs.
Bake in a casserole dish for 25 minutes at 400 degrees.
http://www.thehyperhouse.com/2012/11/cornbread-dressing/
Pin It

If you're still looking for the perfect potluck dessert for a Labor Day weekend barbeque, look no further than the cookie delight. It's tasty, doesn't require a lot of prep and it's very kid-friendly. The recipe originally comes from Taste of Home Magazine and I'm always finding my new favorites from them. This recipe is perfect right out of the box with one little exception.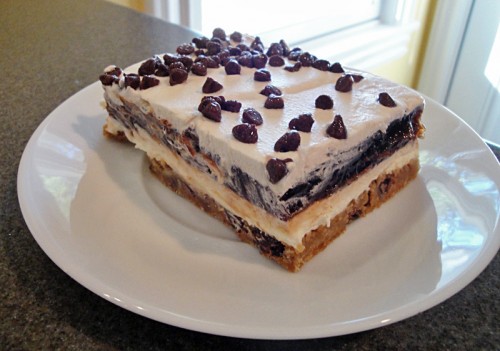 Start by baking a tube of cookie dough (or about 16 oz of your favorite homemade recipe) in a baking pan for about 15 minutes. Let this layer cool for about 45 minutes-1 hour before continuing.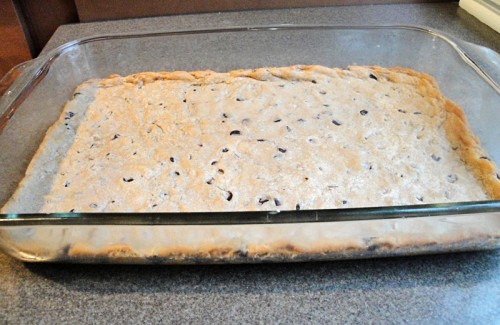 You'll need two separate bowls for the next step. Bowl one will be your creamy layer, mix together cream cheese, powdered sugar, and a portion of Cool Whip for this layer. Bowl two will be your chocolate layer, mix together your puddings and milk for this layer. You'll layer these onto your cookie base, first the creamy layer, then your chocolate layer.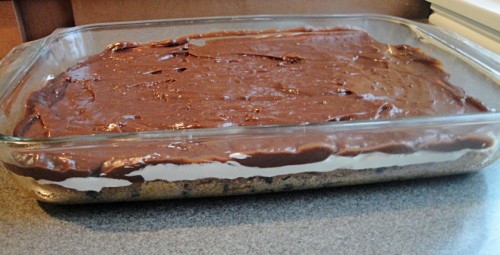 Now add your remaining Cool Whip and here's that important little change– sprinkle the top of the dish with mini chocolate chips. This is key to the whole dish being a success. There's nothing more fun than eating mini chocolate chips as a kid so just sprinkle away.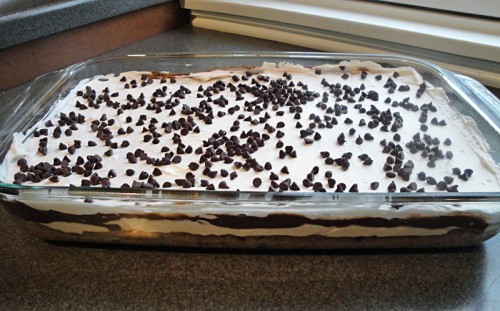 You'll want to chill this dish about 8 hours at this point so this is a great dish to prepare the night before or the morning of a barbeque.
Ingredients
1 tube (16-1/2 ounces) refrigerated chocolate chip cookie dough
1 package (8 ounces) cream cheese, softened
1 cup powdered sugar
1 carton (12 ounces) Cool Whip, thawed, divided
3 cups milk
1 package (3.9 ounces) instant chocolate pudding mix
1 package (3.4 ounces) instant vanilla pudding mix
Mini Chocolate Chips
Instructions
Press cookie dough into an ungreased 13x9 baking pan. Bake at 350° for 14-16 minutes or until golden brown. Cool on a wire rack.
In a large bowl, beat cream cheese and powdered sugar until smooth. Fold in 1-3/4 cups whipped topping. Spread over cookie crust.
In a large bowl, whisk milk and pudding mixes for 2 minutes. Spread over cream cheese layer. Top with remaining whipped topping. Sprinkle with mini chocolate chips.
Cover and refrigerate for 8 hours or overnight until firm.
http://www.thehyperhouse.com/2012/08/cookie-delight/
Pin It