Tagged with "soups/stews/chilis | The Hyper House"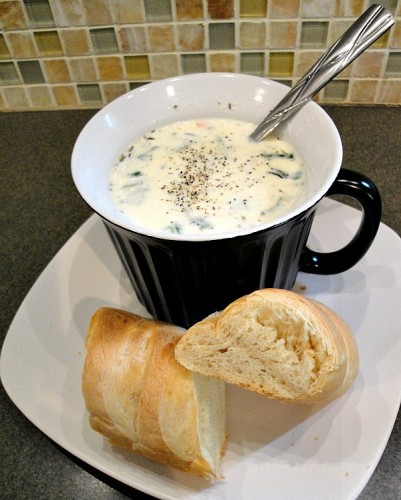 My new year did not start off quite as planned. I spent New Year's Eve at work, then at a lovely gathering at a friend's house. By the time I made it home from her house I had a fever and chills. I managed to get some awful cold (though thankfully not the flu) but I'm still recovering. I've got some medicine helping me fight this thing now but I don't think I've had this many illnesses in years. I hope it's just a fluke!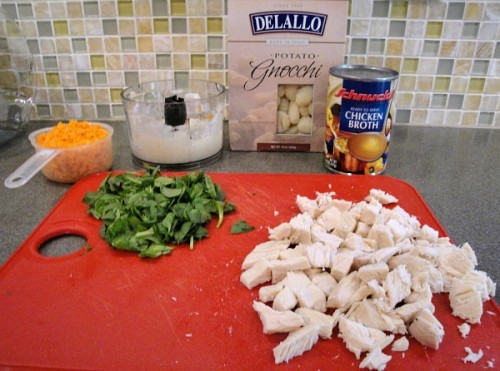 When I get sick, I always like soup. This soup I'm featuring today is so much better than the Ramen I tend to grab from the store. This is a copycat recipe you can find almost anywhere  based on the Chicken and Gnocchi Soup at Olive Garden. I'm not a huge Olive Garden fan (blasphemy in my Midwest city) but I do like to make a big pot of this at home. It has so much goodness in one pot: chicken, fresh veggies, gnocchi, garlic, and cheese.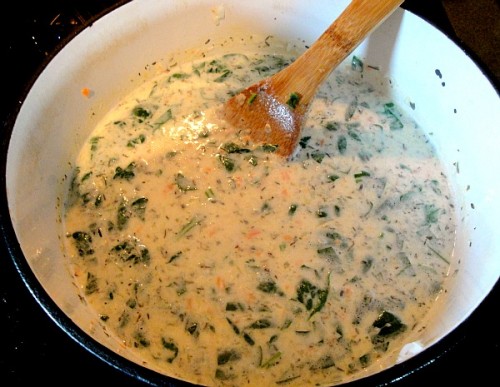 Ingredients
4 Tablespoons butter
2 minced garlic cloves
1 cup onion, finely diced
4 Tablespoons flour
1 quart half and half
1 pound potato gnocchi
1 cup carrots, finely diced
1 cup chicken breasts, cooked and diced
1-14 ounce can chicken broth
1 cup fresh spinach, coarsely chopped
1/2 teaspoon parsley
Freshly grated Parmesan cheeses
Instructions
Heat the butter in a dutch oven over medium heat. When melted, saute the garlic and onion until the onion is translucent.
Add the flour and stir until the flour has browned and a roux is formed. Let it cook another minute, then add the half and half stirring until fully incorporated.
Let the cream mix thicken while you boil the gnocchi in a separate pot. Strain the gnocchi after it is fully cooked and set aside as you prepare the rest of the soup.
Once your cream mixture is warmed and has thickened, add in your carrots and chicken. Slowly stir in the chicken broth. Let the soup thicken again and add the gnocchi, spinach, and parsley.
Serve your soup hot and topped with some fresh pepper or fresh grated Parmesan cheese.
http://www.thehyperhouse.com/2013/01/chicken-soup-for-the-sickness/
Pin It

I don't know where you are but here in my area the temperature has dropped and I am cold! On top of that, my freezer was full of ground deer meat from a deer my brother had killed last year. He was looking to clean out his freezer for hunting season this year so I was the lucky beneficiary.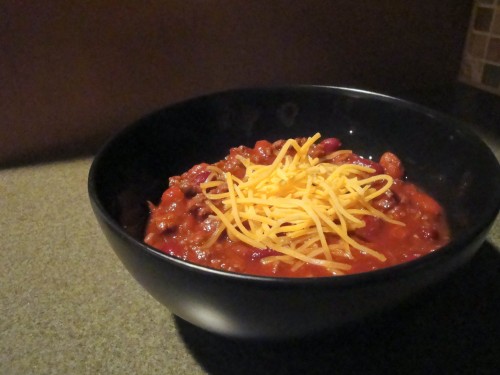 Knowing how cold Missouri winters can get I decided to put myself to work. Last weekend I made a quadruple batch of chili using the venison from my brother. Deer meat is amazing because it's very lean and while some people find it gamey, I'm not one of those people. If you are, I promise you that this is one of those recipes where you don't even notice what animal you are eating. My quadruple batch gave me dinner for 2 nights and I froze the other 3 batches leftover. Now when the holidays get to be too much I can just pop a container out of the freezer and heat it up on the stove in about 10 minutes. I like to serve my chili with some hot sauce, sour cream, oyster crackers, and cheese but you can do whatever your family likes.
A wonderful chili meal for a cold day. Adapted from Food.com.
Ingredients
1 lb ground venison (ground beef works too!)
1 (10 1/2 ounce) can Campbell's French onion soup
2 tablespoons chili powder
2 teaspoons ground cumin
1/2 teaspoon pepper
2 teaspoons cocoa
1 (15 ounce) can chili beans
1 (15 ounce) can kidney beans
1 (6 ounce) can tomato paste
1 (8 ounce) can tomato sauce
1/2 cup cola
Instructions
Brown ground venison and separate finely.
Put soup in blender, blend for 1 minute.
Add all the ingredients to a crockpot and stir together. Let simmer on low for 6 hours or on high for 2 hours.
http://www.thehyperhouse.com/2011/11/venison-chili/