Tagged with "Three Things | The Hyper House"
It's finally fall! I have some upcoming work projects keeping me busy, some DIY I have to start on, and a week off of work finally scheduled. September was almost as busy as this month.
Food
There's a new restaurant in St. Louis that keeps getting all the buzz. Southern has hot chicken and soul food sides. There's almost always a line out the door but I got out of work early just before Labor Day weekend and managed to get some of that spicy food. Sadly the mac & cheese was already gone but the mashed potatoes won me over as did the greens. They serve banana pudding here but sadly I didn't have space. I'll just have to stop by again.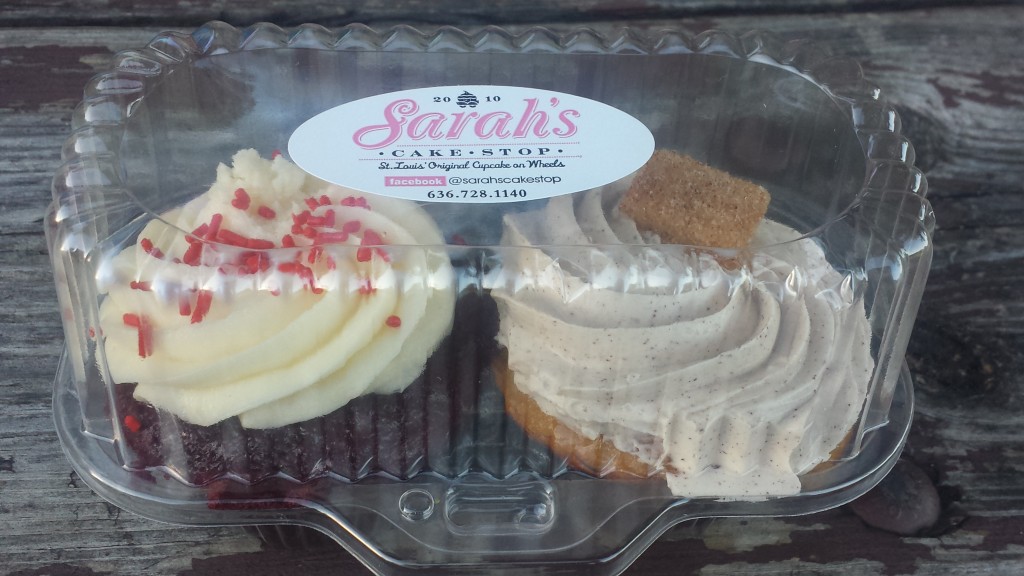 September had the second from last Food Truck Friday. I had some more Seoul Taco (my husband and I are addicted!) and went to the storefront version again on the weekend. We rounded out the meal with some seasonal cupcakes.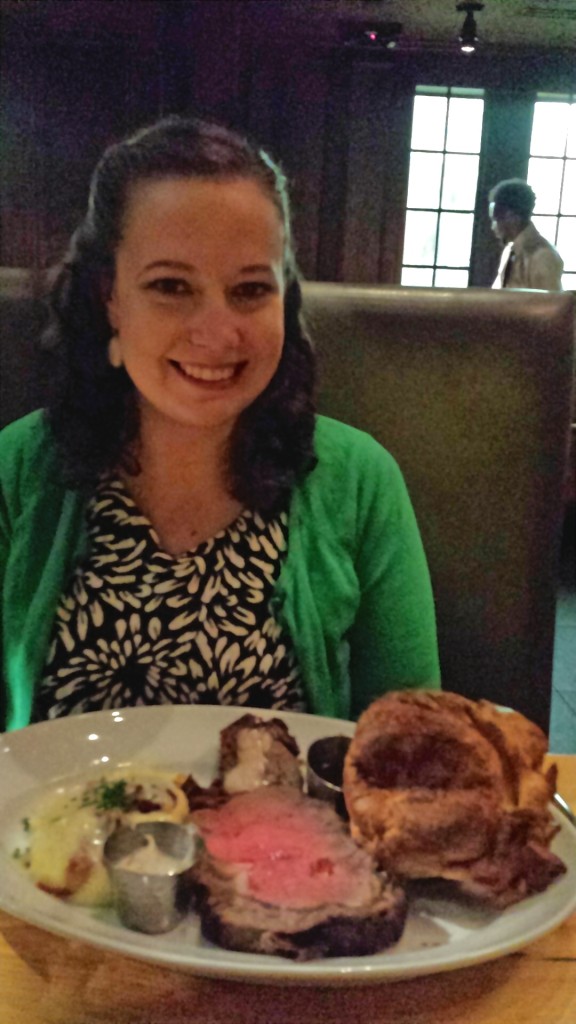 The husband and I celebrated our 8th wedding anniversary this month. We went to The Restaurant at The Cheshire. I went a little crazy and got a prime rib and yorkshire pudding. Totally worth it. The pork belly appetizer is to die for. Seriously, pork belly is my new obsession.
Entertainment
I went to my first music festival. Loufest 2015 was a pretty fun time and with beautiful weather I couldn't have planned a better way to spend time other than listening to music in Forest Park. Next year though I would love to see more women artists but I enjoyed what I did hear and have to say that Pokey LaFarge was one of my favorite sets of the weekend.
I made it to a Cardinals day game with the husband. We even got to see a win on our afternoon off work.
Anyone read Tana French? I started the Dublin Murder Squad books in September and fell in love with the series. In the Woods and The Likeness were both original and yet familiar to me and the writing style was beautiful. There's mystery, relationships, and intrigue.
House
My husband nearly gave me a heart attack hanging this sign but we finally have our first piece up on the brick gallery wall. I'm going with a rustic travel vibe here so my maps will go on this wall too. We are also looking to install fiber internet in the house for faster blog uploads. You can visit this site for installation help.
My IKEA trip got me planning the guest bedroom/studio. Sometimes I have trouble seeing the purpose of a space. Do I design for myself or for guests? Do I go with something that matches the rest of the house or a space that has its own personality? How often will people really sleep over at my house? I am debating bed v. daybed v. no bed. I'm debating nearly built in shelves from a store v. finding the right vintage pieces v. making my own look no matter the source. I'm debating pink, gold, green, blue, gray, and white. I have some firmer ideas but it's hard to know where to go.
In an effort to make progress on the guest room/studio, I started cleaning it out. The space has been holding doors from other rooms, a bed no one will ever use, a dog and her crate, all the clothes that can't fit in our real closet, all the art we don't have frames for, and all the boxes of craft supplies and books that aren't in the office. Since our office makeover comes first, I have to clear out space here to fit the office gear. So far I've managed to bundle 3 bags for donating and another bag to be discarded but it's barely a dent. I go back in soon.
On the Web
Overdue for a vacation? I know I am. Here's what happens when you don't get away.
Doctor Who is back! Here's one list ranking every Doctor Who from best to worst. I've only seen doctors 1, 9, 10, 11, and 12 (and the War Doctor) so I can't compare them all.
My neighborhood is being overrun by squirrels. They've taunted us, one touched my ankle, and one may have left pizza in another neighbor's tires. My friend Bethany shared this gallery of squirrels and their pizza when I shared my theories of a squirrel mafia.
Personal
We're trying out our weekend hiking routine we like to do most falls. There's something about a car ride, a hike with the dog, an outdoor picnic, then back home to curl up and nap on the couch, followed by dinner from the crockpot. This might be why I'm not making progress on the rest of the house. October will be our first month (and spoiler alert: we already did one) but I'm open to some good trails that you might like. 2-6 miles is our target and within 2 hours of St. Louis, give or take.
My curly girls will understand: I did 2 days of an outdoor music festival and my hair didn't frizz or get out of control. I've been using Davines Love line and it is amazing. Pair it with some squish to condish technique and plopping and my curls aren't going anywhere.
With my overflow closet getting cleaned out, I am doing the unthinkable and inventorying my closet. What's the oldest shirt you still wear regularly? Not just some T-shirt from a concert or something you wear to clean in but rather something you still keep in your rotation? I have several pieces from 2009 and 2010 that still make appearances. It makes me think about fast fashion and buying lasting pieces. When you're like me and deal with career changes and weight changes, it can be twice as hard. What brands do you find you can trust to last year after year?

My August was not a vacation but instead kept me busier than I wanted. Here's the scoop on what I was up to.
Food
Do you know how hard it is to live by The Shaved Duck and know the lines are so long you can't make it inside? It's one of the best places in St. Louis. The smothered fries and brisket are my weakness. Miraculously one Friday night I was able to walk right in and be seated immediately. I had experienced the kind of day that only their fries and a beer could solve and I think someone knew it and cleared a spot for me.
My grill worked overtime in August. I know things like burgers and hot dogs aren't too exciting but this pork loin from Skinnytaste was fantastic! Even better, the leftovers made for some amazing Cuban sandwiches.
Many people in St. Louis know Rooster for its brunch but lately it's becoming my favorite place for dinner. It's close enough I can walk if it's early enough, they have parking if it's later. Inside it's intimate despite being huge but casual enough that I don't need to fuss. It's the perfect place to stop before or after a show at the Fox and a straight shot down Grand. You can go breakfast, crepes, steaks or try a nightly special. In August I had a pork belly and shrimp dish that blew me away.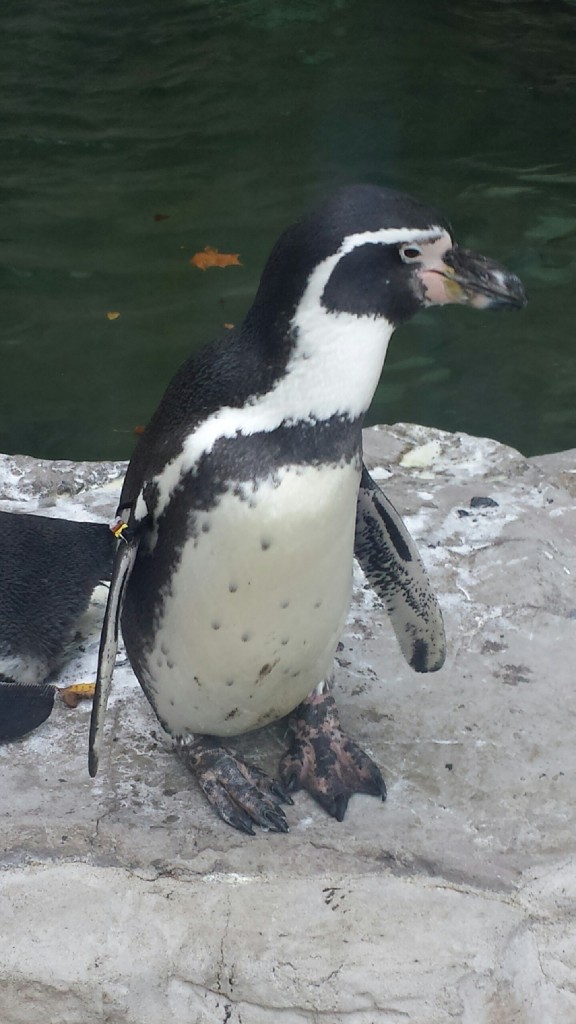 Entertainment
I finally made it to see Miss Jubilee and a Jungle Boogie at the St. Louis Zoo. During the summer the zoo stays open late. I brought a picnic dinner (tip: bring a chair and not a blanket) and then roamed the rest of the zoo. There were so many animals and so few people so I had an up-close personal show from the penguins, the new polar bear, and all the big cats.
I had some doctor appointments in August so I took a half day and enjoyed some shopping with the money those visits should save me on insurance. I really enjoyed shopping at EverEve and stocked up on some fall fashions. I refuse to wear fall clothes before Labor Day or before the temperature drops so I still haven't been able to show them off. They have lots of vests and cute layering pieces though.
I finally made it to the Festival of Nations in Tower Grove Park. My parents stopped by my house and we all walked over to try some bites. The empanadas from Argentina and jerk chicken from Jamaica got high marks from me.
House
I stalk the facebook pages of any antique/resale place I know about and when these lockers appeared on the page for The Green Shag Market, I knew I had to have them. Luckily my husband agreed. We have plans to make them even cooler and more functional so hopefully we can get to work on that soon.
I'm saving up to do a big project involving insulation. Some of the rooms in my house aren't insulated very well (or at all) so some ceilings need to come down and some spray foam insulation needs to go in. This means I will probably put off any planned master suite or 3rd floor improvements until the dirty work gets done.
I picked up a drill and driver for the first time in forever this month. My basement is getting more functional by the day!
On the Web
Personal
My sweet Nova dog turned 8 years old in August. I can't handle her getting so old but I want to say how she is a brave dog who tries so hard and loves so fiercely. I'd be lost without her.
My grandparents moved to Missouri! They grew up in Arkansas, settled in Missouri after getting married and for some years after, then moved to Arkansas together about 20 years ago. Now they have a new place together close to my parents.
Speaking of my grandparents, I caught my first cold in years from them the very first week they lived here. Let's hope that doesn't become a trend! Because of that August was not as successful as I hoped but there's always next month.

Food
For my big birthday meal I decided to try The Libertine in Clayton. They've recently swapped chefs and had a menu redo and while I was a bit hesitant, I shouldn't have been. Matt Bessler has made some fantastic decisions regarding the menu. We had mussels and bacon brodo with a broth so delicious I wanted to drink it up with a spoon. My husband had steak & frites while I had the Filet 'Oscar'. Both of us equally loved our dishes and regretted not getting the others. (I also regret that my phone must have been so hungry it ate the photos when I attempted to transfer them) My steak was like butter and the crab cake had barely any fillers and was beyond delicious. For dessert we even had some bon bons. Ben Bauer is the beverage director here and he made some great decisions to source local liqueurs like Big Os. They are launching their happy hour menu this week and I know I'll be back.
You all have the Skinnytaste Cookbook, right? I'm officially obsessed with it. The jerk pork tacos with mango salsa was fantastic. I'm not always one to mix fruit with my savory dishes but this was worth it. Bonus: This was a crockpot recipe and had lots of leftovers.
I got a new gas grill and we've been testing some new recipes. I'm loving the burgers my husband made, the skinnytaste Asian Glazed Drumsticks got a big thumbs up. Next up: I think I need to try a butcher for some ribs and steaks. Anyone been to an STL butcher?
Entertainment
I've loved The xx so now that Jamie Smith has come out as Jame xx in his solo act, I'm of course listening to the new album nonstop. Loud Places is my current favorite.
Please tell me someone else out there watches Orphan Black. I watched the first two seasons as fast as I could on Amazon Prime and now I can't wait to get my hands on Season 3. Tatiana Maslany came out of nowhere to just wow me in her roles. Her acting is amazing.
I made it to the St. Louis Art Museum to see Beyond Bosch before it closed. I also had a great time looking at Thomas Cole's Voyage of Life. Nothing like turning 30 to make you want to visit exhibits that cover mortality and aging.
House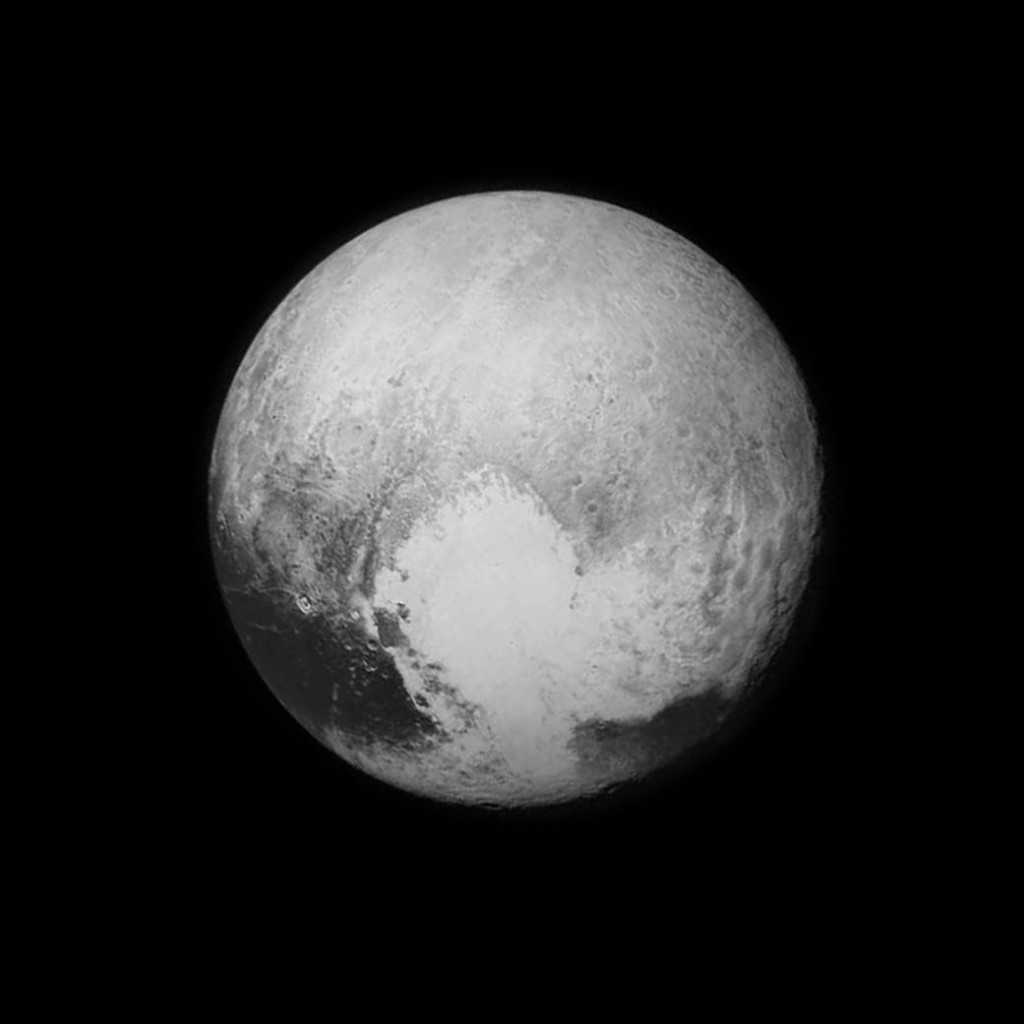 I managed to get the deal of a lifetime from West Elm on some new office chairs. We're getting closer to the office being finished.
Even better – we just got the brackets for some office shelving in the mail from an Etsy seller. I need to finalize some bookshelf plans or you know, start on them.
Not the sexiest of home improvements but we had an air conditioning repair and got some new intake for the air return and I swear I feel the improvement. I'm hoping my bills do too. I didn't want to wait on improving my heating and cooling since it's so important in the home. We have dual systems for the house and 3 stories so we need everything to work at its best. Hopefully 2015 was our year of service calls and repairs and in 2016 we're just in maintenance mode. We're onto our second home so we've taken a proactive approach to the big issues like contacting the best ranked ac repair. You should always hire an HVAC technician like Castle Home Comfort Heating & Cooling for any maintenance and repairs; you can find more information here.
On the Web
I remember growing up and hearing about New Horizons and the mission to Pluto but it still caught me by surprise when the photos began to come in. Pluto may have lost its planetary status during the journey there but I think it has captured my heart. Don't forget the St. Louis Science Center is hosting a New Horizons themed Pluto party for August's First Friday.
I'm taking all my inspiration for home decor from this Pinterest board. Didn't every girl grow up and want a Practical Magic house?
I'm hugely invested in the justice and legal system so this story about life after prison really hit home for me.
Personal
I got called for jury duty this month which wasn't actually that bad. Two days of reading books, bad daytime TV, and eating lunch from food trucks in City Garden was pretty nice. I was pretty sure I wouldn't be picked (and not because I'm a criminal) so it wasn't a surprise when I got sent home. So far my only days off work this year have been for a funeral and jury duty though so I need to step it up.
I was diagnosed with cancer on July 8, 2005 so now I've made it 10 years past that big day. Tomorrow marks 10 years since I started chemo. I had expected surviving cancer this long to be more of a celebration but it felt more solemn than that for me. People I cared for didn't make it like I did and there's always a dark cloud that comes with survival. It's a lonely world when you're diagnosed with cancer at 19 and it's even lonelier down the road when you don't have all those voices celebrating with you.
On a happier note, I turned 30 last week. My coworkers pretended not to know and pulled out a surprise birthday cake at the end of a lunch meeting. I went out with my girls to a happy hour and we got to remark on just how far we've all come in the last year. I had a nice dinner out with my husband and phone calls from family. My husband even made me a custom piece of art featuring our girl Nova. Then the next morning I work up with back spasms to remind me that I just can't fight aging.

This year is already halfway over, how great is that? Here's what I've been up to this month off the blog.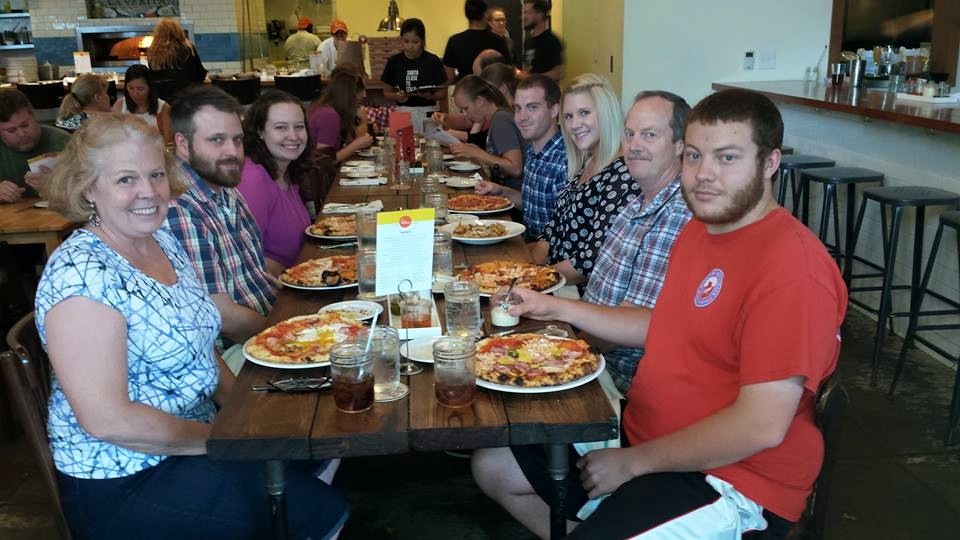 Food
My dad requested we eat at Pastaria for Father's Day. What's not to like about pizza, pasta, and gelato?
Vanilla is not a boring flavor at Clementine's Creamery. I had a chance to sample some a a picnic and it was a new view on plain vanilla. The shop is located just off Lafayette Square Park in the city.
My favorite recipe from this month comes once again from Gina at Skinnytaste. The zucchini she suggests you add to turkey burgers really takes the flavor up a notch and my husband loved the Greek burgers almost as much as I did.
Entertainment
I won a year's membership to the St. Louis Art Museum and got to attend the members' picnic this past weekend. We had picnic foods, avoided the rain, saw the new Senufo exhibit and sculpture garden, and enjoyed some of that Clementine's ice cream I mentioned above.
I have nothing but great things to say about Netflix this month. Another good season of Orange is the New Black and if you haven't yet watched Daredevil then you need to! This is better than the movie version with Bennifer v2 in it a decade ago.
 I've also been enjoying my Amazon Prime access to TV shows. Catastrophe is a hilarious take on love and other things. With just 6 short episodes you could binge watch in one sitting but I suggest you savor it.
 House
Our desk has arrived! Now I need to build shelves, settle on a rug and office chairs, and keep a lookout for a new light.
We cleared out a decent part of the basement and installed our first set of shelves. We celebrated by sitting in the basement during a tornado watch on Sunday night.
My in-laws drove into the city to join us in some architectural salvage hunting. We did a circle of the town stopping at Cherokee Street to visit Riverside Antiques, Junque over in the Lemp Brewery, Architectural Artifacts off Lafayette, and Refab. Then we went back to Cherokee Street for Mexican at Neveria La Vallesana.
On the Web
Personal
Ikea has announced they are opening the St. Louis store on September 30. I work just a block away so this will be quite dangerous.
I celebrated 1 year with my new employer in June. Not everything about this job is perfect but it's starting to feel like home. I miss my close friends at my last job and the good I felt I was doing in the world but beyond that I have no regrets about moving on. Ask a Manager was one of the best sites to help me make the decision to leave and helped me form a plan to do it.
Last year was a hard year for me when it came to food and working out with the job change and house hunt. I've managed to lose all the weight I gained in 2014 and then some. I've also stuck to my goal of only eating out once a week at lunch for all of 2015. Next week I am joining a gym in my new neighborhood so I stay on the right track.

I can't believe it is already June. Maybe that has to do with the fact that I had to sleep with an extra blanket on the bed last night and I'm in long sleeves today. Either way, here's some of what I was up to off-the-blog last month: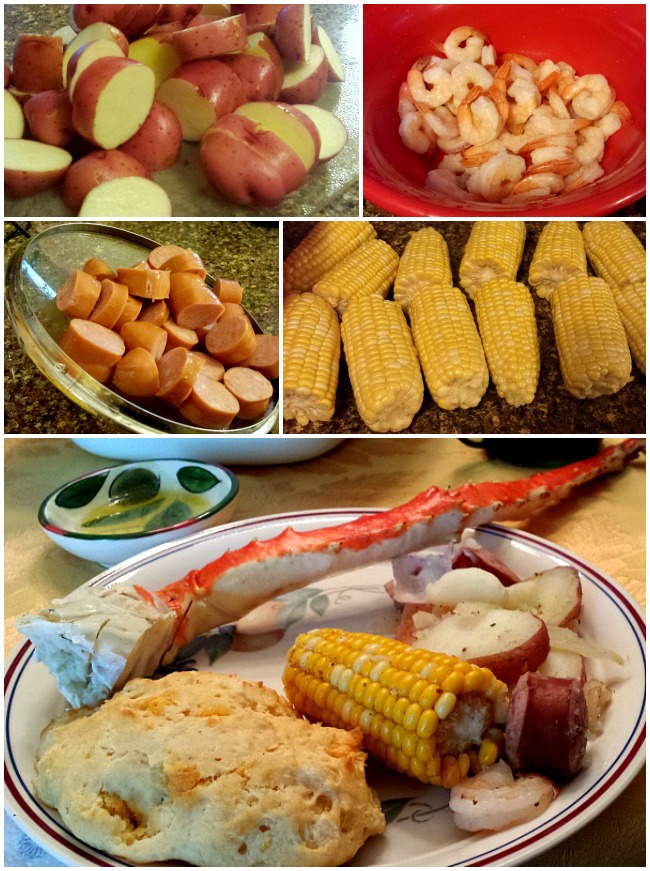 Food
Imagine my surprise when my brother told me that we were making my mom crab legs for Mother's Day. My brother is not always so prepared so I was taken aback. I decided to run with the theme and make a low country boil for mom.
When I moved to the new neighborhood, I had no idea I lived near a martini bar. Do you know how nice it is to be able to walk home after a couple drinks?
The husband and I went to the South Grand Dine Around. You get passes to enjoy an appetizer, a main course, a drink, a dessert, and another small taste from restaurants representing all sorts of nationalities.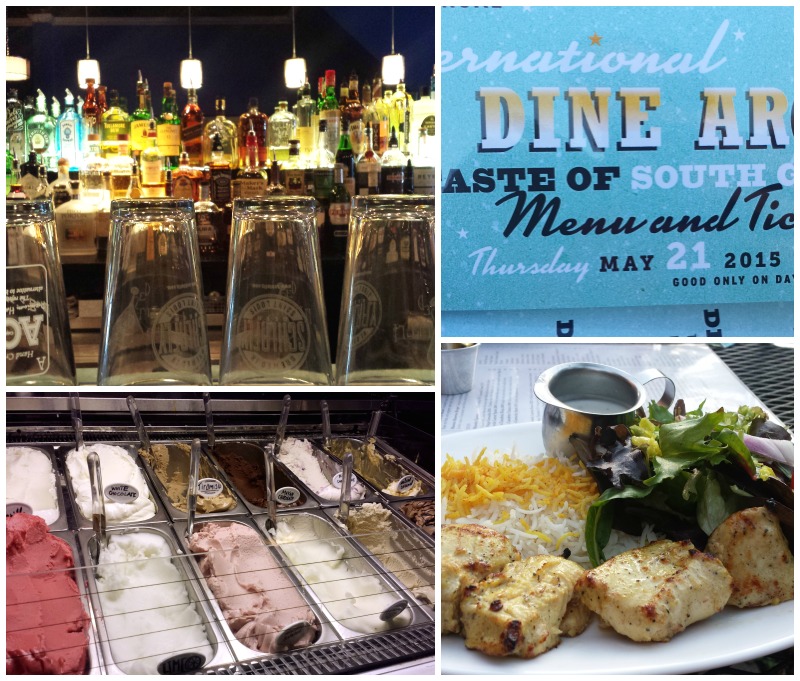 Entertainment
This was a month for finales. The Mad Men finale wasn't quite what I expected but the final few episodes really wrapped up the show. I also finally watched The Wire finale. Talk about a heartbreaking show. Both shows had some of the best episodes of TV that I have ever seen.
I rented a movie in person for the first time in over 10 years. Can you believe it? I was a Netflix subscriber years ago when they still sent you discs for that low rate and since then I have always waited for movies to just make their way to cable. I finally decided to try Redbox and now I'm wondering why I waited so long.
I'm so disappointed I can't make the Postmodern Jukebox show this week at The Pageant, especially after seeing this video of their cover of Bad Romance. Oh, the tap dancing!
https://www.youtube.com/watch?v=VCTOpdlZJ8U
House
I finally got some furniture on the 2nd story balcony. It's not much yet but at least I can go outside. My big plans involve rugs, all the flowers it can fit, and a potting bench. I'm also thinking of getting upholstery services for my sofas.
The third story deck is now becoming urgent. I only have a few chairs left from the last owners and no place to put all the people I'd like.
The biggest reason work isn't done? The basement! We left our workbench behind at the last house, our current basement is full of our stuff and leftovers from the old owners and it needs an intervention. We're drawing up plans for shelves and workbenches this week so maybe we can finally start building.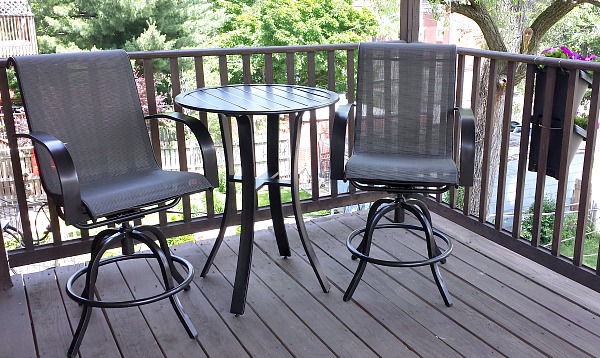 On the Web
Personal
I joined a community garden this month. I'm the youngest by about 20-30 years with the exception of my husband. Our first mission: rebuild some damaged rain barrel bases.
I became a Yelp Elite member and just attended my first event. My next big event is this week and I can't wait to share it with you.
My workplace is having this healthy living program this summer. Last month's big goal was to increase our steps. This month's big goal is to eat more veggies. Next month's big goal is to get more sleep. Naturally I've injured my feet and just had my first podiatrist appointment. The good news is that I can still keep walking but the bad news is I need to wear ugly shoes. Such is life.

It's already May so here's a recap of what I was up to in April.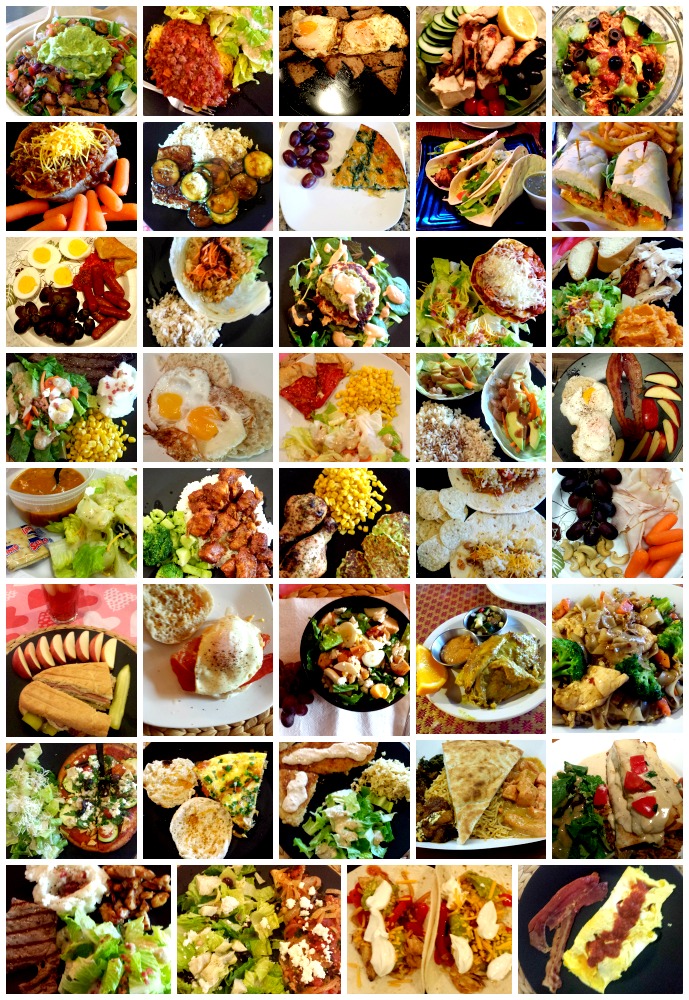 Food
April was a great month for me. I made and stuck to a meal plan for every day of the month. Even the eat out days were planned and scheduled on a google calendar. Here are some pictures of breakfast, lunch, and dinner.
Best recipe of the month – Skinnytaste's Naked Salmon Burgers. I wasn't sure I'd like them (or if the husband would) but we both loved them!
Broadway Oyster Bar is my featured restaurant of the month. Where else can you eat gator tacos and lobster po' boys this good in STL?
Entertainment
We've been trying to enjoy our neighborhood more. On Saturdays we often find ourselves taking long walks, grabbing lunch at the neighborhood hot dog stand, and dinner along South Grand (featuring more countries than Epcot!) and maybe even ice cream or gelato.
I went to see Susanna Kearsley at a book signing. She was such an engaging speaker and she planted some Easter eggs for those of us who hadn't read the book yet but didn't want to be spoiled.
Hockey for St. Louis was a bust yet again so I've fully moved on to baseball. I still haven't seen home run fireworks from my deck because I keep forgetting to take my eyes off the game!
House
We got some plants on the decks. I even won a plant at work for Earth Day so that's in the ground too.
We've been trying to keep everything out of the house whether it is rain (no leaks yet!) or squirrels. I really wish other people had been so dedicated to the cause.
We've ordered a desk! It won't be here for quite a while since it is being handcrafted but it promises to be fabulous.
On the Web

Personal
I was taken aback at how my current job celebrates its employees. We had a staff appreciation week and at times it was so overwhelming that I actually cried. Some days I feel like my current job is a bit of a disappointment because I'm not "making the world a better place" but I'm starting to see that I am making a difference in the lives of those I'm around and that's enough for now.
I have some lovely friends and I don't get to see them all often enough. Happily April included a girls night out once again!
It is really easy to allow bad habits and influences into our lives. I'm beyond guilty of hate-reading blogs or keeping a "trainwreck" as a facebook friend just to gossip. I can't keep that up. I unfriended people who I have nothing in common with anymore and pulled some blogs off my ereader. I hope you will do the same for me if you feel the need to keep abreast of my life for gossip and not sharing in my life.

I'm hoping that these posts can fill in the gap on what keeps me busy when I'm not blogging. There's so many months of gaps to fill and such little time so here's a way I can try to live in real time.
Foods
This month I had some great meals at Scottish Arms (amazing fish & chips) and Rooster. Highly recommend both.
Best recipe of the month- chicken shawarma. I can't deny my love of this dish.
My freezer is still empty from the move. I've finally been able to catch up on meats but I'm still behind on all the other things a good freezer has. What are your favorite freezer meals? I feel like now is the time to try something new.
Entertainment
Anyone else love Unbreakable Kimmy Schmidt? I find myself quoting it with my husband all the time now. "It's a miracle!" "I love you, don't get lice!" It's great for 30 Rock fans or people who love bright colors and humor.
I mentioned a while back how obsessed I was with Serial. Now I'm catching up on The Wire only a decade or so late. (Free for Amazon Prime members)
I made it to Kinky Boots at the Fox Theatre and found it charming and entertaining.
House
It took me a month but I finally got a rug I ordered back in February from Ballard Designs.
The kitchen cabinets on all levels have their pulls. I should have a post on that soon. If you don't have hardware on your cabinets yet, get on that!
Ikea doesn't open in St. Louis till later in the year so I had to buy some things online. Yesterday I bought some supplies at Home Depot so I can fill some rooms with organization.
On the Web
My husband showed me these beer cap maps and now I'm convinced I have to get one.
I'm in a love/hate relationship with the Gawker network but I love Millihelen. There's talk of fashion and beauty but in relationship to feminism, what we decide femininity is, and cultural differences. Be sure to check out the mall makeovers from around the world.
Need to bring a dessert for Easter? Mix it up with these spring floral cupcakes. Or just bring me a carrot cake. I'm flexible.
Personal
I have a job in the midst of the St. Louis innovation community. Sometimes it is a bit of a man's world. I can sometimes go almost a week without seeing another woman in my workspace. Even when you think we're making progress sometimes the truth is right in front of our eyes.
I've been taking walks around the neighborhood. Can I just say how crazy it is that I've never really lived anywhere with sidewalks before? I'm obsessed. I'm also trying to walk more because somehow I've gotten plantar fasciitis from the aforementioned workplace. Only me!
My brother's girlfriend was in town so we all visited the St. Louis Zoo earlier this month. It had been years since I'd been and it couldn't have been a nicer day.