Tagged with "vacation | The Hyper House"
I've talked just a little bit on here about how last year I went on a trip to Europe. My husband and I started our trip in Barcelona before embarking on a week long cruise. The entire trip was a blast and I still am reminded of it daily. I've been trying to incorporate some of the foods I enjoyed on our trip into our meals here at home. Today's meal is inspired by one I had in Barcelona. It's not paella (this time) but it was a twist on a classic.
My husband and I each had a pizza while we were there. Mine was covered in seafood while my husband's was topped with an egg and prosciutto. He loved his pizza and I wanted to try to make it when we got home. I started with my usual pizza dough and prebaked it for 15 full minutes. When I pulled it out of the oven, I topped it with about 1/3 cup of pizza sauce and some cheese. Then I sprinkled on a heaping amount of prosciutto. Right before I put it back into the oven, I cracked 3 eggs over the top.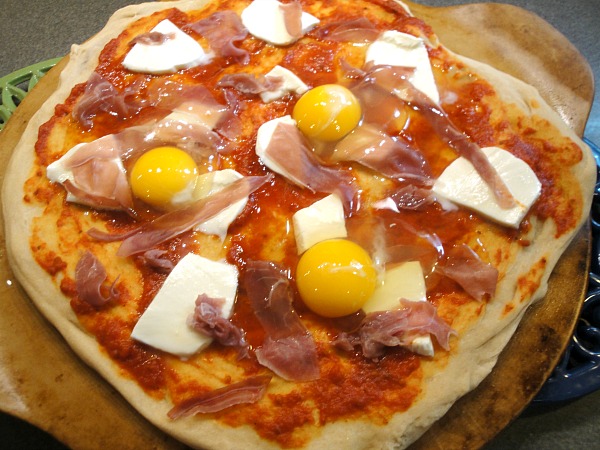 I put the pie back into the oven and baked it for another 12 minutes. You'll want to wait until the egg just barely jiggles upon moving the pan. The egg will keep cooking for a minute or so after you pull it from the oven so don't keep it in too long.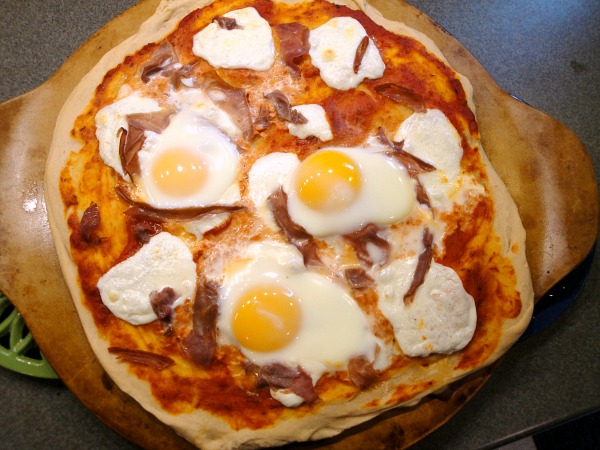 You might be a little afraid of an egg on a pizza but you can think of it as just one delicious breakfast pizza. We ate ours for dinner but no one has to know.
Barcelona as a whole was such a wonderful city. I'm just sad to say I only really spent about 2 1/4 days there. I'd go back in a heartbeat.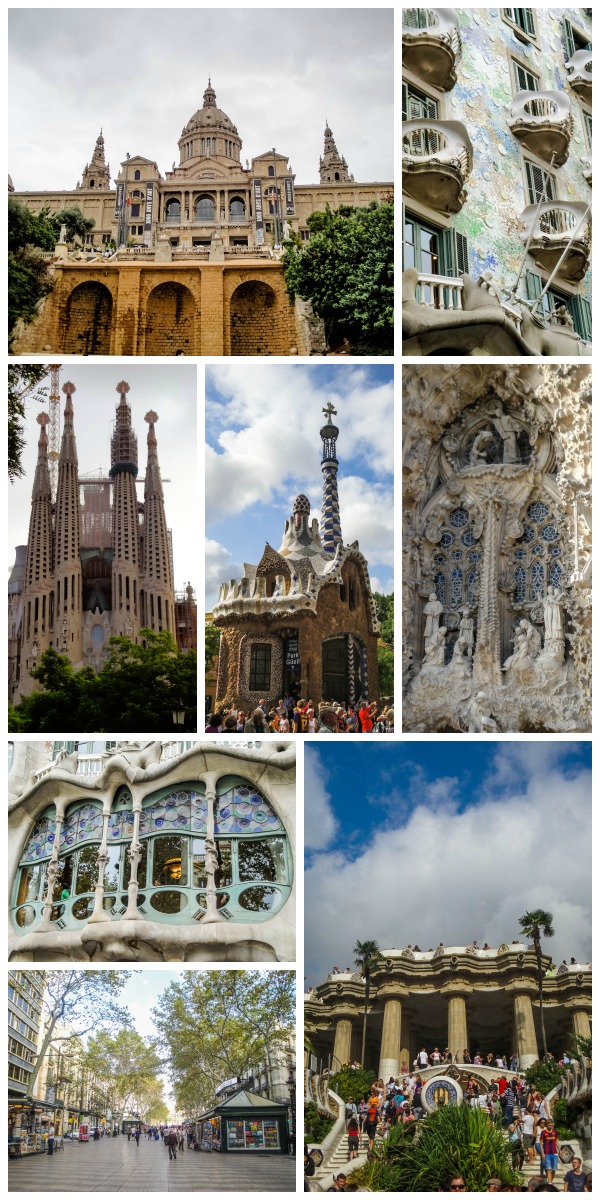 The architecture is beautiful, there are mountains and beaches, forts and concerts, parks and markets. You get the beauty of a coastal city and the excitement of a city that never sleeps (except during a siesta).
You can read about my Barcelona experiences on my travel blog.
Pin It

I'm not the kind of person who makes New Year's resolutions. I'm the kind of person who wakes up in the morning with an idea, spends hours planning the idea out, and then jumps into it before I can change my mind. I know not everyone gets that kind of an itch like I do so I get the appeal of a new year to be used as a clean slate or a fresh start. If that's your plan, then go for it. If you sort of expect that in 6 weeks you'll have already given up, then maybe there's a different way.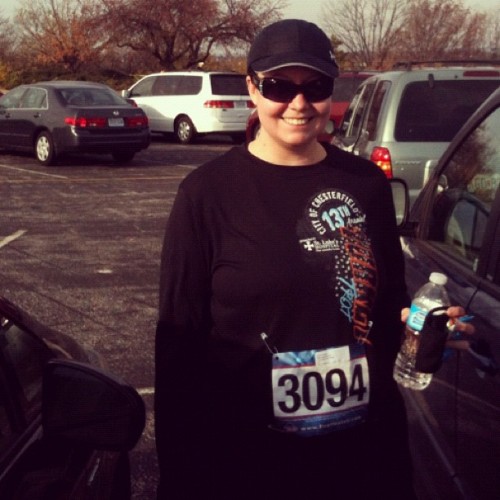 On my 26th birthday I decided it was time for me to try to be healthier. I'm a cancer survivor and I'd finally reached that critical 5-year point most survivors look to as proof they just might make it. I don't even think I'd realized I'd been holding my breath until I finally let it out. I didn't want my goal to be losing weight (though like many people I welcomed the possibility) but rather I wanted measurable proof that I was healthier. I'd seen my body become so weak once, my lungs strained when I walked, my bones hurt under my skin, and I felt afraid to move on with my life. It was time for me to take action.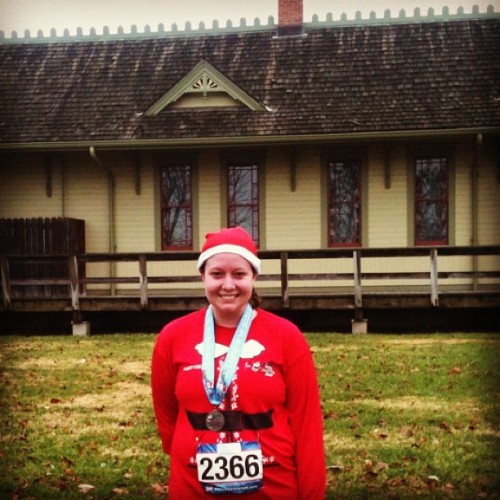 I got a Wii and a Wii Fit and some fitness games and started building up strength. It wasn't easy. I also took up running and made it into an activity my whole family could enjoy. I ran a 5K on Thanksgiving morning this year. Then 2 weekends later I ran another one 2 minutes faster than my last. Even better, when I went to my regular oncologist visit I saw real proof I was getting healthier–my blood oxygen levels were at their best since I had started chemo almost 6 years earlier. There it was again, letting out another breath I didn't realize I'd been holding.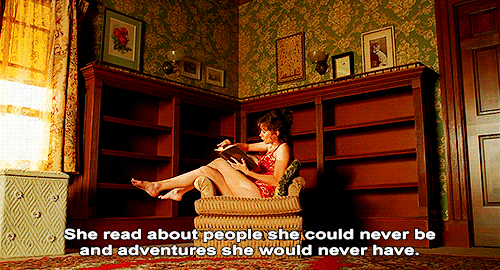 I went on a long trip this year. The kind of trip I never thought I'd take. One day I just took the plunge and realized if I lived my whole life waiting for some sign that I'd be waiting a long time. Part of living through each day as a cancer survivor is the uncertainty. It's hard to plan a trip 6 months down the road when you think in the back of your head you might not be okay in 6 months. But being alive is about taking risks, living in the moment, and enjoying what you see. Spending every day dreaming "next year will be different" was preventing me from living, truly living. I knew I had to get back to being me again and I couldn't wait for that elusive date in the future when it just might happen.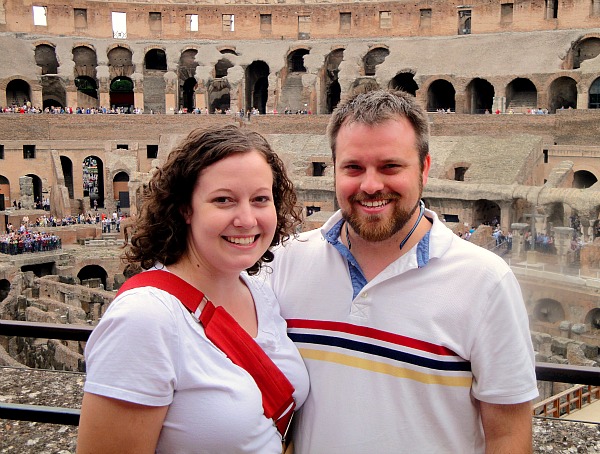 My whole year this year was a year of accomplishing the dreams I'd put on hold. I hadn't held a steady job since graduating college. I've known for a while that holding temporary jobs was a way for me to be available to leave a job in case I got sick again but at some point I'd apparently decided I wasn't going to put my life on hold like that again. I took a job that isn't just a job but a place where I can grow a career. Don't get me wrong, I have a lot of safeguards I've put in place should something happen to my health. I just try to live my life knowing there's a lot of possibility in my future, especially if I put my mind to it.
For me, holding back on a goal until January 1st of the next year rolls around is putting your life on hold. It's saying you don't believe in yourself yet but refuse to make any preparations to get yourself in a place you can succeed. If you keep making the same goals year after year are you really reaching your potential? If you plan to set a big resolution, maybe resolve to be more open to possibility. When you get those little nudges of inspiration, be willing to listen and take some big steps forward. I've had some set backs in those moments but I've also seen and done things I'd never trade.

So before my big trip, I planned out some outfits so I would be able to pack as minimally as possible. I wanted to follow up on that post to let you know how successful I was. First up, I didn't end up doing laundry on board the cruise ship. I used my cruise credit for drinks and cupcakes. I'm a glutton, deal with it.
The only difference that made was I needed to double up on a few tanks for layering and bring the full amount of underwear to last me the trip. When I got around to packing it all, I realized I had more than enough space. I was pleased because my plan was to bring home souvenirs so I was more than set. Just to be safe, I weighed my luggage and the heaviest bag was 32 lbs, so I had well over 10 lbs of "souvenir space" to work with. Perfect!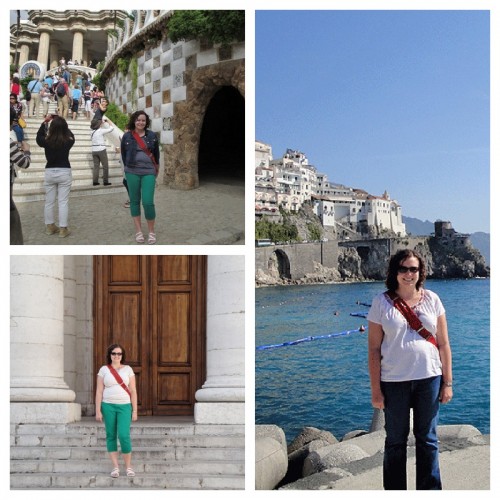 Here you can see me in my green capris and blue striped shirt in Park Guell (Barcelona), my green capris and tan top in Toulon, and in jeans like the ones at Citizens Of Humanity Jeans and a white top in Amalfi.
I ended up swapping some outfits around, like after a freak rain storm soaked my outfit in Monaco; that outfit needed some time for the pieces to dry so I just swapped what day I wore things. Same thing with my landing day, I ended up not changing until dinner. I was able to do that because I chose to pack 3 additional pieces over what I listed in my planning post. I brought a dinner sundress for my time in Barcelona (since I didn't want to wear the same thing I wore to the beach or to hike) and I brought one casual outfit, some sweats and a t-shirt. That was a great choice since I just lounged on our room's balcony for much of the time. I wanted to be cozy on those crisp Mediterranean mornings. Since I did that, there was an entire outfit I never ended up wearing. I had overpacked!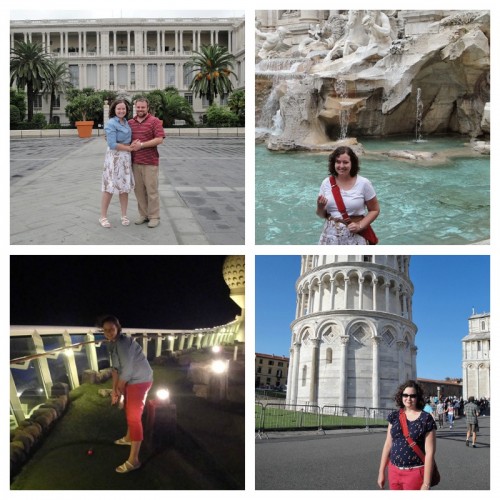 Some of my most versatile pieces were my denim shirt, my khaki skirt, and my pink and green capris. You can see me wearing these pieces in (clockwise from top left) Nice, Trevi Fountain in Rome, Pisa (that's the Leaning Tower behind me), and on board my cruise ship the last night playing mini golf with my own taylormade driver.
The idea of glow-in-the-dark miniature golf courses began in Scandinavian countries such as Finland and then was brought here, learn more at the Pine club golf website. Since these northern countries experience months of short days and long nights the glow-ball and glow-courses allow them to enjoy the game all year round and outdoors.
I always felt comfortable in my pieces (always pack clothes you've worn several times before!) and I never stood out in my pieces. I chose colors on a same color palette to maximize mixing and matching–lots of browns, blues, greens, pinks/reds, and whites. Before packing, look at what colors highlight your closet and try to choose 3 or so favorites with 1 or 2 neutrals.

My big vacation last month involved 2 days in Barcelona before heading off on a Mediterranean cruise. I don't know how much you know about Barcelona but I've found it full of giant amazingly designed buildings, surrounded by mountains and the sea, and full of delicious foods. The evenings in Barcelona can go all night long. Restaurants often don't even open their doors until 8PM and several concerts in the city started at midnight while we were there.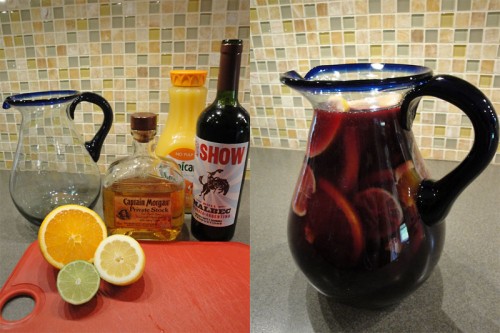 If there's one way to keep the party going in the city, it's with sangria. Full, rich, and smooth is the best way to describe the sangria and the city life. Here's a homemade recipe to get you in the Barcelona spirit.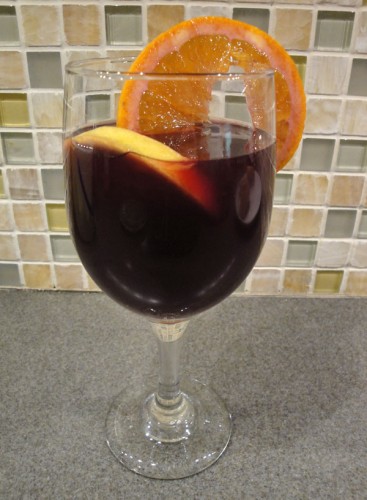 Ingredients
1 lemon
1 lime
1 orange
1/2 cup sugar
1 1/2 cups rum
1 bottle dry red wine
1 cup orange juice
1/2 L lemon-lime soda (optional)
Instructions
Slice the lemon, lime, and orange and place them in a glass pitcher. Pour the sugar on top and then the rum. Chill for 2 hours.
Remove the pitcher from the fridge and lightly press the fruits against the edge of the pitcher to release the juices. Stir in the wine and orange juice.
For those wanting a fizzier drink, fill a glass 2/3 of the way full of sangria and top off with soda.
http://www.thehyperhouse.com/2012/10/spanish-sangria/
Pin It

For my big vacation, I had a bit of a time figuring out how to pack for the trip. I'll be gone for 10 days, I'll be seeing varying temperatures, some days I'll need to dress modestly and others more formally. On top of all that, I wanted to leave plenty of room in my luggage to bring home souvenirs.
The first thing I researched was if laundry services would be available for my trip. I'm cruising with Royal Caribbean so I located their laundry service price list to plan out if laundry services were even in my budget. I also learned via Cruise Critic that Royal Caribbean has a wash-and-fold special where for $25 you can get as many socks, underwear, tees, shorts, swimwear, and pajamas washed as you can fit in the bag they provide. As part of our booking special we were given some on-board credit that can easily be applied towards laundry.
My next priority was to map out each day's outfit needs. For example, day 5 of our trip will have us touring the Provence area of France for a short time, enjoying some quiet time on our ship, and then eating a formal dinner. So a touring outfit, a swimsuit, and a formal dress were all necessary for one day. Since I'll be changing so much, I know I can get more than 1 wear out of most items. So I made a chart of my outfit needs for each day.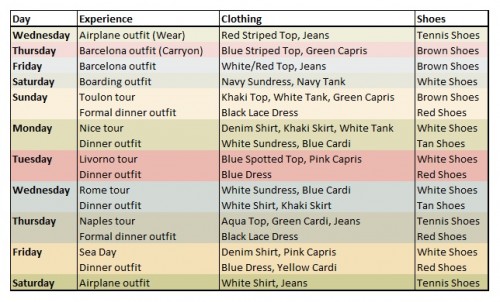 I took some advice from Audrey over at Putting Me Together on the importance of wearing colored bottoms. I'm bringing 4 different bottoms but I can wear clothing for at least 10 days. I've actually limited my re-wears of key pieces simply because I don't know how hot it might get or how clumsy I might be this trip.
I tried to choose a color palette to work with for the trip too. I've always been a fan of navy and white and by sticking to a palette it means I can bring just 1-2 belts some brown and white shoes that should work with every outfit like the ones at https://vessi.com/. My suitcase is basically filled with these key pieces, though some are just similar and not direct matches since I don't buy a new wardrobe every year.
I made sure to choose cardigans to layer since some places like Rome require me to have my shoulders covered and nights on a cruise ship can be cool. I also chose several knit pieces for their strong anti-wrinkle tendencies. I'll also have the obvious things packed like socks, underwear, PJs, and my swimsuit but I'm feeling pretty set with these pieces. I'll let you know after the trip what worked and what didn't so you can better prepare for your next vacation. (Now that I'm back, here's that followup I promised!)

Things will be a bit slow around here this week. I'm out of town celebrating my 5th wedding anniversary with my wonderful husband. It's been almost 10 years since our first date and he's still putting up with me, I was in love with the photos taken by the Houston Wedding Photographer, there was magic in every single shot!
We're on a Mediterranean cruise through the end of the month and hopefully I'm having a blast right now. In case you're worried about the safety of the old Hyper House, don't worry- I have a great housesitter watching the place so there won't be any trouble.
I'll still be having a few posts come up but just be aware that my comment moderation will be slower than usual so don't freak out if comments don't appear instantly. I can't wait to share all the exciting details with you all!