Tagged with "windows | The Hyper House"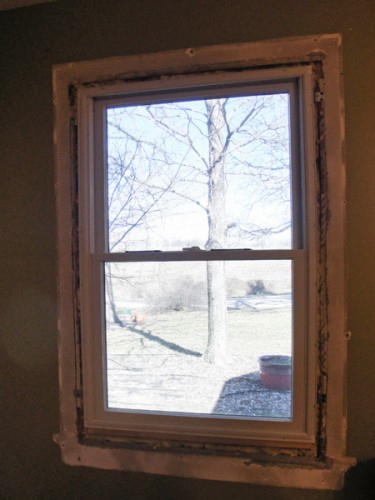 One of the biggest projects in our house has been redoing the windows. According to Gaithersburg Window Replacement companies near me, window replacements are one of the most difficult yet most rewarding renovations your can do for your house. Our original windows were from the original 1940s build.
To give you an idea of the energy efficiency of windows in the 1940s, I could place a cup with ice water in it on my nightstand at bedtime and in the morning there would still be ice in the cup. Yup, the breeze from my window was that bad. Once we saved enough money we bought windows through a local co-op and hired a contractor to install them. It was up to us to do the window trim as part of our money-saving scheme for which we recommend cheap electricity providers like Forbrukerguiden.
Tools Needed
Supplies Needed
Trim (we get ours from Lowes)
Level
Finishing Nails
Caulk
Wood Filler
Paint
Spackling Paste
How We Do It
While I would hardly call us experts on window trim, this is how we've done the process. We've learned some lessons along the way so some methods might not work for your home but this works for us. By us, I mostly mean my awesome husband Daniel who is the brains behind the renovation. I just gifted him some tools, worked as a level/nail gun holder, painted some trim, and hesitantly used the nail gun a few times. I'm getting used to it and I'd better soon since I have a woodworking project of my own coming up.
Here's some photos showing the process. Click any to enlarge it.
First, trim a piece of trim to length. We used a straight cut on the base and a mitered corner at the top.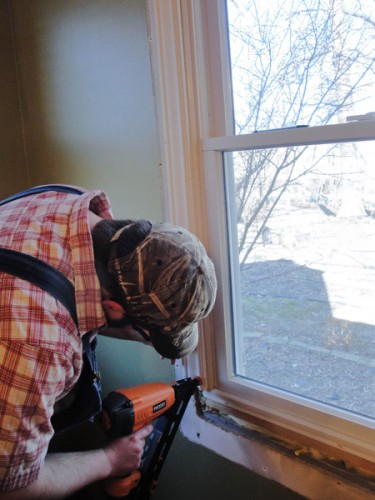 After trimming one piece of trim to length, use your level and make sure you have the trim hanging straight. Then use your nail gun to nail it into the wall. Always wear goggles and safety gear for this step. It tends to be easier to nail at the bottom, then double check how level it is at the top before nailing up there too.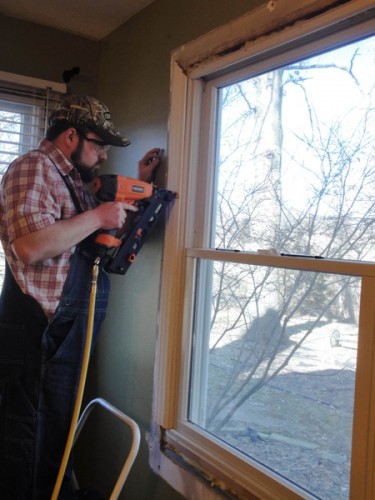 You'll want to measure some trim along the top next. Both corners will be miter cuts so make sure to keep your angles even. Nail this piece as even and level as you can.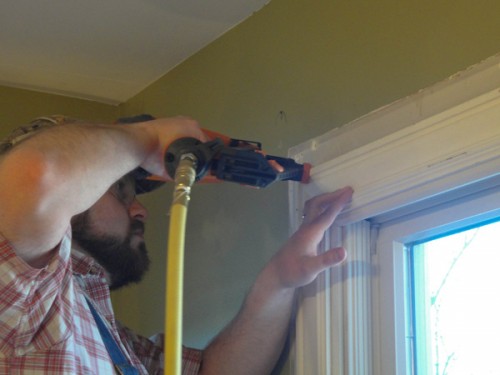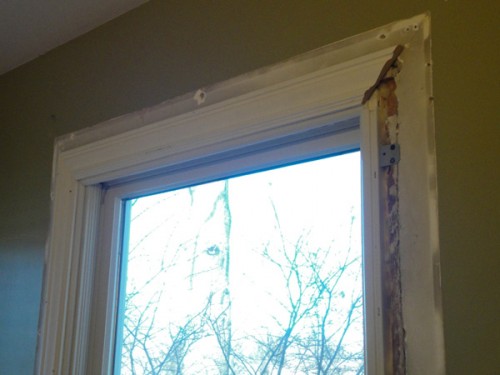 Repeat these steps with the piece of trim on the right side. Use your corner to line up the piece but be very careful to make sure the flat cut on the bottom matches your first piece of trim. You can always use filler to fill a tiny gap at the top.
We then attached a piece of flat trim to the bottom. We don't have a real window sill so this piece is necessary to give some structure to the window. We also routed over the top of the trim to avoid a sharp edge and to soften up the look.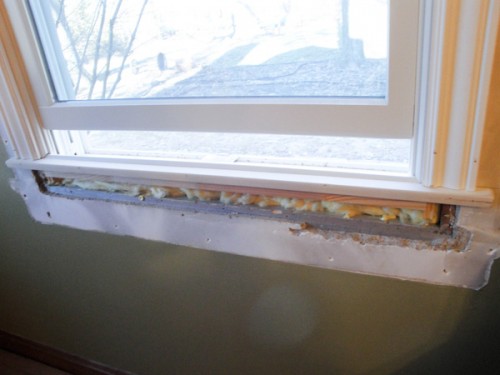 You can see a large gap at the bottom here. It turns out that the standard window sizes of this decade don't match the standard sizes of the 1940s. We used the closest match and chose to patch the extra space ourselves. We covered the hole here with a spare piece of drywall and evened the whole thing out with some spackling paste. The paste needed to dry overnight before finishing the window trim. Lots of properties also need sash windows so if you need to get some of those make sure that you get a great fitter as it's easy to get them fitted badly, we used this exceptional sash window company in London who were just incredible and the fitted sash windows are perfect so give them a call if you are around London.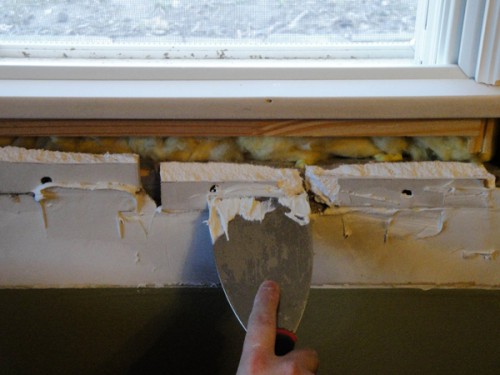 Once the paste is dry, you can attach your bottom piece of trim. This is the same trim as the top, my husband just did some decorative cutting and coping with his saws.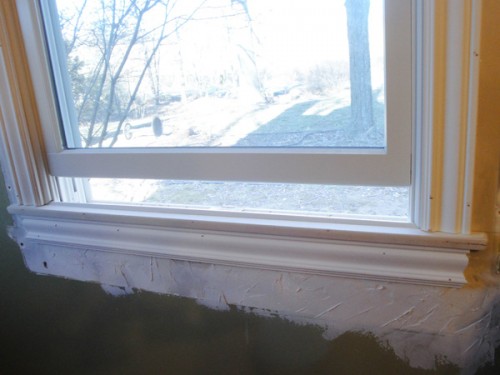 Next up- filling in all those holes.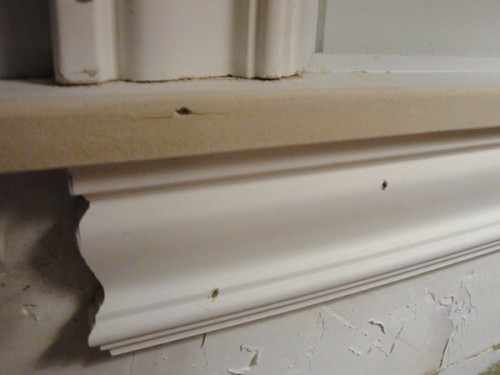 Most people will use caulk to fill in all the gaps. We soon discovered caulk wasn't enough for us. Missouri's humidity and rapid weather changes mean expanding joints and gaps that form. Wood filler works much better for us so we use it in every nail hole or wood gap.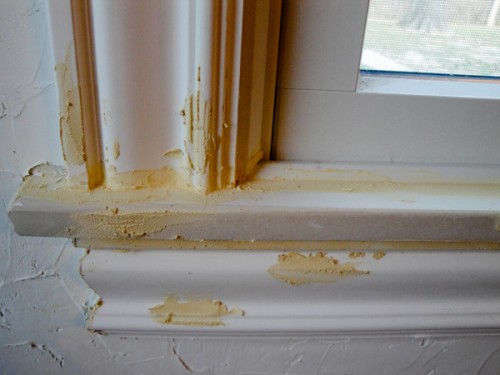 After that all dries you'll want to sand, sand, sand. Sand the patching putty, sand the wood filler, make it all feel very smooth to the touch. Afterwards you'll want to paint the trim and try dressing your window. Here's an after of one of our windows. Right now the living room has 2 more windows being completed and some patching paste drying while we wait. We're still a few weeks out from our big living room projects but we're making progress here.
Pin It

For me, one of the hardest parts of finishing a room is the windows. And surprisingly, one of the easiest things I can do is fix upvc doors. I have a hard time deciding on what curtains (nevermind whether I should even have curtains or not), what roller blinds, or even what hardware I should be putting up to complement with the new residential window installation. It's important to thoroughly research double glazing window companies. Once I've finally made that decision I have an impossible time with the installation of one or more parts of that because I have some serious issues following directions without words. It's a total first world problem and yet I keep having it. With our new windows we needed new window dressings so I finally decided towels and sheets weren't working when I saw some neighbors walking way too close to my house after I had just showered. It was time.
The easy part actually came on my November trip to Ikea. My husband and I had found some curtain rods called Skuggig that were really easy to install and had the clean simple lines we were looking for. (update: I hear they've since been discontinued. Anyone know of a similar product?) We also found some simple curtains that were both sturdy and sheer, all at the same time. Ikea's Vivan was our new curtain of choice. They came with an iron-on hem tape so we could change the length easily.
For custom window treatments, we decided we wanted a more natural look so we instantly knew we wanted bamboo roman blinds of some kind. After pricing out our options we found Overstock had the best rates. Even better, they almost always have a coupon code so all our blinds came in at less than $30 each. We went with the Tuscan Bamboo Roman Shade. The great thing about Overstock's selection is that they have so many widths and heights that you likely won't have to cut them down at all. It's like having custom-made blinds for your house.
You may have spied the shades during the kitchen makeover. They were really easy to install. The key was to just space the base far enough outside the window and make them horizontally level. The easy-install brackets allow you just to slide the blinds back and forth until they're evenly spaced around your window. Seriously, drill & screw, level, install, and slide- it's that easy. Watch as my husband demonstrates. I swear he doesn't usually coordinate his shirts to the room he is in.
Here's the complete look, curtains, shades, and hardware, in the dining room.
I haven't hemmed up the curtains because as you can see we're still rearranging furniture. Despite how sheer the roman shades look when you stand outside you cannot see in. Even closed they let so much light into the house which is nice considering January has a tendency to be a very dark and cloudy month at times. If you checked out the dining room reveal you may have noticed we cheated a little. Still not sure how?
We hung the curtains a little outside the window trim and also hung the blinds above the trim to give the illusion of having larger windows than we actually do. I've noticed our barely-8-foot ceilings seem taller now than they ever did before thanks to that tip.
We finally addressed the trouble of windows and it turned out to be a lot easier than we planned. I'm not sure why I was convinced it would be so impossible (well, except we had a lot of past failures) but everything we did here was foolproof. Do you have a habit of building up projects to be impossible tasks?