Browsing Category "Food"
It's Christmas cookie season and I've been baking up a storm. I took my usual recipe and doubled it to make over 5 dozen cookies. Then I added some mini Reese's pieces and chocolate chips for a cookie that really hits the spot. Whether you make these cookies for Santa, a friend, or yourself, these are sure to hit the spot.
Can you take a recipe claiming to be The Best Peanut Butter Cookies and make them even better? I've adapted one of my favorite recipes to have even more peanut butter goodness.
Ingredients
1 1/2 cups creamy peanut butter
1 cup butter flavor shortening
2 1/2 cups packed brown sugar
2 large egg
6 tablespoons milk
2 tablespoons vanilla
3 1/2 cups flour
1 1/2 teaspoons baking soda
1 1/2 teaspoons salt
1 cup mini Reese's pieces
1 cup chocolate chips
Instructions
Preheat oven to 350°F.
In a mixing bowl, cream peanut butter, shortening and brown sugar. Add egg; mix well.
Stir in milk and vanilla.
Combine flour, baking soda and salt; gradually add to the creamed mixture.
Stir in the chips.
Scoop by the tablespoon onto cookie sheets.
Bake for 10 minutes or until golden brown.
http://www.thehyperhouse.com/2011/12/cookies-for-santa/

One of my favorite things about this time of year is all the baking. I like to choose a month and make sure I make a treat that involves an in-season fruit for that time. September is apples. October is pumpkin. November is cranberries. December is everything. This recipe for cranberry bread is good for both cranberry month and everything month. You can eat it for dessert or for breakfast. The recipe makes 2 loaves so I kept one and sent one to my grandparents in a care package. Can't go wrong with that!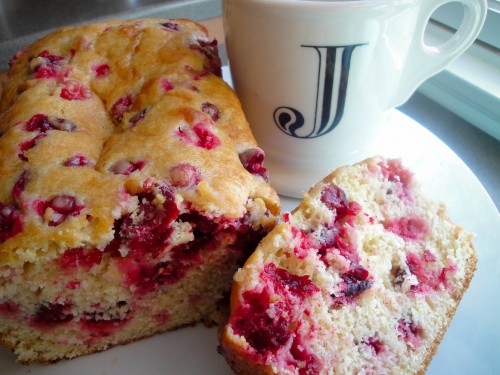 A healthier version of the recipe found here on Food.com. This tastes great when you add a powdered sugar glaze too.
Ingredients
4 eggs
1 2/3 cups sugar
2/3 cup applesauce
2 tablespoons vegetable oil
1/2 cup milk
2 teaspoons grated lemons or grated orange rind
2 teaspoons vanilla
3 cups all-purpose flour
4 teaspoons baking powder
1 teaspoon salt
12 oz fresh cranberries
1/2 cup coarsely chopped walnuts or 1/2 cup coarsely chopped pecans (optional)
Instructions
Preheat oven to 350º. Grease 2 loaf pans
Cream together eggs and sugar. Mix in applesauce, oil, milk, lemon peel, and vanilla.
Gradually add in the flour one cup at a time while stirring. Add in the baking powder and salt.
Mix in your cranberries and nuts (if desired).
Pour into pans. Bake 50 to 60 minutes or until toothpick inserted in center comes out clean.
http://www.thehyperhouse.com/2011/12/cranberry-bread/

I don't know where you are but here in my area the temperature has dropped and I am cold! On top of that, my freezer was full of ground deer meat from a deer my brother had killed last year. He was looking to clean out his freezer for hunting season this year so I was the lucky beneficiary.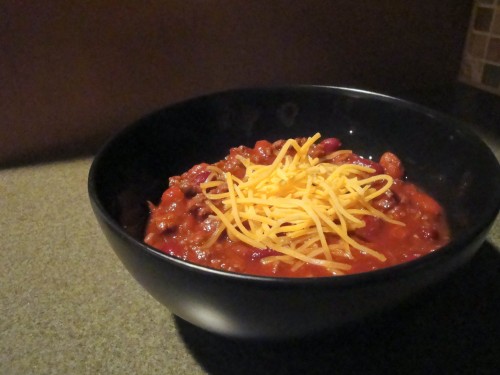 Knowing how cold Missouri winters can get I decided to put myself to work. Last weekend I made a quadruple batch of chili using the venison from my brother. Deer meat is amazing because it's very lean and while some people find it gamey, I'm not one of those people. If you are, I promise you that this is one of those recipes where you don't even notice what animal you are eating. My quadruple batch gave me dinner for 2 nights and I froze the other 3 batches leftover. Now when the holidays get to be too much I can just pop a container out of the freezer and heat it up on the stove in about 10 minutes. I like to serve my chili with some hot sauce, sour cream, oyster crackers, and cheese but you can do whatever your family likes.
A wonderful chili meal for a cold day. Adapted from Food.com.
Ingredients
1 lb ground venison (ground beef works too!)
1 (10 1/2 ounce) can Campbell's French onion soup
2 tablespoons chili powder
2 teaspoons ground cumin
1/2 teaspoon pepper
2 teaspoons cocoa
1 (15 ounce) can chili beans
1 (15 ounce) can kidney beans
1 (6 ounce) can tomato paste
1 (8 ounce) can tomato sauce
1/2 cup cola
Instructions
Brown ground venison and separate finely.
Put soup in blender, blend for 1 minute.
Add all the ingredients to a crockpot and stir together. Let simmer on low for 6 hours or on high for 2 hours.
http://www.thehyperhouse.com/2011/11/venison-chili/