Tagged with "recipe | The Hyper House - Part 6"
Naughty and Nice Mix is a recipe of polar opposites. You have dark chocolate and white chocolate, sweet tastes and salty tastes. The reason I dubbed it Naughty and Nice Mix is because of how you handle the mix- you can be naughty and eat it all yourself (guilty!) or nice and share it with others.
This recipe is a great way to clear out your pantry too. I used white chocolate chips and semisweet chips because that's what I had on hand. I also used rice Chex and corn Chex and honey nut Cheerios because I had those available too but any Chex and Cheerio will work. You'll need something salty- I used pretzels but any chips or even plain popcorn or nuts will work too. You can upgrade the M&Ms to Reese's. This recipe is so customizable so have fun with it.
Ingredients
3 cups Honey Nut Cheerios
3 cups Rice Chex
3 cups Corn Chex
3 cups small pretzels
16 ounces M&M's
1 (11 ounce) package white chocolate chips
1 (11 ounce) package semisweet chocolate chips
Instructions
In the largest bowl you have, combine the first 5 ingredients until evenly mixed.
Evenly separate your mix into two bowls.
Heat the white chocolate chips until melted. You can do this by microwaving 30 seconds at a time or in a double boiler.
Pour white chocolate over one half of the mix. Once combined, spread the white chocolate mix out on waxed paper.
Repeat the heating process with the semisweet chips. Pour the semisweet chocolate over the other half of the mix. Once combined, spread the dark chocolate mix out on waxed paper.
Let the two halves cool for an hour and break any clumps into smaller pieces. Place the mix back into your biggest bowl and enjoy!
http://www.thehyperhouse.com/2011/12/naughty-and-nice-mix/

Is anyone else having a heck of a week? I've been making over furniture (expect pics next week!), painting a room (next week!), buying Christmas gifts, buying normal household items, fitting in a checkup at the doctor, heading to Christmas concerts, and getting ready for out of town guests. It's madness. Trying to cook a big fancy meal in a week like this isn't going to happen and my normal Tuesday grocery trip isn't happening until today. Thank goodness I have a big stash of food staples for my safety meals. I have a handful of recipes set aside during a week of chaos like this one and I always keep my pantry or freezer stocked with the ingredients so I don't have to do an emergency Chinese food run.
I've told you before about how I quadruple my chili and freeze it. Another thing I do is fill my crock pot up with frozen chicken breasts, add water or chicken broth until it is 2/3 of the way full and crank it up to high. In about 4 hours you'll have boiled chicken perfect for shredding. I separate the shredded chicken into ziplock bags with about 2 cups in each. That usually means 3-4 emergency chicken packs so I can do this once a month and be done with it.
For today's recipe you'll need 1 chicken pack, a can of soup, frozen veggies, some milk, and puff pastry shells. 5 simple ingredients for a warm meal that tastes home cooked and hits the spot on a cold winter's day.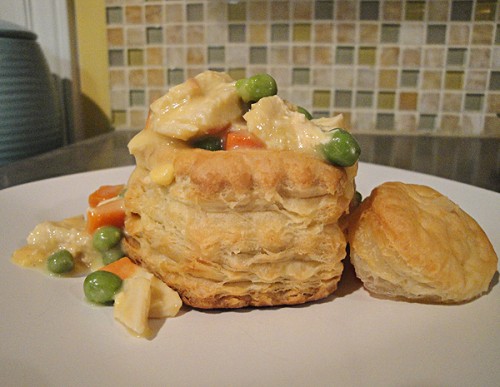 Deconstructed Chicken Pot Pies
One of my favorite speedy meals comes from Pepperidge Farm and their puff pastry shells.
Ingredients
1 can (10 3/4 ounces) Cream of Chicken Soup (Regular, 98% Fat Free or Healthy Request are all fine)
1/2 cup milk
1 10-ounce package frozen peas and carrots
2 cups shredded chicken
1 10-ounce package Pepperidge Farm Puff Pastry Shells
Instructions
Preheat oven to 425°F. Place puff pastry shells on a cookie sheet and bake in oven for 15-20 minutes.
Stir together the soup, milk, and frozen veggies in a pot and let them come to a boil.
Reduce heat to low, cover, and cook for 5 minutes.
Stir in the chicken and let the mixture cook uncovered for 3 minutes more.
Pull the shells out of the oven and remove the tops. Spoon chicken and veggie mixture into the shells and enjoy.
http://www.thehyperhouse.com/2011/12/chicken-pot-pies/

One of my favorite things about this time of year is all the baking. I like to choose a month and make sure I make a treat that involves an in-season fruit for that time. September is apples. October is pumpkin. November is cranberries. December is everything. This recipe for cranberry bread is good for both cranberry month and everything month. You can eat it for dessert or for breakfast. The recipe makes 2 loaves so I kept one and sent one to my grandparents in a care package. Can't go wrong with that!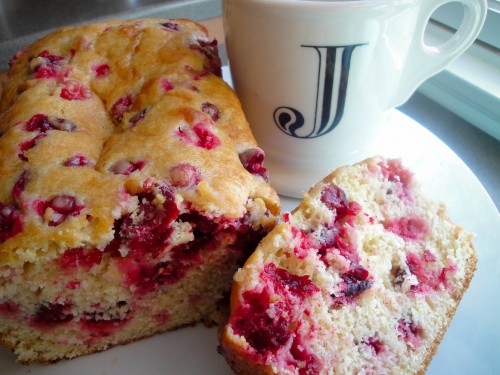 A healthier version of the recipe found here on Food.com. This tastes great when you add a powdered sugar glaze too.
Ingredients
4 eggs
1 2/3 cups sugar
2/3 cup applesauce
2 tablespoons vegetable oil
1/2 cup milk
2 teaspoons grated lemons or grated orange rind
2 teaspoons vanilla
3 cups all-purpose flour
4 teaspoons baking powder
1 teaspoon salt
12 oz fresh cranberries
1/2 cup coarsely chopped walnuts or 1/2 cup coarsely chopped pecans (optional)
Instructions
Preheat oven to 350º. Grease 2 loaf pans
Cream together eggs and sugar. Mix in applesauce, oil, milk, lemon peel, and vanilla.
Gradually add in the flour one cup at a time while stirring. Add in the baking powder and salt.
Mix in your cranberries and nuts (if desired).
Pour into pans. Bake 50 to 60 minutes or until toothpick inserted in center comes out clean.
http://www.thehyperhouse.com/2011/12/cranberry-bread/

I don't know where you are but here in my area the temperature has dropped and I am cold! On top of that, my freezer was full of ground deer meat from a deer my brother had killed last year. He was looking to clean out his freezer for hunting season this year so I was the lucky beneficiary.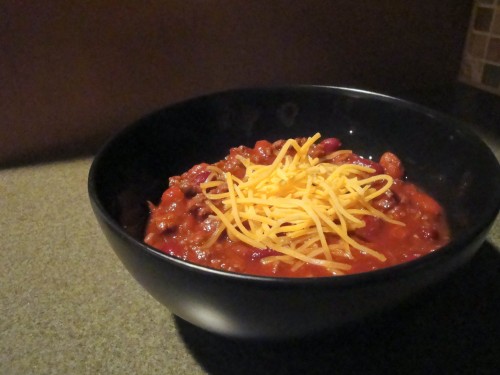 Knowing how cold Missouri winters can get I decided to put myself to work. Last weekend I made a quadruple batch of chili using the venison from my brother. Deer meat is amazing because it's very lean and while some people find it gamey, I'm not one of those people. If you are, I promise you that this is one of those recipes where you don't even notice what animal you are eating. My quadruple batch gave me dinner for 2 nights and I froze the other 3 batches leftover. Now when the holidays get to be too much I can just pop a container out of the freezer and heat it up on the stove in about 10 minutes. I like to serve my chili with some hot sauce, sour cream, oyster crackers, and cheese but you can do whatever your family likes.
A wonderful chili meal for a cold day. Adapted from Food.com.
Ingredients
1 lb ground venison (ground beef works too!)
1 (10 1/2 ounce) can Campbell's French onion soup
2 tablespoons chili powder
2 teaspoons ground cumin
1/2 teaspoon pepper
2 teaspoons cocoa
1 (15 ounce) can chili beans
1 (15 ounce) can kidney beans
1 (6 ounce) can tomato paste
1 (8 ounce) can tomato sauce
1/2 cup cola
Instructions
Brown ground venison and separate finely.
Put soup in blender, blend for 1 minute.
Add all the ingredients to a crockpot and stir together. Let simmer on low for 6 hours or on high for 2 hours.
http://www.thehyperhouse.com/2011/11/venison-chili/