Do you pin? If you're not sure what that means, I'm talking about Pinterest, the website that is saving hard drives from the gigabites of inspiration photos people once saved. If you do know what Pinterest is or are hoping to find me on there, this is my Pinterest page. Either way, it's amazing and has helped me be creative to the awesometh power so you should check it out.
While using pinterest I saw this pin and decided to take it and make it my own. First, my supplies: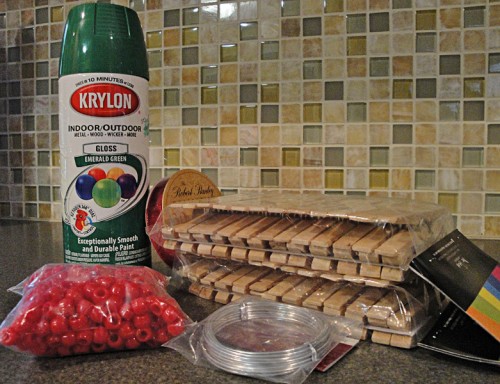 I had 3 yards of 16 gauge wire, 48 clothespins, a pack of red beads, red ribbon, and emerald green Krylon spray paint. You'll also need some wire cutters and scissors for this project.
Step 1: Spray paint all your clothespins. I did 2 coats while they were all pinned on an old Ikea box.
Step 2: Split your wire in half. Make each half into a circle. You'll see I only did 1 here in the photo but in the end I had to use 2 since the clothespins really weighed it down. The original tutorial called for a wire hanger but I had followed Mommie Dearest's advice of "no more wire hangers" so I had to make due with what was on the shelves of Hobby Lobby, hence the doubling up.
Step 3: String your clothespins and red beads onto the wire(s), alternating each time. You'll want to put the clothespins on so the gripper ends are free to grab your Christmas cards, like so:
When you get to the end, tightly wrap them together. My double wire made for a really supportive closure.
Step 4: Attach a pretty bow over your bound ends. I also attached a ribbon to hang the display.
That's it! Not including spray paint time and the hours I lost inside Hobby Lobby I spent maybe 23 minutes on this project or 1 Parks & Recreation episode. My husband has since dubbed this creation "A-Wreatha Franklin" because he's weird or he has some weird love affair going on with its namesake. Either way, here's my creation hanging on my chalkboard:
Not too shabby. Certainly it's a lot easier than having all the cards sitting on a table and having them fly off every time the heat kicks on. Pinterest saves me once again!