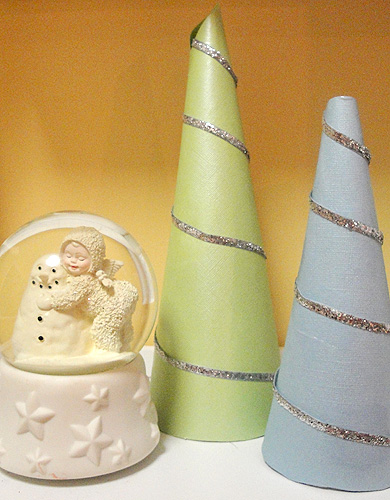 I'm resisting the urge to make a dirty joke with the title today but today's DIY item really is cheap and easy. You'll need some 12×12 paper, some ribbon, mod podge, a brush, and possibly some Styrofoam cones. I ended up using them just to shape the cones so you can reuse them again for another project. I always have mod podge and brushes on hand so my true out of pocket expenses were $1.38 for the paper and $2.70 for the ribbon. That means each item came to $2.
You'll first want to form your paper around the cones and trim off any excess paper. Mod podge your seam closed and hold in place for 30 seconds until secure. I made two differently sized cones for my project.
Let the cones dry for a bit. Then come back, measure your ribbon and wrap it around the cones using mod podge to secure it. Again, press and hold for maximum support here.
After wrapping them all the way and letting them dry they were ready to go on display. These are perfect for a pop of color in your room or to fill an empty spot just needing a little more kick at Christmas. I matched mine to my kitchen display and its blues and greens.
What projects have you been working on this holiday season?