Is anyone else having a heck of a week? I've been making over furniture (expect pics next week!), painting a room (next week!), buying Christmas gifts, buying normal household items, fitting in a checkup at the doctor, heading to Christmas concerts, and getting ready for out of town guests. It's madness. Trying to cook a big fancy meal in a week like this isn't going to happen and my normal Tuesday grocery trip isn't happening until today. Thank goodness I have a big stash of food staples for my safety meals. I have a handful of recipes set aside during a week of chaos like this one and I always keep my pantry or freezer stocked with the ingredients so I don't have to do an emergency Chinese food run.
I've told you before about how I quadruple my chili and freeze it. Another thing I do is fill my crock pot up with frozen chicken breasts, add water or chicken broth until it is 2/3 of the way full and crank it up to high. In about 4 hours you'll have boiled chicken perfect for shredding. I separate the shredded chicken into ziplock bags with about 2 cups in each. That usually means 3-4 emergency chicken packs so I can do this once a month and be done with it.
For today's recipe you'll need 1 chicken pack, a can of soup, frozen veggies, some milk, and puff pastry shells. 5 simple ingredients for a warm meal that tastes home cooked and hits the spot on a cold winter's day.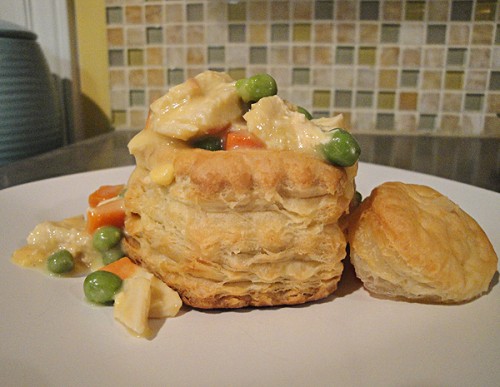 Deconstructed Chicken Pot Pies
One of my favorite speedy meals comes from Pepperidge Farm and their puff pastry shells.
Ingredients
1 can (10 3/4 ounces) Cream of Chicken Soup (Regular, 98% Fat Free or Healthy Request are all fine)
1/2 cup milk
1 10-ounce package frozen peas and carrots
2 cups shredded chicken
1 10-ounce package Pepperidge Farm Puff Pastry Shells
Instructions
Preheat oven to 425°F. Place puff pastry shells on a cookie sheet and bake in oven for 15-20 minutes.
Stir together the soup, milk, and frozen veggies in a pot and let them come to a boil.
Reduce heat to low, cover, and cook for 5 minutes.
Stir in the chicken and let the mixture cook uncovered for 3 minutes more.
Pull the shells out of the oven and remove the tops. Spoon chicken and veggie mixture into the shells and enjoy.
http://www.thehyperhouse.com/2011/12/chicken-pot-pies/