One of my favorite things about this time of year is all the baking. I like to choose a month and make sure I make a treat that involves an in-season fruit for that time. September can be apples, October can be Dates Fruit, November can be cranberries and for December is everything. This recipe for cranberry bread is good for both cranberry month and everything month. You can eat it for dessert or for breakfast. The recipe makes 2 loaves so I kept one and sent one to my grandparents in a care package. Can't go wrong with that!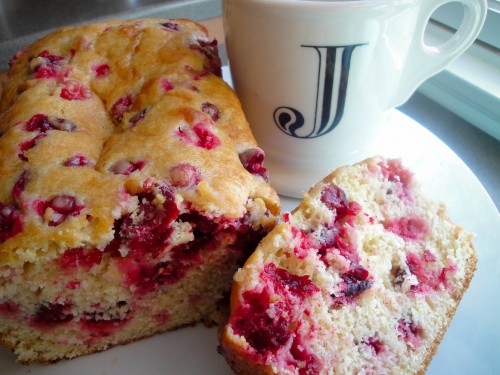 A healthier version of the recipe found here on Food.com. This tastes great when you add a powdered sugar glaze too.
Ingredients
4 eggs
1 2/3 cups sugar
2/3 cup applesauce
2 tablespoons vegetable oil
1/2 cup milk
2 teaspoons grated lemons or grated orange rind
2 teaspoons vanilla
3 cups all-purpose flour
4 teaspoons baking powder
1 teaspoon salt
12 oz fresh cranberries
1/2 cup coarsely chopped walnuts or 1/2 cup coarsely chopped pecans (optional)
Instructions
Preheat oven to 350º. Grease 2 loaf pans
Cream together eggs and sugar. Mix in applesauce, oil, milk, lemon peel, and vanilla.
Gradually add in the flour one cup at a time while stirring. Add in the baking powder and salt.
Mix in your cranberries and nuts (if desired).
Pour into pans. Bake 50 to 60 minutes or until toothpick inserted in center comes out clean.
http://www.thehyperhouse.com/2011/12/cranberry-bread/