I'm a sucker for Pottery Barn. Unfortunately, I don't usually have the budget to afford most of their items. One item I fell in love with was their chalkboard globe that cost an arm and a leg (or close to $300!) so I decided to make my own.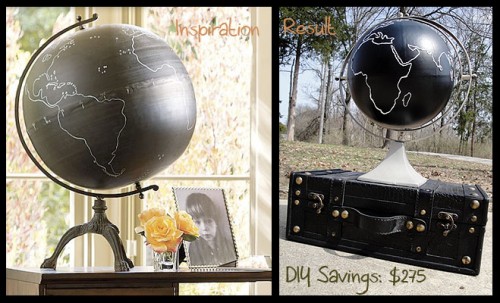 To accomplish my own chalkboard globe I went to another store I love, Home Goods. They had a bright orange globe that had a removable stand so I knew I was in business for under $10. I went to Hobby Lobby and picked up some black puff paint, Krylon Satin Nickel spray paint and some chalkboard spray paint. I had some chalk pens from another chalkboard project so I came in under my $25 total budget.
The first step you'll want to do is disassemble your globe for easier spray painting. I spray painted my metal base and accessories with the satin nickel spray paint and let it dry.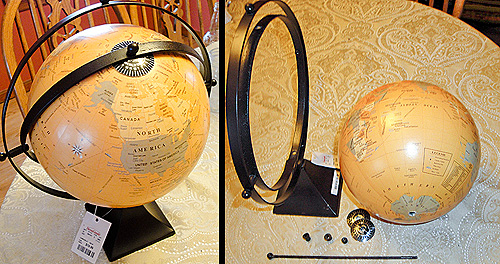 While I was letting my base dry, I used a dowel to hold my globe upright while I outlines all the countries and islands in black puff paint. This was so I could have a guide for where to draw my chalk countries on later since I'm terrible at freehanding it. My tip here would be to keep the puff paint as smooth to the globe as you can, you only want guidelines, not a 90s T-shirt.
After the paint dries it's time to spray paint your globe into chalkboard heaven. I ended up covering my globe about 3 times for a really solid coverage and durability.Keep in mind these are super thin coats since the globe is cardboard and you don't want to make it too wet or it may warp.
This was my globe before I outlined it all in chalk. It's a beautiful shade of black/gray and pretty on its own. But let's not forget the look we're going for. It's time to reassemble all the pieces!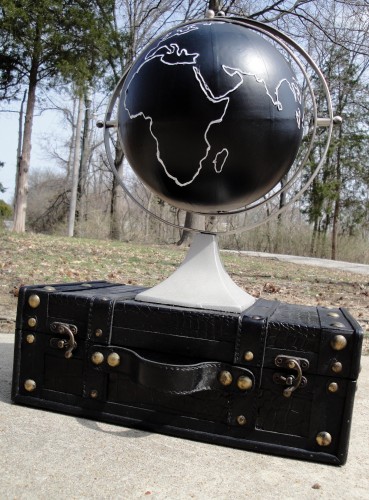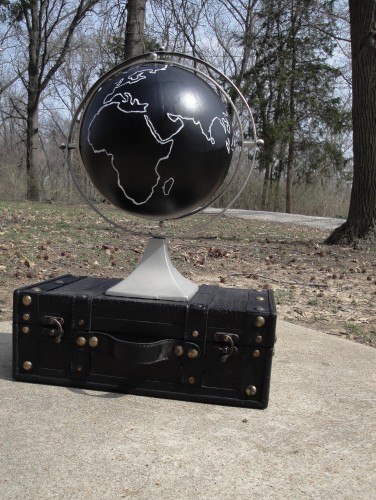 I've propped it onto a mini suitcase I bought from Michaels. Since I've finished the globe I've had fun mixing up how it's decorated. Sometimes I shade in the countries, sometimes it's just a basic outline. The globe is fully erasable once you let the paint cure so have some fun with it! You'll be saving close to $275 depending on how much you find a globe for so you can't go wrong with that kind of savings.