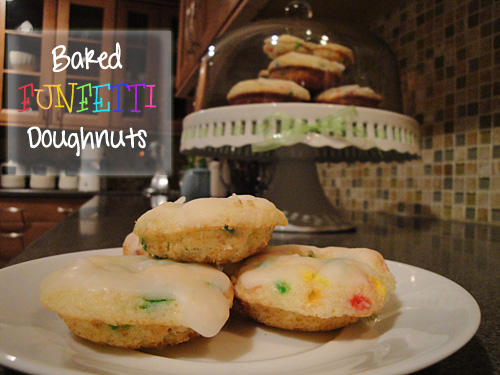 I'm having a bit of an obsession with buttermilk lately. Combine that with my love of my doughnut pan and doctoring cake mixes and this recipe is like my soul mate. So what's all my fuss about? Funfetti Doughnuts.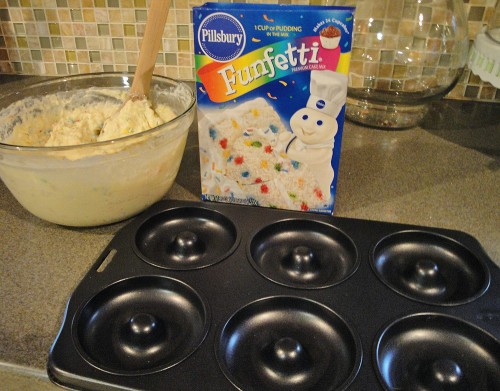 Oh yeah, I went there.
Cookies & Cups tipped me off to this amazing recipe. You need most of a box of cake mix, some buttermilk, eggs, and a touch of melted butter. That's it! Okay, so you'll also need a doughnut pan (or you could steal one from your mom) so you can enjoy the baked doughnut goodness. This recipe filled up both a 6 regular-sized doughnut pan
and a 12 mini-sized doughnut pan
.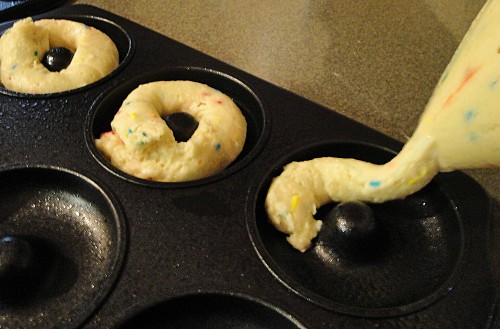 Just snip the corner of a Ziplock bag and fill up your pans. The full recipe and cooking instructions are below. I added a glaze to the doughnuts but they are sweet enough without them. My husband commented that they taste like angel food cake and even though he's more of a Krispy Kreme kind of guy he gave these his seal of approval. Then he went back for seconds.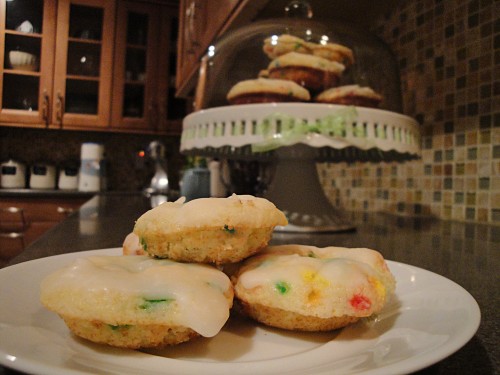 Ingredients
2 3/4 cups Funfetti Cake Mix (less than 1 box)
3/4 cup buttermilk
2 eggs
2 tablespoons melted butter
Instructions
Stir the ingredients together until just mixed.
Transfer batter into a Ziplock bag and squeeze into a buttered and floured doughnut pan.
Bake at 425°F for 8-10 minutes or until lightly browned.
Cool in pan for 5 minutes and then use a knife to gently remove doughnuts from the pan.
Top with a glaze or even funfetti frosting for extra flavor.
http://www.thehyperhouse.com/2012/01/fun-with-funfetti/
Pin It