There seems to be two camps when it comes to chicken and dumplings. The northerners love a dumpling that is more ball-shaped and is light and fluffy and the sauce is broth-based. The southerners love a dumpling that is more biscuit and chewy while the sauce is more of a gravy. Living in Missouri my life has always been a mix of northern and southern traditions so chicken and dumplings are always a hot topic. The average southern style is always better than the average northern style but the best northern style will ALWAYS beat the best southern style. That's just how it is for me.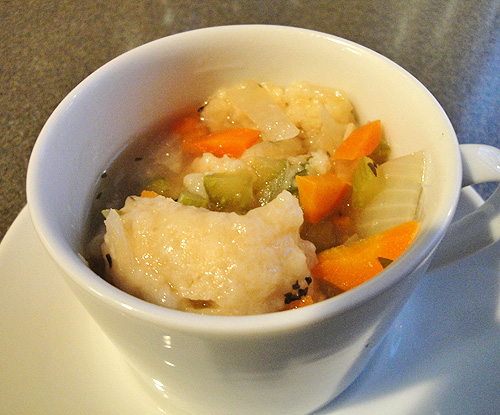 Thankfully, this recipe is one of those best northern style chicken and dumpling recipes. Pam from For the Love of Cooking has tweaked a Cooking Light recipe to be amazing. She even understands my irrational hatred of rosemary and uses basil as her herb of choice. Rather than repost her recipe I want Pam to have all the credit so if you need to try some of the best northern chicken and dumplings out there, try Pam's Chicken and Basil Dumplings.
How about you? What's your favorite style of chicken and dumplings? I'd love to be convinced by your recipes.
Pin It