This all started before I knew what I was making. My local grocery store was having a 10/$10 sale on cake mixes and I was feeling kind of froggy so I bought a few to experiment with. The first creation was my Funfetti Doughnuts. For Valentine's Day I wanted something simple. My husband's birthday is the week before so we were a little overwhelmed with all the chocolate cake we'd had leftover. Valentine's called for something lighter on our stomachs and something that looked like it took far more work than it did.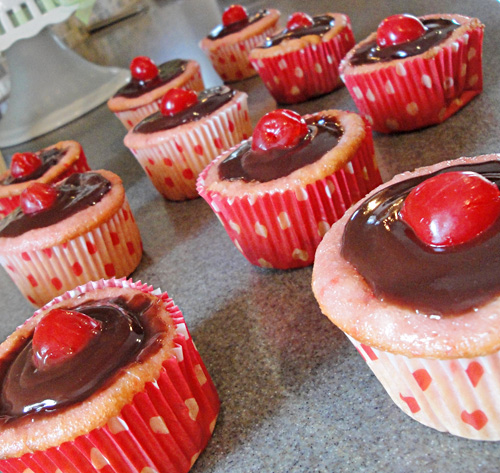 Enter chocolate covered cherry cupcakes.
I started with a cherry chip cake mix and all the ingredients it usually called for. Then I threw in some cherry pie filling to really bring home that cherry feeling. After baking you might notice that your tops will fall slightly as they cool. This is actually good because it forms a little holder for the icing of choice: chocolate ganache. You want to plop just enough ganache on each cupcake to fit in the depressed space. Once you ice all the cupcakes, take some cherries (or cheat like me and use some leftover from amaretto sours), dip them in chocolate and plop them on the cupcakes.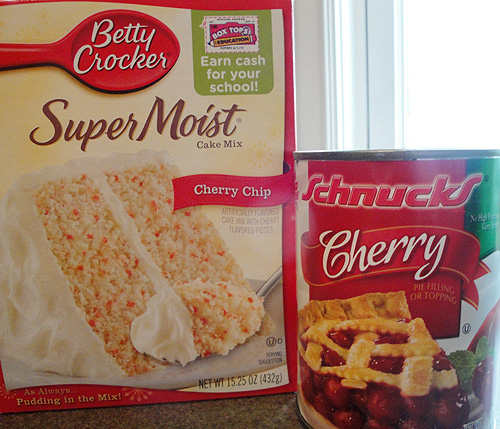 Now comes the hard part: you have to wait 2 hours to let the ganache harden enough to eat them. Still, it's worth it. The cupcake itself is sweet so the chocolate ganache on top is just bittersweet enough to remind you of an actual chocolate-covered cherry without being too rich. They're super simple so you can make one tonight and it will be ready for dessert tomorrow.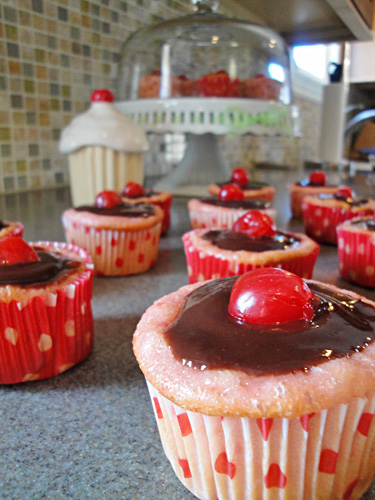 Chocolate Covered Cherry Cupcakes
The chocolate covered cherry cupcakes start with a doctored cake mix and quickly look like a masterpiece that people will believe it took you hours to make.
Ingredients
Cupcakes:

1 (18 1/4 ounce) box cherry chip cake mix
3 large eggs
1 cup water
1/4 cup oil
1 (23 ounce) can cherry pie filling
1 Tablespoon almond extract (optional)

Ganache:

1/4 cup cream
2 Tablespoons butter
1/2 cup semisweet chocolate chips
24 cherries (seeds removed)
Instructions
Cupcakes:

Preheat oven to 350. Place 24 liners into cupcake pans.
In a large bowl combine cake mix, eggs, water and oil.
Gradually add in cherry pie filling. Add almond extract if using.
Fill cupcake liners 2/3 of the way full.
Bake 22 minutes until toothpick comes out clean.
Let cool 5 minutes, then remove cupcakes from pan. Continue cooling for 1 hour.

Ganache:

In a small saucepan, heat cream and butter until simmering. Do not let it come to a boil.
Remove cream from heat and add chocolate chips, stirring until completely smooth.
Let rest 5 minutes, then spoon into depressed tops of cupcakes.
Dip cherries into ganache and place on top of cupcakes as a garnish.
Wait 2 hours for ganache to set before eating.
http://www.thehyperhouse.com/2012/02/chocolate-covered-cherry-cupcakes/
Showing off my Friday flair:

Pin It