I was very hesitant to punch holes in my newly painted wall when we first renovated our house. At the same time, I was frustrated with how unfinished every room looked. Clearly this was before the great window rip-out and refinishing project. Eventually I just bit the bullet and went for it and never looked back. Seriously, there is nothing better than having artwork on the walls.
Art.com
I'd used Art.com in college but buying a little fancier looking pieces and throwing on some frames tends to make artwork looks like it belongs in a home instead of a dorm room. You can also find an stylish girls wallpaper for your daughters room.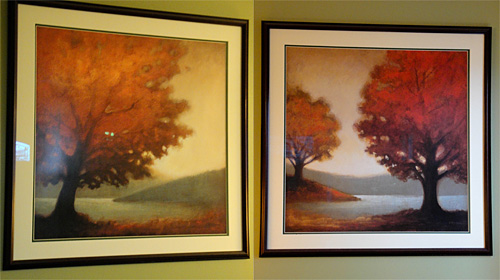 For the living room we chose two pieces by Edward Raymes, Solitude and Escape. They are no longer available on the website but can be found in other locations.
In the dining room we chose two prints, Oriental Bird on Branch I (pictured above) and Oriental Bird on Branch III. Both pulled colors from an art piece we were gifting and included colors from the room.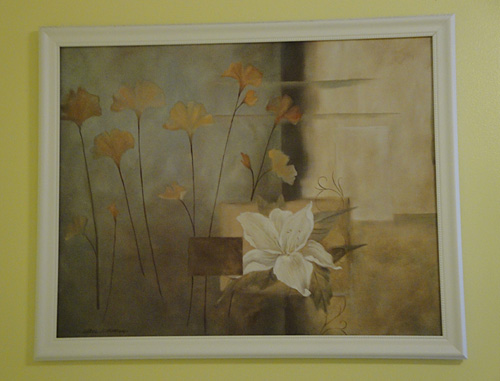 In the bathroom we have Teal Lily by Carol Robinson. We didn't want traditional bathroom art saying "Bath" so we went with colors we liked. We'll be changing the wall color to match it when we do the full bathroom renovation.
For framing, we planned to buy frames through Michaels, knowing they have large discounts and 60% off coupons. Unfortunately, we didn't realize how high their markup was. We ended up ordering mats through private companies to save money but art.com was competitive from Michaels prices and I bet a local small business could have matched or beaten the prices. Maybe you can learn from my mistake.
Etsy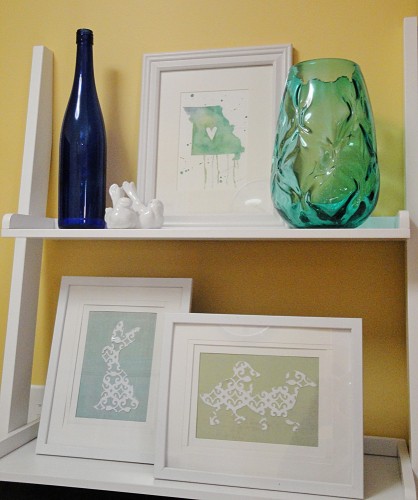 While you can see the doily art that I made, this photo also includes one of my favorite Etsy pieces. The watercolor of Missouri by poppyandpinecone was only $10 but it set the color palette for the entire room. I just popped it into a Walmart frame and it was good to go. The artist gave great service and she has a wide selection of states and countries if you want a print of your own.
Artists
One of my relatives is an artist and he gifted me a piece of art of my choice for my wedding. It took a while until we figured out which room we wanted the art for but we ended up choosing a piece called Magnolias on Cole by Joe Mangrum. This piece is one of the most personal to us, knowing both the artist and that it was a gift for our wedding. The standard prints for the house give it some decoration but this piece gives the room life. We display it right in the dining room and based our other pieces around it. If you know an artist, see if they have a piece or would be willing to commission a piece you like. There's something special about it.