For my March centerpiece I wanted to imply some movement. The zig zag lollies in these centerpieces remind me of pinwheels and windy days. Missouri is really seeing March come in like a lion. Yesterday we had crazy storms, tornadoes to our south and east and the winds keep gusting between 50-60 miles an hour. I'm just thankful we've been safe so far and I hope the rest of spring isn't had like last year.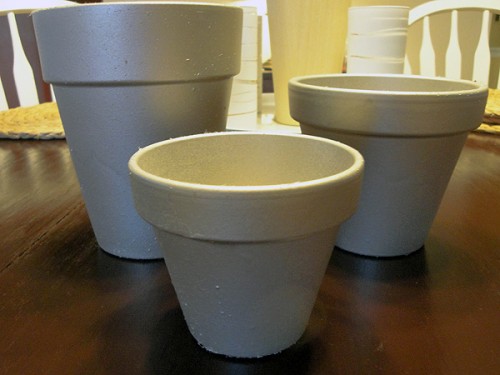 To make this centerpieces I primed and painted some garden pots in silver. Michaels is having a sale on them this week if you want some of your own. I mixed and matched some papers leftover from my lollies and cut it to fit around the rim of each pot, applying it with mod podge. At the dollar store I found some floral foam and some marbles. I plopped the foam into each pot, added some spray painted kabob sticks attached to my lollies (instructions in yesterday's post) and covered up the base with marbles.
It looks like spring to me! What have you been working on for March?
Pin It