If you're in St. Louis, you've probably played in a trivia night or two. Outside of St. Louis I've discovered that most people have no clue what a trivia night is. Usually trivia nights include 10 or so rounds of 10 questions with the event working as a fundraiser for a cause. There are usually raffles, giveaways, and a group of about 50 or more tables competing.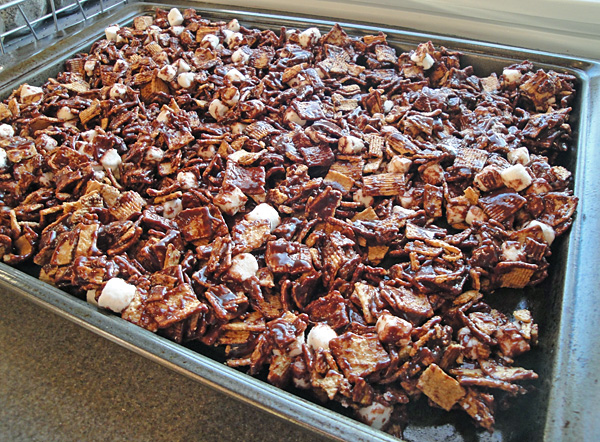 My friends and I have an annual tradition. We go to our old high school's trivia night to raise money for each year's grad night program to promote a safe night without drinking for all the kids. The event provides free sodas and you can buy drinks and all the tables bring their own food. My friends and I tend to take that food part as a challenge. We bring pizzas, tacos, chips, deli sandwiches, a fruit tray, dip, cheese and crackers, and plenty of yummies for everyone. This year I made a S'mores snack mix. I'm pretty sure one person wanted to steal it from me and eat it all night long with a glass of milk. Who can resist Golden Grahams, a chocolate syrup, and marshmallows together? Thankfully it was good enough to help cope with our crushing loss this year. Let's just say the categories included retirement community card games and knowing the price of toilet paper at a grocery store. Sorry people, I'm in my 20s and shop sales.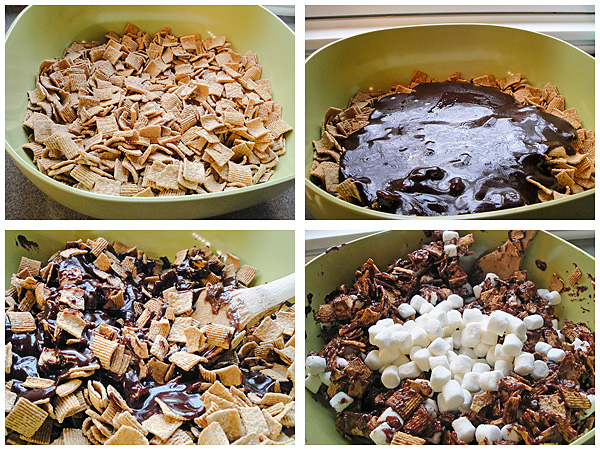 Ingredients
12 oz box Golden Grahams cereal
3/4 cup Dark corn syrup
3 Tablespoons butter
11 1/2 ounce bag milk chocolate chips
1/2 bag of 11 oz bag of mini marshmallows
Instructions
Pour box of Golden Grahams into a large bowl.
Over medium heat, stir together corn syrup and butter until evenly combined. Remove from heat and stir in chocolate chips until smooth.
Pour the chocolate mix over the Golden Grahams and stir together. Once well combined, add your half bag of mini-marshmallows.
Spread the mix into a sheet cake pan using your hands. Smash it as flat as you can and let rest for 2 hours.
After 2 hours, break the mix apart into smaller bites and enjoy.
http://www.thehyperhouse.com/2012/03/smores-mix/
Pin It