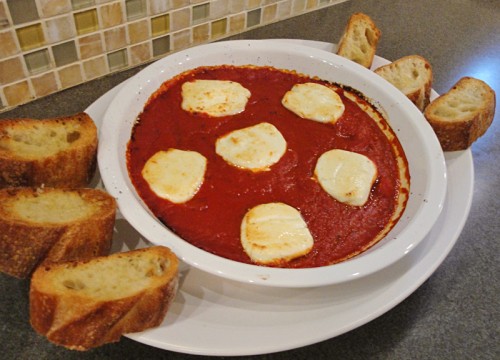 I mentioned yesterday that my newest obsession is the 4 ounce goat cheese logs I can buy at Aldi. I used one log in my goat cheese salad and one log trying out this recipe by Kevin at Closet Cooking.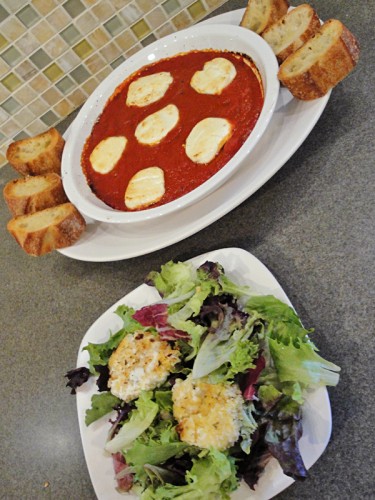 This recipe makes a delicious appetizer. You simply broil bread, brush it with garlic, broil goat cheese in marinara and dig in. You can use your favorite marinara, go bottled, or try Kevin's Kalamata Olive Marinara. It pairs perfectly with a bowl of pasta and the goat cheese salad from yesterday's post. Don't forget a bottle of wine!
Ingredients
1 baguette (sliced)
1 tablespoon olive oil
1 clove garlic
1 1/2 cups marinara sauce
4 ounces goat cheese (sliced)
Instructions
Brush the baguette slices with olive oil.
Broil the slices until golden brown on top. (Note: Watch them carefully as they can burn really quickly on broil.)
Let the baguette slices cool and then rub them with the garlic.
Place the marinara sauce in a baking dish and top with the goat cheese.
Broil until the goat cheese is soft and golden brown, about 4-6 minutes.
http://www.thehyperhouse.com/2012/05/goat-cheese-and-marinara/
Pin It