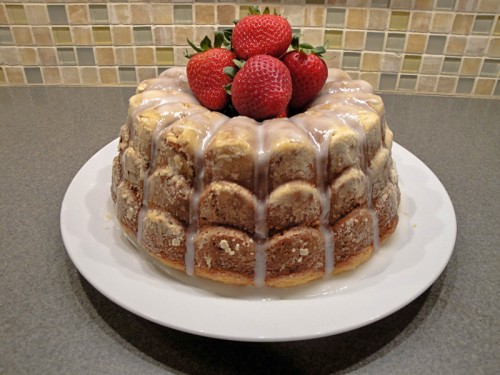 When I think of cakes, I tend to think of my old standbys, like chocolate, pound cake, and white cake. I don't often think of lemon cake as a must-have cake except in the spring time. There's something about eating a bright yellow cake on a sunny day with some fresh berries and whipped cream to really remind you of how delicious lemon cake is.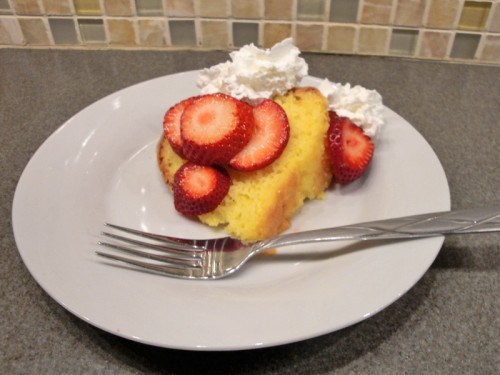 This recipe is another one of my doctored cake mix recipes. In addition to lemon cake and lemon juice and lemon zest, the secret lemon ingredient is lemon pudding. It makes the cake very moist and dense so it's like you're eating a wonderful lemon pound cake. When you top it with the lemon glaze, make sure to do it while the cake is still warm. You won't regret the extra zing it provides.
Ingredients
For the Cake:

Juice of 1 lemon (about 3 Tablespoons)
Zest of one lemon
1 (18 ounce) box lemon cake mix
1 (3.4 ounce) box instant lemon pudding
4 large eggs
1/2 cup oil
1 cup sour cream

For the glaze:

1 cup of powdered sugar
2 Tablespoons lemon juice
Instructions
For the cake:

Preheat the oven to 350 degrees.
Zest a lemon and place shavings into a large bowl. Squeeze the lemon into the same bowl.
Add the cake mix, pudding, eggs, and oil into the bowl. Stir until just combined.
Fold in the sour cream.
Pour the batter into a prepared bundt cake pan.
Bake at 350 degrees for 35-45 minutes.
Remove from oven and let cool 15 minutes before removing from pan.

For the glaze:

Combine powdered sugar with lemon juice.
Pour over cake while it is still warm. Let harden before eating.
http://www.thehyperhouse.com/2012/05/luscious-lemon-cake/
Pin It