Archive from May, 2012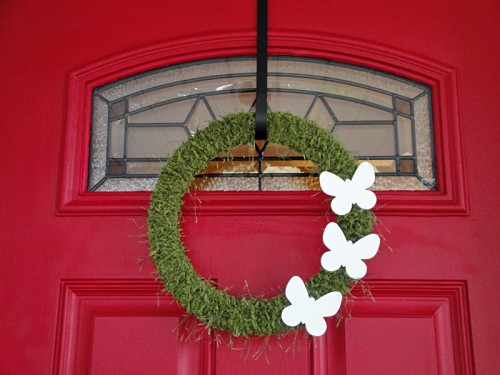 I used a wreath in last month's centerpiece design and this month I adapted it to be my front door wreath. To do this project you'll need the supplies I used last month (wreath base, yarn), some spray primer, and some 50 cent wood butterfly cutouts. I found those at Michaels in the woodworking aisles.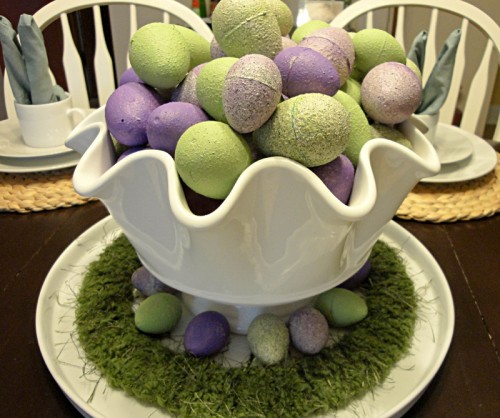 I just spray painted the wood pieces with some primer, hot glued them to my yarn wreath and plopped it on my door. For less than $2 I'd repurposed a simple piece. If you ever outgrow a decoration, think of a way to make it work. Sometimes it's best to cut your losses but I'm loving the spring look on my front door right now.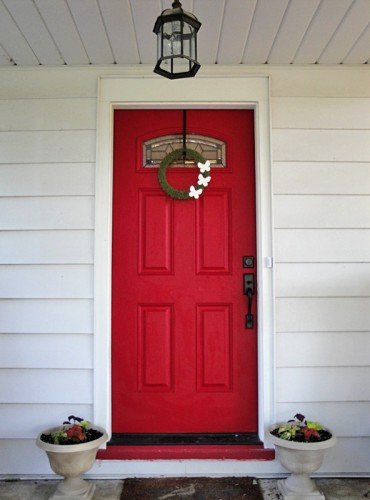 I'd just washed my door so pardon its streaky look. All the hail from the weekend knocked a bunch of dirt and mulch in every direction. We all survived and even our car survived being outside so I think streaks are the least of our worries. The only casualties were a giant branch (that I cut down myself) and our doormat who will be replaced as part of my big exciting summer porch prettying project.
Step 1 of that project was making some urns over. The urns were cheap and kind of meh looking on the shelves of Walmart but with some primer (see my Instagramed up photo- I'm thehyperhouse on Instagram by the way)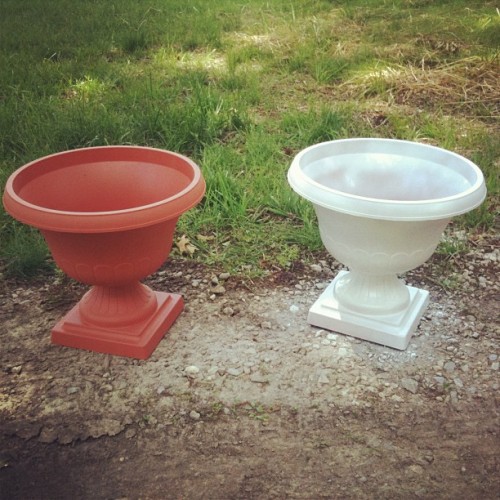 and then I added some textured Krylon spray paint to add some fun (posed in front of the farmland behind the house)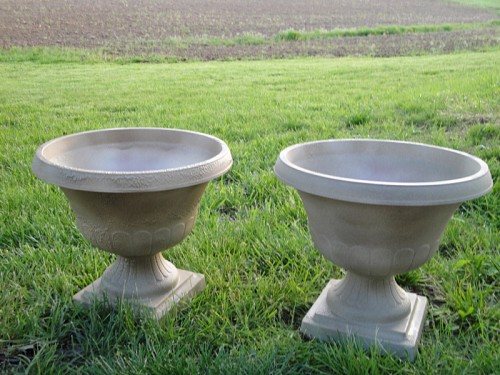 and finally filled with some coleus plants for some drama.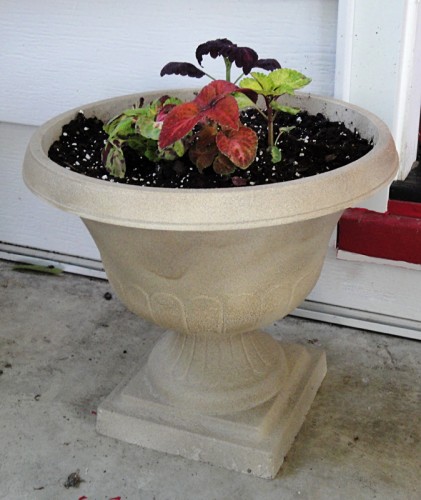 If the weather cooperates I should have some nice progress photos of the front flower bed coming up soon. We finished up the rain barrel base tonight but it needs to cure at least two days before holding the 65 gallons of water in the barrel but all of the plants are in the ground and mulched so I hope to show you a good progress photo next week some time.
Pin It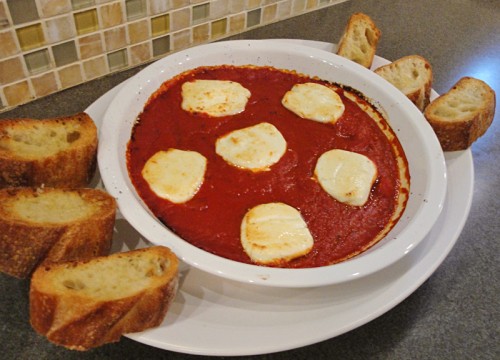 I mentioned yesterday that my newest obsession is the 4 ounce goat cheese logs I can buy at Aldi. I used one log in my goat cheese salad and one log trying out this recipe by Kevin at Closet Cooking.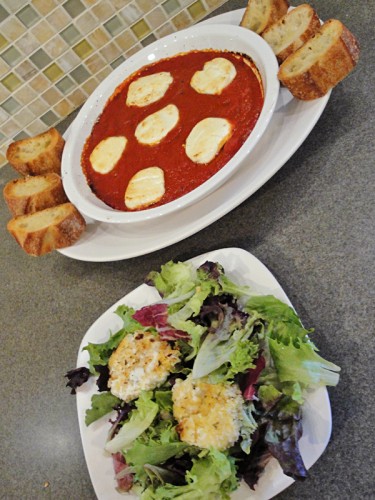 This recipe makes a delicious appetizer. You simply broil bread, brush it with garlic, broil goat cheese in marinara and dig in. You can use your favorite marinara, go bottled, or try Kevin's Kalamata Olive Marinara. It pairs perfectly with a bowl of pasta and the goat cheese salad from yesterday's post. Don't forget a bottle of wine!
Ingredients
1 baguette (sliced)
1 tablespoon olive oil
1 clove garlic
1 1/2 cups marinara sauce
4 ounces goat cheese (sliced)
Instructions
Brush the baguette slices with olive oil.
Broil the slices until golden brown on top. (Note: Watch them carefully as they can burn really quickly on broil.)
Let the baguette slices cool and then rub them with the garlic.
Place the marinara sauce in a baking dish and top with the goat cheese.
Broil until the goat cheese is soft and golden brown, about 4-6 minutes.
http://www.thehyperhouse.com/2012/05/goat-cheese-and-marinara/
Pin It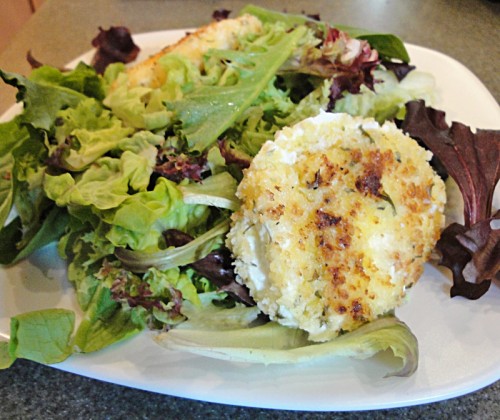 My latest obsession is with goat cheese. I've never been much of a cheese eater but Aldi has these little 4 ounce packages of goat cheese and I just can't get enough of them. My favorite way to eat goat cheese right now is to make patties, fry them in panko breading, and plop them right on a salad. They're the perfect size for 2 people to enjoy with dinner.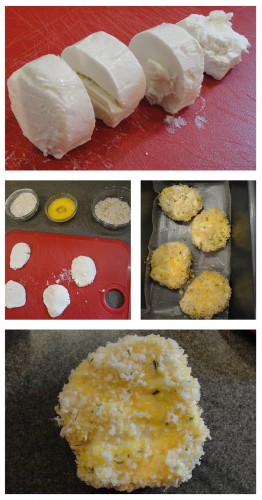 To make the goat cheese easier to fry, just pop it in the freezer for 30 minutes before breading them and back into the fridge for another 30 minutes before frying. This way you'll have soft cheese that stays right inside the breading. I like to top the salad with a vinaigrette dressing. Tomorrow I'll show you my second favorite way to use these goat cheese packages- and it's a perfect pairing with this salad.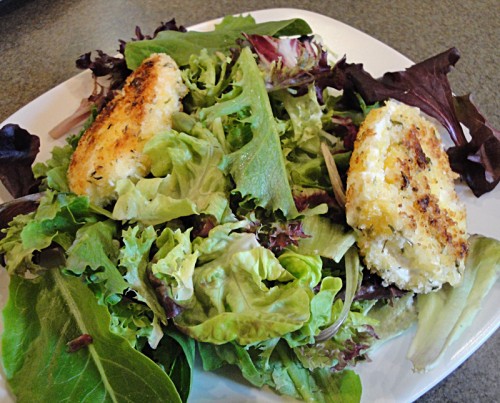 Ingredients
4 ounce goat cheese log
1/4 cup panko bread crumbs
1 dash dried parsley
1 dash dried thyme
1 dash garlic powder
1 egg, beaten
1/4 cup of flour
olive oil
4 cups salad greens
Dressing of your choice
Instructions
Chill your goat cheese in the freezer an hour ahead of cooking
While chilling, set up your dredging station. Mix your panko bread crumbs with parsley, thyme and garlic powder. Use one small bowl to hold your beaten egg and use another small bowl to hold your flour. Set up your station with flour first, then egg, then your breadcrumb mix.
Half an hour before cooking, pull your cheese out of the fridge and cut into four slices, wiping the blade in between each cut.
Dip your cheese into the flour, then the egg, then the breadcrumbs, coating on both sides.
Place cheese on a baking sheet covered in waxed paper and chill another half an hour.
Heat your stovetop to medium heat and warm the olive oil. Fry each side of the goat cheese until golden.
While cooking, prep your salad greens onto two plates and drizzle with dressing. Top with cheese and serve warm.
http://www.thehyperhouse.com/2012/05/goat-cheese-salad/
Pin It