A little bit ago I shared my experience trying a pint of Jeni's Splendid Ice Cream and a review Jeni Britton Bauer's very own cookbook
.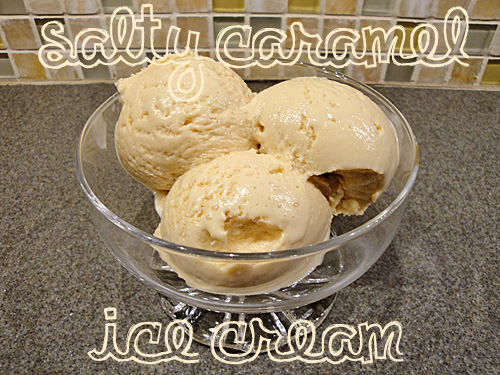 This weekend I finally made good on my plans to try my hand at making one of Jeni's ice creams from her cookbook. I decided to try my hand at a recipe that didn't include any hard-t0-find ingredients and would be a flavor both my husband and I would probably enjoy. That's how I ended up with my cookbook turned to the recipe for Salty Caramel Ice Cream. It's Jeni's most popular flavor so why wouldn't I want to try that?

Before you start this recipe, measure out every single ingredient and prep all your equipment. Your ice cream maker should be frozen 24 hours before even starting. I even poured my milk into a measuring cup so I could pour quickly when the moment came. The first half of this recipe goes low and slow and then suddenly you're all in, racing to get everything in the recipe so you can start counting down the half hour it takes to chill it. For all things stovetop, I used a 4-quart pot for the process. I wouldn't risk going any smaller than that with all the boiling this recipe takes.

Now the next part was the scariest for me: I had to make caramel. I don't do well with sugared products because I'm impatient and easily distracted and that usually leads to sugar burning. Jeni has you make the caramel for your recipe by using the dry burn technique (see recipe notes) where you just heat sugar on the stovetop until it starts going through a transformation and then you invite all the other pieces of sugar to the party by melting them down.
Jeni says the look you're going for is an "old penny" but I wasn't sure if she meant 2001 penny that has seen my whole town or a 1953 penny that looks like it's going green so I chose the more appetizing color. It seems to have worked out. Somewhere in the middle of the stirring process you're likely to think you've failed and there's an awful goopy mess but 1 minute later you'll be screaming in glee "I've made caramel!" Embrace that moment because this is when the going gets crazy.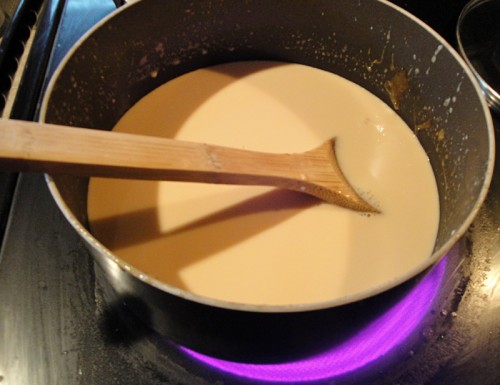 You'll want to add just a bit of your cream + corn syrup to the cream while off the heat. It'll crackle and pop so be careful. Jeni doesn't suggest putting the pot back on till all the cream is added to your caramel but I found my caramel hardening too much so keep a close eye on things and introduce the heat as needed. After you add the milk you're almost in the clear. You will need to keep a watchful eye on it so it doesn't boil over and then add your slurry to thicken, stirring continuously. You can see above the soft golden tone the recipe starts to take on (and the mess this dish leaves behind)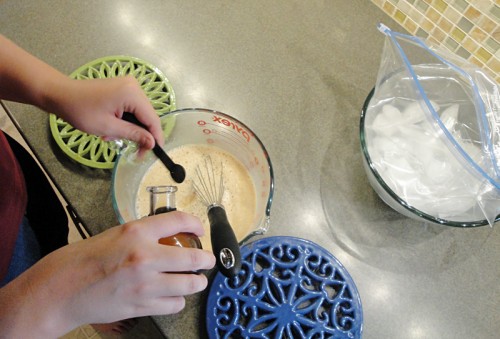 You'll then pour your ice cream through a sieve placed over a bowl with your cream cheese and salt in it. All the little hard pieces of caramel will be left behind and then you stir stir stir! Make sure to add the vanilla in this step. I use my own homemade vanilla but whatever you choose, make sure it isn't imitation.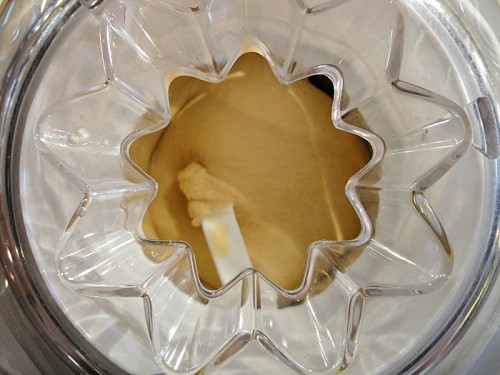 You'll then want to chill your ice cream base as fast as possible. Pour your mix into a gallon sized Ziploc bag, seal it, and surround it with ice and ice water. Chill in your fridge for half an hour. Note: It's very important not to let water get into your mix at this point. After your half hour is up, pour the mix into your ice cream maker and let it run about half an hour.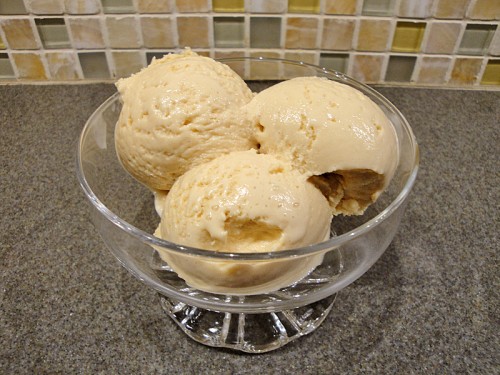 Now you have to freeze it for at least 4 hours. Overnight is even better. I know, I'm a cruel and awful person to suggest such a thing. I scooped up a batch after waiting and sat down to test it. It was so smooth, just like the version I bought in the store. You can copy that quality perfectly in your own kitchen. My own version was lighter in color than Jeni's official version so maybe you should aim towards an older penny than I did. I also expected more salt but that's an easy fix. Overall I was thrilled with my results and have to say this is the best (but also the most complicated) homemade ice cream I've made to date. The only real disappointment I had was that it was eaten up so quickly. I guess I'll need to make another batch or try a new flavor. If you're a Jeni's fan, let me know what flavor I should try next.
Source: Jeni's Splendid Ice Creams at Home by Jeni Britton Bauer
Ingredients
2 cups whole milk
1 tablespoon plus 1 teaspoon cornstarch (or just 4 teaspoons- it's the same thing)
1 1/2 ounces (3 tablespoons) cream cheese, softened
1/2 teaspoon fine sea salt
1 1/4 cups heavy cream
2 tablespoons light corn syrup
2/3 cup sugar
2 teaspoons vanilla extract
Instructions
Mix about 2 tablespoons of the milk with the cornstarch in a small bowl to make a smooth slurry.
Whisk the cream cheese and salt in a medium bowl until smooth.
Mix the cream with the corn syrup in a measuring cup with a spout.
Fill a large bowl with ice and water.
Heat the sugar in a 4-quart saucepan over medium heat until it is melted and golden amber in color (see note below). Remove from the heat and, stirring constantly, slowly add a bit of the cream and corn syrup mixture to the caramel: It will fizzle, pop, and spurt. Stir until well combined, then add a little more and stir. Keep adding the cream a little at a time until all of it is incorporated.
Return the pan to medium-high heat and add the milk. Bring to a rolling boil and boil for 4 minutes. Remove from the heat and gradually whisk in the cornstarch slurry.
Bring back to a boil over medium-high and cook, stirring with a heatproof spatula, until slightly thickened, about 1 minute. Remove from the heat. If any caramel flecks remain, pour the mixture through a sieve.
Gradually whisk the hot milk mixture into the cream cheese until smooth. Add the vanilla and whisk. Pour the mixture into a 1-gallon Ziploc freezer bag and submerge the sealed bag in the ice bath. Let stand, adding more ice as necessary, until cold, about 30 minutes.
Pour into frozen canister and spin until thick and creamy in ice cream maker.
Pack the ice cream into a storage container, press a sheet of parchment directly against the surface, and seal with an airtight lid.
Freeze in the coldest part of your freezer until firm, at least 4 hours.
Notes
From Jeni:
Danger! This is the dry-burn technique. I don't add water to the sugar before putting it on the heat, as some chefs do. Caramelizing sugar dry means it goes faster, but you have to watch it more closely and be ready with your cream. Here is an overview of what you are going to do:
Stand over the pan of sugar with a heatproof spatula ready, but do not touch the sugar until there is a full layer of melted and browning liquid sugar on the bottom with a smaller layer of unmelted white sugar on the top. When the edges of the melted sugar begin to darken, use the spatula to bring them into the center to help melt the unmelted sugar. Continue stirring and pushing the sugar around until it is all melted and evenly amber in color — like an old penny. When little bubbles begin to explode with dark smoke, give the sugar another moment and then remove from the heat. Immediately but slowly pour about 1/4 cup of the cream and corn syrup mixture into the burning-hot sugar. Be careful! It will pop and spit! Stir until it is incorporated, then add a bit more cream and stir, then continue until it is all in.
http://www.thehyperhouse.com/2012/05/salty-caramel-ice-cream/
Pin It