I've been in a mood for a picnic all year long. The 4th of July screams picnic time to me so I'm in picnic mode right now. All this week I'll be sharing some picnic-themed projects in case you're as excited about picnics as I am.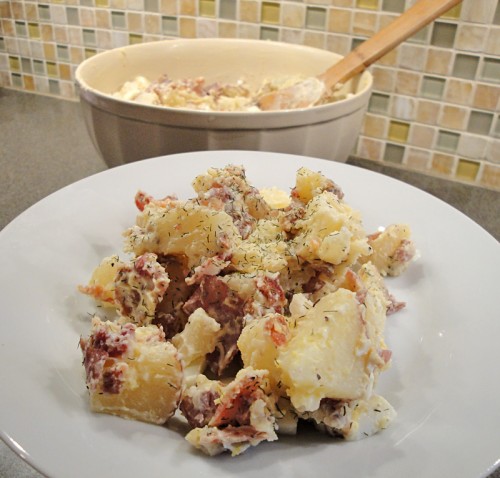 For today I'm sharing my favorite potato salad recipe. It calls for just 5 ingredients- potatoes, eggs, bacon, mustard and mayonnaise. It ends up tasting like a baked potato in salad form. You can season it to your tastes, I like some dill, pepper, and sea salt mixed into mine. This is a great recipe to make ahead the night before. The flavors do well sitting overnight and the food will be chilled just in time for your picnic.
5 Ingredient Potato Salad
Ingredients
2 pounds red potatoes
4 strips bacon
2 hard-boiled eggs
1/2 cup mayonnaise
2 teaspoons Dijon mustard
Instructions
Wash the potatoes and place in a large pot. Cover with cold water and boil till soft, about 15-20 minutes. Strain the potatoes and let them cool completely.
While the potatoes are cooking, fry the bacon. Let it cool and crumble into small pieces. Set aside. If your eggs aren't hard-boiled yet, this is a good time to do it. Chop the egg into small pieces.
Once everything is cooled, cut the potatoes into medium-sized pieces. Mix the mayonnaise and mustard together in a large bowl. Stir in the potatoes and coat them evenly with the sauce. Add in the bacon and eggs and stir until combined. Season with salt and pepper to taste.
http://www.thehyperhouse.com/2012/06/5-ingredient-potato-salad/
Pin It