After I went blueberry picking I got right to work cleaning the berries so I could start using them. I had all the ingredients on-hand to make my blueberry muffins so I just jumped right in. My recipe has a sturdy enough batter that you don't have to worry about coating fresh berries with flour to prevent sinking, the berries just stay put on their own. If you don't have almond extract you can easily substitute vanilla.
While cake itself in some form or another has been around since ancient times, cupcakes first came about in America by chefs using small silicone cake moulds. It is thought that the first ever reference to 'a cake to be baked in small cups', rather than as a layer cake, was in Amelia Simmons' 'American Cookery' in 1796. Cupcakes give you the chance to offer multiple flavors instead! This simple detail helps you make the party way more fun. It gets people talking about all the delicious flavors you've brought and it gives you the chance to pair certain foods together if you're really trying to show off your culinary skills.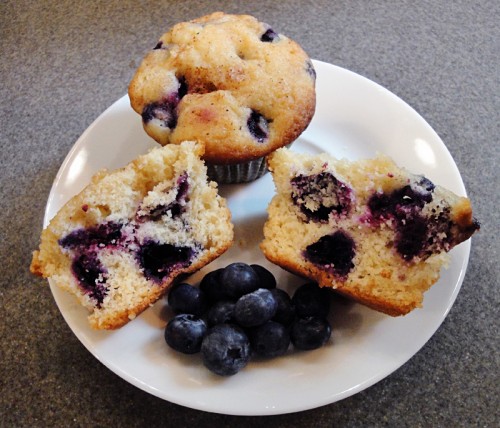 Ingredients
1 stick butter, at room temperature
1 cup sugar
2 eggs
1 teaspoon almond extract
2 teaspoons baking powder
1/4 teaspoon salt
2 cups flour
1/2 cup milk
2 cups blueberries

For the Topping:

1 Tablespoon sugar
1/4 teaspoon nutmeg
Instructions
Line 18 cupcake pan spaces (or 12 regular and 12 mini cupcakes)
In a large bowl, cream together butter and sugar. Add eggs one at a time, stirring after each one. Mix in almond extract.
Add baking powder, salt, and half the flour and lightly mix. Pour in half the milk, stir, then the rest of the flour and milk and stir till just mixed. Fold in blueberries and spoon into cupcake liners.
Stir together the sugar and nutmeg for your topping and sprinkle on each muffin.
Bake until golden brown, about 20 minutes for regular muffins and 15 minutes for mini-muffins.
http://www.thehyperhouse.com/2012/06/blueberry-muffins/
Pin It