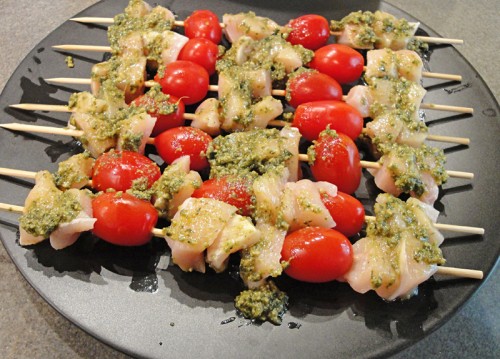 In the summer there's nothing better than throwing food on the grill and eating leftovers for days. Just because I like to eat some tasty food doesn't mean I don't love an effortless meal. When I saw the idea of these Pesto Chicken Skewers that La Kocinera shared, I knew I had to try them.
To prep for this recipe I soaked 7 skewers in water so they wouldn't catch fire on the grill. I also pulled out 3 of my frozen pesto cubes to thaw during the day. The only other ingredients you'll need are 2 chicken breasts and a half pint of grape tomatoes. Just cut up the chicken into bite-sized pieces and alternate the pieces on the skewer with the tomatoes. Brush on some pesto and grill until the chicken is done. That's it! It's so easy you barely even need a recipe.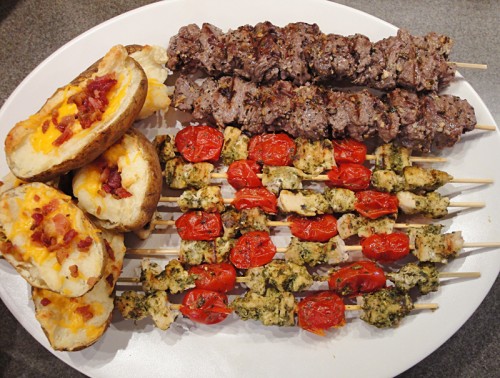 I served this recipe with some sirloin skewers and some of my frozen twice-baked potatoes along with a salad. Like I said, my goal is to eat off a meal for days and we had a weekend's worth of food with this meal.
Ingredients
2 boneless chicken breasts, cut into bite-sized pieces
1/2 pint grape tomatoes
1/4 cup prepared pesto
Instructions
If using wooden skewers, soak in water for at least 20 minutes to prevent burning on the grill.
Alternate sliding chicken pieces and grape tomatoes onto your skewers. Brush with pesto.
Heat your grill to a medium heat and cook about 5 minutes per side until the chicken juices run clear.
http://www.thehyperhouse.com/2012/06/pesto-chicken-skewers/
Pin It