I mentioned last week that I'd made two blueberry cheesecake dishes and one was a White Chocolate Blueberry Cheesecake for my husband. The other is today's recipe, a Blueberry Cheesecake Pie. The recipe comes from Mel at Mel's Kitchen Cafe. This cheesecake doesn't even require a springform pan or a water bath so it's a very easy recipe to make.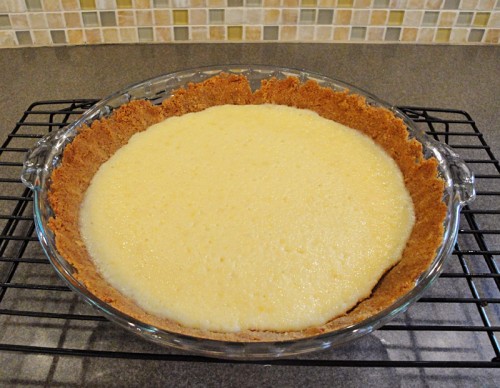 This dish is a perfect summer dish. Blueberries with cheesecake and lemon are pretty much the best thing ever. It's a smaller portion than the cheesecake I made and a lot easier if you're looking for a no-fail cheesecake. This recipe has more of a lemon taste and the blueberry flavor comes from a jam you make for the top of the dish. You bake the crust, then the cheesecake, and then pour warm berries on the warm cheesecake so it sets in one big pie. My dad sure gobbled it up. (That's him holding his piece below)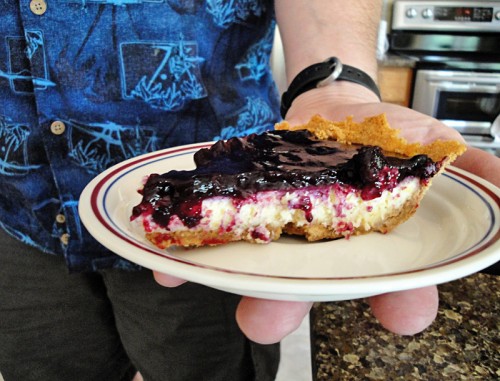 Recipe from Mel's Kitchen Cafe
Ingredients
For the Crumb Crust:

9 large rectangular graham crackers, crushed
2 tablespoons sugar
6 tablespoons melted butter

For the Cheesecake:

8 oz. cream cheese, softened
1/3 cup sugar
1 teaspoon fresh lemon juice
2 eggs
Freshly grated zest from 1 lemon

For the Berry Topping:

2 cups blueberries
1/2 cup water
1/3 cup sugar
1 1/2 tablespoons cornstarch mixed with 2 tablespoons cold water
Instructions
In a small bowl, combine the crushed graham crackers, sugar and butter.
Pat the crumb mixture into a 9-inch pie pan and bake for 8 minutes at 325 degrees. Let the crust cool completely.
After the crust cools, zest your lemon into a medium bowl. Add in the cream cheese, sugar, and lemon juice and and beat until smooth. Mix in the eggs until just combined.
Pour into the graham cracker crust and bake 25 minutes at 325 degrees.
While the custard is baking, combine the berries, water, and sugar in a medium saucepan and bring to a boil.
Reduce the heat and simmer, covered, for 5 minutes, stirring once or twice to prevent sticking. Remove from the heat and add the cornstarch mixture. Return to a boil and cook for one minute, stirring constantly, until the mixture is thickened. Remove from the heat and cool until the mix is warm but no longer hot.
After the cheesecake is finished, leave it out until the berries are warm. Spoon the berries over the cheesecake and chill for 1 hour.
http://www.thehyperhouse.com/2012/07/blueberry-cheesecake-pie/