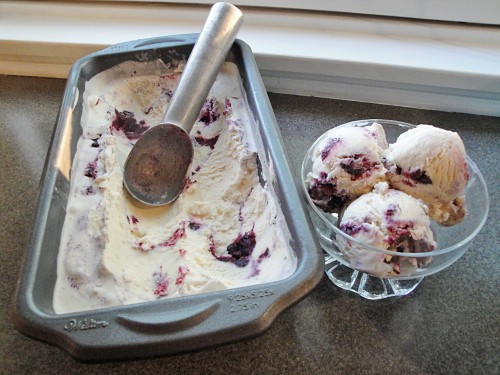 Did you know yesterday was National Ice Cream Day? I didn't until I already had made my latest batch of homemade ice cream. I think it was fate that brought us together. That or David Lebovitz
– whose ice cream recipe I've adapted for today's ice cream. This is my final recipe left from my blueberry picking day. Sadly the patch has all been picked so now I'll have to go to the grocery store if I want any more berry recipes.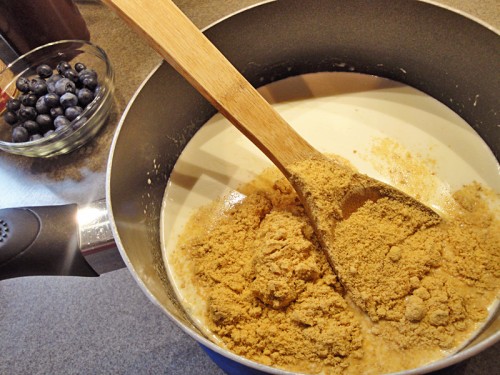 I wanted one last recipe that tasted like blueberries and cream so I decided to go the ice cream route. I had some graham crackers leftover from my other desserts so I incorporated them into the sweet cream base of this ice cream. I heated up my berries with some sugar and boiled out some of the excess water (taking a cue from Jeni and her splendid recipes) and incorporated that into the final product.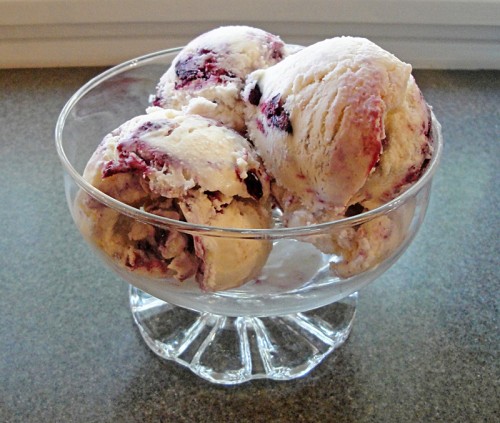 The result? a creamy graham cracker ice cream base with tart blueberries swirled in. Blueberry pie ice cream is an improvement on the usual blueberries and cream.
Ingredients
For the Blueberry Swirl:

1 1/2 cups blueberries
1/4 cup sugar

For the Ice Cream:

3 graham crackers
2 cups cream, divided
3/4 cup sugar
1/8 teaspoon salt
1 cup whole milk
1 teaspoon vanilla
Instructions
For the Blueberry Swirl:

In a small saucepan heat blueberries and sugar over medium high heat. As you stir, press the blueberries against the side of the pan to help release the juices.
After 8 minutes, pour into a small bowl and place in the fridge to chill for an hour.

For the Ice Cream:

Grind the graham crackers into crumbs using a food processor or with a Ziplock bag and a rolling pin. Completely crush them and set aside.
In a medium sized pot, heat 1 cup of cream with sugar and salt. Over medium heat, stir the mix together until the sugar has fully dissolved.
Remove pot from heat and stir in the remaining cream, milk, and vanilla. Add the graham cracker crumbs and stir till just combined. Chill in the fridge for at least an hour.
After the ice cream base is fully chilled, pour it into your ice cream mixer and let it run for about 30 minutes (or the time indicated by your device).
During the last 5 minutes of your ice cream maker's run, pull the blueberry mix out of your fridge. Lightly cover the base of a metal loaf pan with blueberry mix. When the ice cream finishes mixing, pour 1/3 of the ice cream into your pan. Top with 1/2 of the blueberry mix, then layer another 1/3 of the ice cream.
Finish by layering the remaining blueberry mix and then the last 1/3 of ice cream into the pan. Run a knife through to gently swirl the mix together and refrigerate overnight before serving.
http://www.thehyperhouse.com/2012/07/blueberry-pie-ice-cream/
Pin It