It's time once again for this month's Get Organized Now checklist. Last month I feel like I got so much done but now I'm in a dreadful heat wave so I'll only be working on indoor tasks until it cools down. That means I'll be working on clearing out some old junk instead of pushing ahead on my flower garden but progress is progress.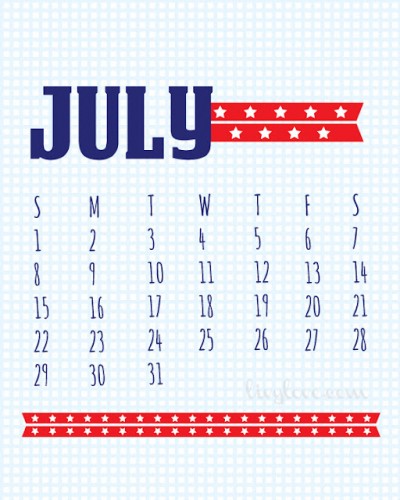 Source: Livy Love-Download the free monthly calendar
July is the start of the second half of the year, crazy right? I can't believe 2012 is already half over. Treat this month as a good way to kickstart any projects you've been delaying. The list this month has a lot of ideas like washing drapes, rugs, screens, and under furniture so make sure to check the full list for all the forgotten chores. Here's some of my favorites from the list:
July 4: Enjoy the holiday but be careful out there! I'm in a major drought so locals should avoid fireworks so we don't end up with even more fires. Be careful on the roads too.

July 7: It's probably time to take care of your plants. Pull back any dead parts, add more fertilizer, and see what's working and what isn't. The drought is causing all my plants to die and it's a losing battle but I'm out there with my watering can every day trying to win the battle.
July 9: Restock all your cleaning supplies and paper goods. Decide if you really need 8 different containers for cleaning or if you can find a better multi-purpose cleaner or even a greener one.
July 12: Pull any stained or damaged clothing from your closet and drawers. Devote today to mending and some laundering. Don't throw away shirts when all they need is a little work to make them like new again.
July 16: It's about halfway through the summer season. Check if you need to restock any sunscreen, aloe, or even bug bite remedies.
July 20: Make some homemade lemonade. Sip it in the coolest room of your house and maybe even read a book while you do it.
July 24: Clear 10 files in your filing cabinet. Consider digitalizing some files like warranties or receipts for tax time.
How do you plan to stay cool this month?

Pin It