Is anyone as obsessed with the Olympics as I am? Back in 1996 I watched the Atlanta games obsessively. I still have a tote bag my mom bought me with the logo on it. I wrote a report on the US Women's Olympic gymnastics team, nicknamedThe Magnificent Seven. I wrote to all the women on the team and just this week I broke out the 5 responses I received (I'm still waiting on you Shannon Miller and Dominique Moceanu). My husband wasn't sure whether to be amazed at the stuff I hold onto or disturbed about my fandom until I broke out my books published back then. I didn't even show him the poster I had!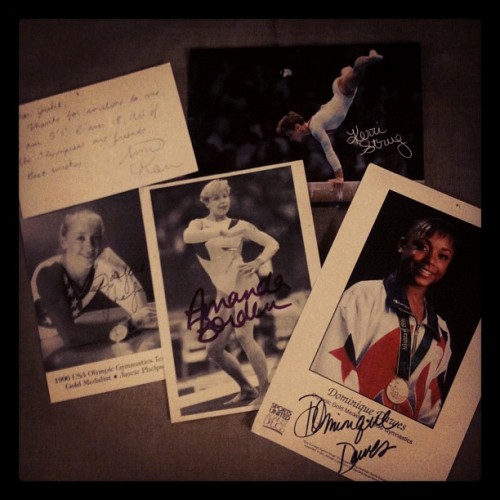 In an effort to show off my super nerdy side, I made a dessert perfect for your Opening Ceremony party. What's that you say, you aren't having an Opening Ceremony party? IT IS NOT TOO LATE! You are so lucky I'm here. Do it for America, do it for me, do it for your love of all things miniature, or do it because cherries are on sale this week. You need these mini cherry pies and any reason will do.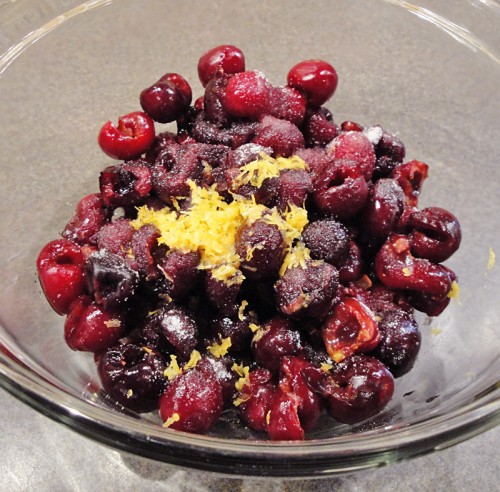 These mini cherry pies use a store-bought pie crust for convenience but you can easily use your own favorite recipe. You might just need to adjust your filling levels to fit. The filling I use here comes from Recipe Girl and it's a great tart base. You could go with a premade cherry pie filling but you'll have a sweeter final result and fresh cherries are so worth it.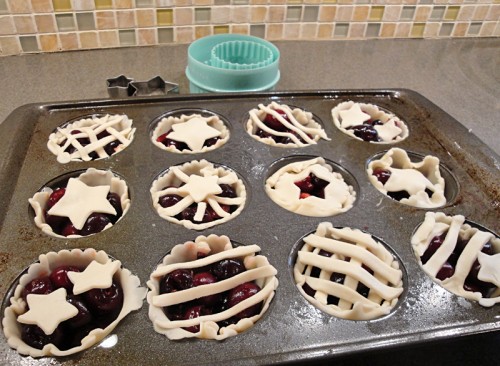 I used a small star cookie cutter to cut out some star designs and I rolled some dough out and cut it with a pizza cutter to form stripes. Have fun with these designs and sprinkle them with plenty of sugar before baking.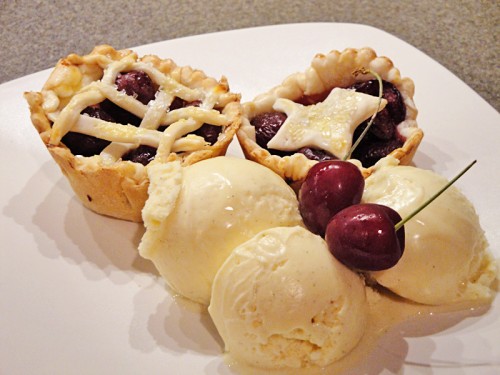 Ingredients
1 package of ready-made pie crusts (or make homemade)
2 1/2 cups pitted & halved fresh sweet cherries (about 3/4 pound)
2 Tablespoons sugar
1 Tablespoon finely grated lemon zest
1 Tablespoon freshly squeezed lemon juice
1 Tablespoon cornstarch
1/4 teaspoon salt
1 large egg yolk
2 Tablespoons milk or cream
coarse grain sugar, optional
Instructions
Preheat oven to 350 degrees. Spray 8 of your cups in a muffin tin with nonstick spray.
Roll out the pie crust into a thinner layer. Use a biscuit cutter to cut out 5 inch rings. You'll want to cut out 8 rings. Set your extra crust aside.
Line your 8 prepared muffin cups with the dough starting from the center and pulling up the sides.
In a large bowl, stir together cherries, sugar, lemon zest, lemon juice, cornstarch and salt. Spoon mixture into your pie crusts.
Use your leftover pie crust to cut out designs. Stars and stripes are perfect!
Combine your egg yolk and milk/cream to form an egg wash. Brush the wash lightly over your pies and sprinkle with coarse sugar.
Bake 20-25 minutes (watching carefully) until crusts are browned and the filling starts bubbling.
Cool at least 15 minutes before eating. Serve warm with vanilla ice cream.
http://www.thehyperhouse.com/2012/07/mini-cherry-pies/
Pin It