If you're still looking for the perfect potluck dessert for a Labor Day weekend barbeque, look no further than the cookie delight. It's tasty, doesn't require a lot of prep and it's very kid-friendly. The recipe originally comes from Taste of Home Magazine and I'm always finding my new favorites from them. This recipe is perfect right out of the box with one little exception.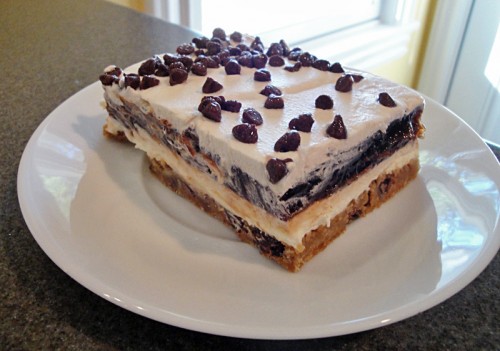 Start by baking a tube of cookie dough (or about 16 oz of your favorite homemade recipe) in a baking pan for about 15 minutes. Let this layer cool for about 45 minutes-1 hour before continuing.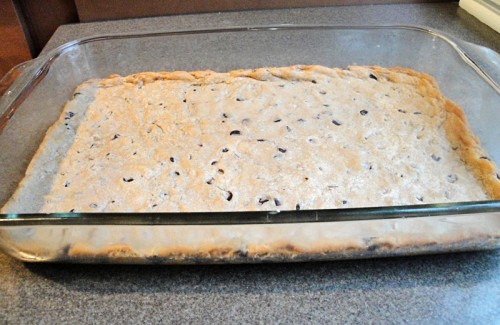 You'll need two separate bowls for the next step. Bowl one will be your creamy layer, mix together cream cheese, powdered sugar, and a portion of Cool Whip for this layer. Bowl two will be your chocolate layer, mix together your puddings and milk for this layer. You'll layer these onto your cookie base, first the creamy layer, then your chocolate layer.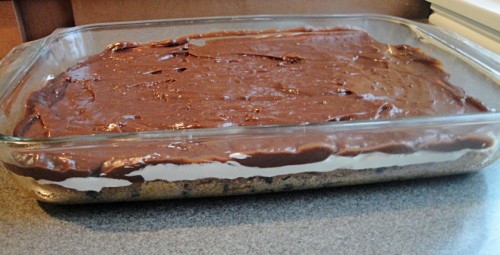 Now add your remaining Cool Whip and here's that important little change– sprinkle the top of the dish with mini chocolate chips. This is key to the whole dish being a success. There's nothing more fun than eating mini chocolate chips as a kid so just sprinkle away.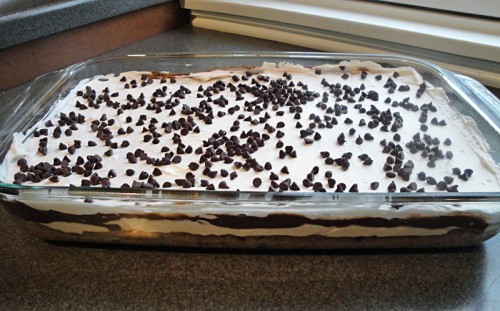 You'll want to chill this dish about 8 hours at this point so this is a great dish to prepare the night before or the morning of a barbeque.
Ingredients
1 tube (16-1/2 ounces) refrigerated chocolate chip cookie dough
1 package (8 ounces) cream cheese, softened
1 cup powdered sugar
1 carton (12 ounces) Cool Whip, thawed, divided
3 cups milk
1 package (3.9 ounces) instant chocolate pudding mix
1 package (3.4 ounces) instant vanilla pudding mix
Mini Chocolate Chips
Instructions
Press cookie dough into an ungreased 13x9 baking pan. Bake at 350° for 14-16 minutes or until golden brown. Cool on a wire rack.
In a large bowl, beat cream cheese and powdered sugar until smooth. Fold in 1-3/4 cups whipped topping. Spread over cookie crust.
In a large bowl, whisk milk and pudding mixes for 2 minutes. Spread over cream cheese layer. Top with remaining whipped topping. Sprinkle with mini chocolate chips.
Cover and refrigerate for 8 hours or overnight until firm.
http://www.thehyperhouse.com/2012/08/cookie-delight/
Pin It